HOME ALL RENTALS CONCIERGE FUN THINGS TO DO PROPERTY MANAGEMENT FAQs ABOUT US CONTACT
ACACIA MANSION
Ojai, California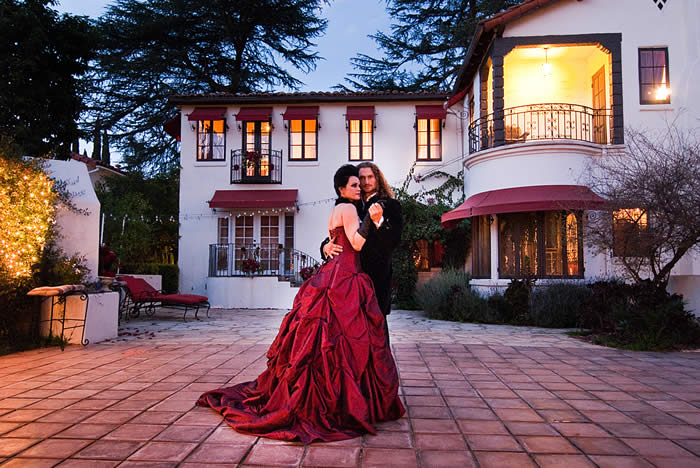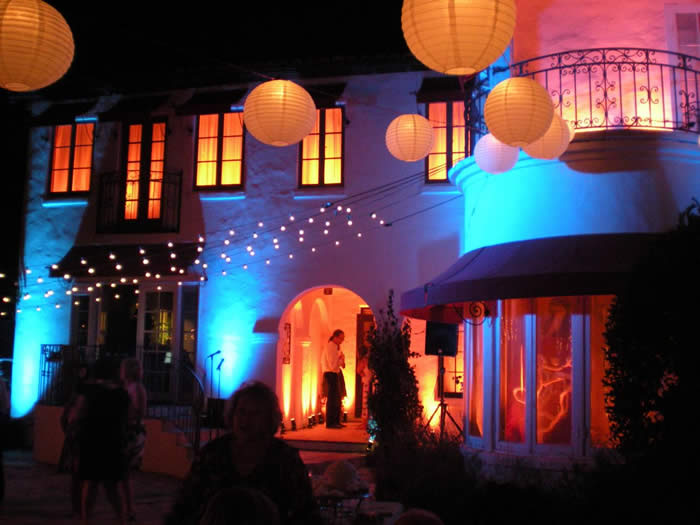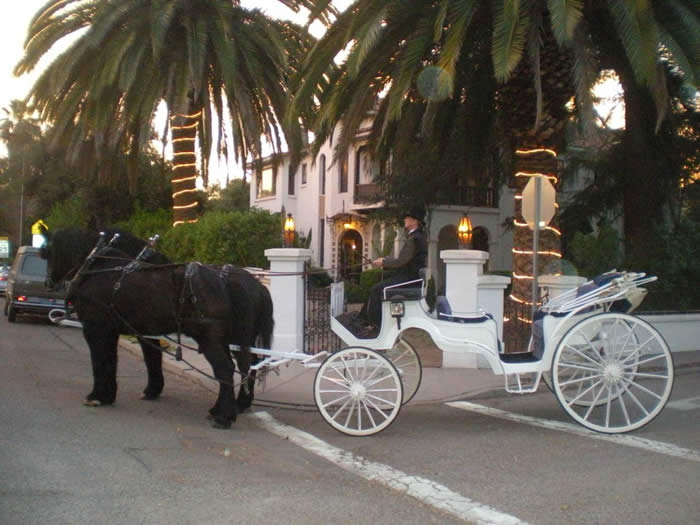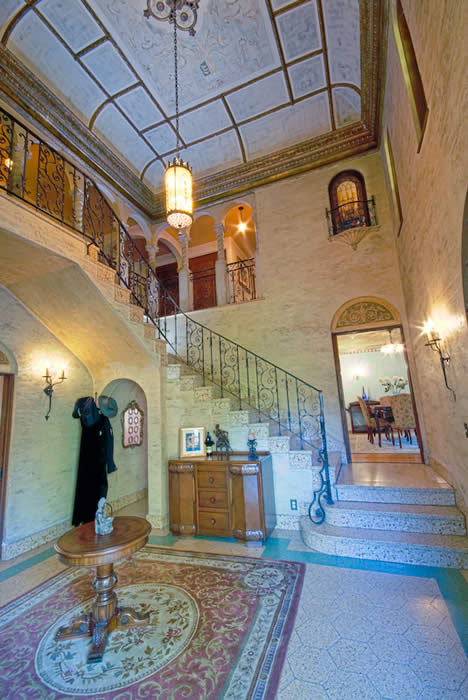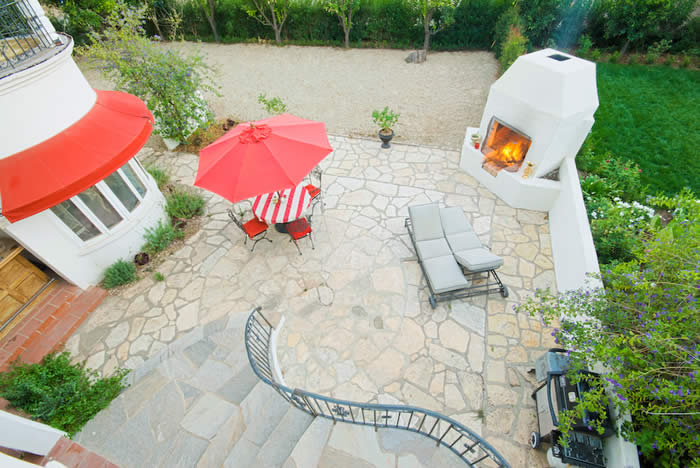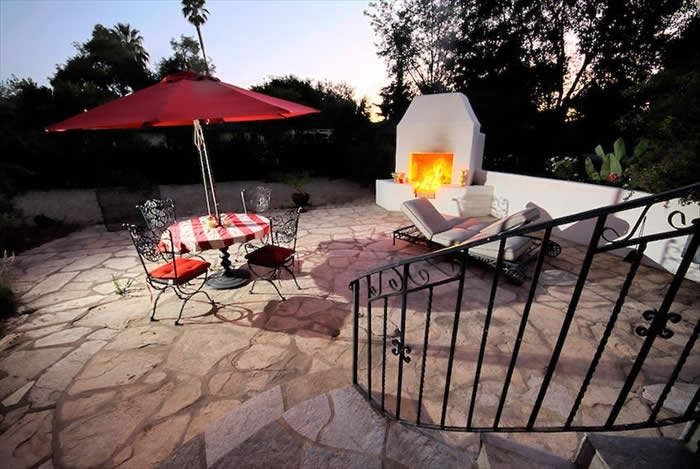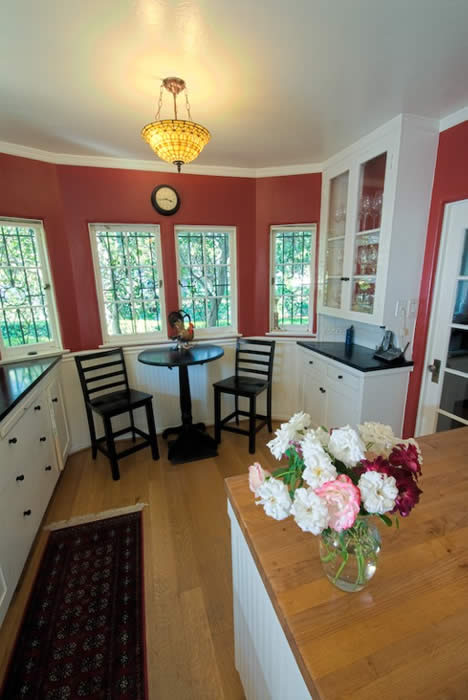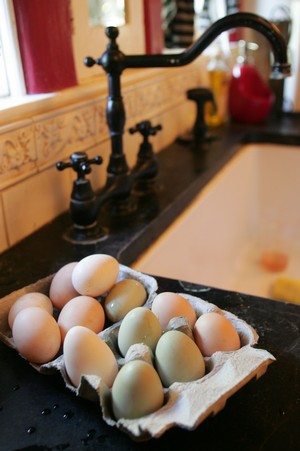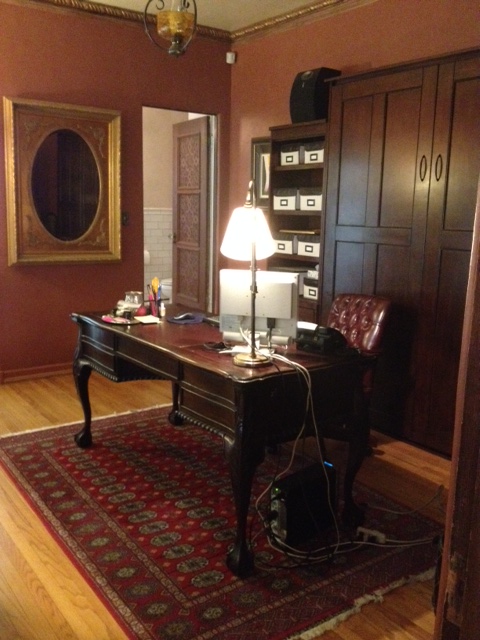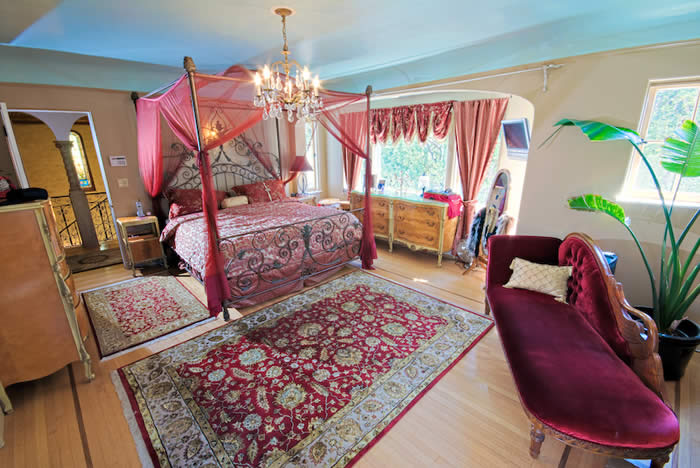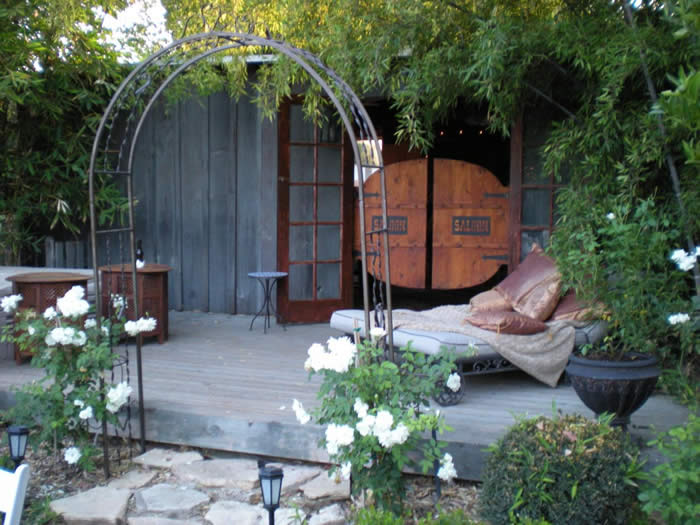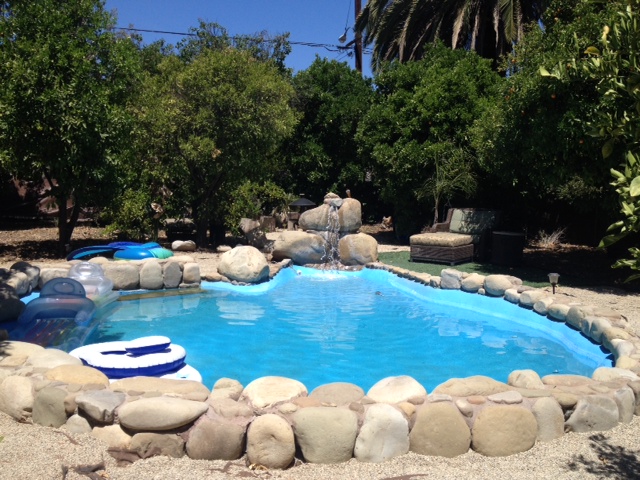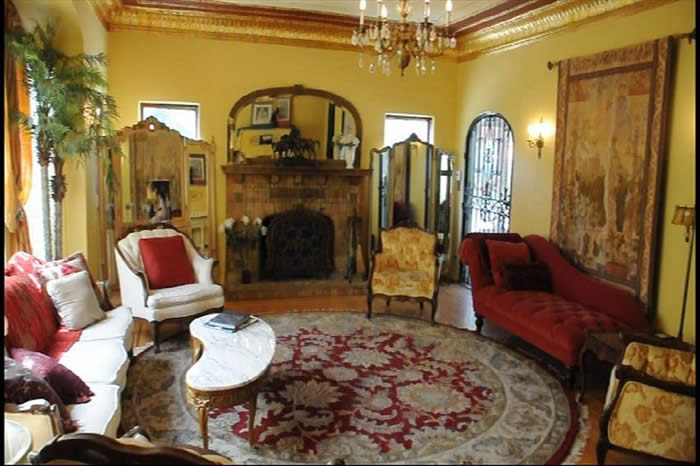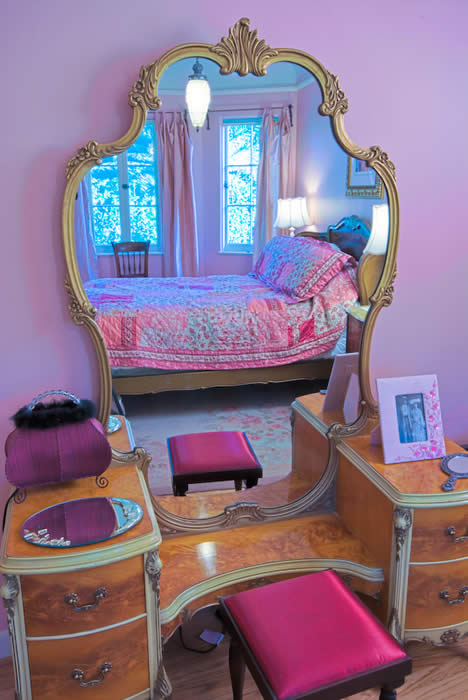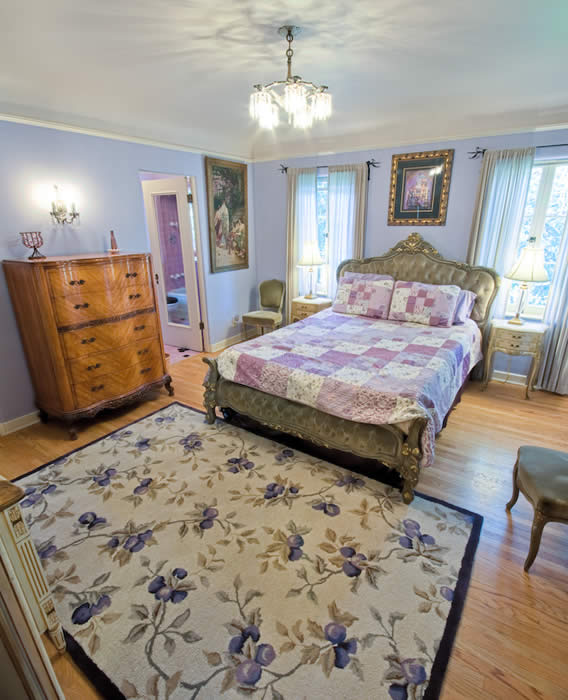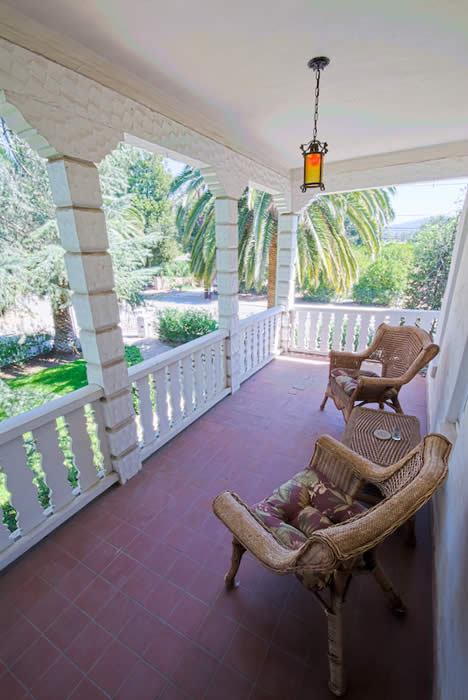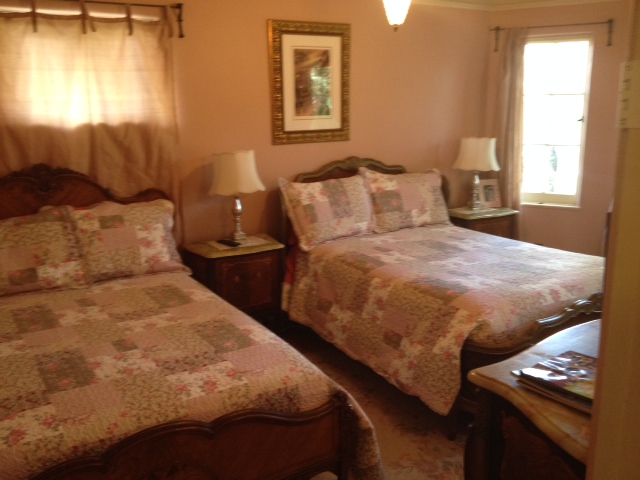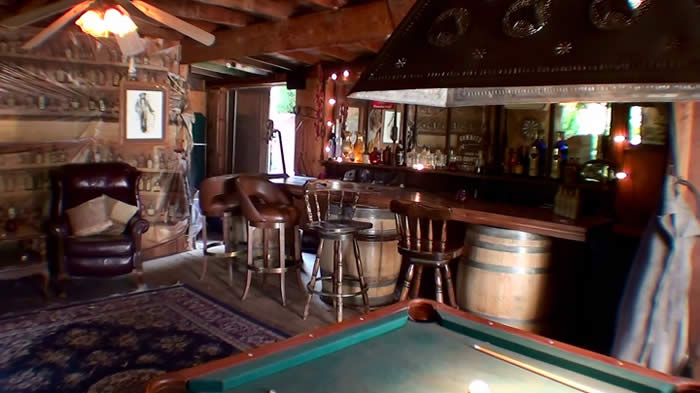 Beautiful grand Spanish Mansion built in 1929. Stunning entryway with high ceilings, stained glass windows and marble floors. Large living room with player piano, fireplace and aviary with exotic parrots. Formal dining room seats 12 people. Office with large mahogany desk with wireless internet and fax/printer.
Master bedroom with king size canopy bed, fireplace and large balcony with mountain views and private bath. Another master bedroom with queen bed, private bath and large balcony. Three more bedrooms, one with a queen canopy bed, one with two full size beds, and one with one full size bed. Large walk in cedar lined closets in all of the rooms.
Eat in kitchen and butler's pantry connected to the cozy den with satellite TV and DVD. One acre of beautiful landscaped grounds including a six-person hot tub surrounded by bamboo. Large barn converted to a game room with darts, pool table and bar. Large orange and avocado orchard and horse corral with one resident horse and a dozen egg laying hens!
Home Amenities List
| | |
| --- | --- |
| | Cable TV |

| | |
| --- | --- |
| | Entertainment Center |

| | |
| --- | --- |
| | DVD Player |

| | |
| --- | --- |
| | Hot Tub |

| | |
| --- | --- |
| | Wood Fireplace |

| | |
| --- | --- |
| | Air Conditioning |

| | |
| --- | --- |
| | Central Heating |

| | |
| --- | --- |
| | Game Room |

| | |
| --- | --- |
| | Full Kitchen |

| | |
| --- | --- |
| | Microwave |

| | |
| --- | --- |
| | Washer/Dryer Unit |

| | |
| --- | --- |
| | Bar |

| | |
| --- | --- |
| | Telephone (Local Calls) |

| | |
| --- | --- |
| | Outdoor Grill |

| | |
| --- | --- |
| | Wireless Internet |
The Mansion sleeps up to 14 guests in beds

The Dining room seats 12 guests

One Master suite with King bed,private bath, balcony and TV
One Master suite with Queen bed, private bath and balcony
One room with queen bed, shared bath and balconette
One room with Queen Bed and shared bath
One room with one queen bed and one full bed and shared bath

Office on first level with Queen Murphy bed

Additional queen air mattress available

One twin rollaway bed

We also have a private 1 bedroom guest house available

that sleeps an additional 4 guests

One Queen Bed plus a queen sofa bed

at additional cost

Pets are allowed with an additional $25 per night per pet with a two pet maximum.

There is off street parking for 6 cars, please use the designated parking spaces, if more than 6 cars are present please park on the Mansion side of the street.

Guest(s) agree that the number of registered occupants should not exceed 16 on the property at once and 12 on property overnight. No events allowed that exceed the maximum number of guests on the property. No vendors allowed on property without permission of owner. No commercial photography or filming allowed without permission of the owner. This is not a party house. Quiet hours are 10pm-7am. No amplified music or noise during quiet hours.

Transient Occupancy and Business License #7878 Date issued 9/1/2012?
Fees & Deposits
A $1,500 deposit is required to reserve your date, and the balance is due 30 days prior to check- in. Damage deposit insurance of $59 and a cleaning fee required of $250
Availability
Year-round
Vacation Rental Prices

Per night rate is $1195 weekdays, $1295 weekend nights, 3 night minimum.

$6700/week (7 nights, 8 days). $3585/weekend (3 nights, 4 days)

Holiday and summer rates $1295 weekdays, $1395 weekend nights

$6700 (7 nights, 8days)$3985/weekend (3 nights, 4 days).

Minimum stay of four to five nights for holidays.

Note: Cleaning fee and County tax are additional. Until confirmed, rates are subject to change without notice.

Acacia Guest house is $170 weekdays and $210 weekend nights, 2 night minimum $1050/ week (7 nights, 8 days)

Holiday and summer rates are $185 weekdays and $260 weekend nights

Minimum stay of four or five nights for holidays.

Note: The guest house may be booked during your stay by other guests but Mansion guests have priority over the pool, saloon and grounds.


Rental Policies and Conditions
Minimum Stay
A minimum stay of 3 nights required during standard rental dates.
Currency
All currencies are shown in USD.
The Mansion has 8 beds, 1 rollaway and an additional pull out couch and can accommodate a maximum of 16 people. Additional fees for special events. There is $250 cleaning fee and a refundable damage deposit of $1,500.00 due to reserve the Mansion and required at least 30 days prior to your arrival date. Rates and minimum stays are subject to change.
Reviews
Rajat C. said:Its better than the pictures?
stayed 5/29/18
We were a group of five families with little kids who wanted time away on the Memorial Day weekend. And that is exactly what we got. Although we just stayed for two nights, we lost track of time by the end of it. The kids had a blast at the dip pool, the grown ups had long conversations in the saloon, the bbq in moonlight was awesome, the rooms were comfortable (you have to give the margin that its a 1930s build), and the host was perfect. The presence of the Alpacas made it extra-ordinary. We want to do this again!
Marisol G said:Wonderfully special experience in a very unique setting
stayed 2/14/18
?What a special setting to feel like you are in a different time period, but with modern conveniences. There was so much on the property to take advantage of and so close to town for an easy, convenient sightseeing and shopping spree. Wills loop trail was very close by and a beautiful sight to see.?
Debbie R. said:Fantastic for a family getaway with children?We were eight adults and four small children.
stayed 6/21/17
We enjoyed the pool, the saloon, picking oranges, the outdoor fireplace, Gina the chef, the masseuses, walking around the grounds, feeding the Alpacas, and having fresh laid eggs for breakfast.?
Cathy E said:Wonderful Weekend Getaway with Family and Friends
Stayed 5/12/16
?I booked the Acacia Mansion for a post-graduation weekend celebration/getaway with 12 of my closest friends and family members. We were a group in our 40's and 50's, so it wasn't too wild...but read on and you'll see how much fun this place is. First I have to say that the photos on the website, while accurate, do not do this property justice. It is a beautiful and stately Spanish-style home (circa 1929) in a quiet residential neighborhood just outside of Ojai proper. The owner Kristina has styled the main rooms very elegantly, and this is reflective of the grandeur of the home. Each of the five main bedrooms is different, with elegant and tasteful antique furnishings and finishes. The beds were comfortable (I stayed in the Red Lotus suite), and several had private baths. There was also a bonus room in the den that doubles as an office, complete with a Murphy bed in the wall and adjacent bathroom. Everything you might need at home was on hand, including extra sheets, towels, bath amenities, coffee, etc. The gourmet kitchen was fully stocked with the essentials and much more. We're accustomed to staying in hotels, and this really was like staying at someone's grand old home. We (the girls) used the kitchen to cook a big dinner on Saturday evening (while the guys bbq'd tri-tip outside) and we made a lovely brunch buffet on Sunday morning that we enjoyed at the umbrella tables outside. Despite having to hunt for a few things in the kitchen, we found all that we needed. The fresh oranges from the orchard (that we squeezed daily (with a really cool gizmo in the kitchen) made wonderful mimosas! The animals on the property (chickens and alpacas) were cute and friendly, and we enjoyed giving them approved snacks and taking photos. Well, maybe the chickens weren't very social, but we harvested their eggs to make a really nice quiche. Now comes the fun part. Saturday night was the big celebration because all of my guests had arrived by that time. Kristina had shared with me that there were several trunks full of various costumes and accoutrement that we were free to use. So we did. Everyone dressed up and we took some hilarious photos in the saloon (that's not a typo) outside before venturing into the salon/living room for some impromptu karaoke with the player piano. The piano I might mention had everything from Mozart to Madonna. It was a hoot. The last night of our trip was a bit melancholy (only because we had to leave the next day). I'll be back!?
Our fabulous Acacia Mansion wedding.






My family and I recently rented the acacia mansion for my wedding. We rented it for a week, and both the brides and grooms families stayed there. We arrived on a Saturday. The wedding was on the following Thursday. Upon arrival Kristina (the owner) gave us a tour and told us to feel free to use anything we found. She was very nice and hospitable! Had I seen this place prior i wouldn't have purchase even half of what I did for the wedding. It is fully stocked loaded and ready to go. We all enjoyed the gorgeous property, and amenities that came with. Our week went faster than we wanted for sure. So many fun things to do on the property and around ojai. The website's pictures do not do it justice. It is truly unbelievable. The best part was bittersweet. My dj got the date wrong and didn't show. Luckily Kristina was there to save the day. She heard the problem and said she would use the awesome sound system she had and dj for us. My fiancé gave her the list of music and the wedding resumed only 30 min late. She was right on all night! I wouldnt have changed a moment of our week, and would recommend the acacia mansion to anyone. Thanks again Kristina!!!!

Denee S.
san diego, california usa
Safe and Secure Payments with your choice of PayPal or credit card
Address: Fantastic Villas
1482 East Valley Road #325
Santa Barbara, CA 93108
Skype: fantastic.villas
E-mail: suzy@fantasticvillas.com