HOME ALL RENTALS CONCIERGE FUN THINGS TO DO PROPERTY MANAGEMENT FAQs ABOUT US CONTACT
Art Lover's Retreat
Foothills, Santa Barbara, CA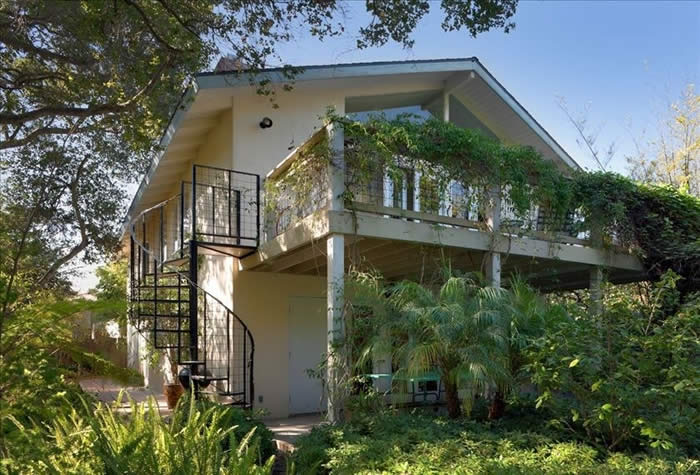 Gourmet Kitchen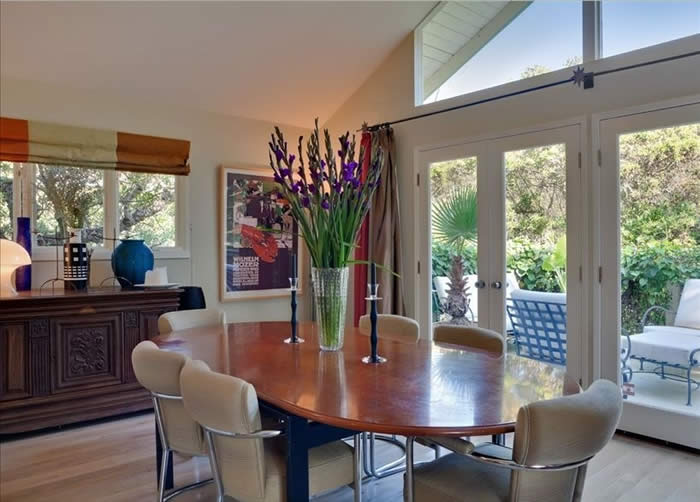 Living Room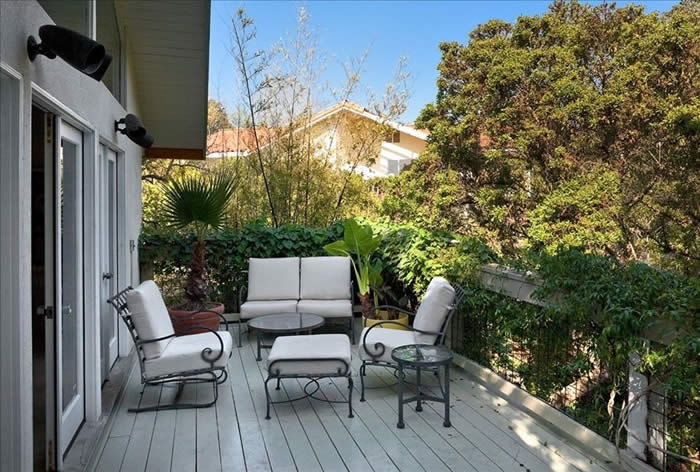 Living Room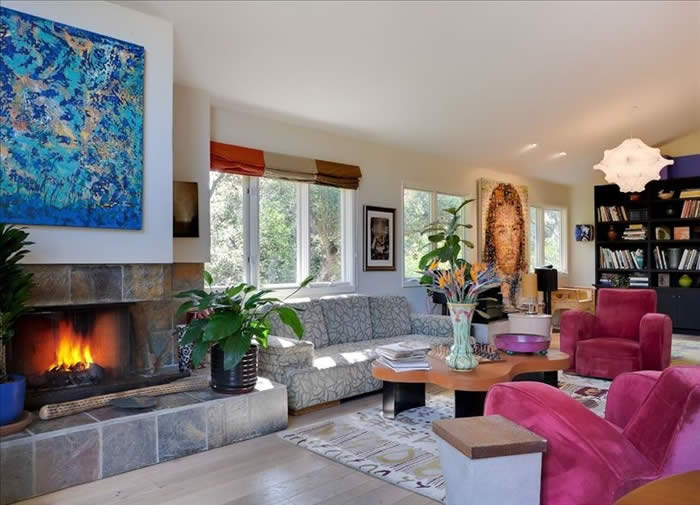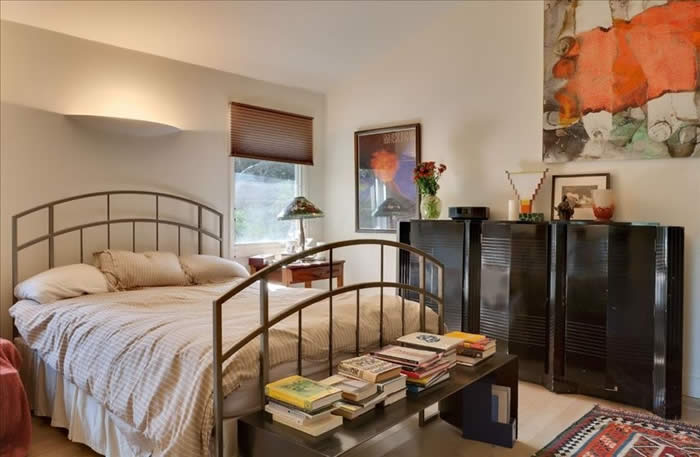 Master Bedroom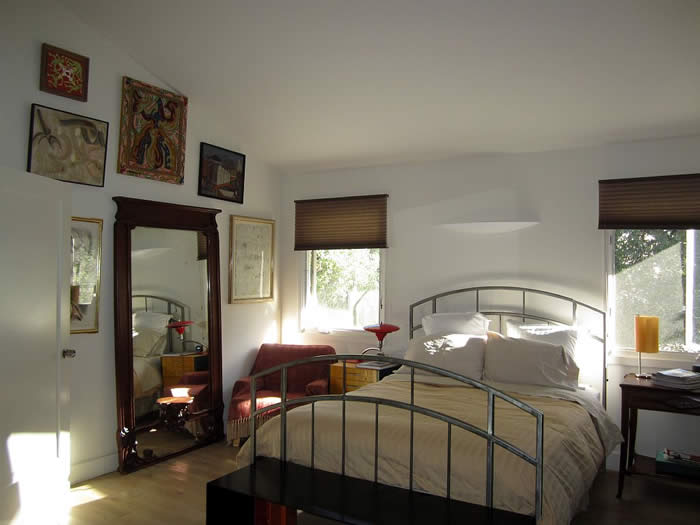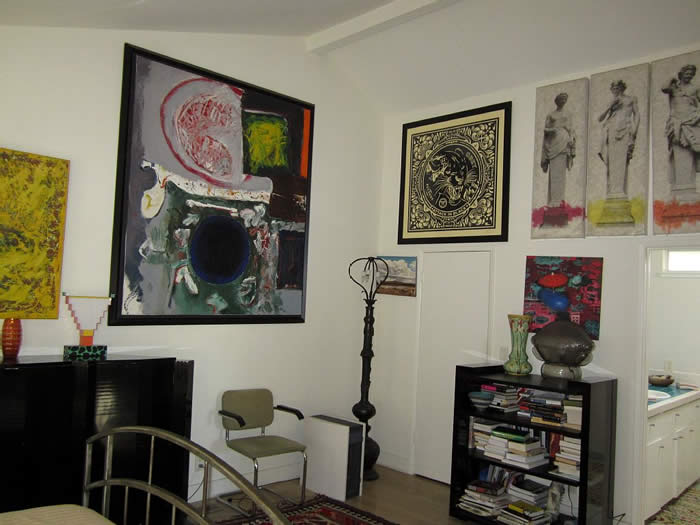 Upstairs Half Bathroom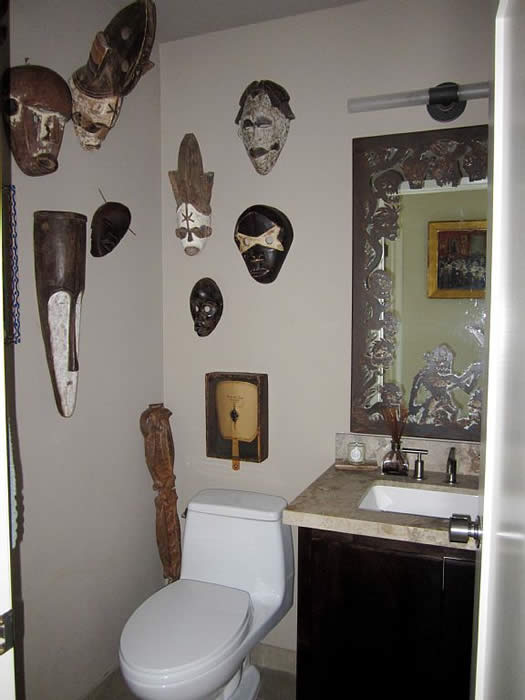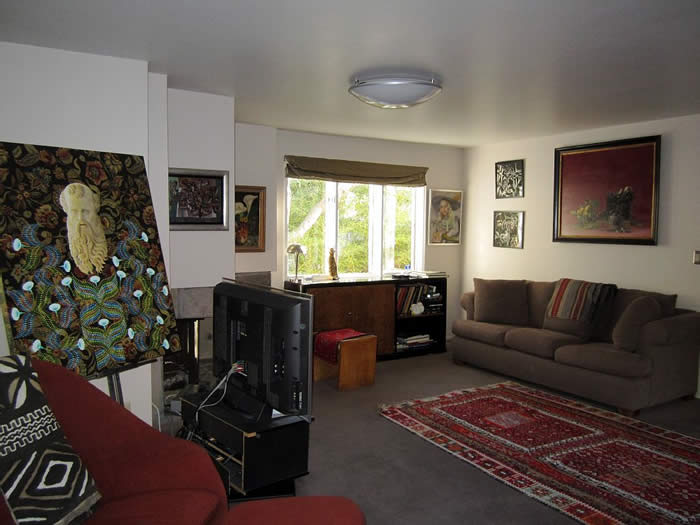 Den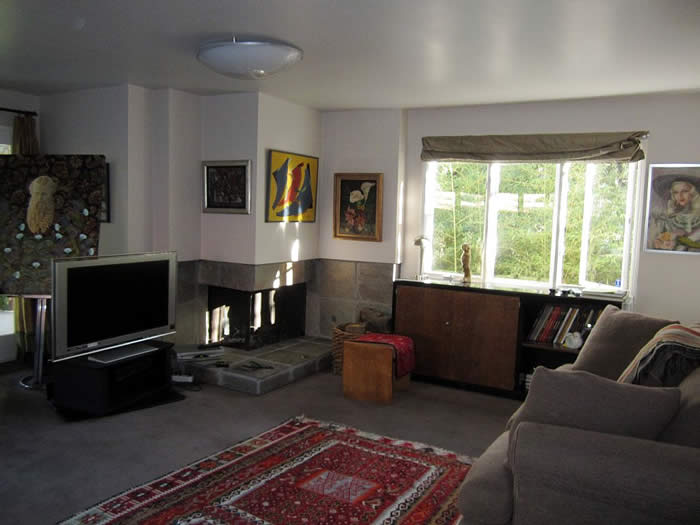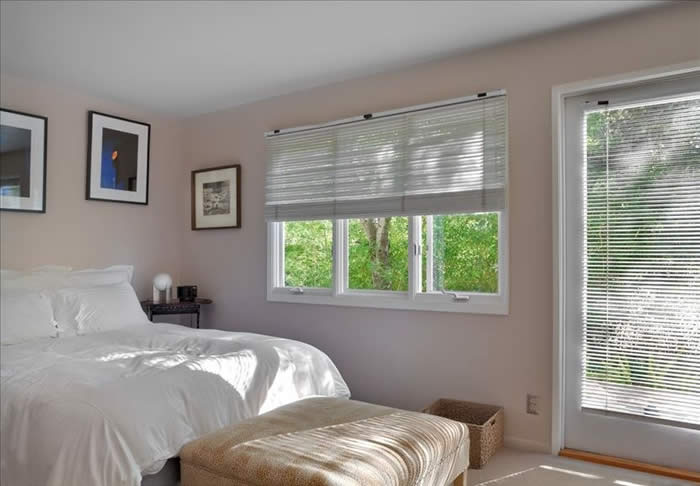 Downstairs Bedroom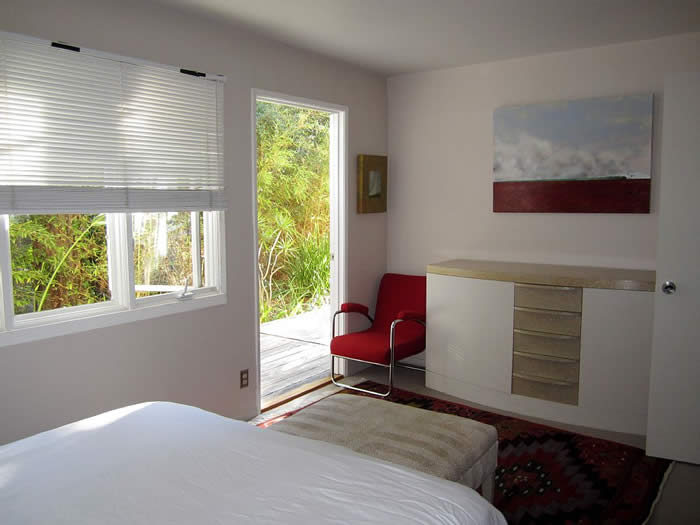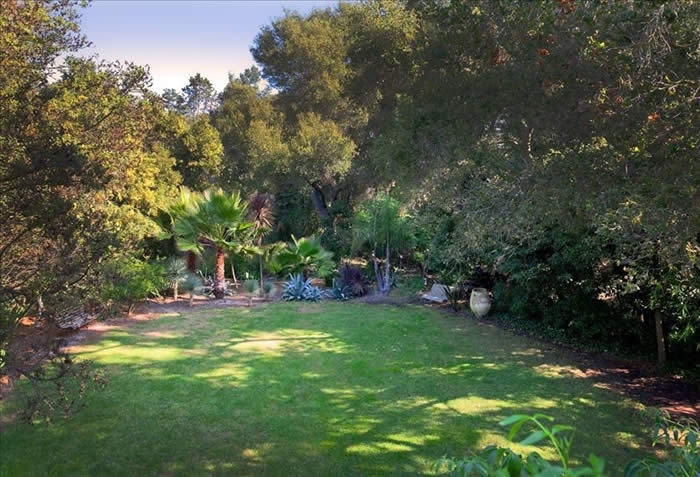 Downstairs Bedroom 2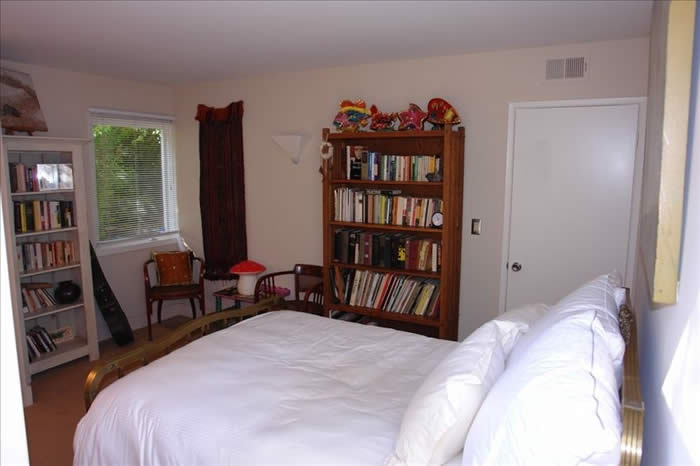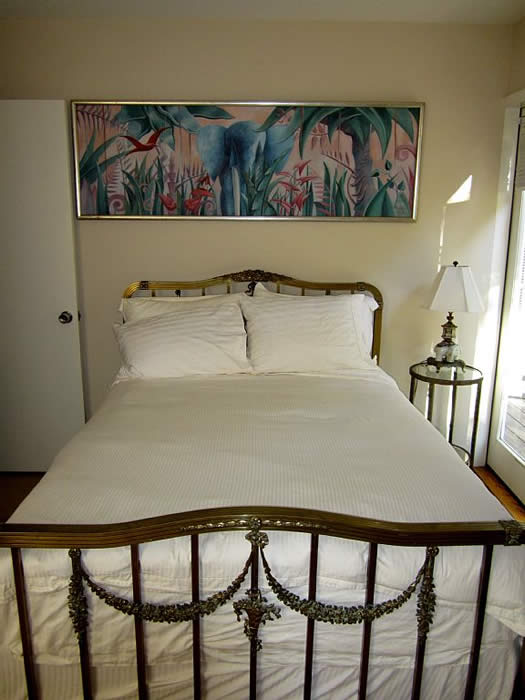 Downstairs Bedroom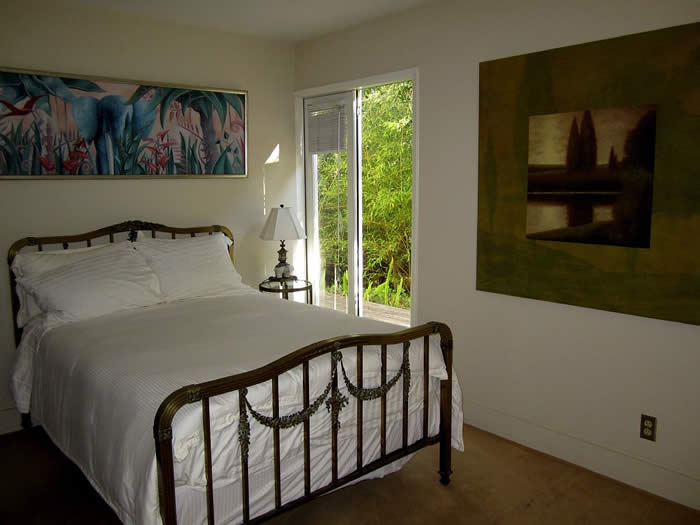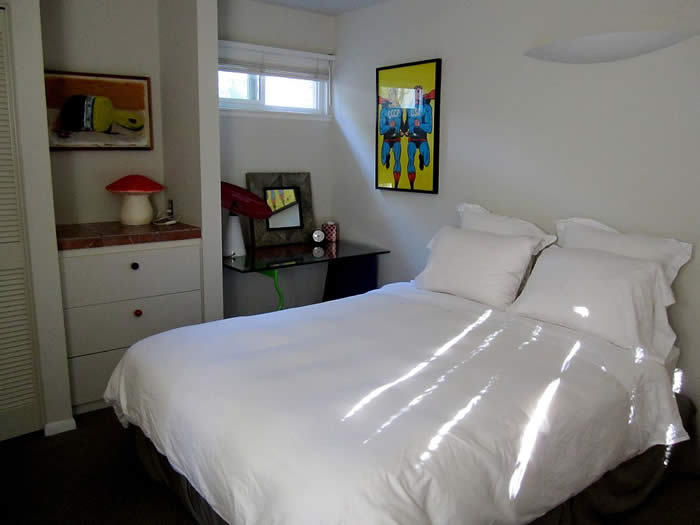 Downstairs Bedroom 3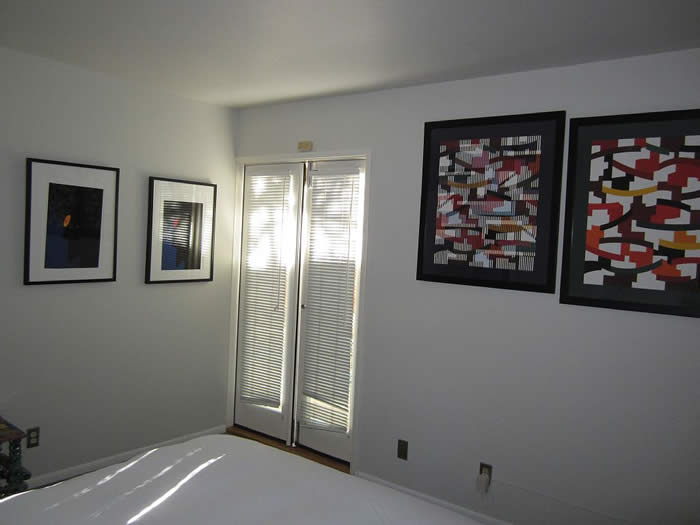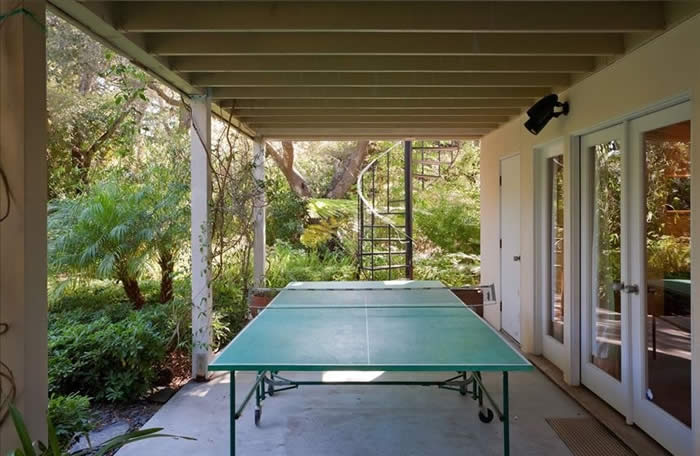 Patio Pool Table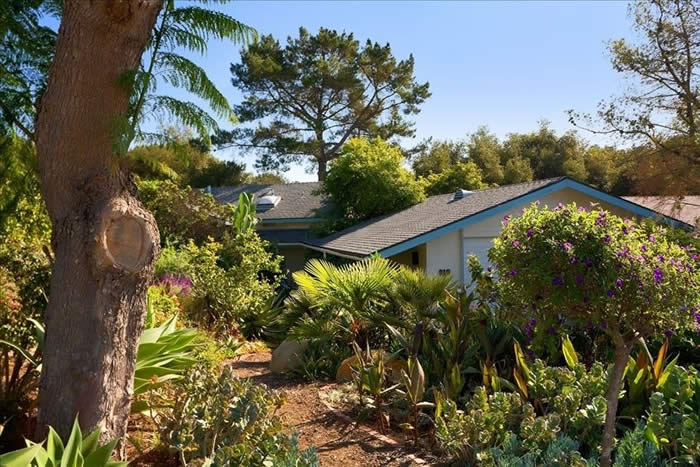 The Art Lover's Retreat is located in the Santa Barbara foothills one block from beautiful nature trails in a very quiet and peaceful neighborhood. Owned by a Parisian Art Dealer, the home is beautifully decorated with eclectic 20th century European and American Artwork, some of which is available for purchase. Additionally the house is uniquely furnished with an open floor plan where you can delight your taste buds in the gourmet kitchen, curl up next to the open fireplace or just relax in the living room while simultaneously enjoying family and friends in the fun and sophisticated environment. There is also a lovely private back yard where you can enchant yourself in the delightful gardens or soak in the sunshine... there is so much to enjoy at the Art Lover's Retreat.

Downtown Santa Barbara is just minutes away for enjoying world class dining, live theatre, music, wine tasting and nightlife. Beautiful, pristine Pacific Ocean beaches are just 10 minutes from your door.

The Art Lover's retreat is perfect for family reunions, corporate events and other get-togethers. Available year round in Santa Barbara's legendary Mediterranean climate, the Art Lover's Retreat...your home away from home, awaits you.
Property Type
Accommodation Type
Meals
Guests Provide Their Own Meals
Suitability
Minimum Age Limit For Renters
Bedrooms: 4 Bedrooms, Sleeps 10, Beds for 8-10
Bedroom 1
Bedroom 2
Bedroom 3
Bedroom 4
Den
Queen size Beds (4) There are 4 bedrooms each with a queen size bed, Sleep Sofa or Futons (1) There is a queen size sleeper couch in the den
Bathrooms: 2 Bathrooms, 1 Half Bathroom
Other Amenities
Santa Barbara has excellent wine tasting spots!
Entertainment
Books
CD Player
DVD Player
Music Library
Ping Pong Table
Satellite / Cable
Attractions
Health/Beauty Spa
Live Theater
Local Services & Businesses
Massage Therapist
Medical Services
Leisure Activities
Antiquing
Beachcombing
Boating
Horseback Riding
Horseshoes
Scenic Drives
Shelling
Shopping
Shuffleboard
Sight Seeing
Walking
Wildlife Viewing
Location Type
Sports & Adventure Activities
Basketball Court
Cycling
Fishing
Golf
Hiking
Hot Air Ballooning
Jet Skiing
Kayaking
Mountain Biking
Racquetball
Rock Climbing
Sailing
Snorkeling/Diving
Surfing
Swimming
Tennis
Wind-Surfing
Dining
General
Air Conditioning
Clothes Dryer
Fireplace
Gas Fireplace
Hair Dryer
Heating
Iron & Board
Linens Provided
Living Room
Parking:
Parking Off Street
Telephone
Towels Provided:
Kitchen
Catering Available
Coffee Maker:
Expresso Maker also

Cooking Utensils

Dishes & Utensils
Dishwasher
Ice Maker
Kitchen:
Oven
Refrigerator
Stove
Toaster
Outside
Lawn / Garden
Outdoor Grill
Perfect for our extended family
It was a great place for the 10 of us to have group gatherings, cook and have private space. The art is really interesting and added to the experience. Laila, Berkeley, CA
Lovely house
The house is exactly as shown in the photos. It's airy, very lite, extremely artistic, wonderfully stocked kitchen and supplies and good enough for a couple of families sharing the space. It's only a 10 min drive max to the main area on State st. I would stay here again during winter time, especially since I was in love with the pots and pans in this house. Lash, San Fran, CA
Spacious, fun, and eclectic
I booked this rental for me and 8 other girls for my friend's bachelorette weekend in Santa Barbara. The location was great, close to downtown and the beach. A few of the girls also discovered a 2-mile running trail with a big hill in the neighborhood. All of the girls, especially the bride-to-be, loved the place. The decor was fun and eclectic. We had a good time discovering new art and trinkets each day, like the oinking pigs in the upstairs bedroom. The kitchen was very well stocked and spacious enough to hold all of us plus a cooking instructor for the cooking class we booked. There is a ping pong table downstairs in the backyard, and a deck upstairs. The dining room table was big enough to accommodate all of us with plenty of room to eat, play cards, and chat. The only problem was the pull-out couch downstairs, which was quite lumpy and crooked/angled when pulled out. This meant one person had to sleep on the hard upstairs couch, which was not so comfortable. This aside, I would highly recommend this rental if you are considering hosting a lot of people for a weekend! Jennifer K.
eclectic fun house
I organized a trip here for me and 8 of my friends for a bachelorette party. The house met all of our needs wonderfully, there was even enough bathroom space for all of us girls. We loved the artwork and the fresh flowers were a very nice touch. Liz was beyond helpful and quick to respond to all of my questions. The only reason this doesn't get a 5 star is because it is listed that it has room for 10 people. There are four bedrooms with full size beds and a media room with a couch that pulls out into a full size bed, but the pull out bed is awful! Really no body should ever have to sleep on something so lumpy and it didn't even lay flat (it was about a 20 degree angle). Thankfully we only had nine girls so one just slept on the couch. If we had known ahead of time, we would have brought a blow up mattress for her to sleep on. There is plenty of room in the media room to have set up two blow up mattresses if we had wanted. Overall, the house was clean, eclectic, and met all of our needs. We had a great stay and I would definitely come back again. Trose
Great Girls' Weekend Getaway
We did really enjoy our time at the house. It is very clean and so well equipped, and the spaciousness and peace and quiet were lovely. It met all of our needs -- lots of space to sit around together, but also a separate bedroom and comfortable bed for each of us. And plenty of bathrooms! We spent lots of time sitting in the nice open living room and on the balcony catching up on each other's lives. All of the art makes this a unique vacation rental -- like staying in a gallery, but with comfy beds. We found the location very convenient to the things we wanted to see and do in Santa Barbara. Liz was so welcoming and helpful. The one thing we would suggest to make this home perfect would be screens on at least some of the windows. It could get hot and stuffy, especially upstairs, and when we opened windows, then we got some bugs. We would definitely recommend this home to others seeking a peaceful, quiet spot for simply enjoying each other's company and sampling the pleasures of Santa Barbara. (If you visit in late May, early June, Il Madonnari chalk paintings at the Mission are a must-see.) WWW San Diego
Great stay!
We had a ladies reunion at this property in the beginning of April. We couldn't have asked for a more peaceful place. The open floor plan with the beautiful garden was so wonderful. Also, the fully stocked kitchen and linens provided such a comfortable stay. Liz was great and very responsive. We couldn't have asked for a better place to stay! Will definitely come back if we have another reunion. Danielle, LA
Amazing home, Beautiful property!
This was my first time staying in Santa Barbara and I must say it was one of the best weekends I've ever had. Liz was great! She was very communicative and accommodating. I/We would stay here again in a heartbeat! All of us who stayed are appreciative and happy to have made this home our choice for the weekend. We will all highly recommend this to our friends and family! Thank you! Hortywho, Chino Hills, CA
Fabulous Weekend Rental
My family rented this home for the weekend. My cousin was graduating from UCSB and we all came into town to attend the graduation. The highlight of the house was the backyard. Our family just sat in the sun and BBQ'd in the backyard on Saturday. It was a gorgeous day in Santa Barabra! The house was perfect for all the guests, all the rooms were comfortable and clean. Next time we head to SB for a long weekend, we will absolutely be coming back to this Art Lover's Retreat! Tasha Huntington Beach, CA
Amazing Vacation Retreat!
I have rented many vacation rentals in the past and this home surpassed all of my expectations! Beautiful home with all the amentities you would need! Plenty of room for all of your guests, beautiful artwork everywhere, comfortable rooms and outdoor seating; this place has it all! Close to downtown, yet the feeling of privacy! If you are vacationing in Santa Barbara area, this is the best! I would come back again and again! A Fort Bragg, CA
RATES
$850/night 2 night minimum
Additional information about rental rates
Fees:
Refundable Damage Deposit $1,000
cleaning $200
Safe and Secure Payments with your choice of PayPal or credit card + 4% PayPal/credit card fee
Address: Fantastic Villas
1482 East Valley Road #325
Santa Barbara, CA 93108
Skype: fantastic.villas
E-mail:suzy@fantasticvillas.com