HOME ALL RENTALS FUN THINGS TO DO PROPERTY MANAGEMENT FAQs ABOUT US CONTACT
CASA GUACAMOLE
Puerto Vallarta, Mexico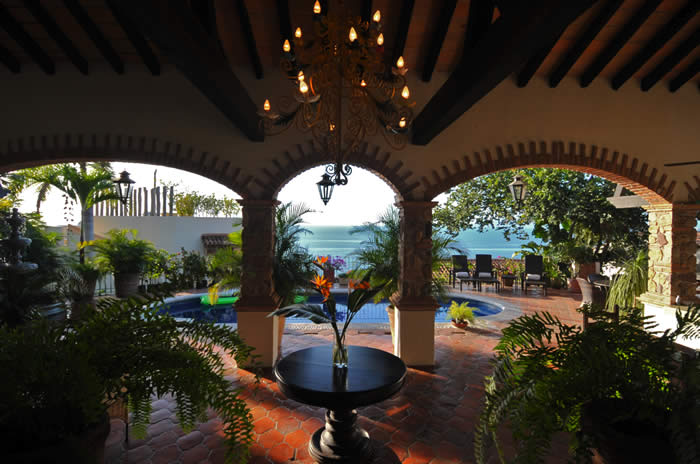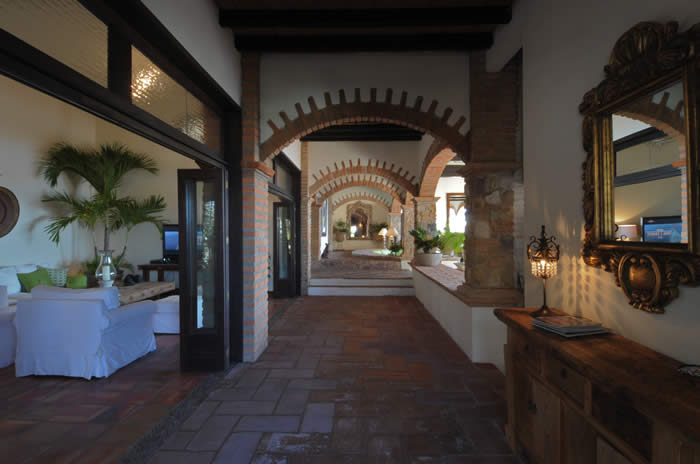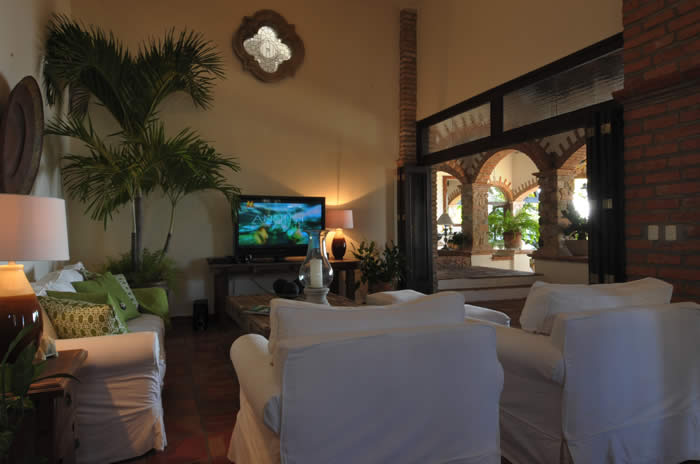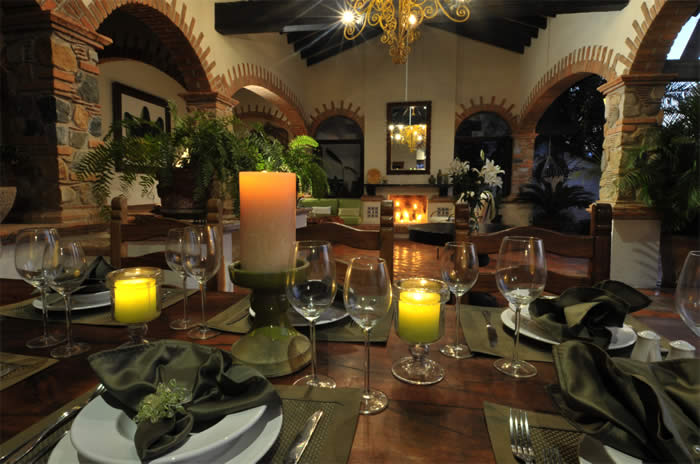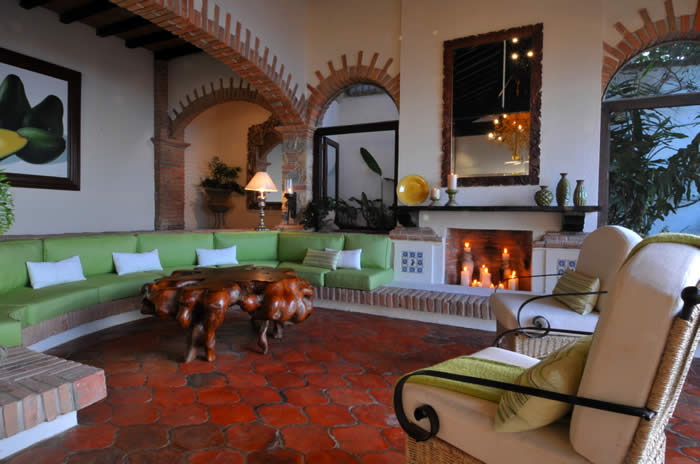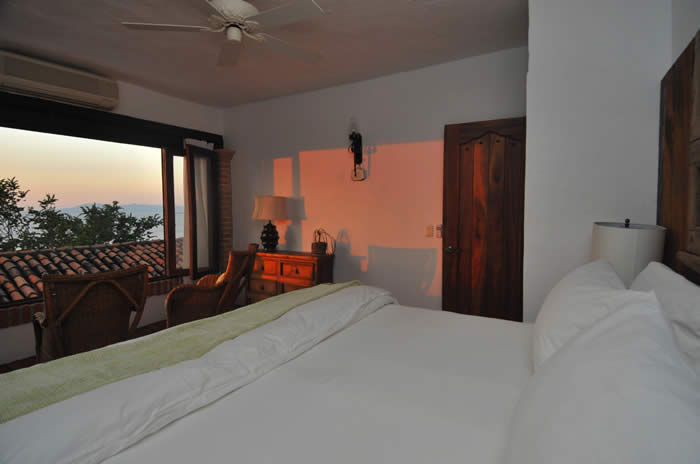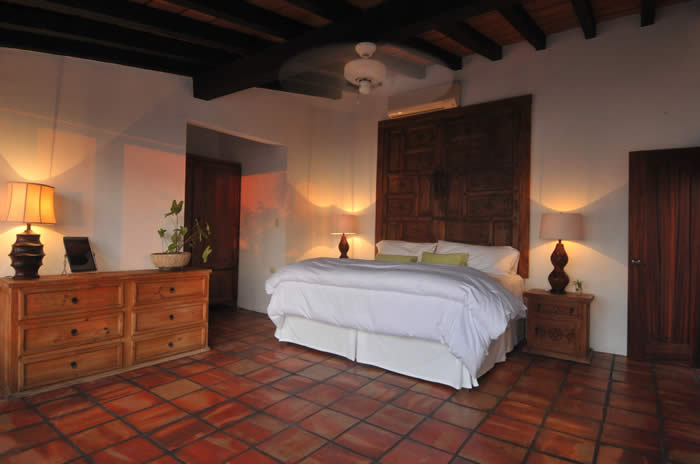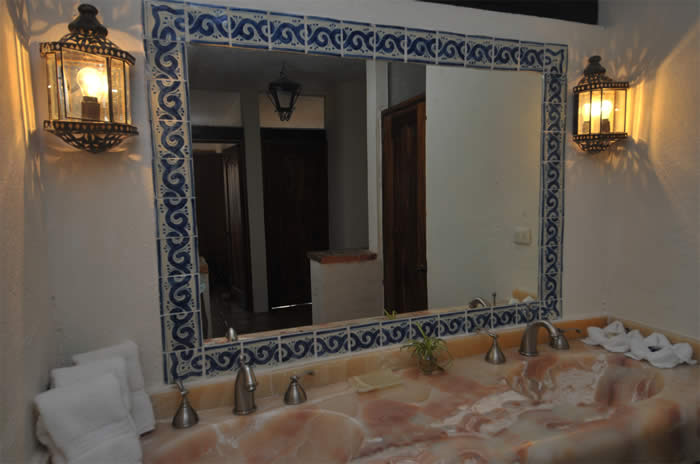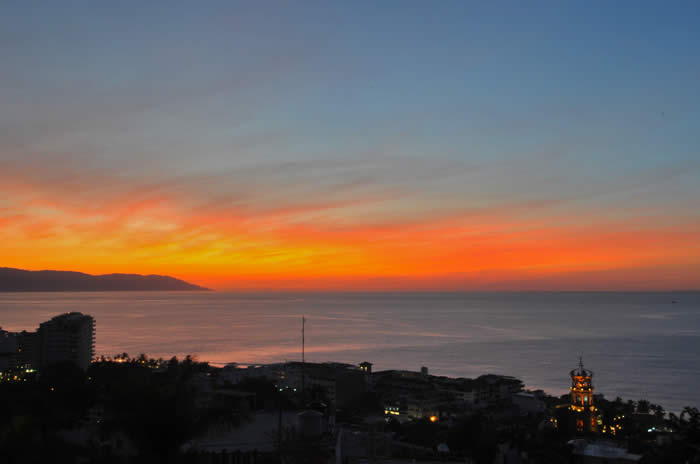 Welcome to Casa Guacamole – a Beautiful Hillside Villa with an Amazing View of Banderas Bay
This charming Mexican villa built in typical Vallarta style, offers dramatic stone and brick archways. Casa Guacamole is a beautiful 5,000 sq. feet, 3 story villa nestled on the hillside with spectacular views of the Bay of Banderas. Conveniently located in Gringo Gulch within walking distance to all the fine restaurants, shopping, open air markets, beach and popular nightlife. Relax on the terrace sipping margaritas while enjoying the many spectacular sunsets or the nightly fireworks display.
Every room has an ocean view. The open air concept on the first floor allows for amazing bay breezes to flow through the villa. This villa is very charming and dramatic. All the beds are new and very comfortable. There is daily maid service except for Sunday. A chef is available upon request.
Ideal for a honeymoon, small celebration, or spending time with family and friends.
Accommodations for Casa Guacamole
Bedrooms
4 bedrooms with king beds (1 king converts to 2 twins)
– 2 bedrooms with en suite baths
– 2 bedrooms with shared bath
– All bedrooms equipped with air conditioning and ceiling fans
– Complete with 500-600 thread count sheets and down comforters
– All beds are new and very comfortable
– Safes in each bedroom
– Handmade parota doors and armoirs
Property Type
Accommodation Type
Meals
Guests Provide Their Own Meals
Onsite Services
Housekeeper Included
Car Available
Concierge
Daily Maid Service
Massage
Private Chef
Staff
Suitability
Events Allowed
Long-Term Renters Welcome
Minimum Age Limit For Renters:
Alternative Lifestyle
Not Suitable For Children:
outside areas only

Wheelchair Inaccessible
Bedrooms: 4 Bedrooms, Sleeps 10, Beds for 8-10
Bedroom 1
Bedroom 2
Bedroom 3
Bedroom 4
Den
King size beds (4), one king bed separates into 2 twins. (1) Queen sized aerobed for media room available for nominal fee.
Bathrooms: 3 Bathrooms, 1 Half Bathroom
Bathroom 1
Bathroom 2
Bathroom 3
Entertainment
(5) Cable TV in all bedrooms and media room

Stereo

Television:

(5) Large 50' flat screen in media room and all four bedrooms have wall mounted 25' flat screens

Video Library:

selection of dvd movies
Theme
Attractions
Botanical Garden
Churches
Cinemas
Health/Beauty Spa
Marina
Restaurants
Local Services & Businesses
Leisure Activities
Antiquing
Beachcombing
Boating
Horseback Riding
Paddle Boating
Scenic Drives
Shopping
Sight Seeing
Walking
Whale Watching
Location Type
Near The Ocean
Ocean View
Sports & Adventure Activities
Cycling
Deepsea Fishing
Fishing
Golf
Jet Skiing
Parasailing
Sailing
Scuba Diving Or Snorkeling
Snorkeling
Snorkeling/Diving
Sound/Bay Fishing
Surfing
Swimming
Tennis
Water Skiing
Dining
General
Activities Guide
Air Conditioning
Basic Soaps
Bottled Water
Broadband Access
Ceiling Fans
Clothes Dryer:
Free vonage phone line for long distance calls to the US and Canada. Phones are clearly marked

Hair Dryer

Internet

Iron & Board

Linens Provided:

620 thread count sheets, plush towels.Down comforters

Local Activities Guide

Local Maps

Local Restaurant Guide

Paper Towels
Parking On Street
Safe
Telephone:
(2) local house phone for local calls to taxis, restaurants, etc

Toilet Paper

Towels Provided

Washing Machine:

laundry service available

Water Cooler

Wireless Internet

Wood Fireplace:

candles only in fireplace
Kitchen
4 Ring Stove
Blender
Catering Available:
Dishes & Utensils
Freezer
Grill
Kitchen:
Bottled water,coffee maker,coffee grinder,juicer,blender,toaster oven,food processor, full ammenities

Lobster Pot

Microwave
Mini Refrigerator
Oven
Pantry Items
Refrigerator
Stove
Stove
Toaster
Outside
Off 3rd bedroom

Barbecue

Beach Towels

Binoculars
(2) Pool terrace tiled patio

Lanai / Gazebo:

3rd floor tiled rooftop terrace

Outdoor Grill:

large 8 burner weber built in grill.

Outdoor Grill Gas
Patio
Porch / Veranda
Terrace
Unscreened Porch / Veranda
Pool / Spa
House Cleaning
Rates for Casa Guacamole (in US Dollars)
Low Season

May 1 — October 31 — 400 (plus 16% tax) a night (5 night minimum)

High Season

November 1 — April 30— 500 (plus 16% tax) a night (5 night minimum)

Holidays

Thanksgiving, Christmas, New Years, Easter — 700 (plus 16% tax) a night
Rates are based on 8 guests; add 50 USD per night, per additional guest
By special request, we also make arrangements for airport transfers, baby sitting, massages, mariachi bands chauffered cars and flower delivery for that special occasion.
Reviews
Always Spectacular
We (a group of four friends) have stayed here five times for ten days at a time over the past four years. We are headed back in a few weeks. It is centrally located up the hill behind the Cathedral. The views are stunning from the Casa and everyday after the beach or an activity, jumping in the pool is the best way to unwind for the day. The Girls (Carolina and Erika) are amazing and friendly and we utilize their breakfast cooking service daily. You may find that laying by the pool with cocktails and the music playing as you look at the ocean view may become your daily activity, as it is the most relaxing scenario. I will keep coming back here as Jeffrey has turned this Casa into my sanctuary and home away from home. Michael San Diego, CA
Stayed 2014
Exceeded our Expectations!
Thank you so much for sharing your beautiful home with my family, friends and me. We stayed for 2 weeks and loved every minute of it. Our favourite moments were have Erica and Carolina surprise us with their amazing culinary skills at breakfast and several dinners. The location of the house is perfect, within walking distance to hundreds of bars and restaurants. We never had a meal that disappointed. We have travelled a lot and this is by far the most beautiful, unique home we have ever stayed in. The kitchen is outside!!!!! I have nothing negative to say about this place, I even enjoyed the nightly 250 steps back up to the house, helped keep the weight off so we could enjoy those meals. Would absolutely come back and would recommend for families and friends. Thanks Jeffrey, Arturo, Erica and Carolina. Barb, Calgary
Amazing Birthday Celebration
I want to follow up after our stay at Casa Guacamole on behalf of myself and the girls. I couldn't have asked for a better birthday celebration than our stay at your house. We were in awe once we entered the beautiful house and experienced the layout with such amazing views and the perfect furnishings with all the conveniences. Of course that was after huffing and puffing up a lot of steps, but that was a whole other experience that turned out to be the perfect way to burn off all the margaritas and guacamole. I was definitely in better shape when I left than when I arrived and enjoyed my walks and climbs. We love your staff who took such good care of us and served wonderful breakfasts and cooked us a special dinner. Your driver, was wonderful, so professional and patient waiting for us while we were on our adventures. Being in a neighborhood proved to be such fun, meeting people on our way up and down the streets. We explored and had wonderful adventures. I got the upper bedroom, because I am the birthday girl, and loved the balcony over looking all of Puerto Vallarta. I have been raving about our stay with friends and clients as a hidden gem for a wonderful holiday. I hope we can return one day. Pam, San Jose
Fantastic Week
We just finished the most fantastic week at Casa Guacamole. Have never stayed in a property so well appointed and were amazed at the beauty and location of the property. Erika and Catalina were fantastic as they prepared breakfast and one dinner for our group. We hired a mariachi band for one night of appetizers and cocktails and it could not have been more perfect. The property gives the feel of old Spanish architecture with all the modern amenities. Cannot say enough good things about Casa Guacamole. We are looking forward to returning with friends and family in the future. Thanks for a great week Jeffrey. Randy, San Jose, CA
SPECTACULAR VILLA
What a magical home you have created Jeffrey. Casa G. is absolutely stunning, the architecture is spectacular, decor superb and the location couldn't be better - right in the center of town. The view are just magical, overlooking the Bay of Banderas and Our Lady of Guadalupe Church, with fireworks in the evening just to cap it all off. My sister and family from Melbourne, Australia joined our family for a wonderful holiday in PV. We enjoyed the 5 block walk down to the Malecon (beach boardwalk/esplanade) exploring all the shops and markets and dining in the various restaurants. We also enjoyed the hike back up the hill (although taxis are plentiful for those not choosing to do so), knowing the reward would be diving into the beautiful pool and relaxing at the Casa. There's a great Tapas restaurant just two blocks down from the Casa that we enjoyed very much as well. The people of PV were all very warm and welcoming and we felt extremely safe and we're so glad we had the opportunity to stay in this wonderful city. I would also recommend Rigo, the driver you arranged to meet us at the airport - he is great and spoke English very well. We also hired him to take us on a day trip up the coast to Sayulita Beach, as well as a tasting at a Tequila factory to learn how it's made etc., which we enjoyed very much. We hired Marta to cook authentic Mexican meals for us on two evenings (don't miss out on this whatever you do!!). What a treat - the food was spectacular. Marta is an accomplished chef and a thoroughly delightful lady - next time we would like to have her cook every meal!! Erica the housekeeper and her colleague where very professional, helpful, friendly and did a great job of keeping the Casa ship shape. Thank you again Jeffrey for sharing your beautiful home with us. We can't wait to return! V Gemite, Sausalito, CA
It has been almost a year . . .
. . . since my week-long stay in paradise, and I am SO sorry not to be returning this year. Despite the stormy weather last October, our stay at Casa Guacamole was anything but. Best vacation I've ever had! Josie, Erika, and Marta were wonderful, and the villa is beyond beautiful. I hope to make it down next year! One more note -- I have severe arthritis in my knees, and the hill and stairs were very tough. I would crawl up the stairs if necessary to stay at Casa Guacamole again! As for the hill -- cabs are inexpensive. :-) Jeanine, Seattle, CA
Amazing Place
I celebrated my birthday at Casa Guacamole with 6 friends and the entire experience was fantastic. The villa is extraordinarily beautiful and the location is fantastic. It's set high up on a hill above downtown PV so there are a lot of stairs to climb but it is well worth if for the privacy and serene views. The rooms are very nicely appointed and the service was first rate. I cannot wait to go back. Artco, LA, CA
casa guacamole
Casa Guacamole is a beautiful casa located in the hillside behind the cathedral, just in front of "gringo gulch". It was a nice walk to town and all the favorite hotspots and restaurants, along with the wonderful Malecon and all the best shops. I would recommend a cab for the ride back to the casa, as some of the hills are steep.The casa is very roomy and was a great choice for our first annual ladies week vacation. Every bedroom has an ocean view.It was very secure and the staff was most excellant. We never experianced any problems as one might expect when you get 8 women togather in one place, we all found it to be the most perfect place for a relaxing vacation. How often do you hear of 8 women agreeing on anything? What really made it stand out was the the beauty of the architecture and the lovely art work adorning the walls, the care the staff takes to ensure you want for nothing. It was also a major plus to have access to the internet and free calls back home to let our spouses know everything was going great. You know how men can worry! For the budget minded travellers, you will find no better deal in all of Vallarta, for everything Casa Guacamole offers. I would highly recommend this Casa to anyone looking for privacy to do as they wish and breathtaking views. Ponyexpress, Monroe, MI
Family and Friends: A Great Week at Casa Guacamole
First and foremost I want to say that all of us enjoyed our stay at Casa G (as we all ended up calling it). We felt we were behind the curve on just about everything...i.e., we had Mary cook for us on Friday and realized we should have had her come in just about every night! She is incredible and what a great price! For 8 of us it was about $100 for groceries and $35 for her fee (absolutely ridiculous for the all the work she put in!). And all the leftovers for the next day. Not to mention the fact that she accommodated my "can't really eat spicy food" request. The chips, guacamole, and Margueritas upon arrival were a welcome we weren't expecting. What great foresight on Jeffrey's part! Erica was a delight (the downstairs help). We were all trying to figure out how to pack Erica and Mary into our suitcases to bring them home. Even though Marta couldn't speak English, we managed to get a few requests in! Casa G is blessed with an absolutely wonderful staff. Arriving Sunday evening, it wasn't until about Tuesday morning that I started to feel somewhat acclimated to the house and all it entailed. I guess this is because we had never vacationed this way before so it took awhile to get the "lay of the land" so to speak. Took me a day to figure out how I could get my room cold enough with the A/C. Didn't discover the drawer with the brochures or the games and books until about Wednesday. So everybody should look in the big armoire off the living room right away to see what they can take advantage of. As far as store suggestions, Rizo's was the best and closest (we thought). Walmart wasn't so great. And, THANK GOD we didn't rent a car! We were all laughing over the concept of trying to drive on those cobblestone streets. Once we finally (here again, behind the curve) got the ability to bargain our taxi rates we did well. One taxi (early on)...a van...charged 4 of us $200 pesos to go down to the flea market. We were irritated about that for the rest of the trip! All in all, it was a great time for all of us. I loved the rustic charm of the house and enjoyed the rooster as well as the chiming of the church bells. Jeffrey answered my endless emails and phone calls without hesitation, always willing to provide information. The pictures on his website gave a good indication of the house and all it entailed. I would definitely recommend this house. But be prepared for a lot of steps, both up to the house and inside as well. Pat P. Santa Barbara, CA
This place is a GEM!
I stayed at Casa Guacamole for a week last September. The house is IMMACULATE and beautifully decorated, and in an ideal location in Puerto Vallarta. The views from the house are some of the best in PV... I give this property a 5 out of 5 stars... highest rating I've ever given to any property. Missy D. Sherman Oaks, CA
We were a party of 7 who ...
We were a party of 7 who stayed in Casa Guacamole for 7 nights in January. It was fantastic! The house, furnishings, location were perfect. The walk up from the Malecon was steep, but we enjoyed our workout. Josie, Maria, Julia, Erika and Marta all made our stay wonderful. It was paradise! Maryanne Jones Jefferson City, MD
We have rented a few vaca...
We have rented a few vacation homes. This house is by far the nicest and most fully equipped. The area is wonderful as are the people who work at the house. The sunsets and views of the bay are to be seen for yourself. My family and I can not wait to go back. We went with 6 total people, two of which were in their late 70's and we all loved it. With the 4 large bedrooms, with the king sized beds, you can go with any combination of people and have fun and privacy. Sit out by the pool and grill at sunset with a drink, and for that small amount of time you will not want to be anywhere else. Alan Grover, Aiken, SC
Comment Text: My friends ...
Comment Text: My friends and I had a wonderful time staying at Casa Guacamole from the moment we arrived until our last minute there. It is a spectacular villa and the pictures really do it justice. The staff was very attentive and helpful and it was a great place to just kick back and relax or take a walk into town. Just one note about the location; it is up a very steep hill and then once at the house has many steps to get into the house and up to the bedrooms. It is not handicapped friendly so be careful when booking that you do not have anyone in your party who has difficulty walking. But even with the very long hard hill and stairs, everyone in our party agrees that when we return to PV, Casa Guacamole is the place for us. Steve, San Antonio
beautiful house I feel li...
beautiful house I feel like i was in at palace.incredible sea view,great place to rest or go away with the family.it was wonderful i will come back. thanks. Juniot Urena, New Jersey
One couldn't ask for a be...
One couldn't ask for a better vacation get away! The villa is clean, beautiful, and oh-so comfortable. It is also nearby local amenities and the ocean, yet private enough to feel like you have paradise to yourselves. This will be our new, annual special treat to ourselves. We highly recommend it! David Jacobs, Maine
I spent two weeks here in...
I spent two weeks here in July and it was perfect! The house is beautiful, Mary the cook was wonderful, and the location is ideal. I couldn't have asked for a nicer holiday. Michael Berthaume, NY
Safe and Secure Payments with your choice of PayPal or credit card + 4% PayPal/credit card fee, checks and wire transfers also accepted.
Address: Fantastic Villas
1482 East Valley Road #325
Santa Barbara, CA 93108
Skype: fantastic.villas
E-mail suzy@fantasticvillas.com