HOME ALL RENTALS CONCIERGE FUN THINGS TO DO PROPERTY MANAGEMENT FAQs ABOUT US CONTACT
CASA JOANNE
Puerto Vallarta, Mexico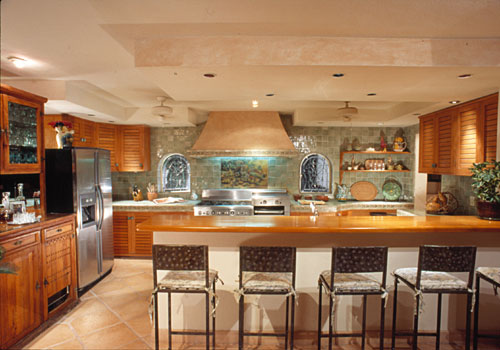 Living Room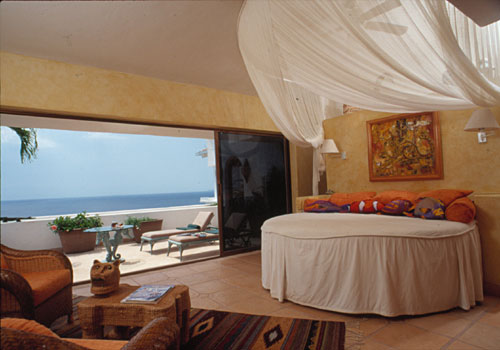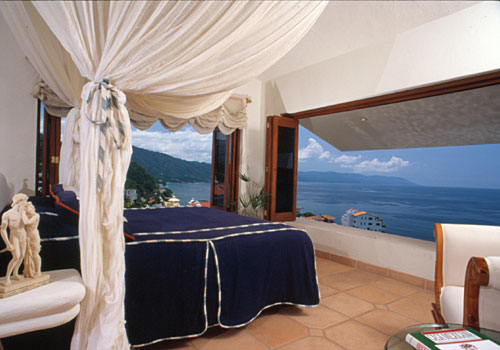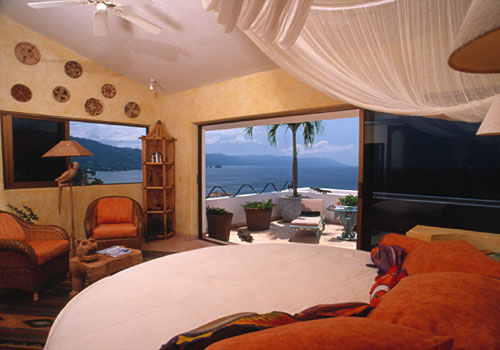 Dining Room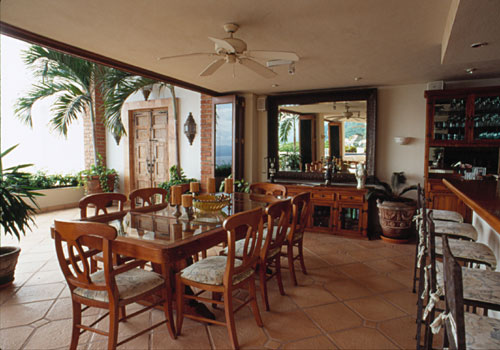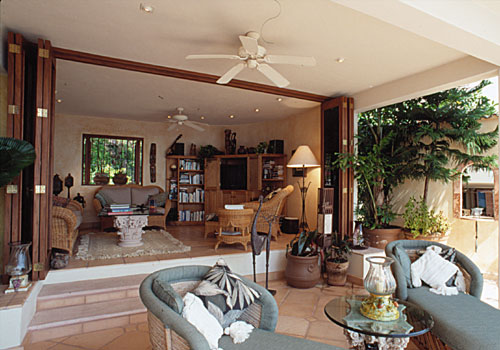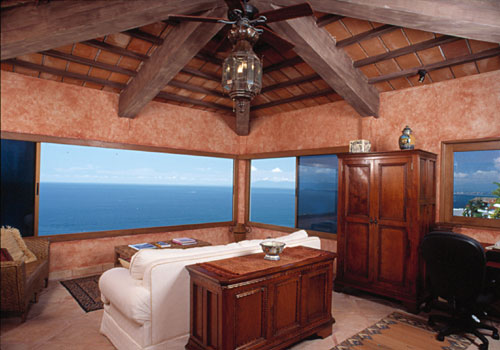 Bathroom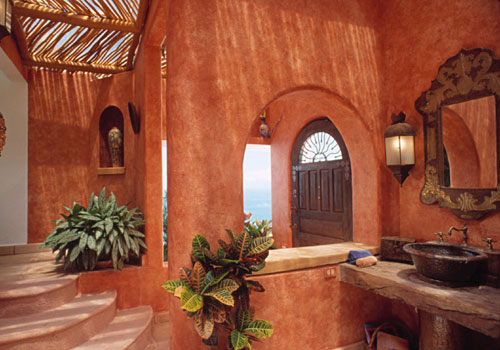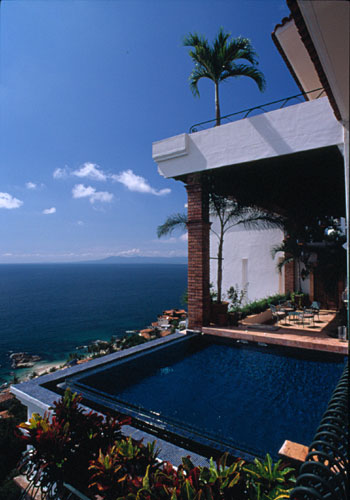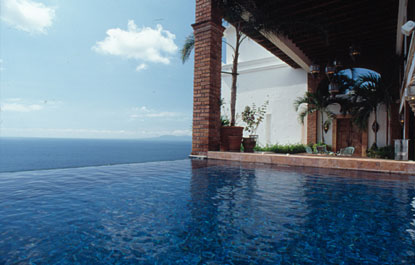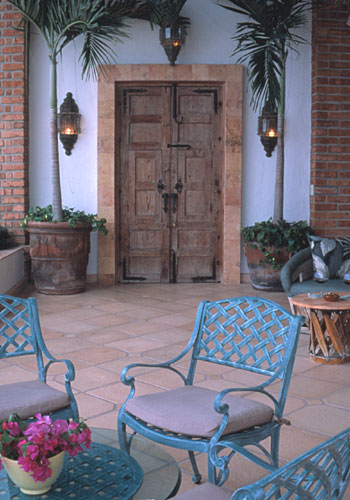 Entrance
Romance, Puerto Vallarta Style. Located in one of the most exclusive neighborhoods, guests enjoy this fabulous three bedroom, three-story penthouse in Conchas Chinas. Bathed by gentle breezes, sensual pleasures await you. Shower with a spectacular ocean view or enjoy margaritas poolside; you will feel relaxed and exhilarated after a stay at Casa Joanne.

Enjoy spaciousness with over 5,000 sq. ft. of living space and extraordinary interiors which are exquisitely furnished. There are wonderful examples of Mexican fine art and dramatic, unobstructed views of the bay from every room and terrace. The soft sound of falling water comes from two charming fountains which grace the dining area and the private terrace off the master bedroom.

Villa Information:
Overlooking the ocean in upper Conchas Chinas
3-4 bedrooms, 5 baths, sleeps 6-8.
Ocean view.
Communication includes telephone, facsimile, and internet access.
Staff incldes a housekeeper and gardener. Cook additional fee.
Children under 6 not permitted due to infinity pool.
Heated infinity pool and jacuzzi
Bedding includes: 3 king beds
4th bedroom is accessed through the 3rd (and has a queen pull out sofa sleeper)and shares a bathroom with the 3rd bedroom
A/C in living room and each bedroom
5,000 sq. ft. of living space
Satellite TV and stereo system
Water filtration system
The rate is based on a max of 2 guests per bedroom which includes adults as well as children, regardless of child's age. Additional guests will be charged a fee of $50USD per day
Rates: (*All rates are subject to change.)
Value Season: (4/30-10/31) - 900 USD per night
High Season: (11/1-12/18 & 1/5-4/29) - 1,000 USD per night
Christmas: (12/19-1/4) - 1,200 USD per night
Testimonials:
"Let me just say that Casa Joanne is truly spectacular! I'll always remember the moment when we arrived and walked through the door...we were completely speechless. The pictures on your website don't do your villas justice. Everything in this villas is so beautiful, not a detail is overlooked. Thanks again for providing such a wonderful experience for us...we enjoyed this magical place."


"Casa Joanne is very nice. Christina is fantastic! She did all she could to make us feel comfortable. I would stay at this villa again in the future without a doubt. Thank you for all your help with the arrangement of our vacation."
Everything we could have hoped for....
I cannot express how beautiful this villa was. Everything in the description is spot on. The views from every room were truly amazing. Every picture I shared would receive a Wow or Incredible response. There were 4 adults, 2 teens, and one eight year old child during our stay and we all have nothing but positive things to say. We were afraid the "teens" were going to be bored in the teen eyes since they are use to staying at resorts which is a whole different atmosphere but they were happy to have Wi-Fi and a quick taxi ride into town and that's all they needed. Guadalupe cooked us some amazing meals that near the end of our vacation we questioned why we were going out to eat some days. I'd like to thank the owner for responding quickly to my numerous questions and for providing us with so much information regarding the Villa and the area. Thank you so much for allowing us to stay in your Villa and we hope to return in the near future. Dennis B. Seattle
Tree Top Views of Banderas Bay - Luxury Style!
One of the best vacations ever! This is the second time staying at Casa Joanne and it was as wonderful this time as it was 4 years ago. This is one of the premier residential buildings in Puerto Vallarta's Conchas Chinas neighborhood and after 20 or more stays in Puerto Vallarta it's difficult to stay anywhere else. Excellent service and you can't beat the open feeling of being on top of this enormous building living in the lap of luxury yet feeling very much at home. The owners provide a beautiful environment for a great family/friends getaway vacation where you are actually paying less to stay with people that you know and love than you would in a hotel yet provided with twice the service, amenities and appeal. The best beach in PV is a 5 min. walk down the cobblestone streets or you could just soak up the views from any room in the house. Rosario takes great pride in providing friendly service while taking care of the villa and stays out of everyone's way as much as possible. Guadalupe prepared delicious meals for us everyday that we are all sorely missing. No regrets here and we will definitely be staying at Casa Joanne again! Rob, San Francisco
BEST
All I really want to say is: This is the single greatest most beautiful place I have ever stayed. If you are considering this property-rent it! Amazing views, wide open airy space with beautiful decor, minutes from downtown, polite-friendly maid and pool service, and amenities galore. I can't say enough so I won't continue to try. Going back every year!! Reegs, LA, CA
Single most amazing house/ experience had on any Vaca thus far!
First off, I would like to thank the owners of Casa Joanne for such an incredible penthouse located in the "Beverly Hills" of Puerto Vallarta. Upon arriving to the house all we could say was, "OH MY GOD!!" The view is spectacular, the bottom level of the house is completely open, the rooms are immaculate and the hospitality provided by Alfredo & Rosario were top notch. This is by far one of the best places I've stayed before in my lifetime. The photos on this site are great & accurate, however you must see it to believe it. They have a maid there each day from 9-1PM/ Mon-Sat and Alfredo makes himself available to you 24hours a day with his cell # conveniently programmed into the cordless phone in the kitchen. The owner of this property was extremely responsive the entire time leading up to our travel date. He provided us with additional information packets regarding the property, activities, restaurants, swimming with the dolphins and much more. Very professional and hospitable. I would highly recommend this property to anyone traveling to PVR. In fact, we now are making this our annual Vacation and feel there is absolutely no need to stay anywhere else other than Casa Joanne. Adios Casa Joanne & Puerto Vallarta.... Until next time. XOXOXOXO Nikki, West Covina, CA
3 LETTERS NOT WORDS
WOW........ If you have the chance to stay in this penthouse villa..... STAY. This is a magnificent place to ENJOY for your vacation. I am an owner of a river resort in Oregon and I appreciated the attention to detail, cleanliness, and comforts Casa Joanne had to offer. Every need that you could ever want is found here in this home. The view from the patio area as you walk into the home is breathtaking. Every private bedroom suite is amazing and has its own beautiful Bandaras Bay view. I could go on and on about this place but I think what stands out most is the feeling of "being home" Casa Joanne left me with as we got on the plane. Thank You Terry for an enjoyable memory. Hope to see you again in the near future. Scott, Bend Oregon
Beyond Words
To start with, the owner (Terry) was both very responsive and generous with his time. From booking excursions to restaurant recommendations, it was immediately apparent that he was willing to go the extra mile to ensure that we got the most from our stay. Now, on to that part: Words cannot describe how much we enjoyed our stay at Casa de Joanne. The location is prime; very easy to get downtown, but far enough away to feel isolated. The view is unbelievable. I have had the privilege of staying in some amazing places in my life, but I have never been so taken aback by a view before. The house itself is great, and I absolutely love how every room opens up to the outside. It literally feels like no matter where you are, you're always outdoors. The staff was very sweet, and the whole trip went without a hitch. The pictures don't do it justice. Just book it. Brandon S. San Francisco
Safe and Secure Payments with your choice of PayPal or credit card + 4% PayPal/credit card fee
Address: Fantastic Villas
1482 East Valley Road #325
Santa Barbara, CA 93108
Skype: fantastic.villas
E-mail: suzy@fantasticvillas.com