HOME ALL RENTALS FUN THINGS TO DO PROPERTY MANAGEMENT FAQs ABOUT US CONTACT
CASA KATE
San Miguel de Allende, Mexico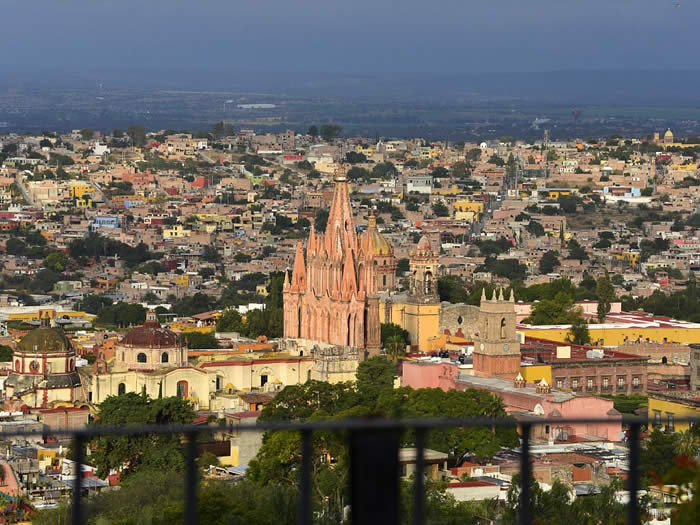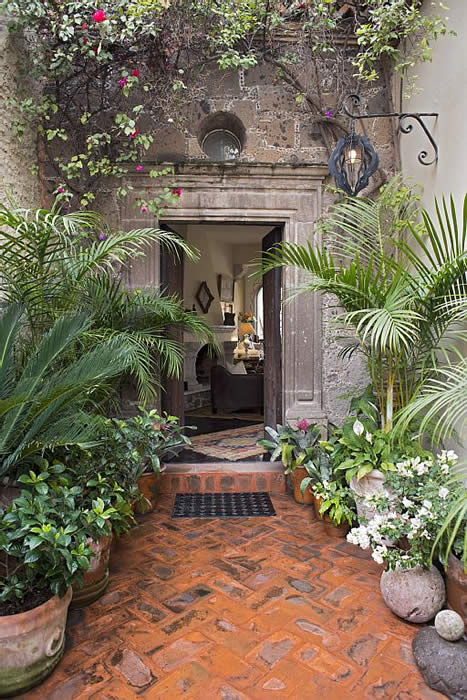 Front entrance and thru living room to balcony
Dining table, carved shell, nichos. thru to kitchen.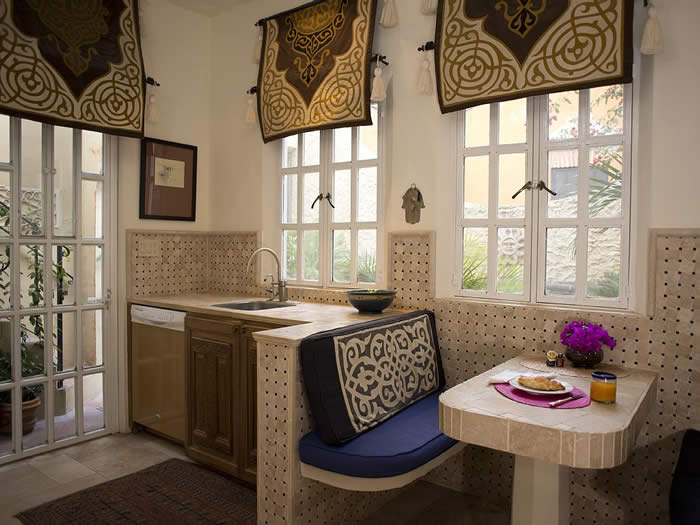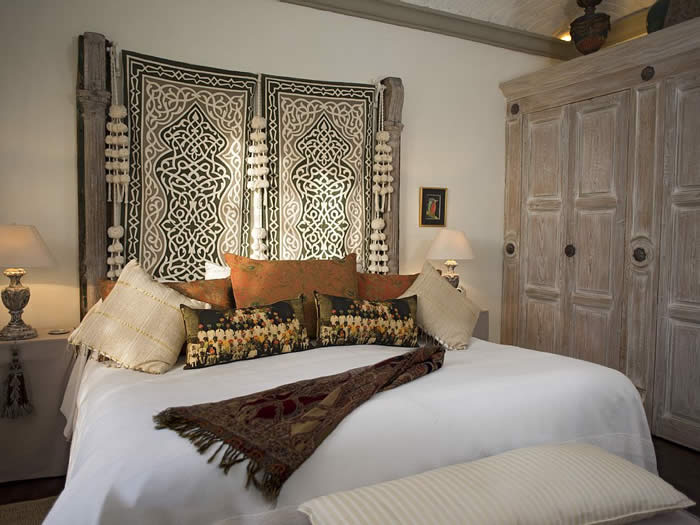 Master bedroom. Boveda arched ceiling.
Guest Bedroom 2. 'Morocco room
Game room. Azotea (roof top patio)

House façade at sunset

Living room, dining area thru to kitchen. Front door.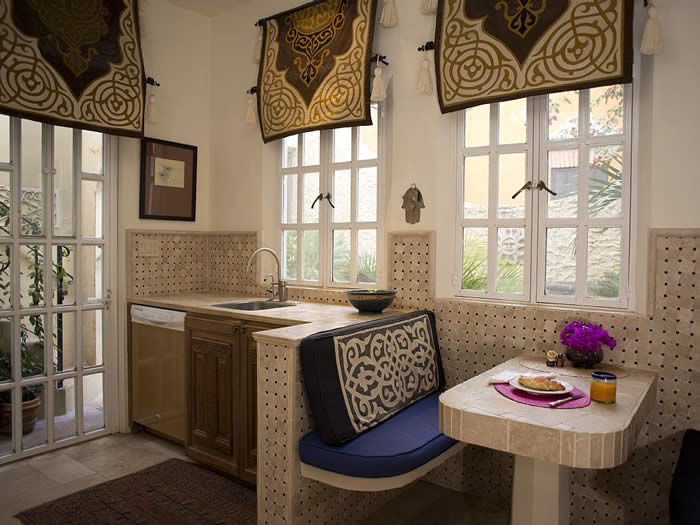 Stairwell from living room down to bedrooms downstairs.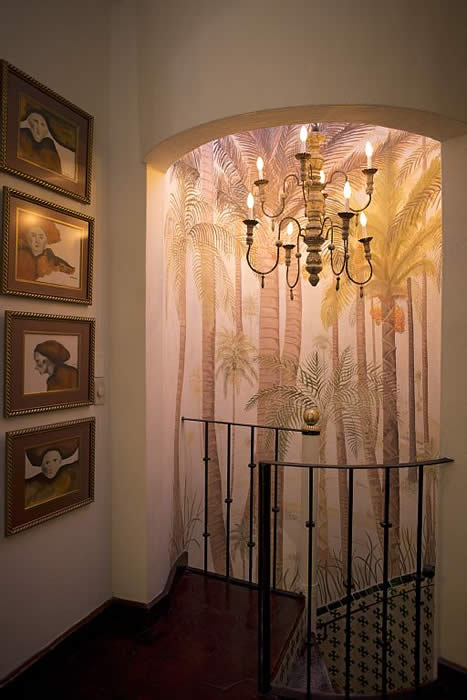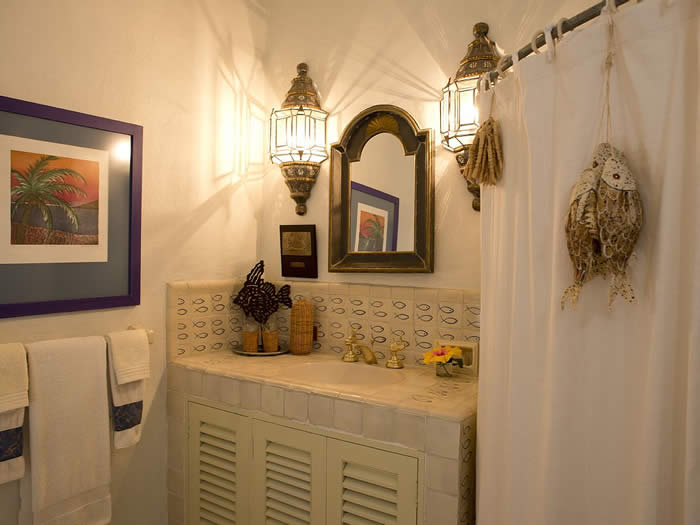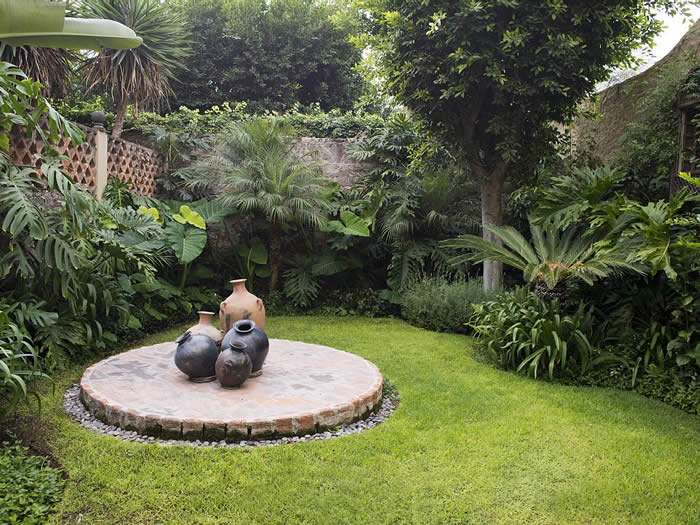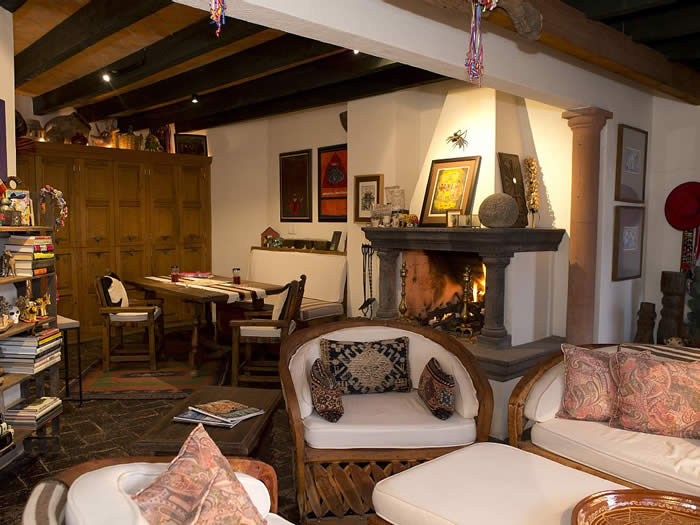 Game room. TV behind cabinets
The three levels of Casa Kate spill down the side of the eastern slope of San Miguel's hills overlooking the Jardin, San Miguel's central square, and the beautiful Parroquia, the town's landmark church (we're sure it is the most photographed location in Mexico), and the location of the start of Mexico's 1810 War of Independence. The front of Casa Kate opens out to the spectacular vista, and each main room, except the kitchen, has a view of the town or the patio and private garden. Designed by renowned Mexican architect, Patsy Bubela, the house features vaulted ceilings, thick walls, nichos, imbedded antiques, molded plaster shells. Sun illuminates the interior through French doors, windows, and shutters, which when opened in San Miguel's normal perfect weather, provide indoor/outdoor living.
You probably will spend most of your time on the azotea (roof-top patio) simply taking in the view. But the house is located within the desirable Centro district, which comprises the UNesco world Heritage site. Walk out the door, and you are in town; five minutes down a cobblestone street and you are in the central square.
Overall, the home has a warm, traditional, colonial esthetic, but its décor is simple and uncluttered, giving the house an elegant, bright, sophisticated feel. Elements reflect the heritage of Southern Spain and North Africa which form the architectural lineage of San Miguel.
Living Room And Dining Area:
You enter the house through a wooden gate, then cross over a brick entry way lined with macetas full of hibiscus, palms, ferns and bromeliads. Then through antique wooden doors into the open-plan living room, dining room. Most people, drawn by the spectacular view, immediately walk through the living room to the French doors opposite and out onto the small balcony to take in the stunning panorama. In the living room is a large fireplace fronted by leather chairs and a sofa. The walls display paintings created by artists whose works are displayed in many of the great museums of Europe and Mexico. Oriental carpets sprawl over the dark tile floor. Light enters through a cupola over the dining area: a glass-top table set on a carved cantera stone column, surrounded by six chairs copied from those used in a Spanish villa.
Master Bedroom:
Off the living room, through a short hall, are the master bedroom and bathroom. The bedroom has a 'boveda' ceiling (a dome made of brick), a fireplace, king size bed with a pillow-top mattress. French doors lead to a small balcony overlooking the garden and town. Another window gives onto an interior patio and fountain. There is a large closet.
The master bathroom has a tub and shower. Original tiles decorate the walls.
Kitchen:
Behind an antique mirrored door leading off the living/dining room is the kitchen. It was completely renovated in 2012 and features intricate tile work and cabinets made from doors imported from Syria, and a small dining nook. There is all you need to cook at home: a gas four burner range and oven, refrigerator/freezer, microwave, toaster oven, toaster, coffee maker, and plates, silverware, etc.
Downstairs Bedrooms:
Off the living room a trompe l'oeil scene of North Africa leads to a spiral staircase down to two guest bedrooms and bathroom which are decorated in a North African motif, paying homage to San Miguel's mudéjar architectural heritage of sixteenth century Andalucia.
The 'Morocco room' is decorated to give the feeling of being in a Saharan tent; cream canvas drapes from the ceiling. Appliqued bedspreads from Egypt, rugs from Tunisia, a susani throw on the daybed. Two twin beds and a large closet.
The 'Berber room' has a queen bed set up to look like a large divan with oversized pillows from Morocco. Behind it hangs a primitive carpet from Persia. The floor is strewn with rugs from Turkey, Morocco and Tunisia. The room has a fireplace, a desk, a large closet, and its own balcony over the garden.
French doors of both bedrooms open to the downstairs patio, which in turn leads down to the sunken garden. The bedrooms can also be accessed from the outside down an iron staircase that communicates all three levels, adding to their privacy.
Roof-top patio and game room:
As mentioned, you probably will spend much of your time on the roof-top patio on the third level at the tree tops among hummingbirds. Great for entertaining. Olive trees, large, comfortable chairs, umbrellas and the incomparable view (you can make out the bull ring a few blocks below the house). Breathtaking sunsets silhouette the spires of the Parroquia church.
On the roof level with the azotea, is a 'game room' which, behind a wood paneled wall, contains a 40" hd television hooked to cable. Open the louvered shutters and the room has its own magnificent vista of the town. The room has its own fireplace and a bench and table for games or upstairs dining.
On a rear patio behind the party room is a gas barbecue.
Location:
Although the house is in the World Heritage site, it is situated in real small-town Mexico. You will hear the sounds of true San Miguel life: pasodoble music rising up from the bull ring on some Sundays; roosters; bells from the church across the street, bands marching on the bustling salida out the front door, hoof beats of cowboys' horses, belching city busses, fireworks.
A note: the tradeoff for the spectacular view is that the house sits on a hillside. The street to town, ten yards around the corner is fairly steep (it is one of the oldest and most photographed streets in town) so if you don't want the exercise getting back up from town taxis are plentiful (about 35 pesos) and local busses churn up the hill every five minutes or so from the center of town and there is a stop twenty yards from the front door.
Walk to all that made San Miguel Conde Nast's Travel Magazine's number one travel destination in 2013: art galleries, fine dining, night life, shopping, Spanish lessons, bridge, dance lessons, art instruction. The restaurant of the Casa Sierra Nevada, grande dame of San Miguel's hotels, is a block and a half away. The best cuisine is minutes away: French food, Italian, International and of course Mexican. Taxis are plentiful just out the front door. Take one (they are not expensive) to horseback trail riding or world class equestrian lessons. There's also off-roading on ATV's; tennis, and golf.
The main attraction for SMA is the town itself. We are located in the historical center which is a protected Unesco World Heritage site. San Miguel is also the birthplace of the Mexican War of Independence, meaning that there the town is full of historical landmarks.
The view from our house is incredible, and it is just a short walk to the main square and the best restaurants and bars are in our local vicinity. SMA is also a cultural center; there are frequent concerts, art shows, and lectures. Wonderful shopping for locally made products and clothes as well as sophisticated, up-market merchandise. Art Galleries, museums. There are also lots of opportunities for day trips and adventures: horseback trail rides, ATV excursions into the countryside, hot air ballooning. It's not expensive or difficult to hire a car and driver for the day to travel to the beautiful cities of Guanajuato or Queretaro. Abandoned mining towns or haciendas are also within an hour's drive. Your problem won't be finding enough to do, but the time to fit it all in.

Summary:
• Four Fireplaces.
• Local phone and Vonage line (free calls to the US)
• Wi-fi
• Wide screen TV. Cable
• Purified water (in kitchen)
• Gardener twice times per week. Maid twice (more often on request)
• Laundry room
• Roof-top patio
• Three bedrooms: king size bed, queen size bed, two twin size beds. Two bathrooms.

Property Type
Accommodation Type
Meals
Guests Provide Their Own Meals
Onsite Services
Suitability
Not Suitable For Children
Pets Not Allowed
Wheelchair Inaccessible
Bedrooms: 3 Bedrooms, Sleeps 7, Beds for 6-7
Bedroom 1: 1 king
Bedroom 2: 1 queen
Bedroom 3: 2 twin/ single, 1 sleep sofa /futon
Master with king size bed. Guestroom 1 with queen size bed. Guestroom 2 with two twin size beds and day bed.
Bathrooms: 2 Bathrooms
Bathroom 1: toilet, combination tub/shower
Bathroom 2: toilet, shower
Two bathrooms. Shower in guest bath; tub/shower in master bath.
Other Amenities
Housekeeper is included for two mornings per week. Full time housekeeper/cook is also available at extra charge (not expensive).
Entertainment
Books
DVD Player
Game Room
Cards, chess, backgammon, board games in game room.

Music Library

Satellite / Cable:

Cable. Major US network stations available. plus CNN, BBC
Bring I-pod or smart phone to connect to home theater stereo in game room. Also a large portable system is available for the roof top patio. Stereo in living room

Television:

New Samsung 40" flat screen HDTV. Cable.

Video Library
Theme
Attractions
Local Services & Businesses
Leisure Activities
Location Type
Sports & Adventure Activities
Dining
General
Internet
Iron & Board
Linens Provided
Three sofas. Two leather club chairs. Fireplace. View through french doors

Telephone:

Both local lines and Vonage for free calls to the US and Canaada

Towels Provided

Washing Machine:

Washer and dryer in downstairs bodega.
Kitchen
Coffee Maker
Dishes & Utensils:
Recently renovated completely. Marble counter tops, cabinets made from ancient Syrian doors. Hand done mosaic tile work. Egyptian hangings. Breakfast nook. Bright and cheerful.

Microwave:

New Panasonic microwave in cabinet.

Oven:

full size gas oven.
Party and Bar necessities. Wine, margarita and martini glasses. Blender. Serving trays.

Refrigerator:

refrigerator with freezer

Stove:

four burner gas range with comal for heating tortillas.

Toaster
Outside
balconies off living room and master bedroom

Deck / Patio:

roof top patio with truly the best view in town. (the 'Mirador', the view spot for visitors to SMA is just up the street. This is where most of the world famous photos are taken.)
Several golf clubs in San Miguel, one designed by Jack Nicklaus.

Lawn / Garden:

Lush private garden. Gardener comes two mornings a week.
Gas barbecue just off upstairs game room.

Tennis:

Tennis available in town. Clay courts if desired.
House Cleaning
Guest Comments:
We had a wonderful time in San Miguel and Casa Kate y Emma was spectacular. The photos did not do the home justice, the views were wonderful and the home perfect for our needs. Given our class schedule we rarely saw Remedios, but she came every day and carefully did the laundry and made the beds. She also welcomed us warmly and with umbrellas when we arrived in a driving rainstorm. The house was only a five minute walk from the the Institute Binlingue where we took Spanish classes. We were also able to walk both to the park and into town from the house and made friends with the owners of the little fruit stand down the road.
J. Krakauer
The home was wonderful. Pictures and words cannot do it justice. We all truly enjoyed our stay very much. Remedios was a delight to have and our driver, Leandro, was there to greet us at the airport as planned. It was our first trip to San Miguel and within minutes we all fell in love with the town as well as Casa Kate Y Emma. As beautiful as the town is, being able to stay at Casa Kate made it more of a delight and made our trip very enjoyable. The house was so amazing that we actually spent more time than we plan hanging out around the house. Casa Kate was exactly as I had pictured it. It had a very tranquil-like ambience and all of the artwork that garnished the home was aesthetically pleasing. It was spacious yet cozy. The service was great. Remedios greeted us every morning with breakfast. She was very warm and motherly. We have been telling all of our friends about your home and we highly recommend it to everyone. We are all hoping to return to San Miguel next year. Thank you so much for the wonderful hospitality and We all hope to stay there again soon.
B. Mangan
We had the best time at your home in San Miguel. It is so lovely - we loved all the touches of Mexico that you have used throughout the house - the downstairs was almost like a museum. Remi was great - she is so careful in instructing the correct Spanish word - we really appreciated her. Thanks also for your info on the area - we visited the spa at Sierra Nevada quite a number of times, enjoyed many other walking tours. Made a trip to Dolores Hidalgo one day. Met your neighbor at midnight on the 31st - we were all up on the roof enjoying the fireworks. Thank you for your hospitality - the warmth of your home made our holiday so pleasant.
M. Barfield
Just wanted to express our appreciation for the rental. We had a wonderful time. Remedios is unbelievable; very good cleaner, very responsive and very nice. Guido could not have been more responsive and helpful. Every time we called he took care of our need quickly and professionally. You are very fortunate to have these employees. Your house could not be in better more capable hands. Thank you again for sharing your wonderful house with us.
B. Reyner
The trip was such an architectural pleasure. The drivers were professional
and always on time. The house was unbelievable! Warm, cozy, interiors as well as the flavor of old world charm. The place will always be special in my heart.
C. Doty
Our stay was terrific!! We loved the house and the town. We took Espanol 6 hours a day at the Instituto de Allende and really got in to it. The maid service was excellent, and Guido arranged for a cook (Blanca) to come in to cook for us four nights. This worked out well, as we had homework to do. We watched the sunset every night form the upstairs deck.
J. Rapp
We were thrilled with Casa Kate y Emma. It is truly a beautiful villa and we loved everything about it. Guido was very helpful, Remedios was a sweetheart and such a hard worker. We had Guido set up with Blanca to cook us a Mexican feast one night and it was great.
A. Smith



About San Miguel
San Miguel is once again on Conde Naste's "Traveler Magazine" Top Ten Most Popular Cities of the World. A small colonial city and art center make it popular with cosmopolitan travelers... In addition, San Miguel has a beautiful year round climate, sunshine over 350 days a year, over 90 restaurants, art and language schools, and an educated population. In your spare time there's hiking, biking, golf, tennis, gyms, fishing, wildlife viewing, bird watching, horseback riding, shopping in antique stores, art galleries, crafts shops, live theater in English, cinemas, museums, sightseeing, swimming, concerts (classical, jazz, guitar, etc.), bull fights and rodeos, fiestas, tours to nearby Indian villages and spas and hot springs, croquet, duplicate bridge, library with 25,000 volumes in English, computer center, lecturers in English.
Welcome to the heart of Mexico - San Miguel de Allende, in the state of Guanajuato! This village, nestled among the plains and mountains of central Mexico, is the historic birthplace of Mexico's freedom. From Guanajuato comes the "Grita," the cry for independence shouted by Father Hidalgo and heroes of the revolution. And from here has blossomed most of the arts and crafts of their Spanish/Indian culture, which still flourishes.
Tourists love to visit year round, different seasons attract different activities. Visitors enjoy sports, as well as language and crafts classes. They take Spanish lessons and/or painting, sculpting, weaving, pottery making, and interior design. The crafts are all represented. The activities vary according to the season.
The weather, due to the height of the Sierra Madre mountains which surround the plains, is fresh and cool in the summer. Winter has warm days and cold nights. It is a very mild and pleasant atmosphere. There are a good number of U.S. and European expatriates who live here year round. Attire is always informal in San Miguel for the cool nights a sweater or "rebozo" will be needed. Gentlemen don't need a tie, but a jacket is useful.
The small central square, called "El Jardin," is always busy with parading residents and visitors. There are house tours, concerts, movies, horseback riding, tennis, swimming, hiking, golf as well as intellectual pursuits.
Things To Do
Dining
San Miguel residents are far too knowledgeable and well traveled to accept any cuisine less than outstanding. In the kitchen at Casa Kate y Emma is a local guide to dining, with addresses and phone numbers.

Shopping
Shopping opportunities are extraordinary here and the handicrafts for sale are distinctive, not only for their variety but also for the quality of their workmanship.

Attractions
Most of the shops, museums and churches are downtown. There are more than 22 architecturally interesting buildings dating from the 16th to the 18th centuries. For example, the soaring pink spires of La Parroquia Church on the main plaza, said to have been designed by a self-taught Indian mason inspired by postcards of European cathedrals, is considered one of Mexico's greatest treasures.
Wandering through town, you will come across parks of varying sizes with shady benches in gardens with ponds and fountains. Just outside of town, on a hill southeast of the city center, El Mirador offers a spectacular view of the city and the mountains.

Activities/Excursions
The small central square is always busy with parading residents and visitors.
There are house tours, concerts, movie theaters, horseback riding, tennis, swimming, hiking along the Laja River, water sports at the Ignacio Allende Reservoir, golf, camping, bird watching, as well as the intellectual pursuits.
Spas such as La Gruta take advantage of thermal mineral springs and La Ca-ada de los Pajaritos, a 90-acre protected forest, is a nice excursion and a chance to go mountain biking and to observe abundant wildlife and flora.


Golf
Golf is a very popular sport in San Miguel. There is a 9 hole golf course in San Miguel, and two 18 hole courses in the surrounding areas.


Tennis
If you're a keen tennis player and you're looking for great weather and good facilities, plan a game in San Miguel. Local Tennis Centers have facilities open to visitors and members of the public, and some of the bigger restaurants have courts of their own.
By special request, we also make arrangements for airport transfers, baby sitting, massages, mariachi bands, cahuffered cars and flower delivery for that special occasion
If you would like to reserve your own airport transfer, please visit http://www.bajiogo.com/shuttle/
Rate 1,400/night USD
Safe and Secure Payments with your choice of PayPal or credit card + 4% PayPal/credit card fee, checks and wire transfers also accepted.
Address: Fantastic Villas
1482 East Valley Road #325
Santa Barbara, CA 93108
Skype: fantastic.villas
E-mail: suzy@fantasticvillas.com