HOME ALL RENTALS CONCIERGE FUN THINGS TO DO PROPERTY MANAGEMENT FAQs ABOUT US CONTACT
CASA MACUMBA
Puerto Vallartas, Mexico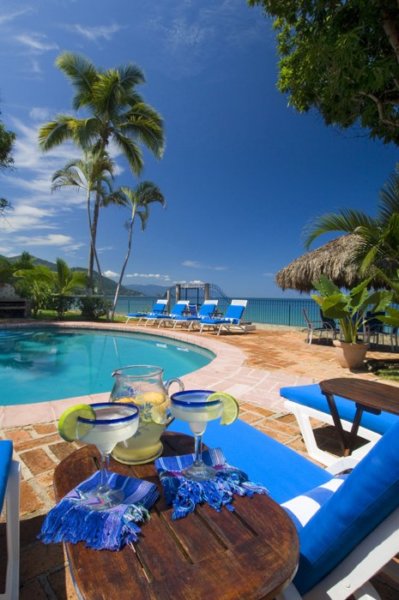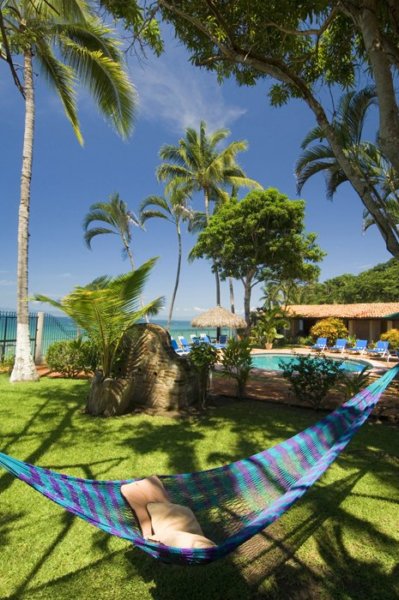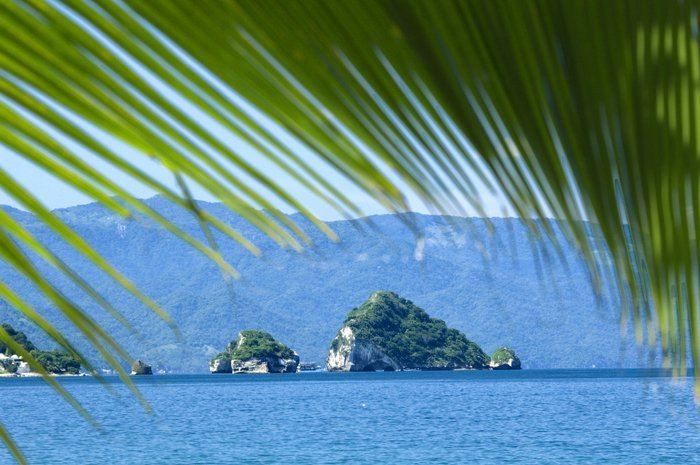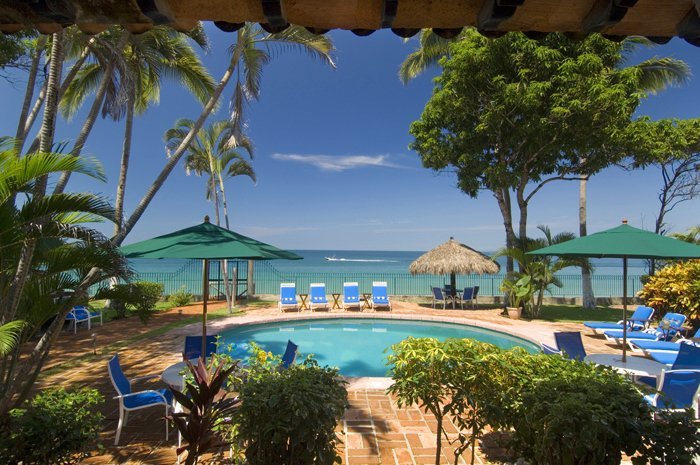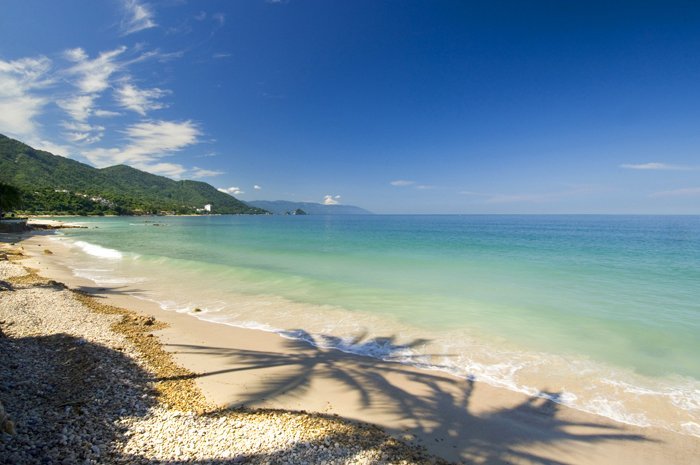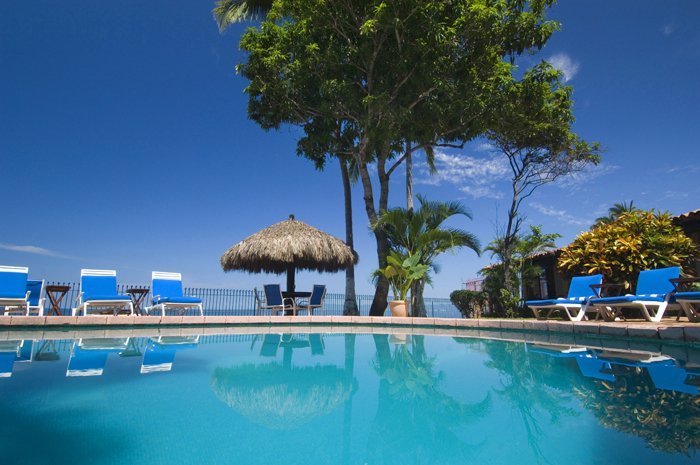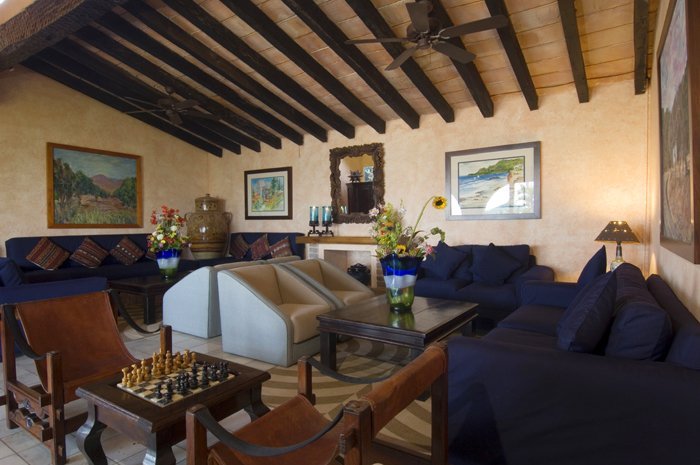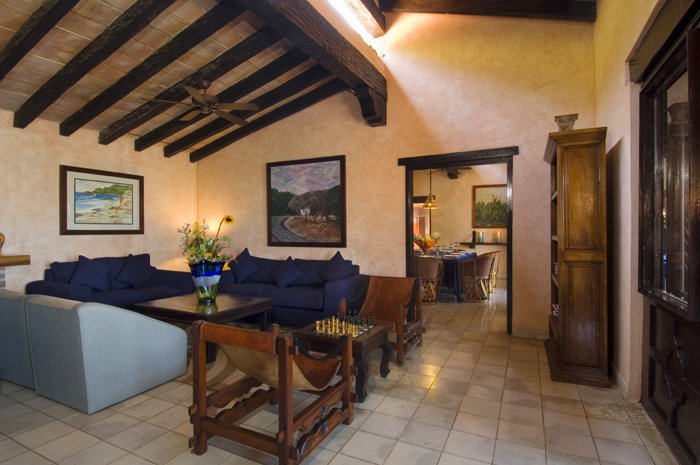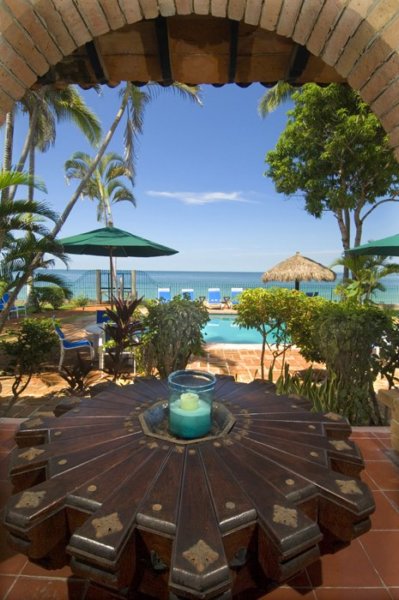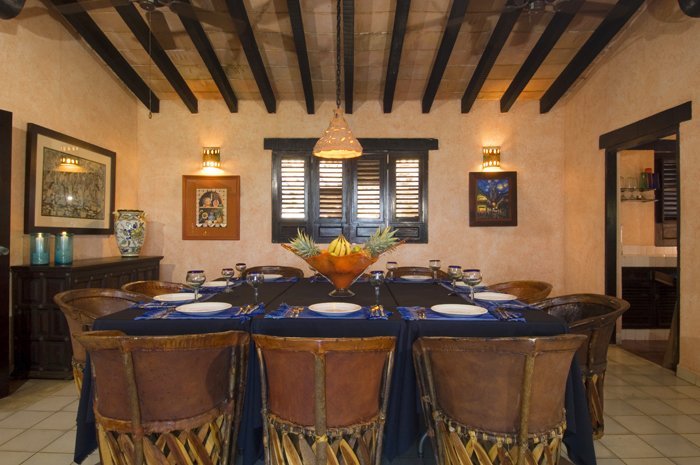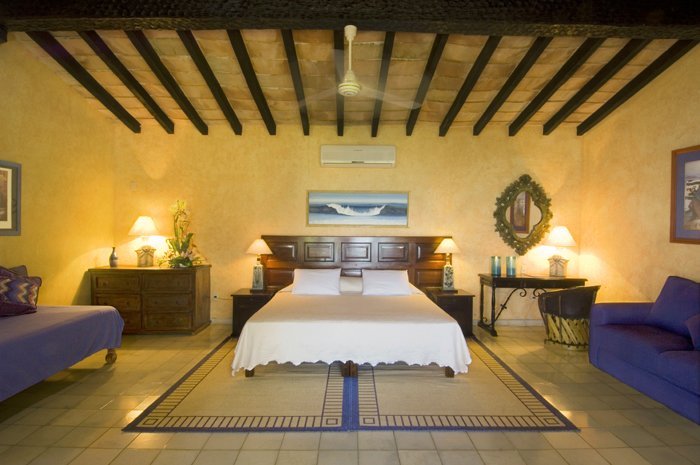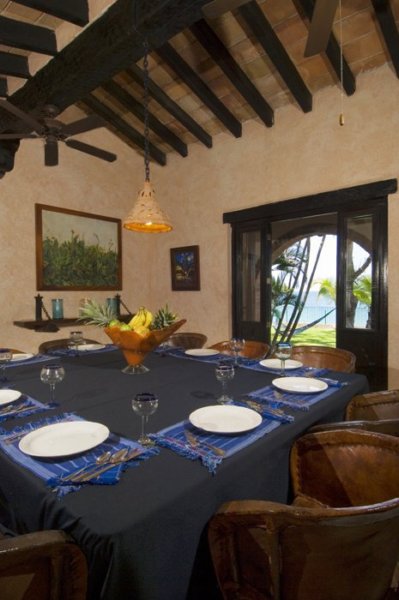 7 bedrooms, 7 bathrooms. Sleeps 22 people, Handicap Accessible Children welcome.
Description
If you're looking for a Puerto Vallarta vacation rental villa right on the beach you've just found it! Casa Macumba can sleep from 6 up to 30 people (using optional guest house).This unique rental villa is located only 3.5 miles south of Puerto Vallarta on beautiful Punta Negra beach just next door to Las Palmares beach. It is only minutes to downtown (a quick taxi ride or a 60 cent bus ride). This Puerto Vallarta vacation rental home has 314 linear feet of beach frontage and has over 7000 sq. feet of covered living space and sits on 30,515.00 square feet of prime real estate. Behind the property on the mountain side is 103,721.00 square feet of tropical rain forest. Casa Macumba is ideal for destination weddings, special events and relaxing vacations. There are no roads, boardwalks or other villas in front of Casa Macumba so the view is unparralled. The beach is only 7 steps away where you can enjoy excellent swimming kayaking, boogie boarding and other water sports. The villa comes with kayaks for 5 and 8 boogie boards, snorkel gear and a ping pong table. Proximity to beach makes it easy to keep an eye on your children when they are in the water. Punta Negra is one of the only beaches in the immediate Puerto Vallarta area that does not have a drop off so swimming and wading in the water is easy and safe for children. A special bonus for guests is that they can see whales, dolphins, flying fish, turtles, and an array of other sea life right from the villa. On March 15, 2010 a baby humpback whale and its mother put on a breathtaking show, jumping several times only 100 meters in front of the villa and award winning wedding photographer Marv Heston www.HestonWeddings.com was on site to capture the images.

This Puerto Vallarta rental home has 180 degree breathtaking views that span from Yelapa and the Los Arcos Underwater Ecological Reserve in the south to the bay's beautiful horizon in the west and from Punta Mita, Nuevo Vallarta and Marina Vallarta to the north and to the pristine tropical rain forests of the undeveloped Sierra Madre Mountains to the east.

All seven bedrooms, including the living room, dinning room and kitchen have double wide doors that open up to ocean views and the covered terrace which runs the entire length (approx. 80 yards) of this unique u-shaped rental villa. Everything, including the 15 car parking area, pool, patio and living areas, is on one level which makes this Puerto Vallarta vacation rental villa suitable for children, the elderly and handicapped people. Its fully accessible for wheelchairs. This very private and relaxing vacation villa is ideal for family reunions, corporate retreats, weddings and special events. The villa's in house chef can do catering for events. All seven bedrooms are very spacious with 13 foot vaulted ceilings and have areas that range from 333 sq. feet (rooms 4, 5, and 6) to 532 sq. feet (rooms 2 and 3) to 750 sq. feet (master bedroom with lock-off bedroom). There are 8 king-size beds, 8 twin beds , a sofa bed and extra beds in storage for big groups. Each bedroom has an en-suite bathroom. The seventh bedroom which is a lock-off room from the master bedroom has a king size and a twin bed and its own bathroom. It can be accessed either from the master bedroom or its own separte entrance. All rooms have ceiling fans and the bedrooms have state of the art, LG mini-split air conditioners with remote climate control, and anti-allergenic, anti-bacterial nano plasma air filters. All bedrooms have glass windows so guests can sleep well in a quiet, cool environment. This Puerto Vallarta beach vacation rental was remodeled and re-decorated in 2004 and many other improvements have been made since.The white cotton curtains, tropical hardwood curtain rods and closet doors, Mexican and Guatamalan hand woven bedspreads, limited edition lithographs and original acrylic paintings as well as bronze sculptures give this vacation villa a warm comfortable atmosphere. Enormous hand-hewn hardwood beams and terra cotta tile roofs give Casa Macumba a grand hacienda look.

This remarkable vacation villa has over 8250 square feet of outdoor living space which includes a big blue oval pool, a lawn large enough to play volleyball and other lawn sports, and a patio that can seat up to 200 people for weddings and events. The villa staff will organize a real fiesta mexicana with mariachis, folkloric dancers, a mock cock fight (no blood) and prepare a traditional mexican fiest. The vacation villa includes reclining chairs with comfortable cushions, pool towels, two hammocks, and a thatched roof palapa where guests can enjoy their favorite drink and take in the most spectacular sunsets this side of the Rio Grande. Throughout the rental property are a variety of plants with flowers, shrubs and fruit trees including: coconut palms, bananas, guavas, two types of mangos, guanabanas and almonds. Guests are welcome to pick and eat the fruit.
Recent improvements:
Kitchen remodeled March 2010
New hardwood gate to access the beach March 2010
Heated pool
New hardwood dining room table.
2500 square feet of new enlarged patio around pool (exposed agregate)
New Tile on Bedroom floors in Rooms 1,2,3, and 4.
12 new big red cedar chairs with cushions for the covered terrace.
Heaven On Earth
Where do we start? This was the most enjoyable family vacation ever. Our group of 4 generations including our "Abuelita" enjoyed Casa Macumba. There were 18 of us 11 adults and 7 kids ranging from 6 months to 14 years old. To begin with the food that Carmen and Monica prepared for us was world class. Everything from the coconut shrimp to the preparation of our fresh caught tuna was the best! Fermin did an excellent job of keeping the pool and house in great condition. Antonio, we'll just look at the grounds they are beautiful. Maritza and Lulu kept our rooms clean and our clothes washed!
combo of old world charm and concierge service
I held my best friends bachelor party here in 2013 and the owner and his hand selected staff made this the trip of a lifetime. His local connections are hard earned and high quality. I highly recommend Casa Macumba! I can't wait to return with my family and hopefully another family or two. Maurice T.
Amazing place to vacation!!
We took our children and grandchildren (21 of us) for a week stay at Casa Macumba. It was the experience of a lifetime for us. Everything from the staff to the accomodations was first class. The staff was so friendly and helpful and Blair (the owner) was close by, so he helped us with tours and any questions we might have. Ten times better than staying at a hotel and the food was to die for!!! You will not regret staying here and making it your home away from home. Sandy S.
Everything and More!
We recently stayed at Casa Macumba as a group of 24. We were a group of friends with our children (ages 10months to 18yrs) and it was a perfect fit! We were greeted at the airport for our transportation.Upon arrival the place was immaculate. It did not take us long to feel right at home. The staff were very accommodating and went above and beyond everyday. We did not expect to be so pampered. The Chef (Carmen) was amazing. Every meal we had was fresh and tasty. We enjoyed every meal and all wanted to take her and her assistant (Marisol) home with us ! The comfort level we felt at Casa Macumba was like we were at home. We spent 5 amazing nights there and wish we could of had more time there.
The Beach was beautiful and the waves were so fun!
This was a trip of a lifetime for all of us and can't wait to go back. Bepashchmenyeo Edmonton, Alberta, Canada
Awesome! Everyone loved it!
We stayed a Casa Macumba for a total of 7 nights and there was 14 people in our group. 7 nights was not long enough by the end of the vacation everyone wanted to stay longer.
We gave Blair (the owner) all our flight information and he arranged our shuttle from and to the airport and it was stress free! Blair was very helpful with arranging different activites and he made you feel at home!
Carmen (the chef) was awesome! We never ate out once because we didn't have to, all her meals were immaculant! She defiantly needs to make her own cook book!
The staff at Casa Macumba were all very nice and take care of anything that you want. The property was well looked after and it was very clean! The rooms were great and all 14 of us felt at home there! We didnt even lock our bedroom doors, it felt so safe! The beach was very clean and it was all nice white sand. The ocean was all sand too, no coral at all which made it great for swimming!
All 14 of us would for sure go again and we recommend this to everyone that we talk to! It was our favourite vacation and all of us agreed that this was way better than any resort! Kristine F.
Wonderful, wonderful!
We took our family of 8 adults (72 - 17) and 1 toddler to Casa Macumba for a week. There really aren't enough superlative words to describe how the staff and facilities are the perfect setting for a relaxing vacation.
Carmen's food was magnificent and she needs to write a cook book. With a fabulous chef on the premises, there's no need to go elsewhere to eat. (Have her make you mahi mahi; it's the best I've ever eaten.) Fernando, Jovana, Marita and the rest of the staff were all great, as well.
The property is immaculately kept and you can eat fresh mangos when they fall off the trees. (I highly recommend the mango margaritas.) The rooms are all comfortable and have excellent air conditioning.
The beach is white sand and the water is crystal clear. You might get the impression from its fence that it's unsafe, but, it's not. We didn't even lock our doors at night. It's fairly secluded when compared to other beaches in the area.
We made the mistake of having someone other than Casa Macumba arrange our transportation from the airport. BIG MISTAKE Instead, just let Blair (the owner) know the particulars of your arrival and let him arrange it. We used them on the way back and it was half of what we paid to get there.
It was much more relaxing and so much better than staying at a hotel where you're just another anonymous client. Casa Macumba makes you feel like family and my family didn't want to leave. Their first question at the airport was... when are we going back? Sheryl D. Atlanta, GA


This is a short love story about Casa Macumba. My husband and I started a search in the summer of 2007 for a place to celebrate our 50th wedding anniversary with our family. We chose Puerto Vallarta as our destination. We traveled to P.V. in July of 2007 to view possible places to stay. On our visit we viewed some 10 places. We had very definite specifications in mind. Our family consists of our four (4) adult children and their spouses. There are seven (7) grandchildren, 4 girls ages 1,3,5, and 20 and 3 boys ages 8 twins and 18. These children are from 3 different families. After viewing many outstanding, beautiful locations we settled on Casa Macumba. We chose Casa Macumba because of it's:
LOCATION: Its on the beach, but separated from the beach by a fence. (Safety was a big issue).
ACCOMODATIONS: The sprawling house has everything we were loking for. 7 separate sleeping units connected as a whole giving everyone privacy with their own bedrooms and bathrooms. The casa also included a large separate dining room which could seat our intire family of 16. A living room with a T.V., DVD and all the electronc sound systems for music. A large pool surrounded by outside patios.
STAFF and DINING: The casa has two outstanding chef's who will cook any and all meals as you wish. They are flexible and groceries and the meals were delicious. You chose the menu, they prepare, serve and clean up. There is a gardener, handyman, who takes care of the outside, the pool etc. and helps with everything. A house keeper who cleans the entire casa daily. The long and short of this story is that Casa Macumba met and exceeded our expectations.
The pool, the beach, the music, the atmosphere both day and night were everything we had hoped it would be. It was a testimonial to our love of each other, our family, and to the joy of sharing an unforgettable 10 days at a place called Casa Macumba.
Helen and Dave Andrews. Vashon Island Washington USA

***********************************************************************************************************
Our visit in May 2009 to Casa Macumba was everything the owner and the internet said it would be and more. After a week of exploring Puerto Vallarta by both land and sea, we concluded this property is one of only a very few that are directly on the water and with a sandy beach for easy access. It was sunset when we arrived and we were welcomed like rock stars. All of our gear (suit cases, coolers and fishing tackle) was graciously unloaded from our vehicles by the staff. The salsa music was playing and the waiter was serving up margaritas, we were in heaven. We had arrived after a long journey driving down from Chihuahua. The property includes an authentic Mexican hacienda, just our style. A house with archways, tile roofs, Saltillo floors and rustic furnishing we felt was the only way to get the complete Puerto Vallarta experience. We spent most of our time outdoors around the pool, enjoying the views, ocean breezes and lush gardens. The staff included; a chef, chef's assistant, housekeepers and pool man and they were all exceptionally kind and were helpful with more than just around the house duties. They helped us book a fishing boat and recommended a few nearby sites for us to explore. We stayed for 5 fantastic nights and it wasn't long enough. We can't wait to go back and enjoy the hospitality of Casa Macumba and staff. We will be back.
John Labotz San Diego CA
***********************************************************************************************************
My family and I stayed at Casa Macumba for 2 weeks and thoroughly enjoyed our vacation. It was perfect for families and and the staff were amazing. It was so nice to have the option of jumping in the pool while our little ones napped and just having that flexibility was huge for us. The property was beautiful, spacious and quite accurate to it's photos. The beach was a lot of fun, a little rough but great for boogie boarding and playing around in the sand. The food was amazing, service excellent and the grounds were very well kept by the staff. The property was approx. 15 minutes to town and quite easy to get there by taxi or bus. It was a quieter area which we loved and the owners were great people. All in all...it was a fabulous vacation!
Well, we made it safe and sound to Canada and I just wanted to say how much we enjoyed our vacation there. What a fabulous house and family you have. Your staff was also amazing and it was perfect!
Sincerely,
Amber Nott Winnepeg, Manitoba
Note: The waves were rough during this time due to a storm system far off the coast in the Pacific Ocean. Normally the waves are kid friendly at Punta Negra Beach. Puerto Vallarta is 3.5 miles from the villa. Traveling at 25 mph. it takes 7 minutes to get there.
***********************************************************************************************************
My family rented this property for a month and wanted to extend our visit! The staff is absolutely amazing! Their housekeeper was so nice, whenever we asked for assistance with our laundry, she immediately took care of it (we tipped her), the chef was fantastic! He and his sous chef made the most amazing dinners - in total we went off the property 3 times during our trip!! They gave us the menu the night before and we discussed the menu! He even assisted us in making our baby food (there were 3 babies)! Every meal was served on time, great flavor and healthy. All we needed to do was talk with the owner and he always made sure that we had what we needed. His wife was incredibly nice and babysat for us on a couple of occasions. Whenever there was anything that came up that we needed help with, the staff ALWAYS took care of it. The villa is as pictured - all brand new linens, mattresses, towels. We absolutely loved our vacation and will definitely be back! This vacation rivaled all of our 5 star vacations in Europe and definitely beat out all of the hotels in Mexico we've stayed at! I highly recommend this type of vacation for people with young children! In terms of dealing with the manager on the contract - it was a relatively easy process. He's got all of the paperwork together and is extremely organized. The only negative is that there were not TVs in every room - however, we still managed even without the TVs in every room.
I just wanted to send you a quick email to thank you again for our amazing vacation. I hope the weather is great, I am sure that it is! Please thank your staff again for us, they are truly one of your best assets!!
Arianne Chaisson Irving TX

***********************************************************************************************************
We came home truly feeling like we had a vacation! Everything about the week was perfect. I thought you'd enjoy some of the pictures we took and are showing to all our friends. Like I told you before we will send our friends your way if they are looking for a place in PV. I think I already have two very interested groups! I will keep you posted! Again thank you for the all the time you spent with me on the phone, picking up Mary, and having everything perfect for our friend with arthritis this past year! All 16 of us had the best of times and will have fond memories of this trip for life! Your staff were very wonderful as well and we already miss them! We adored them all along with Javier! What wonderful people - a reflection of you!
Sincerely,
Eileen Johnstone Seattle Washington

***********************************************************************************************************
March 7, 2009 We stayed at Casa Macumba in mid February and had an absolutely AMAZING time. We did a lot of research on villas before booking Macumba as we were looking for a place that could not only host an 80 person wedding but also be a place where my family and my husbands could spend a few days getting to know each other. There are many different amenities at all of the villas in puerto vallarta and we had some pretty specific things we were looking for: directly on the beach (there aren't many -- most are in the hills), private bathrooms with each bedroom (merging two families is hard enough), air conditioning in each room, pool, kid friendly (ages 6 and 3), could host a wedding, in our price range and close proximity to downtown. Macumba had it all. I should also say that it was important to me that we stayed in a Villa that felt like Old Mexico and not like a house in the hills of La Jolla, California (where we currently live). There are plenty of really modern looking villas in Vallarta but to me, Macumba feels like you've stepped back in time. The staff at the villa are great and the meals that we had prepared their were amazing -- and if you go ask them to make these shrimp empanadas -- i'm still dreaming of them! The manager is really helpful and was always available if we had any questions or concerns. In fact, my brother-in-law lost his iphone in the back of a Taxi and the manager started making phone calls to the taxi company right away -- a day after we checked out of Macumba he called and said he got it back. I mean -- that's pretty above and beyond -- and for us, that kindness and honesty will keep us coming back for years to come! Thanks again for everything.
Dara and Darren La Jolla, California

*************************************************************************************************************************
We just returned from 6 nights at Casa Macumba were we had my daughter's wedding. I did extensive research to find the perfect villa and we were thrilled with evertything. There are a lot of villas, but very few oceanfront and I can't imagine there are any others with the ambiance, wide beachfront expanse and privacy offered there. Casa Macumba is not a 5 star American hotel, but the charm, huge beachfront area and the staff made it more special. The rooms were huge! My bathroom was larger than some hotel rooms I have stayed in. We had a few requests while we were there and each was pleasantly fulfilled. It is unusual to have an owner close by, but valuable in every way as the owner was available to answer all our questions and help us with details. Our wedding planners commented on how unusual it is to have an owner nearby and ready and willing to help as most have nothing to do with their renters.
The owner is building another villa right next door to Casa Macumba, but there was very little going on while we were there and virtually no noise. We did hear some road traffic, but it was not bothersome as the waves crashing on the beach were our focus. We were a bit apprehensive the first time we wound down the narrow, cobblestone road/driveway, but pleasantly surprised when we looked through the gate at the grounds.
The staff was very efficient and quick to do whatever we asked. The chef made wonderful meals- I don't know HOW many bowls of guacamole we finished! Hugo was eager to please and always busy serving us all. The housekeeper kept our rooms immaculate and returned the load of clothes we asked her to wash quickly and neatly folded. The gardener/poolman kept the pool sparkling and the leaves raked and filled in wherever needed.
We could not have asked for a more relaxing, efficient location for our wedding, reception and brunch and I would highly recommend Casa Macumba.
The only problem is that our time ended there too soon.
Lynette Washington State
Note: The construction on the villa next door was suspended completely during the wedding parties stay. The owner is able to stop the construction whenever there is a group so as to not bother the guests.
*******************************************************************************************************************
Pool BBQ Utensils Stove - Gass Refrigerator Microwave Full Kitchen Dishwasher Coffee Maker TV/VCR Stereo Phone Linens provided High Speed Internet Fireplace CD Player Cable/Satellite TV Air Conditioning

Daily maid service from Patti, your house keeper, includes cleaning all indoor areas, covered terraces and all bedrooms. Towels are changed daily and bed sheets are changed every three days. Personal laundry service is available. Gardening and pool cleaning is done by Fernando, a very pleasant young man who also cleans all outdoor areas including the lawn, the pool and patio, tables and chairs and the beach. He also helps guests with their luggage, getting taxis, other small chores.

Our chef is our local treasure. He and his assistant will shop, prepare, serve and clean up after two meals a day; breakfast/lunch or lunch/dinner (an eight hour work day). He will prepare three meals a day or work for more than eight hours for an extra $50.00 U.S. for up to 12 people and an extra $75.00 U.S. for 13- 17 people and $100 US for 18-22 people. Vegetarian dishes are available. He makes almost everything from scratch including soups, desserts and home made corn or wheat tortillas. People rave about his cooking. Most guests eat all their meals at the villa after tasting the chef's food. Upon Guests arrival he will have your snacks ready - guacamole, home-made corn chips, salsa mexicana along with ice cold beer, tasty margaritas, juice, pop and bottled water. Unless you request something else he will prepare you a delicious traditional mexican dinner with flan for desert on your first night. All groceries are bought at cost and guests are presented a detailed bill. Shopping once a day is included, except for Sundays which the staff takes off.

Air Conditioning in all bedrooms: LG mini-split with remote climate control and anti-allergenic, anti-bacterial nano plasma air filters.

Fully equipped Kitchen, brand new plates and cutlery, Mexican hand blown wine glasses etc.

Brand new sheets, pillows and bed spreads and beds. All matresses are new in 2008.

The Puerto Vallarta vacation villa has its own private telephone for the guests convenience with access to local calls as well as the following numbers: 001-800 (toll free to the U.S. i.e. A T and T, Sprint and M.C.I.), 01-800 (toll free in Mexico). If guests plan on making calls to the U.S. from the villa they should bring the above mentioned calling cards. The vacation villa also has wireless high speed internet access 24 hours a day.

Ammenities and furnishings may change from time to time. In the event of any such changes the owners or any agent of the owners may not be held liable for any refund or claim against them by the guests for such changes.
Nearby Attractions
Swimming with dolfins, Zip lining, Kayaking, Boogie boarding/surfing, Wildlife Viewing, Hunting, Horseback Riding, Camping & Hiking, Windsurfing, Waterskiing, Swimming, Surfing, Snorkeling/Diving, Sailing, Parasailing, Jet Skiing, Fishing, Boating, Theaters / Cinemas, Tennis, Spa, Sightseeing, Shopping, Restaurants, Racquetball, Museums, Miniature golf, Golf, Fitness Center / Gy,. Biking, Basketball, Activities, sports and attractions right from the villa - whale watching, bird watching, jungle hiking, mountain biking, snorkeling, scuba diving, scuba lessons at the villa, spin casting off the beach in season, kayaking, safe swimming, boogie boarding, body surfing, banana raft riding and water skiing. There is a Canopy Zipline adventure within walking distance up the valley behind the Villa.
Nightly Weekly
Rate Period Nightly Weekend Night Weekly Monthly Event
Early Winter 2015 Nov 1 2015 - Dec 18 2015 5 night minimum stay
$1,400
$9,800
Notes: Rates are based on 14 guests; add $75 per night, per additional guest
Christmas/New Years 2015/2016 Dec 19 2015 - Jan 2 2016 7 night minimum stay
$2,400
Notes: Rates are based on 14 guests; add $75 per night, per additional guest
Late winter 2016 Jan 3 2016 - Apr 30 2016 5 night minimum stay
$1,400
$9,800
Notes: Rates are based on 14 guests; add $75 per night, per additional guest
Summer 2016 May 1 2016 - Oct 31 2016 5 night minimum stay
$1,200
Notes: Rates are based on 14 guests; add $75 per night, per additional guest
Earty winter 2016 Nov 1 2016 - Dec 18 2016 5 night minimum stay
$1,400
Notes: Rates are based on 14 guests; add $75 per night, per additional guest
Christmas/New Years2016-2017 Dec 19 2016 - Jan 3 2017 7 night minimum stay
$2,400
Notes: Rates are based on 14 guests; add $75 per night, per additional guest
Late Winter 2017 Jan 4 2017 - Apr 30 2017 5 night minimum stay
$1,400
$9,800
Notes: Rates are based on 14 guests; add $75 per night, per additional guest
Summer 2017 May 1 2017 - Oct 31 2017 5 night minimum stay
$1,200
$8,400
Notes: Rates are based on 14 guests; add $75 per night, per additional guest
Additional information about rental rates
Rates are subject to change without notice until reservations are confirmed.
Rates are subject to 16% IVA tax.
Rates are for Casa Macumba (7 bdms) based on double occupancy.
For more than 14 people (max 24 ) in the 7 bedroom villa add $75 US per extra person per night.
Christmas, New Years, Thanks Giving and Easter weeks have a 7 night minimum.
Casa Milagro rates not included.
The 7 bedroom villa, Casa Milagro (max 28 persons) is not included in these rates.
By special request, we also make arrangements for airport transfers, baby sitting, massages, mariachi bands, chaufferred cars and flower delivery for that special occasion.
Safe and Secure Payments with your choice of PayPal or credit card
Address: Fantastic Villas
1482 E. Valley Rd. #325
Santa Barbara, CA 93108
Text/Talk: 805 448-6976
E-mail: suzy@fantasticvillas.com