HOME ALL RENTALS CONCIERGE FUN THINGS TO DO PROPERTY MANAGEMENT FAQs ABOUT US CONTACT
Casa Nautilus
beachfront
Puerto Vallarta, Mexico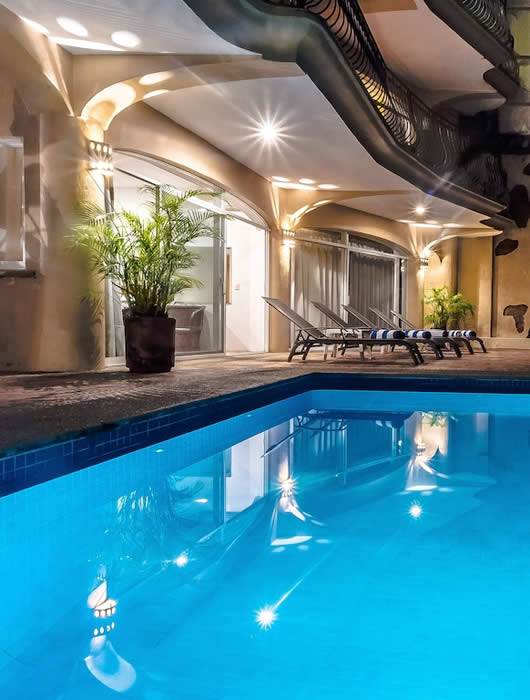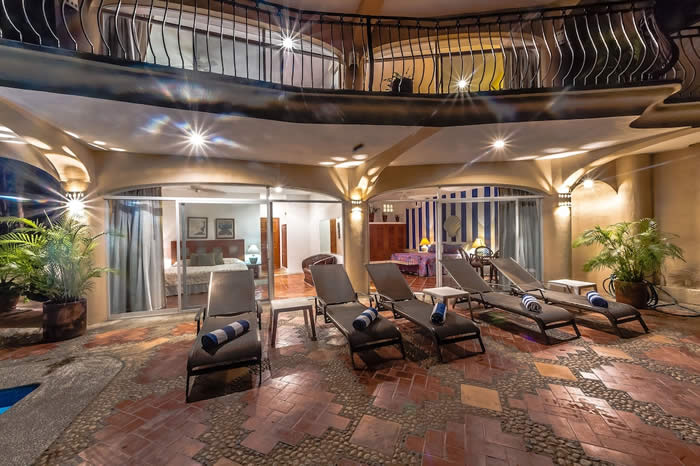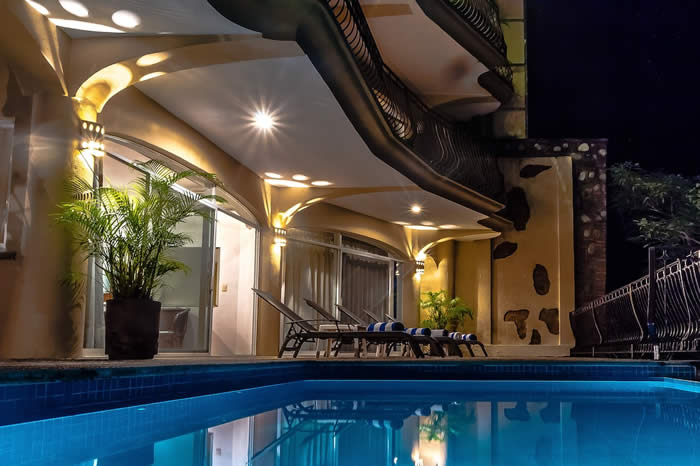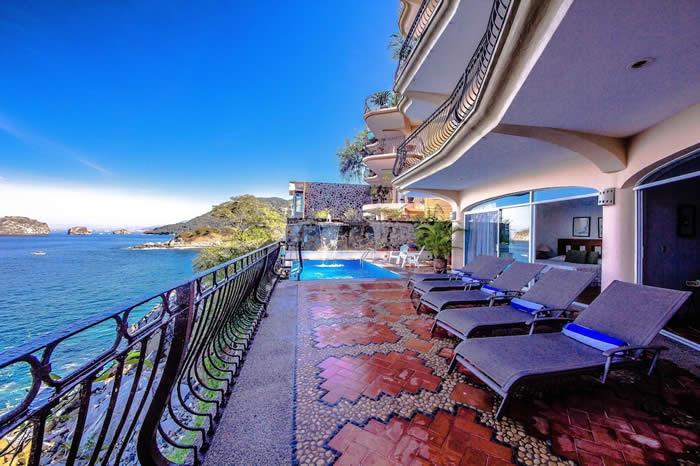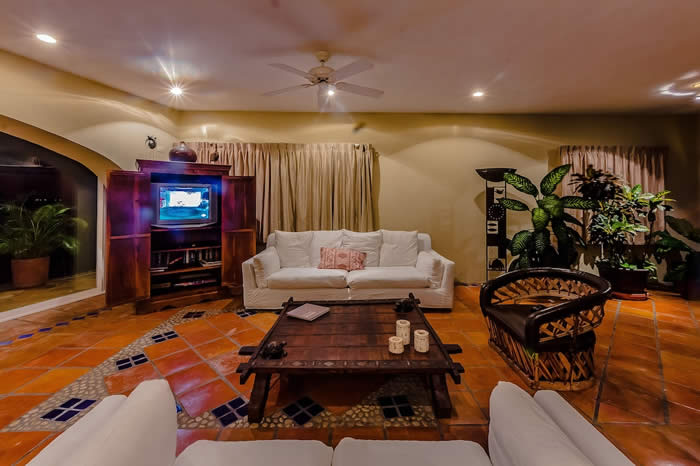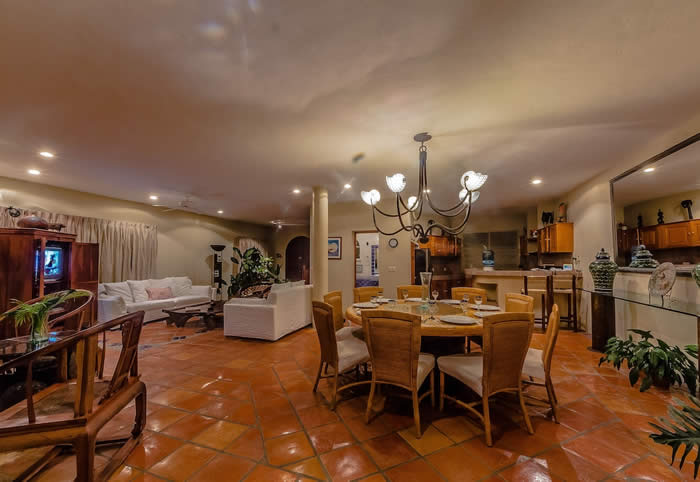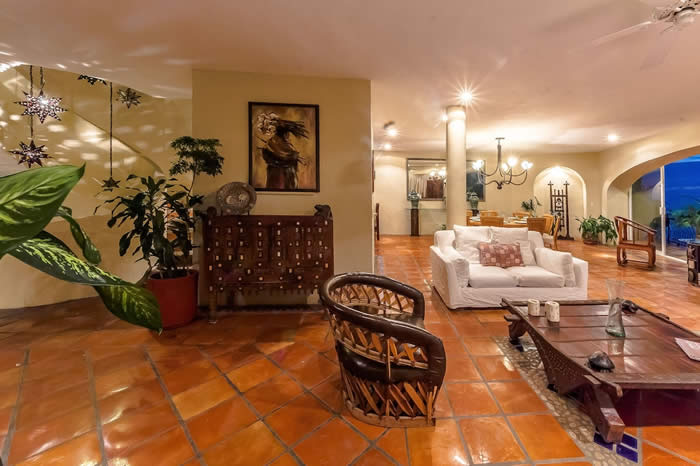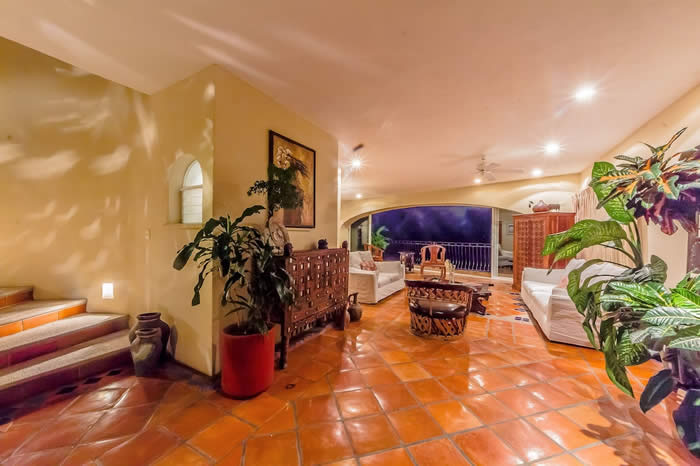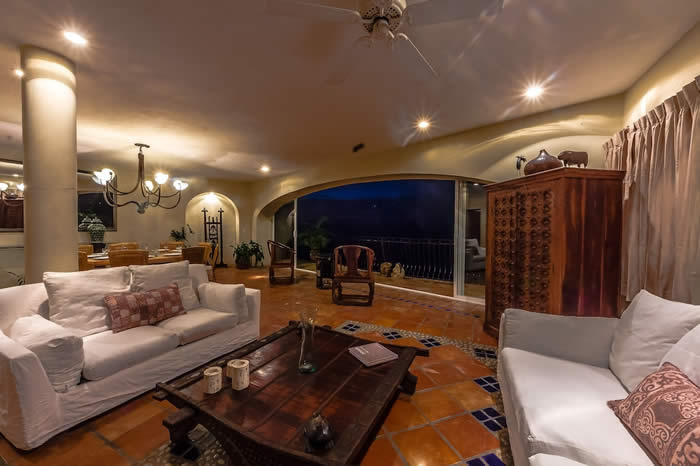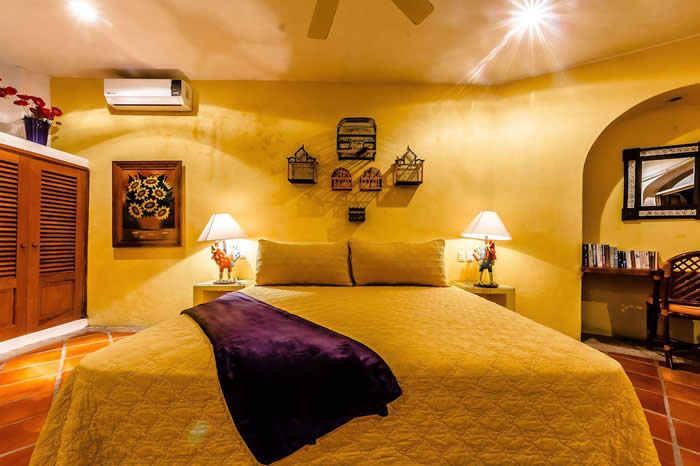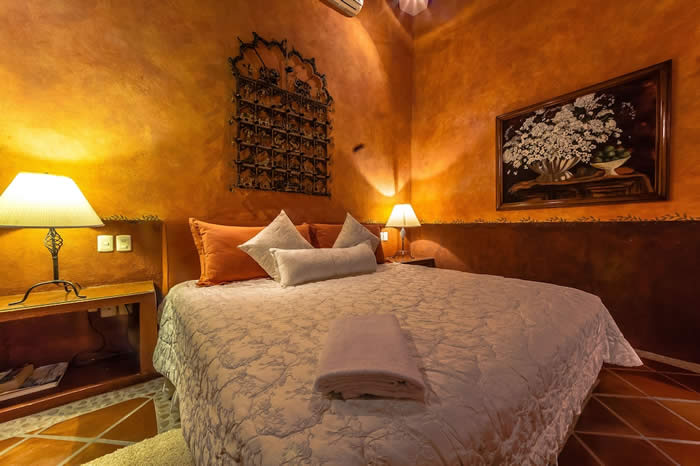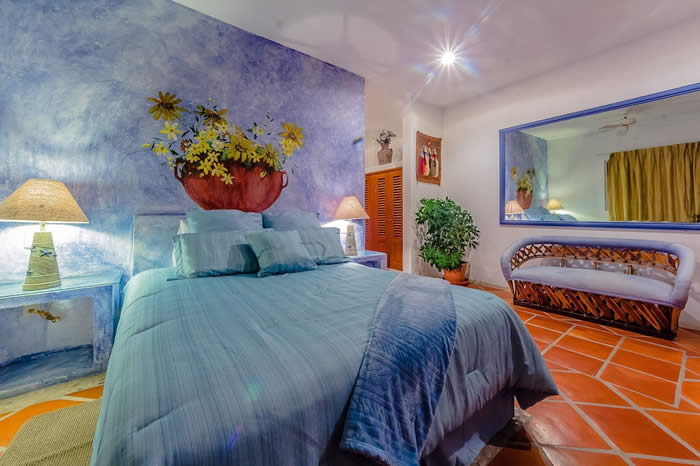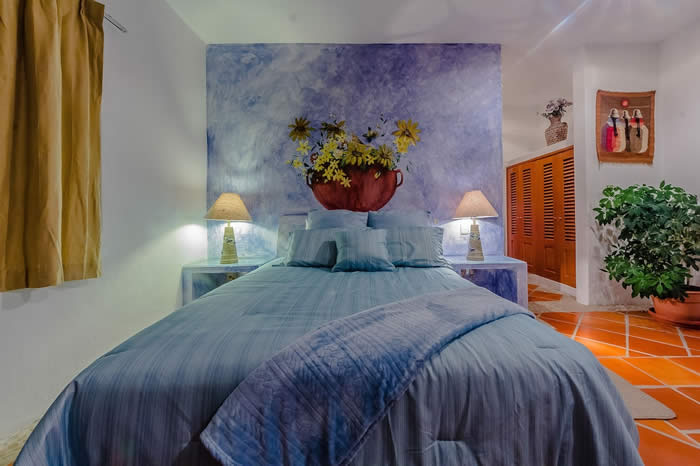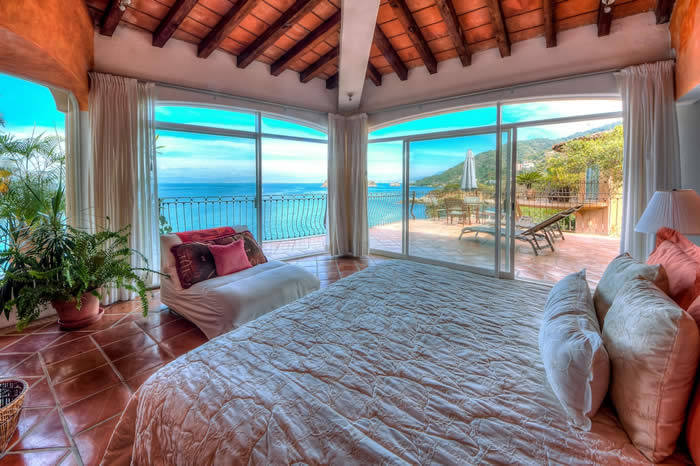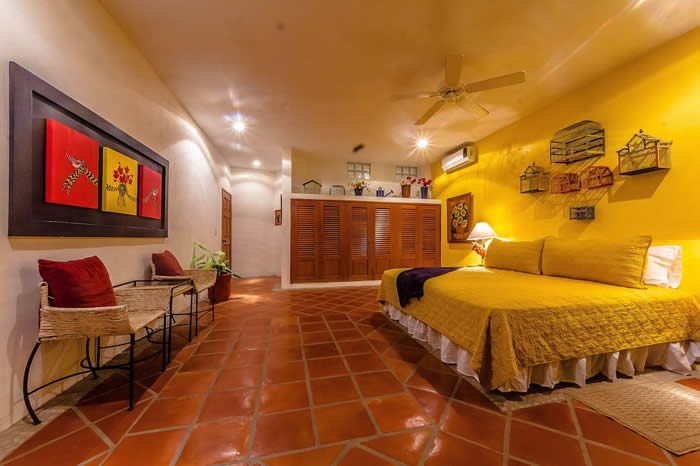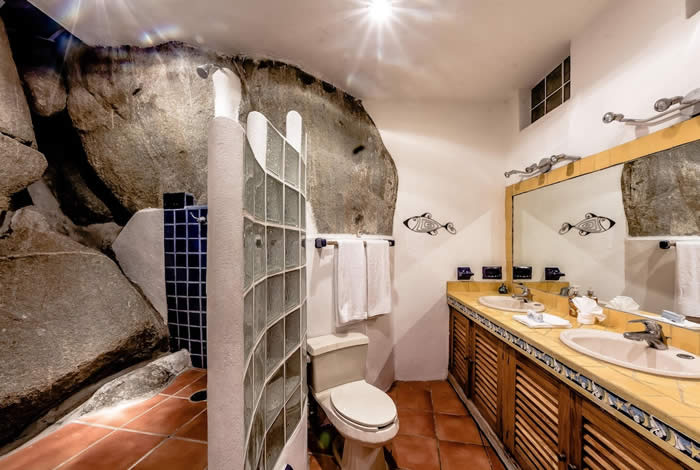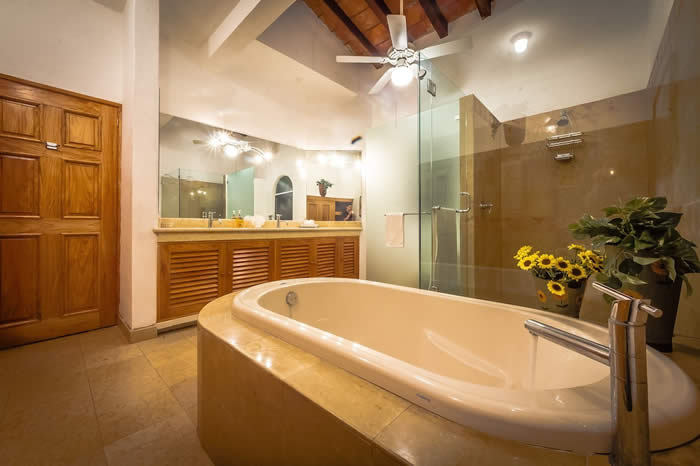 Five Bedroom Ocean Front Villa
Casa Nautilus is a beautiful villa that features wrought ironwork, stained glass windows, and hand-painted tiles.
Each room is tastefully decorated with beautiful furniture and handicrafts imported from throughout Mexico. The house was constructed in 2001 on a steep lot right on the bay. You will be sharing your own little slice of paradise with sunbathing iguanas, soaring pelicans, and gliding sting rays. Every room offers it's own private balcony. Whitewashed walls, Spanish tile, tropical palms…you are surrounded by the flavors of Mexico.
Bedrooms
Bedrooms: 5 Sleeps: 10
Bedroom 4
king Private Balcony
Bedroom 5
king Private Balcony
Bedroom 2
king Private Balcony
Bedroom 3
king Private Balcony
Bedroom 1
king Private Balcony

We are able to also offer an air mattress that will accommodate two persons to be able to sleep total 12 if needed.
Amenities
Featured
Swimming pool
Internet
Air Conditioning
TV
Satellite or cable
Washer & Dryer
Children Welcome
Parking
No Smoking
Bathrooms
Bathrooms: 5, Half Baths: 1
Bathroom 6toilet
Bathroom 3toilet, shower
Bathroom 2toilet, shower
Bathroom 4toilet, shower
Bathroom 5toilet, shower

Bathroom 1toilet, shower
Safety features
Safe
Deadbolt lock
First-aid kitKitchen
Smoke detector
Fire extinguisherKitchen
Exterior lighting
Location Type
Waterfront
Ocean View Amazing ocean views of Los Arcos
Oceanfront We are located on the water however there is no walkout to the water at the villa.

General

Telephone
Air Conditioning
Linens Provided
Washing Machine
Clothes Dryer
ParkingFree off street parking for two cars
Internet
Towels Provided
Safe
Wireless Internet
Hair Dryer
Shampoo
Basic Soaps
Toilet Paper
Living Room

Kitchen

Refrigerator
Stove
Oven
Microwave
Grill
Coffee Maker
Toaster
Blender
Pantry Items
Dishes & Utensils
KitchenThe villa also offers a gourmet chef that will be an additional cost of $100/daily plus cost of food and drinks. Or, we are able to shop and stock for arrival for a minimal cost

Dining
Entertainment
Television
Satellite / Cable
Outside
Balcony
Beach Chairs
Beach Towels
Deck / Patio
Outdoor Furniture
Suitability
Pool / Spa
Outdoor Pool
Heated Pool
Private Pool
Onsite Services
Massage
Private Chef
Concierge
Housekeeper Included
The villa comes with a housekeeper daily. If you would like to have a daily Chef/Houseman to cost is $100 daily. You are responsible for the cost of the food, drinks, and tipping of the staff. Should you wish to have a Chef he will do all the shopping for you then provide you with receipts to reimburse. This will need to be booked prior to arrival and can be added to your reservation. Sunday Service is $150.
Damage and Incidentals
You will be responsible for any damage to the rental property caused by you or your party during your stay.
House Rules
Check in after: 3:00 PM Check out before: 12:00 PM
Cleaning practices
Check in and check out with no person-to-person contact

High-touch surfaces cleaned with disinfectant (like countertops, light switches, handles, and faucets)

All towels and bedding washed in hot water that's at least 60ºC/140ºF

Minimum 1-day vacancy between guest stays

Cleaned with disinfectant

Follows industry health association: SafeStay (AHLA - USA)

Follows regional health guidelines: Measures to reduce infection (Spain)
The Views!
4/5 Stayed Jan 2020 Tristan B

Our family of 7 stayed at Casa Nautilus the week of Jan 4-11, 2020. The house was pretty much as advertised, and we had absolutely no issues with there being any surprises.

The highlight of this place is the location, cliff side with panoramic views off all four balconies. People should be aware that the positioning of the house limits sunlight to the pool area, and that you can only really get sun from the top level deck if that is important to you.

The staff was great, they treated us well, and were not intrusive at all.

It was really amazing to see whales breaching right from the balcony, and a stingray swim right by the rocks below us. I would recommend this house to anyone interested in being outside of Puerto Vallarta.

Owner's Response:

Welcome Home! We are so glad that you had a wonderful vacation and enjoyed Casa Nautilus. We hope to have you return again to Paradise! Have a great 2020!!
Family reunion perfection
5/5 Stayed Aug 2019 Morgahn G.

We were so very pleased with choosing this property. This family reunion was 20 plus years in the making and after losing our father we were very eager to start making some happy memories again. The rooms are fantastic. Everyone had their own space and bathroom. The pool we practically lived in! Awesome views. Absolutely do NOT miss out on being spoiled by the staff. Lupita is charming, attentive, friendly and such a good cook. Drinks Poole side. Snacks during the day and for such a reasonable price. We would have spent triple eating out every day or at a resort. She arranged all the cabs for us and was very flexible on the menu. She made us homemade tamales one night that were delicious. Her daughter assisted her and Selene did a great job as well. Maria kept the entire house really clean and was very friendly as well. Tips are a big part of their pay so please plan for that. You will get envelopes at the end for each one to portion the tips appropriately to the amount of work they do. The house manager was on top of it as well. We will be back. The prearranged transportation from the airport and back is the way to go. Just walk out front of the entire airport and there will be a person with your name waiting with a van. Walk past all the others in the airport as your person will be beyond all the interior doors and outside. Customs can take a while and it was hot in there. Being a hand fan perhaps. Kudos to Michelle Dunn also for handling all the booking and arranging for us state side. Nothing negative to add at all. We LOVED it!

Owner's Response:

Welcome Home! We are so glad that you enjoyed your stay and it was everything that you had wanted. We are looking forward to your return to Paradise. We will be keeping the water warm and the margaritas cold for you. Best Michelle and Staff
The pictures do not do it justice and the staff is among the best we have met in our travels!
5/5 Stayed Jun 2019 Jacquie P.Ottawa Canada

Fantastic time, excellent food, so clean and beautiful decor and location.

The pool is great though the pool area could be upgraded slightly with more shade and a bit of tlc etc.

What a great stay! Best local resto: Tony's Hideaway. And the beach ones during the day. Worth a visit.

Many, many thanks.

Owner's Response:

Welcome Home! We are so glad to hear that you enjoyed your stay at Villa Marbella. We are looking forward to your return to paradise!
Amazing family getaway!
5/5 Stayed Apr 2019 Jackie G.

We spent 11 nights in this fantastic oceanfront villa. There were 8 of us and found it to be spacious with lots of different patios and private areas to enjoy solitude.

Sitting on the patio, listening to the crashing waves and catching glimpses of sea life was probably my favourite part. But there were so many wonderful memories made here it's hard to pick a favourite!

We did not take advantage of the chef but did enjoy having a cleaning lady to pick up upper us! She was pleasant and not intrusive at all. There were times we didn't even know she was there!

I would not hesitate to stay here again. The only thing I would caution is the driveway is very steep and we had issues getting our oversized vehicle down to the house. There is parking on the street but if you've had a few margaritas the driveway can be a challenge!

Owner's Response:

Welcome Home! We are so glad that you had a wonderful stay at Casa Nautilus and made wonderful memories. We hope to have you return to paradise again soon.
Simply outstanding!
5/5 Stayed Feb 2018 Tracy M.Aurora

I cannot say enough about this great Casa and the staff. The place is actually nicer than the pictures on the site. We were fortunate to be here during whale migration and saw whales from the balconies each day. Michelle was terrific and helped us extend our stay. The staff- wow! Miseal catered to our every need and totally spoiled us. He arranged transport and site seeing trips. Jazzael (probably spelled that wrong) the chef was amazing and made us delicious fresh meals and margaritas! Mari kept the place spotless. We slept with the sliding doors open to feel the lovely breeze and hear the ocean waves and always felt safe. We even took the local bus most places. It picks up right outside the Casa. For 8 pesos you can ride anywhere. No need for a car. The driveway is steep and tricky to navigate, so wear sensible shoes and be careful. We were here for 9 days and can't wait to return. We will definitely be back to Casa Nautilus!

Owner's Response:

We are so glad that you enjoyed your stay. We look forward to having you return to Paradise!
Great staff!!
5/5 Stayed Feb 2018 M C.

The house is really much nicer than the pictures for the most part. However, the best reason to stay here is the staff. Misael made amazing drinks, Lupita is a fantastic chef and Maria kept everything clean. I can't say enough about how wonderful these three are. Also, I didn't realize that chef services were included - you only pay for the price of the food. I highly recommend canceling any dinner reservations you have and just asking Lupita to pamper you. The grilled fish in particular was better prepared (and fresher) than most fancy restaurants.

The house has a great layout for an extended family - my sister and her kids had the lowest terrace with the pool, so the boys could go swimming at any hour without disturbing the rest of the family. The two rooms on the next level up are large and have a nice private balcony. The main living area is above that and is lovely (though I would recommend the owners switch to a coffee table that is easier to put drinks on.) The top floor is a smaller bedroom with a large and wonderful bathroom and a lovely rooftop terrace.

We were visited by huge manta rays, so keep your eyes open when the water is calm/clear.

A few things to consider: (1) The house faces north, so if you want to be in the sun, you will need to be on the rooftop terrace, not the pool deck. The pool is heated though, so some family members considered the shady pool area a bonus because they could swim and hang out without slathering on sunscreen (the temps were in the mid-70s to lower 80s while we were there in early Feb.) This was also handy for the kids who wanted to be in and out of the pool all day long. (2) The staff makes a large part of their money from tips and shortly before we arrived we were told that the expected rate is $15 per day, per guest - so make sure you factor this into the cost when making your plans because it adds up. (3) You can walk into Mismaloya, but there is no shoulder for much of the way and the road has heavy traffic. The bus is only 8 pesos and will drop you off right in front of the Barcelo. (4) We frequently smelled sewer gas. I'm not sure if it was coming from our house or something near by, but it was not pleasant when you caught a whiff. However it was not too pervasive either.

All in all, I would consider this house again if coming to PV with a large group. I would definitely try to hire Lupita to cater anyplace I stayed!

Owner's Response:

We are so glad that you enjoyed your stay. We look forward to having you return to Paradise!
I thought the actual property It's way nicer than what is shown on the website
5/5 Stayed Dec 2017 Ian H.

Very clean amazing staff great property for a family

The food was awesome we felt very safe here and you all be in great hands

Owner's Response:

We are so glad that you enjoyed your stay. We look forward to having you return to Paradise!
Excellent
4/5 Stayed Nov 2017 Debra B.

The house was perfect for our group of seven over Thanksgiving. The staff was amazing, attentive, and accommodated our many needs. Their preparation and service surpassed our expectations making this a truly relaxing family vacation. Take your binoculars, every day there were breaching Manta rays and multiple schools of fish.

Owner's Response:

We are so glad that you enjoyed your stay. We look forward to having you return to Paradise!
Just Perfect
5/5 Stayed Oct 2017 Michelle D.

The staff, views, service and the villa was perfect. The staff was so accommodating and the meals where just delicious. The villa was very clean and the views where just breathtaking Full oceans from every room of the villa. It was very quiet other than the sound of the ocean. We just loved it...looking forward to returning soon.

Owner's Response:

We are so glad that you enjoyed your stay. We look forward to having you return to Paradise!
Pictures don't do it justice
3/5 Stayed Jul 2017 Crysta W.League City

The property is absolutely amazing and we had a great time during our stay. Erick was the BEST!! He helped us every step of the way and made the trip truly magical for all of us. Chef Temo was wonderful, always stopping what he was doing to see to my demanding 5 year olds requests for a snack. There were a few problems...1st of all, the whole entire vacation was almost ruined before we even got to the house. Apparently, addresses are not a good means of finding the property. We spent 2 1/2 hours in the taxi with 5 kids and 4 adults trying to just find the place. We even stopped at the local realty office and were informed that addresses are no good and if we had a map or written directions to the property (we did not). Apparently there are 5 different properties that have the name of Casa Nautilus. We were unable to reach anyone from the house by phone or email so we finally started knocking on doors and were lucky enough to find someone at home that suggested we look down around the corner and see if it was there. I thought we had been ripped off and abandoned in a foreign country and we were going to have to find a hotel to stay in. By the time we found the place, we were all stressed to the max and tired and hungry, and I was a crying mess thinking that I had gotten us into this mess. The owner was kind enough to send a couple of bottles of wine, but it took me some time to recover from the stress of it. There is a pool ledge by the waterfall that the kids liked to jump off of, but there is not a safety rail at the end of it. We quickly discovered that one wrong step and a child would be falling into the rocks several stories below. Lastly, we had to give up one of our rooms the last 2 nights due to a creature moving in at night and using the bathroom shower as a restroom. All of that aside, the property and the staff are phenomenal and we did have such a good time, despite the set-backs. The kids are still talking about how much fun it was and that they want to go back soon.

Owner's Response:

We are so glad that you enjoyed your stay. We look forward to having you return to Paradise! We will be keeping the water warm and the margaritas cold for you.
Fantastics Stay.. Couldn't have asked for more!
5/5 Stayed Jun 2017 Maren K.Denver, CO

Casa Nautilus was the perfect place for our group of 9! We flew into PVR for a wedding in Mismaloya and the house was fantastic! Michelle (the house coordinator based in the US) took great care of us and provided us with all of the details for the home and amenities (transportation, address, chef information, menu options, massage, etc.) before hand so that we were very comfortable and informed before we even left for Mexico.

Upon arrival we were greeted by our chef Tino, housekeeper Marie and helper / butler Eric who had margaritas and chips, salsa and guacamole waiting for us. It was such a treat! The house is beautiful! Every room has a king sized bed, private bathroom, ocean front balcony and an air conditioning unit. We often hung out on the balconies or by the pool and saw dolphins most days. The pool was beautiful and the perfect temp! Each morning Marie cleaned the house for us and Tino prepared breakfast and lunch or dinner for our group based on a menu that we discussed the previous day. We reimbursed Tino for any groceries that were purchased for our meals and they delivered all of the food and drinks that we needed (fair prices and receipts to review). Eric was wonderful and made margaritas and pina coladas during the day and arranged our taxi's, boat rides and other requests throughout our stay. We loved all of the food as well! (fresh shrimp ceviche, chile rejenos, steak, shrimp bisque, etc.). The staff blew us away!!

The house is located 3 minutes south a Mismaloya (beach with lots of water activities, sun chairs and bars available) and about 20 - 25 minutes south of Puerto Vallarta. We really enjoyed being away from the touristy, hustle-and-bustle of Puerto Vallarta (but close enough to drive to). We had friends that rented another house up the hill from us, but ocean-front is absolutely the way to go! We used the transportation to and from the airport that Michelle recommended and taxis were very fast, easy and cheap when we left the house to go to the beach, PV, the wedding, etc. There is parking if you rent a car.

Overall, we highly recommend this house for a great vacation! It's perfect for a large family or group of friends based on the layout and rooms. The price (house, food and gratuity) was a great value for the beautiful location, well kept accommodations and excellent service offered. I've already recommended Casa Nautilus to my coworker! You won't be disappointed.

Owner's Response:

Welcome Home!

We are so glad that you all had a fabulous time on your vacation to Puerto Vallarta. We love our staff at the villa, it is wonderful to hear that you enjoyed them as much. We look forward to your return to Casa Nautilus. We will be keeping the water warm and the margaritas cold for you.

Safe travels, Casa Nautilus Staff
Amazing views and staff
4/5 Stayed Mar 2017 cheryl m.St. John, USA

We had a wonderful time in PVR. Eriic our houseperson did a great job taking care of us . He scheduled transfers, boat excursions, made drinks, served food, and BEST of all spoke perfect English and translated for us to the Chef. Monica was an outstanding chef. Food was great and she was able to make grilled steak to lobster and shrimp taste exquisite!

The villa set on coast and the waves lulled us to sleep each night. Bedrooms were nice with individual bathrooms. The balconys were narrow, we did wish there were more chairs on main balcony. The pool area was lower level and not very sunny. Difficult to get out of pool also.

Lot of stairs for seniors. - 4 levels . Further out of town, 25 min and about 45 min to airport! Overall, we had a great experience!???

Owner's Response:

We are so glad that you enjoyed your stay. We look forward to having you return to Paradise!
Amazing weekend with great food
5/5 Stayed Mar 2017 Sammie N.Paris, France

We lived like 9 queens in paradise for a long weekend. If you have the opportunity to stay here- I highly recommend it.

Owner's Response:

We are so glad that you enjoyed your stay. We look forward to having you return to Paradise!
Christmas in Mismaloya
4/5 Stayed Dec 2016 Herbert E.

The staff was wonderful. The meals were fantastic with nice presentation. Everyone was very accommodating to our needs. Casa Nautilus is a beautiful home and an architectural marvel. However, the structure is showing it's age.Begining to take on a worn look with several items in need of renovation.

Owner's Response:

Welcome Home! Thank you for your review and we are glad that you enjoyed your stay at Casa Nautilus. We are already underway with doing renovation and upgrading with your suggestions and much more. When you would like to return to Paradise, please let me know and we would love to offer you two free nights to experience Casa Nautilus again.

Have a wonderful 2017! We will be keeping the water warm and the margaritas cold for you.
Amazing House with incredible Services
5/5 Stayed Nov 2016 Amit H.San Mateo

We rented this house for my 40th birthday celebrations. The house is amazing with impeccable views. Leo and the team are very hospitable and welcoming. I would highly recommend this house to anyone visiting PV. Michelle is wonderful to work with and answers any questions to make you at an ease.

Owner's Response:

We are so glad that you enjoyed your stay. We look forward to having you return to Paradise!

Taxes and fees are additional

Rates are subject to change until a reservation is confirmed. Cancellation Policy: In the event of a cancellation 90 days prior to arrival all but 10% will be refunded. If cancellation falls after the 90 day mark there are not refunds unless we are ale to rent the property. Holiday Rental Cancellation: There are no refunds with a holiday rental, unless we are able to rent the property during your original reservation dates.

Safe and Secure Payments with your choice of PayPal or credit card + 4% PayPal/credit card fee

Address: Fantastic Villas

1482 East Valley Road #325

Santa Barbara, CA 93108

Skype: fantastic.villas

E-mail: suzy@fantasticvillas.com