HOME ALL RENTALS CONCIERGE FUN THINGS TO DO PROPERTY MANAGEMENT FAQs ABOUT US CONTACT
CASA YVONNEKA
Puerto Vallarta, Mexico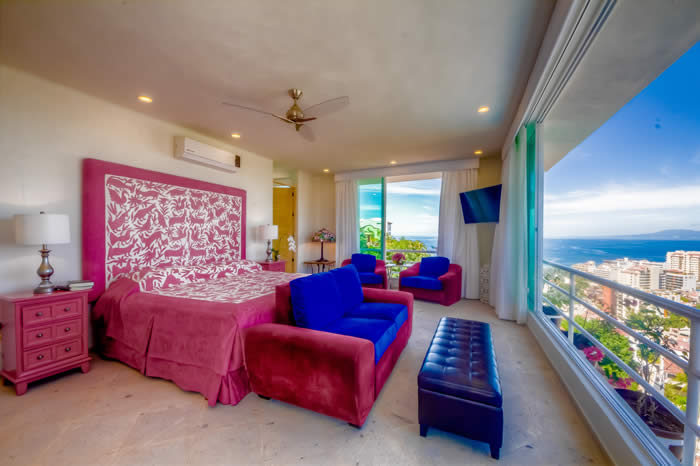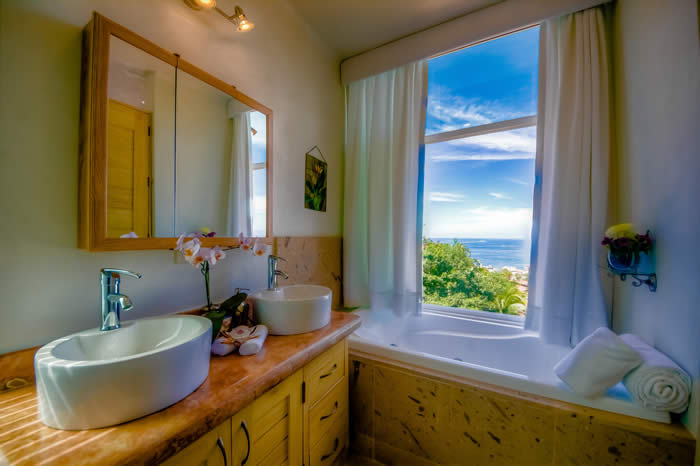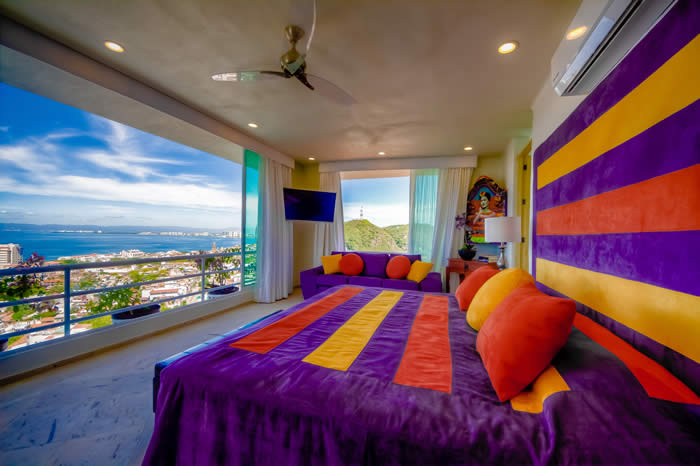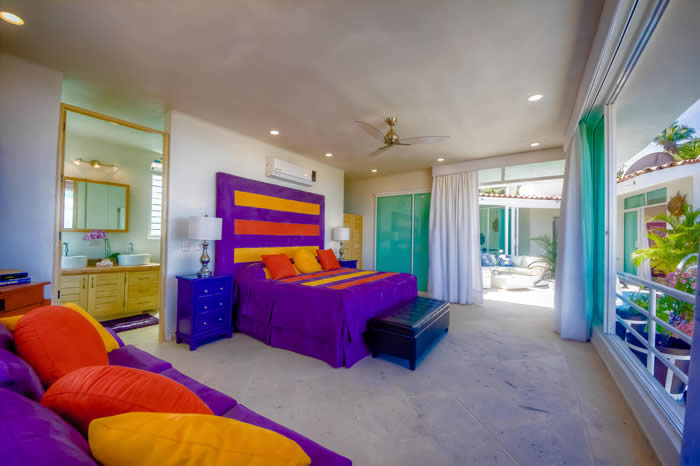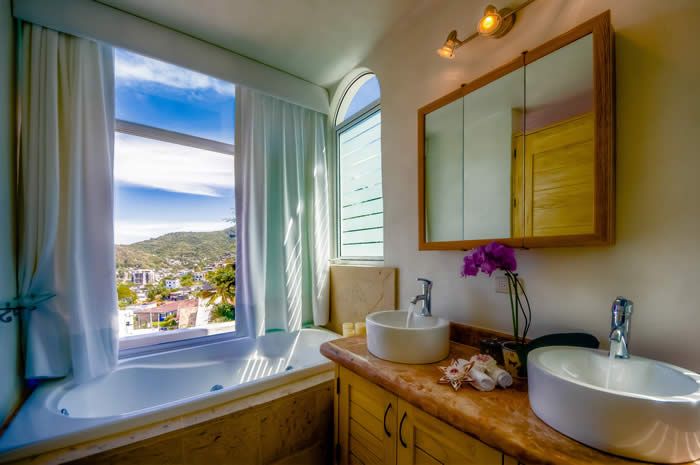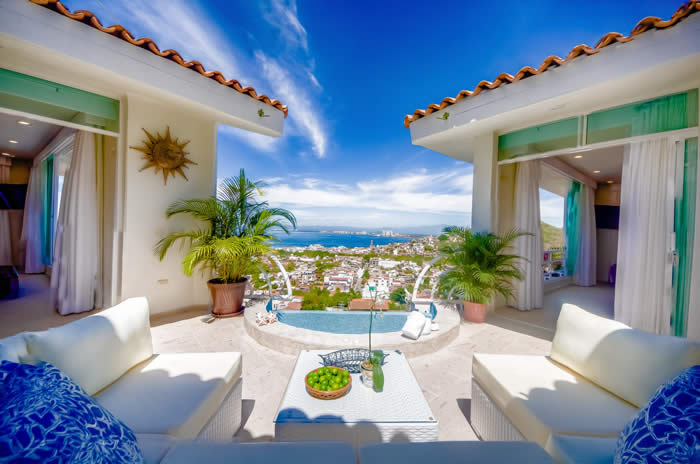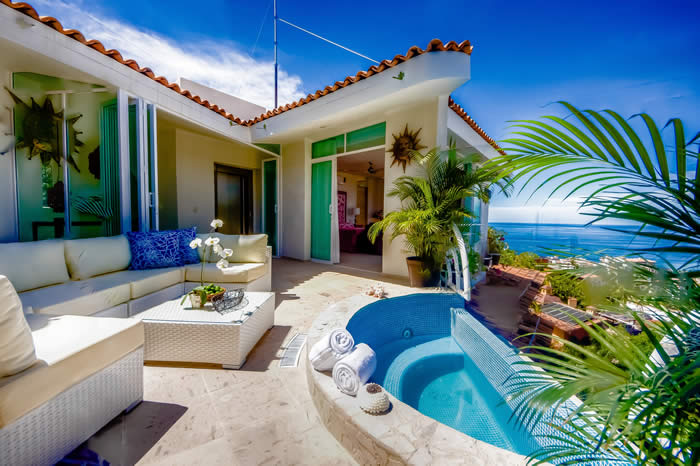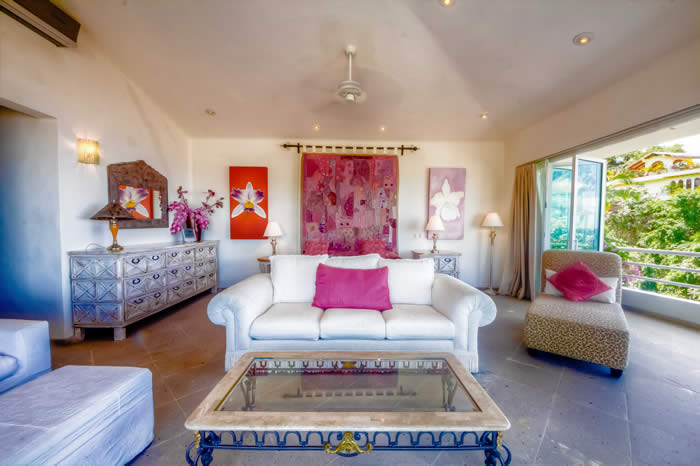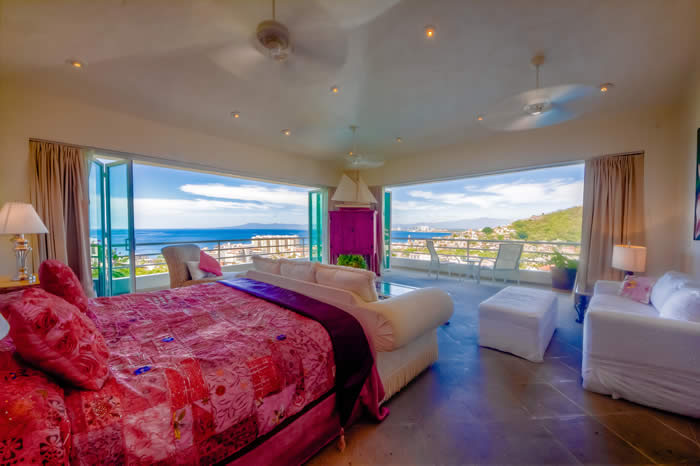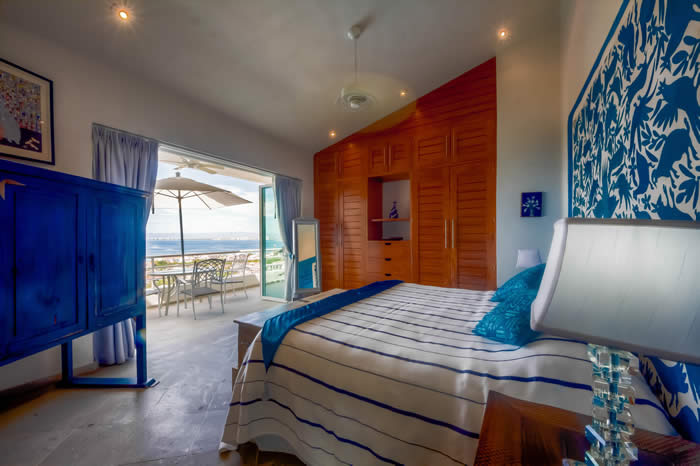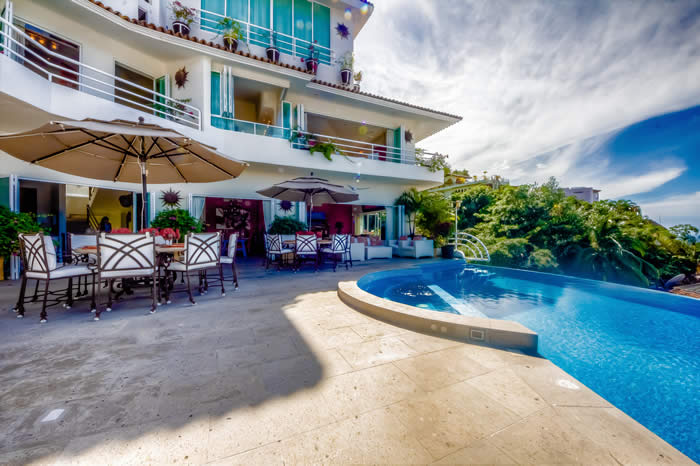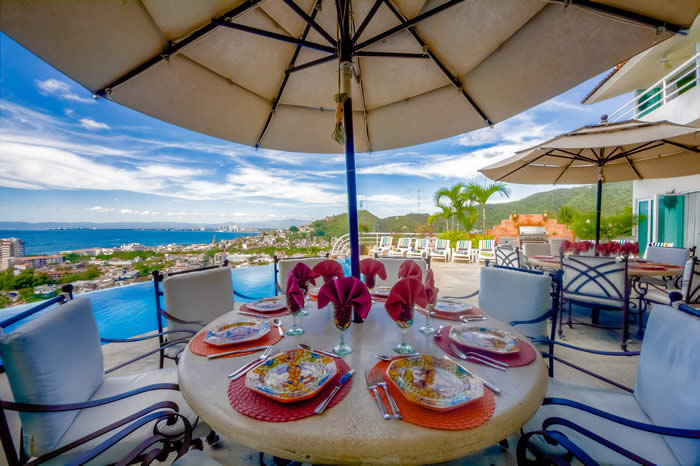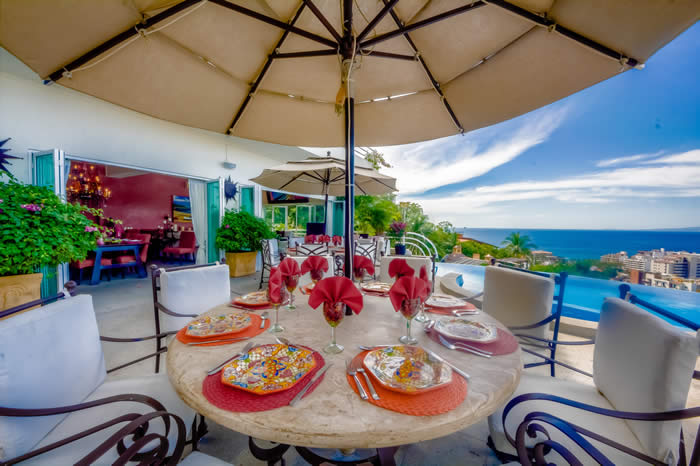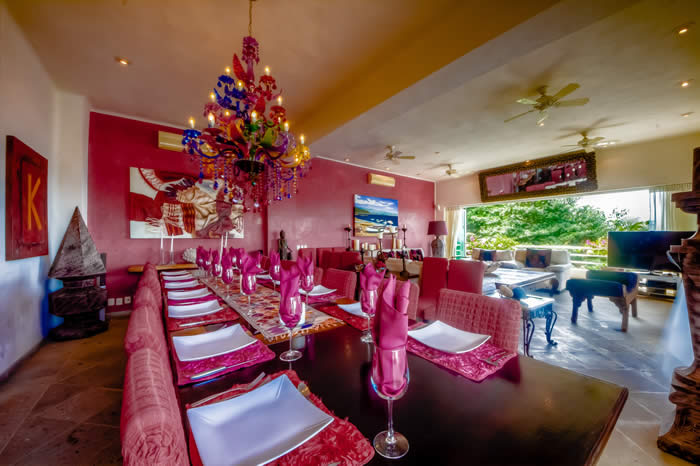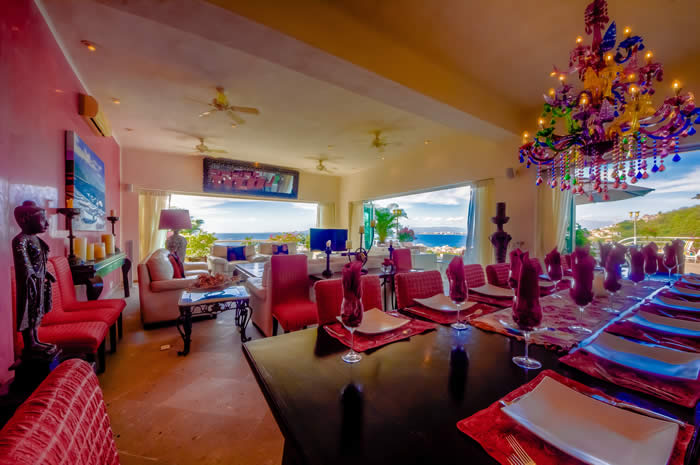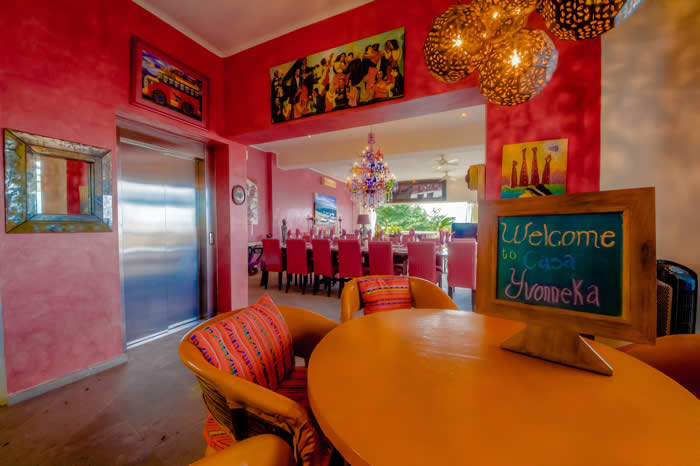 Casa Yvonneka: Your Luxury Vacation Rental in Puerto Vallarta
Spanning over 20,000 feet of sheer luxury, Casa Yvonneka is a totally luxurious Puerto Vallarta vacation rental villa, way above the town and set next to a mini jungle filled with song birds.. Casa Yvonneka offers breathtaking views of the town and bay, and is within a short walk of the Romantic Zone and the popular Los Muertos Beach.
When the best is just good enough!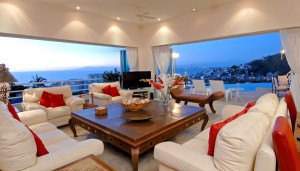 At Casa Yvonneka, every detail has been thoughtfully planned to ensure guests are pampered and completely comfortable, from pillow top mattresses to the elevator, and everything in between! Indulge in offerings that include 500 to 1500 -thread count sheets, wireless Internet throughout property, purified water, Jacuzzi tubs, smart TVs in all bedrooms, full service staff, and much more!
Casa Yvonneka in Puerto Vallarta features several indoor and outdoor living areas, a spacious terrace by the infinity pool with outdoor dining, multiple terraces and a gym. Our luxury Puerto Vallarta vacation rental villa is ready and waiting for you!
The Finest Puerto Vallarta Vacation Rental
At Casa Yvonneka, paradise is found just off a simple cobblestone street. As you enter through a massive iron door, you walk through a stunning tropical garden to enter your own private oasis. From the moment you look across the infinity pool with its breathtaking views of Puerto Vallarta and Bay of Banderas, you see an exquisite property that has been thoughtfully planned to be your private island of comfort.
The spectacular villa has an elevator, and is fully air-conditioned and includes many luxurious details:
Limestone floors , marble baths
Jacuzzi tubs available in 7 of the bathrooms
Two spacious and separate living areas
50 inch flat-screen TVs in public rooms
A tranquil library reading room
Many charming terraces and common areas, perfect for large groups or private time
All bedrooms have private connecting baths
9 bedrooms have city and ocean views
3 bedrooms overlook Yvonneka's private banana plantation
Our full staff is here to pamper you, and the gourmet chef is fantastic – many of our guests rarely dine out, even with world-class restaurants just a few steps away! The setting is the perfect spot to watch the sunset and see the nightly fireworks. The available meal service at our luxury vacation rental includes all shopping, preparation, serving, and clean-up for two to trhree meals per day – and our guests choose the menu and which meals they would like.
Dining at Casa Yvonneka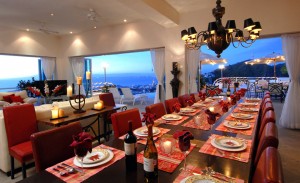 Chef Malena offers a complete repertoire, from Continental to Mexican, which also includes Hungarian cuisine. Breakfast is served from 8:30 a.m. and dinner at or before 7:30 p.m. Lunch can be served at any time. Extra meal service is available to a limited amount of guests not living at Villa.. Purified water is available on tap throughout the house. Sunday service includes breakfast or brunch and housekeeping.
Our staff includes six permanent members, including our chef, housekeepers, and a night watchman who can make snacks, margaritas or mint tea…Casa Yvonneka is located on the south side of Puerto Vallarta in an area known as Amapas, and is approximately a 20-minute drive from the airport. We at Casa Yvonneka Puerto Vallarta vacation rental villa will be happy to call and arrange for transportation for our guests at their own expense! Prices are flexible according to the size of your group.
The Most Memorable Holidays
To the wonderful staff/family at Casa Yvonneka, who were absolutely amazing! Thank you so much for going above and beyond our expectations and making us feel welcomed and very pampered. The house is stunning, the views wonderful and the experience unforgettable. Cheers, James and Samantha Thank you so much for one of the most memorable holidays I have ever had. I sincerely hope I get to come back and experience this treat again. Big Smiles thank you,
Guest Rating 5/5 3 Times & going back to Casa Yvonneka again
I have used this house as my home away from home 3 times now. Two with groups of business owners as a meeting retreat and once as my companies yearly reward trip. All three times have been amazing from the service, the views, and the personal touch from the owner checking in on us. I would highly recommend the house to anyone with a large group coming to PV. I have returned to Puerto Vallarta more for this home than even what the city has to offer, which is also an amazing place to visit. You will NOT be disappointed.
guest Rating 5/5 Perfection
I just returned from Casa Yvonneka where I spent a week celebrating a big birthday with family and friends. I cannot say enough about this place. We used 8 of the 12 available bedrooms. They were all beautifully and uniquely decorated, with en suite bathrooms and ocean views. The staff is absolutely wonderful. They are always around yet not intrusive and seem to anticipate every need. 5 star hotel service–but better. Breakfasts are huge and delicious. Always fresh fruit and a choice of eggs (any way you want) or pancakes, french toast, etc. Dinners rival any high end restaurant in town, so take advantage of them!! Have the freshly caught whole snapper on the grill!! The food is amazing!
Guest Rating 5/5 A Deeply Heartfelt Thank You
On behalf of our friends and family, we extend a deeply heartfelt thank you!! For the tremendous, gracious and incredible time and gratitude this wonderful staff afforded us Malena, Berta, Felix, Betty and Miriam, we will never forget your graciousness and willingness to go the extra mile to make our group happy. Great food, great drinks and an even better sense of family. We will miss every single person on this staff!! We sincerely thank you for a week in paradise. The K A/ Washington DC crew P.S. We can't wait to see you again!!
Guest Rating 5/5 50th Wedding Anniversary
On behalf of our family we would like to thank the entire amazing and wonderful staff members of Casa Yvonneka. We got together to celebrate my parents 50th wedding and every little detail they worked on made things better. They went out of their way to show us things, to move furniture for us, to help us with the kids, they helped us find a mariachi. Helped us find places and things around, time was almost too short. Thank you so much. The L.O. Family – Tucson, Arizona – Austin, Texas – San Antonio, Texas – Baltimore, Maryland P.s even my two year old enjoyed himself.
Guest Rating 5/5 Our Wonderful Family Vacation
Our stay at Casa Yvonneka was like no other for our family. From the moment we arrived until we departed the staff took amazing care of us. Malena, Fernando, Tony, Betty, Felix, and Berra were so nice and made us feel welcome every single day! The villa was very comfortable, beautiful, and the views of the bay were just fantastic. The location of the villa in old town area was perfect for us. We had 14 adults, 2 toddlers, and 2 babies staying at the villa and everyone was very pleased with their bedrooms and all the amenities. The meals prepared by Malena and her staff, as well as the service provided by Fernando, Tony and Felix, were second to none and far exceeded my expectation. If anyone had any special needs regarding meals Malena and her staff made sure they were taken care of. We always felt safe in Puerto Vallarta and it provides a lot of activities. Several of us are divers and were very happy with the diving in PV. It was a vacation with wonderful memories for our family that will last a life time, thanks to Casa Yvonneka and the staff. I would certainly recommend Casa Yvonneka to anyone staying in Puerto Vallarta . . . you will love it!
Guest Rating 5/5 Best Destination Wedding Venue Ever!!!
Recently, 30 of our family and friends accompanied my fiancé and I to Puerto Vallarta for our destination wedding, 16 of which stayed at Casa Yvonneka with us. Throughout the week we had the great pleasure of befriending the wonderful 6 person staff, who went above and beyond to accommodate our large group. The meals were phenomenal (breakfast, lunch, and dinner), ranging from Americana, traditional Mexican, and European cuisines. Given the beautiful vista that Casa Yvonneka offers, overlooking the Romantic Zone and Iglesia de Guadalupe, Bay of Banderas with a view of the Marieta's Islands, we thought that the villa would be the perfect venue to host our magical sunset wedding. The addition of the impeccable detail to decorating, with vibrant colors and impressive artwork that adorn the place and add to the aesthetic, we were not disappointed. And the staff bent over backwards to ensure that our special day went off without a hitch, calling electricians, moving furniture, cooking the reception dinner, and bartending into the wee hours while the festivities turned into a fantastic pool party. The best part is that the villa is walking distance to the Vista Grill, a great local restaurant, as well as the picturesque Zona Romantica, Los Muertos Beach & Pier, and the Malecon. Whether you are person looking for a great relaxing getaway, family reunion, couples retreat, or a bunch of friends looking to have a good time, Casa Yvonneka is the place to be. The photos are legit!!!! And I have to give a special shout out to Malena, the head chef, Felix, the night watchman, Fernando & Tony, who are always there to help with anything, and the wonderful housekeeping staff who kept the place looking like the day we arrived! And we thank Yvon for making it all possible, Thank you!
Guest Rating 5/5 We're not in Kansas Anymore
I recently spent 8 glorious days at Casa Yvonneka (early May) and it has taken me a full week to come down from the high-level sensory onslaught of beauty, comfort and TLC I experienced there. Some thoughts, but where to begin? Casa Yvonneka is a modern, multi-storied villa clinging to the hills of Alta Vista with an absolutely breathtaking, knockout view of the old city, surrounding mountains and Banderas Bay. And the cool thing is, it's only a short walk or brief ride to the "romantic" section of old town and the beach. It has all of the 5 star amenities one would expect, but there is nothing sterile or corporate here. Each room is distinctive; the walls are awash with vibrant colors and brilliant contemporary art work; beautiful woven fabrics abound. Everywhere one looks there is something interesting to behold; one wanders from level to level, stunned by the ingenuity and creativity that has gone into this concrete fantasy. But wait. There's more. Casa Yvonneka's secret weapon: the staff. Magdalena and her congenial crew just do it right. The food, drink and service couldn't be better. They seem to sense what you want moments before you realize you want it. And here, too, there's nothing stiff or formal. Before long you feel like you are one of the family, in a home you would be happy to live in for as long as you can.
Guest Rating 5/5 Pinch Me, is this Real?
Came back again to Casa Yvonneka..where every day is like feeling like a queen…living in the most lovely 17,500 sq., of luxury you can't imagine…a staff that is at your every beaconed call, (even if you don't call) they are there to give you their all to make your days spent there wonderful..The food is excellent…just ask and you shall receive. Sitting by the infinity pool or in it, looking down at the beautiful city of Vallarta with it's European touch with cobblestone roads is so charming..and just beyond is the Ocean with sail boats, motor boats , and occasional view of a cruise ship coming into port..not to leave out someone parasailing, the pirate ship that shoots fireworks at night..(it's like watching a movie)..Casa Yvonneka is walking distance to town and to the beach…visit lots of stores for what ever you need, or go to the beach which has many restaurants, some with dining right on the beach and vendors walking the beach to sell their wares…return home to Casa Yvonneka and maybe a game of pool or exercise in the gym or maybe just relax and be pampered by the staff after they've made you a nice cold Margarita and just watch the beautiful sunset and fireworks….then when the time comes ..you've got to go back home to reality….Oh well !!!!!!
Guest Rating 5/5 Jaw dropping vistas, Exceptional Service, Flawless Vacation
Every part of the experience at Casa Yvonneka was incredible. From the moment you walk through the front door prepare yourself for a high-bar setting experience. You'll first note the stunning view of the entire bay and the inside/outside dining/living room area with the infinity pool/jacuzzi. Next the delightful staff greets you and you are shown each of the gorgeous rooms on this property – each with its own unique character. As you unpack and unwind, they serve you homemade snacks and beverages and you simply stare and think to yourself – 'I don't know if I even want to go into the town. I might stay right here for the whole week.' It's important to realize that this thought crosses your mind at least 3 times a day here. We took my friend here for a milestone birthday in early April and it was everything we hoped for and more. The views from this home are nothing short of breathtaking and the amenities are first class. Perfect for groups or families, this place has it all. But the aspect of this property that truly makes it all come together are the staff. JUST INCREDIBLE! Malena, Felix, Fernando, Tony, Betty and Miriam are a wonderful team dedicated to making your stay the best. Breakfast every morning, snacks in the afternoon and mouth-watering dinners every night. We had planned to go into town and go to a few restaurants that had been recommended – but we never made it. We felt no need to leave and instead had scrumptious dinners and cocktails watching the sun set over the bay – often times with fireworks. The staff here really go the extra mile. Our friend who handled the logistics work for this vacation had casually inquired as to whether the property had HBO because we wanted to watch the Game of Thrones premier. When we arrived we found out that Yvonne, the owner, had gone out of her way to have it set it up for us for the week. She even called us on the first day to make sure everything was fine – when does that ever happen? Several of our friends have been to PV before and have even stayed at this property (and raved about it). So we came in with very high expectations – the venue and staff here far exceeded anything we could have imagined. This has set a new standard for us in terms of vacationing and we will definitely be back. Thank you Casa Yvonneka, Yvonne, Mark and the entire staff for making our week better than we could have ever hoped for.
Guest Rating 5/5 Paradise Found
First of all, I'm late to my review, but a cold day like this in Chicago quickly made me remember what an amazing time we had at this home! I booked this home in October 2013 to celebrate with 17 of my best friends. The house is spectacular. From the moment you arrive you realize you made the perfect choice. The house is outstanding and exactly as photographed. The amenities are 5 star and the location is ideal for walking to the beach or downtown area for shopping. The staff really makes the stay the stand out from all other choices in Puerto Vallarta. Instead of your group being all spread out, you enjoy the comforts of a home and the relaxation of meals and beverages at your ease. The staff was very accommodating and really took our vacation to a whole new level. The hardest part of our vacation was deciding who gets the master suite! Thanks again for the amazing trip, we'll be back!
Guest Rating 5/5 Out of this World!
Honestly the best place we have ever, ever stayed. We had a large group of 14 and we all had a wonderful time. The staff makes you feel like family. Their attitude and smiling faces every day were so great. We are so, so gracious. The food that Magdelena and her staff prepare are out of this world. We ate, and ate, and ate! You can customize your own menu and drinks every night. The Margaritas are outstanding. We wish they could all come home with us!!! The property is beautiful and overlooks all of PV. Very nice area and short little walk to all of the activities in town. We are already planning our trip back! As another review stated, we did not want to leave!!!
RATES:
Casa Yvonneka rates are in US Dollars based on a rate per bedroom per night with a minimum rental of 6 Bedrooms. Rates subject to change at any time.
MINIMUM RENTAL:
Depending on the Season
Peak Season: 5-7 nights
Value Season: 4 nights
Holiday or Christmas & New Year's is 7 nights over each of the 2 holidays. Usually Saturday to Saturday.
SEASONS:
Peak/High Season: November 1 – April 30th
Value/Low Season: May 1- October 31st
Christmas & New Year: December 18- January 8th

VALUE PEAK CHRISTMAS NEW YEARS
# Bedrooms
6 $1770 $1770 $4800 $5800

7 $1855 $2065 $4800 $5800

8 $2120 $2360 $4800 $5800

9 $2385 $2655 $4800 $5800

10 $2650 $2950 $4800 $5800

11 $2915 $3245 $4800 $5800

12 $3180 $3540 $4800 $5800




POLICIES
SPRING BREAK/STUDENT GROUPS:
Holiday rates apply, Security deposit $5000 USD, additional security staff at cost to guest. Prepaid staff Gratuity
CANCELLATIONS & REFUNDS:
No refunds for full or partial cancellations. For this reason Trip cancellation insurance is strongly advised.
SECURITY DEPOSIT:
A $2000 USD (TWO THOUSAND US DOLLAR) security deposit is due with payment of balance. If there are no damages or lost items this will be refunded within 7 business days of departure.
MAXIMUM NUMBER OF GUESTS:
2 adults /bedroom unless otherwise state, 2 small children under 3 years, sleeping with parents allowed at no cost.
EVENTS & ENTERTAINING:
For any event or gathering when the number of additional unregistered guests exceeds 50% or the total registered guests, written permission from the Agent /owner is required and a fee applies, usually equal to one nights rental plus an security deposit of $3000 USD
FOOD & BEVERAGES:
Cost of Food & Beverages is not included.
PETS:
Pets not allowed except with permission in writing from the Agent/owner and are reviewed on a case by case basis.
SMOKING:
Absolutely no smoking inside the villa, Smoking allowed outside on terraces only.
Check out time is 12 noon, and Check in is 3pm. We do try to accommodate early check in and later departures when possible.
CONCIERGE SERVICES; We make arrangements for airport transfers, baby sitting, massages, mariachi bands, chauffered cars and flower delivery for that special occasion, etc.
Safe and Secure Payments with your choice of PayPal or credit card + 4% PayPal/credit card fee
Address: Fantastic Villas
1482 East Valley Road #325
Santa Barbara, CA 93108
Skype: fantastic.villas
E-mail: suzy@fantasticvillas.com