HOME ALL RENTALS CONCIERGE FUN THINGS TO DO PROPERTY MANAGEMENT FAQs ABOUT US CONTACT
CHATEAU BELLEVUE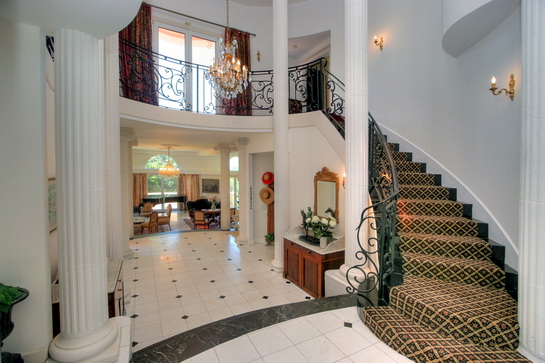 Entrance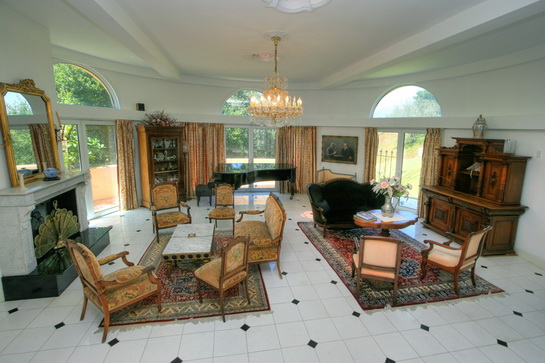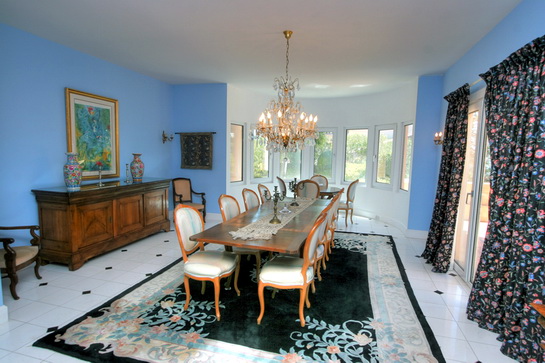 Dining Room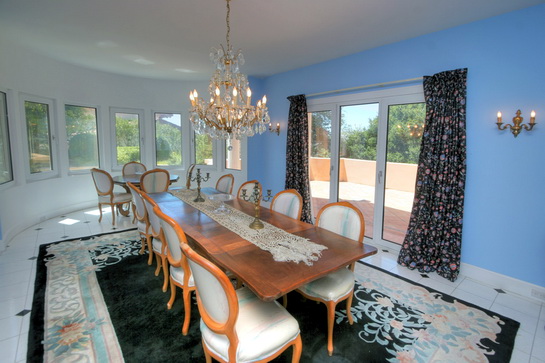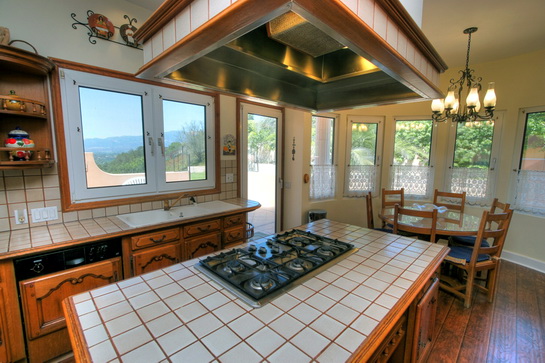 Kitchen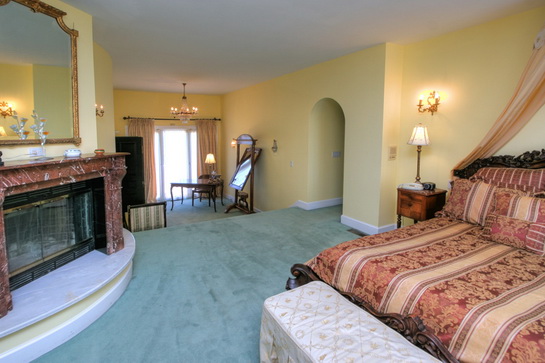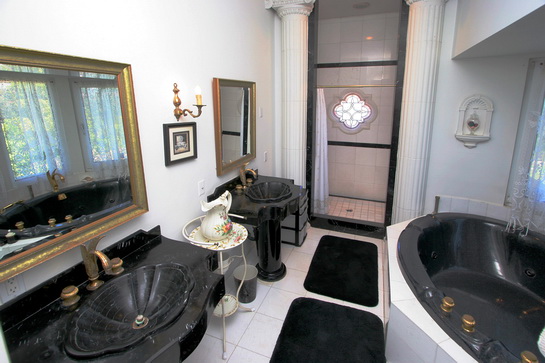 Master Bath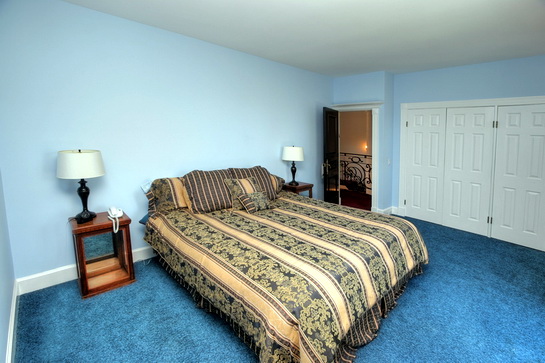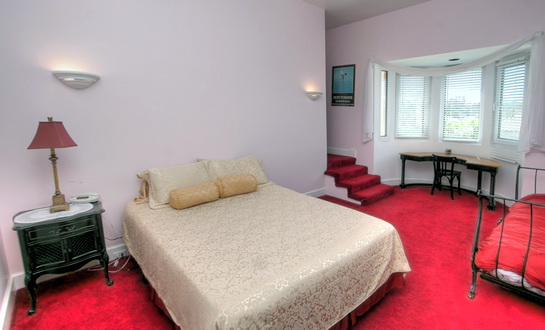 Bedroom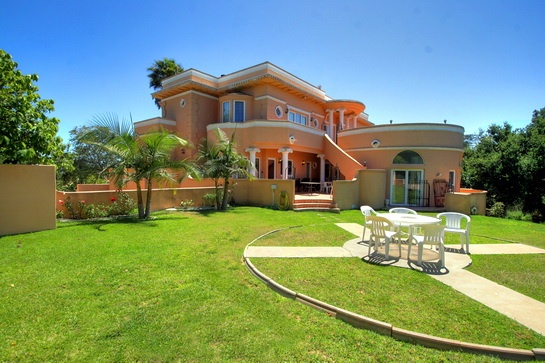 Situated on a hilltop overlooking beautiful Santa Barbara, this custom built home is a Mediterranean style mansion with breathtaking views of the city, ocean and mountains. This property has a very large backyard and terraces surrounding the home on the main and upper levels.
The master bedroom has a canopy bed, marble fireplace, private bathroom with a large custom made spa tub and a separate double size shower adjoining his and her marble sinks. There are three guest rooms, each with its own full bath and terrace. Elegantly furnished the interior is accented with four carved marble fireplaces and luxurious European crystal chandeliers.
The home features a very large formal dining room. The spacious family room has a flat screen TV and bar. The impressive round living room spans 28 feet in diameter. The kitchen has everything you need including two sinks, two dishwashers, a five burner cook top, a large built in refrigerator, a large built in freezer and a cozy breakfast nook. WiFi High Speed Internet and cable T.V. are included..
Conveniently located just minutes from downtown, shopping and the beach, in a quiet, peaceful and conveniently situated neighborhood.
This property is ideal for extended stays (30 days or more)with its large backyard and terraces surrounding the home on the main and upper levels which offer beautiful views of the City of Santa Barbara and the surrounding countryside.
Beds:
Masterbedroom Queen
Upstairs front bedroom King
Upstairs rear bedroom: Queen and a Single
Mainfloor bedroom: Queen
Lower level bedroom: (studio) King
ATTRACTIONS
• Near Beach
• Near Town
• Near Shopping
• Near Restaurants
REVIEWS
Arilysse was very helpful prior to out stay. The place was perfect and exactly as advertised. Very large outdoor area was the best part. The house is older and has a lot of antiques.
May 2016 Danielle
We loved the house! Great location and the house was everything we needed. Close to the beach and had some amazing views. The host was very helpful in making sure we were comfortable. Would definitely stay here again and recommend it to anyone thinking about booking it!
April 2016 Brendan
Arilysse and her family were so warming and nice. We were treated very well from the first day, we were greeted with a bottle of wine. The house was very well equipped. I definitely recommend
March 2016 Augustina
Our group had such a great time at Chateau Bellevue. The formal dining room was perfect for a group dinner, the backyard and views were beautiful, and we had plenty of room for 9 people to sleep. We enjoyed easy access to downtown SB as well as a nice escape back at the house. Thanks to our hosts for the warm welcome and pleasant stay!
January 2016 Leah
Response from Arilysse:
Hello Leah, We were glad that you had a good time. We look forward to have you stay with us again . About the shower dripping , unfortunately when the workman finished putting the fireplace back they should had put extra isolation around the pipe. I believe this is what you are hearing . It seems like we hear a leak. We are looking for a solution to resolve this noise problem. Have a great day ! Arilysse
January 2016
The house is pretty big and spacious. Arilysse is very responsive. It is a wonderful experience to stay in her house.
January 2016 Yu
Summary: I would stay here again, and would recommend to a friend. Details: We were here for a bachelor's weekend with 12 guys. We had not problems with sleeping arrangements. There was cable TV, which we used to watch the USC game (we're USC alumni). A kitchen and a grill outside for you to cook. Lots of bathrooms, so no waiting for other people. Lots of outdoor space. Really nice view of the city. The place is a little older, but that could be considered part of its charm. However, when you walk in, you do get a sense of "Wow, this place is rad." Parking was ample. You could fit 2 in the driveway, and the rest on the street right in front. We had like, 6 or 7 cars. This is REALLY close to State. I think Uber rides were around $6 to $7. Some things to consider (not really full negatives): There weren't many pots or pans, so it was hard when cooking for 12. You might want to bring an extra pan. The barbeque outside is small, but it still worked great. Again, just a little more time to cook for 12. Don't leave stuff on the grass in the backyard; the sprinklers go on at night. The fridge wasn't too cold, but worked enough for what we needed. The freezer was fine. All in all, a great stay.
November 2015 Paul
We had an amazing time staying at Cheateau Bellevue this past weekend! We comfortably fit 12 of us for the weekend and could not have had better hosts in Byria and her family as she walked us through the property, provided plenty of linens/towels, and made us feel at home. The property was spacious and very accommodating, making for the stay perfect for our group. Byria was extremely helpful in answering all of our questions and provided very timely responses. We would love to stay again if we head back to Santa Barbara!
October 2015 Bryn
Threw a surprise party for my husband here. Great party house! The house was spacious and there was plenty room for entertaining as well as for sleeping multiple families. Beautiful sunset and city views! Arilysse, Byria, and Diana were all very friendly and helpful with answering questions before arrival and during checking in and out. If you're throwing a party, don't forget to ask about all the necessary requirements before you get there. We definitely plan on booking and staying again! Theresa
Stayed in the Chateau Bellevue for a bachelorette party and had a wonderful experience! The home comfortably accommodated 10 girls. The homeowners were extremely available and communicated each day to check in. The location was excellent, just a 5 minute drive from downtown. We enjoyed our stay and would recommend it to anyone! Sarah
Response from Arilysse:
Thank you sarah! It was great tou have you stay with us and we look forward to have you back soon. You left the house in a very good condition and we thank you for that too. Our warmest regards. Arilysse,Byria and all of us at Chateau Bellevue.
We had a wonderful time at the Chateau Bellevue, where we stayed during our son's wedding weekend. The house is very impressive, as is the location and view. Our garden party was a hit with everyone. The owners and caretaker were always available to help make our stay comfortable. That said, there were a few things we pointed out to the owners: - We were required to secure event insurance for our party, a fact that was not disclosed until we paid the rent and received the lease. This should be factored into your cost estimates. - The supplied wi-fi is weak and sporadic. We needed to stand next to the wi-fi router in order to use it. - For those with physical limitations, the only way into the facility is up 27 steps to the front door. There are also no grab bars in any of the bathrooms. Despite these issues, we would gladly stay again if we return to Santa Barbara. We highly recommend it. Catherine
My friends and I had fun while in Santa Barbara. We were glad we had such a huge house to stay at and happy that the host was accommodating. Edward
Arilysse was highly accommodating and responsive throughout the entire process. Check in and check out were super easy. The back yard and patios were great spaces and very private. About 5 min to beaches or State St. Kyle
We felt very welcome and it was very easy to check in and check out. Ramin
Response from Arilysse:
Great look forward to have you back!
The house and neighborhood were just as advertised and it was the perfect location to hold my sister's small baby shower. Dana
The house was ENORMOUS! I liked the European feel to the place. The pictures posted does not do justice to how spacious and relaxing the common areas were. The location was convenient to downtown Santa Barbara , Stein Wharf, and Leadbetter beach. Arilysse was a great host and kept constant contact. Her house made my 26th birthday one of the more memorable experiences. Alex
Great place in a great location, the common areas are especially enjoyable to hang out in. The bedrooms are a touch older and not in perfect condition, but overall, Arilysse was a great host and the group had a very fun time. Brian
I can't say enough about this amazing home. We rented the home for our son's wedding and we had the wedding rehearsal of 80 people in the backyard. The owners of the home are the most wonderful people to work with. I can't tell you how many emails went back and forth they exceeded my expectations on every request. I'm in the hospitality industry and expect a lot from customer service. I would recommend this home and these wonderful people. I thank them all for their hospitality! Linda
Arilysse was always reachable, very kind and a pleasure to work with! It is definitely a French style house (very different) but made the experience that much more memorable. The home is older so there were some broken fixtures and wear and tear here and there (which is expected with an older home) but didn't bother us. The pictures do it justice and got exactly what we thought we were getting. It was for a girls getaway/ turned last minute Bachelorette Party and was very convenient to downtown; we took a 7 minute Lyft. All of the girls LOVED the house and how different it was. I would recommend Arilysse and this home to anyone! Jillian
Experience was great! I was there over a weekend with 12 girlfriends for a ladies retreat and we had a blast! The house is incredible! Beautiful outdoor spaces, and the beautiful inside. Arilysse was communicative and very respondent. Anastasia
Response from Arilysse:
Thank you Anastasia! We did enjoy having you too!
Beautiful house in a nice little neighborhood of Santa Barbara, very close to State St and Leadbetter Beach. The house had really unique decor and was like stepping into another realm. We really enjoyed our stay! It's well laid out for groups looking to enjoy the city and also have enough space to hang out at the house. Beautiful patio and balconies too. Kunal
Response from Arilysse:
Thank you Kunal! Look forward to have you stay with us again.
Arilysse was a wonderful host. She contacted me each day through text to make sure we have everything we need. Our conversations were very pleasant and she had this warm heart type of communication. The property is outstanding. We had a fairly large group of guys staying at this property and not at one moment we felt cramped in any of the rooms. There was guest wifi access and a wide range of cable channels. The back yard had a beautiful view of the city that could be enjoyed both night and day. The property is situated in a perfect spot right between the beaches and the night life of State St. 2 miles in either direction gives you lots of entertainment. The neighborhood is very nice and upscale. We felt safe leaving our cars parked on the street. We absolutely loved this property, location, host and would love to stay here again. The price is great compared to all other properties in the general location. Tyler
Very friendly owners who happened to be out of the country but tried very hard to help. Nice neighborhood. Gorgeous view off the patios- but the upstairs patio except useless due to lack of furniture. Beware the inventory sheet they want you to sign regarding their antiques. How is a first time visitor actually supposed to know what is real and what isn't or wants to wander through each room counting the pieces and matching it to the inventory? Kitchen outdated and breakfast room cramped. Family room spacious and comfortable. We didn't touch living room because of the antique issue. Stairs treacherous and in surprising places- such is in one bedroom, the only way to the bath. Family offered me a day's credit- but we won't be back, so not helpful. Ursula
My Fiance and I came out to get married on the beach, but could have easily gotten married at the house. It is an amazing home, and we absolutely loved our stay. Everything was clean and organized, check in and out was very easy, and I would absolutely recommend it to anyone thinking of staying in Santa Barbra! Arilysse was very friendly, and got back to me right away when I had questions. Dave
Response from Arilysse:
Hello Dave, This home were I was born and grew up is full of wonderful memories. My family and I wish you a happy life together. We hope to see you again soon!
RATES
12,000 USD/month
June, July, August 14,000 USD/month
Safe and Secure Payments with your choice of PayPal or credit card + 4% PayPal/credit card fee
Address: Fantastic Villas
1482 East Valley Road #325
Santa Barbara, CA 93108
Skype: fantastic.villas
E-mail: suzy@fantasticvillas.com