HOME ALL RENTALS CONCIERGE FUN THINGS TO DO PROPERTY MANAGEMENT FAQs ABOUT US CONTACT
Condo Azul at Casa Linda Conchas Chinas Puerto Vallarta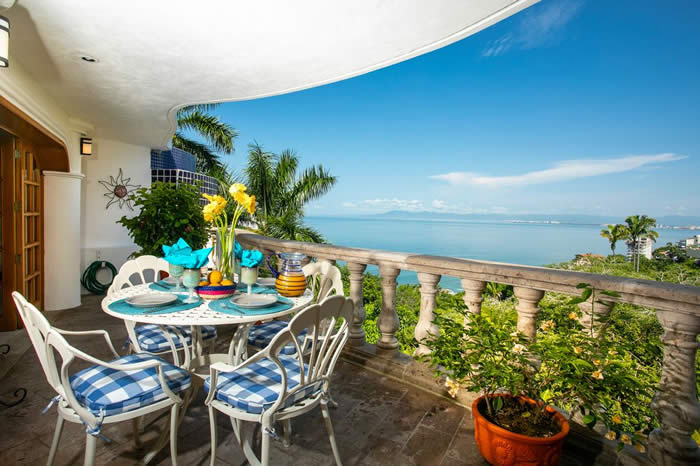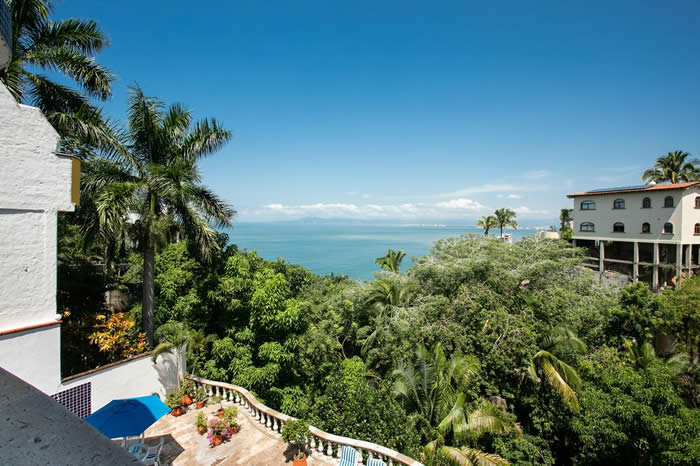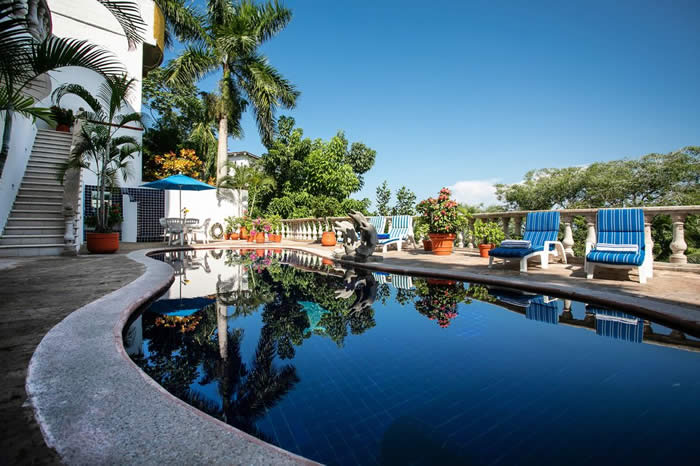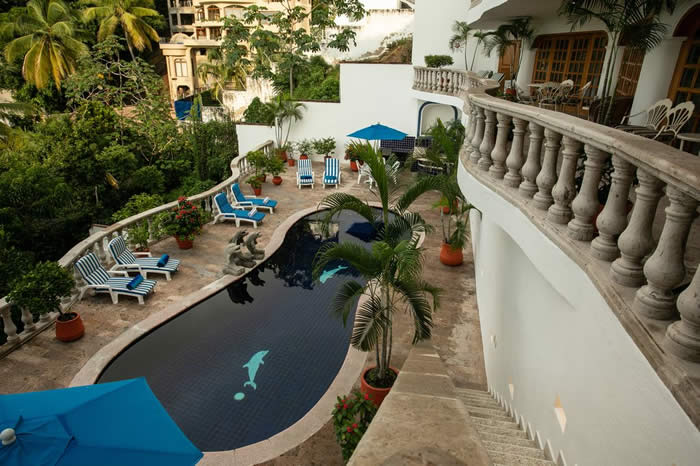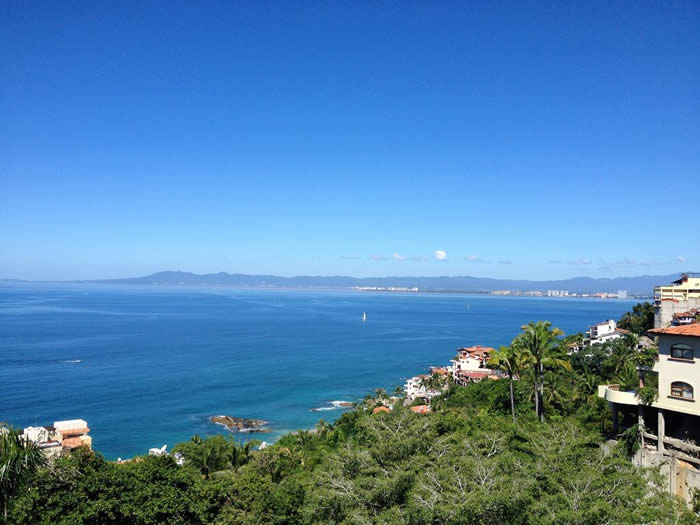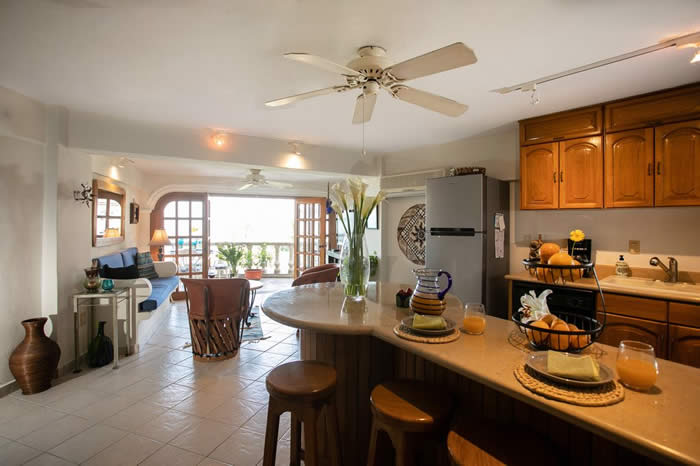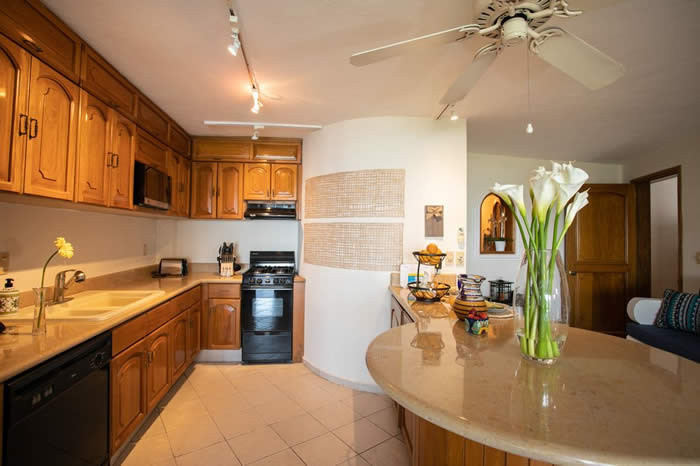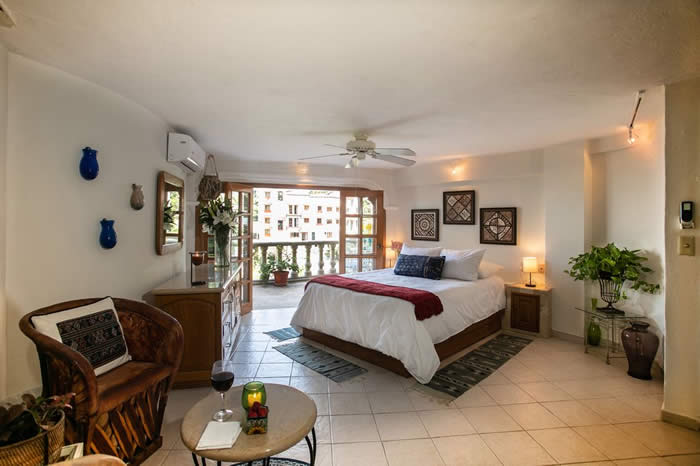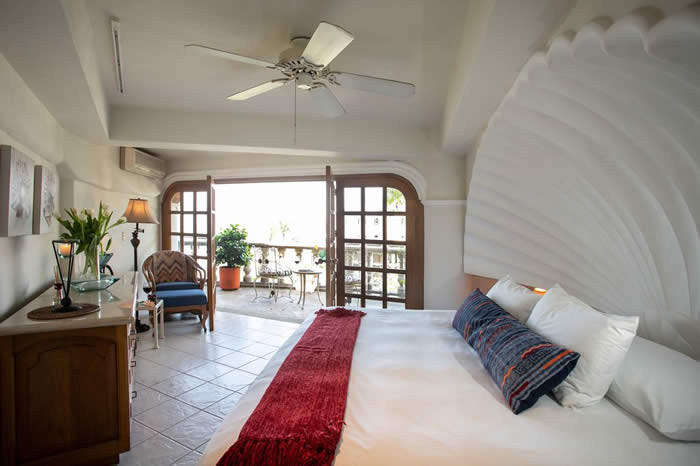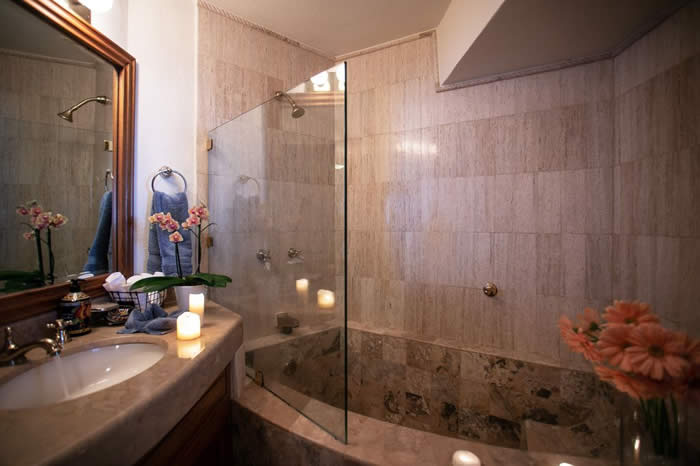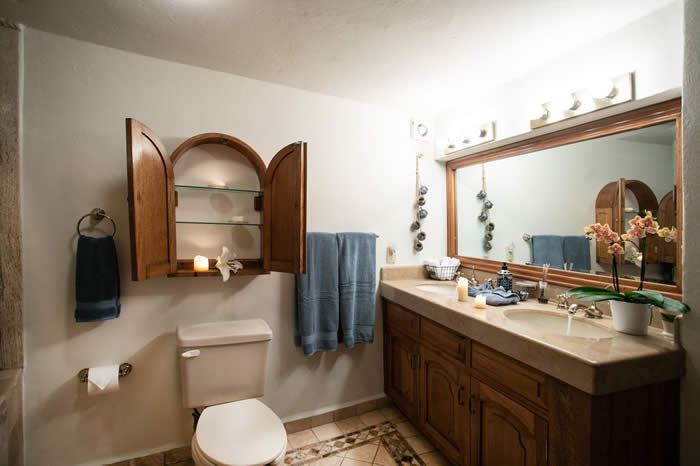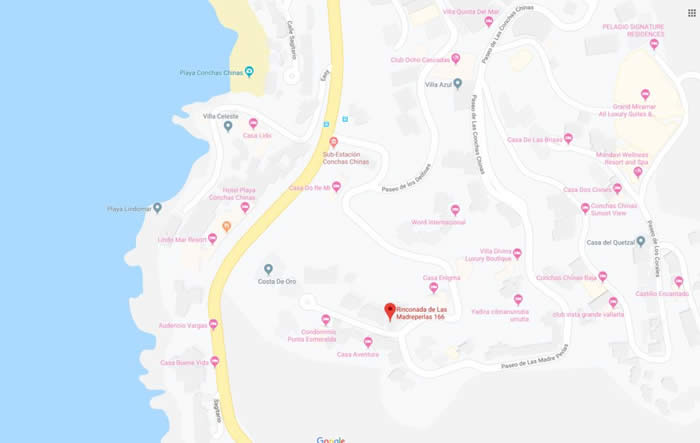 Welcome to Casa Linda in Conchas Chinas. Condo Azul is the top unit of 3 separate & unique condos, each with their own style and design. The condo is approximately 1000 square feet with a private patio approximately 300 square feet. There are 2 bedrooms and 2 baths, with new bedding, new towels and kitchenware. The major rooms face Northwest and enjoy a view of a greenbelt teeming with wildlife and Banderas Bay. Grab our complimentary Tommy Bahama beach chairs and take a short 5 minute walk to Playa Conchas Chinas or access to the local bus just minutes from Old Town in PV. A large pool, gas BBQ, and lounge chairs await you for relaxation and fun! Plenty of other amenities plus the solitude of Casa Linda will make your Puerto Vallarta experience unforgettable!
Bedrooms
Bedrooms: 2 Sleeps: 4
2nd
queenOpens out to patio/deck with views of Banderas Bay
Master
kingOpens out to patio/deck with views of Banderas Bay
Amenities
Featured
Swimming pool
Internet
Air Conditioning
TV
Satellite or cable
Washer & Dryer
Children Welcome
No Smoking
Bathrooms
2nd toilet, combination tub/shower
Mastertoilet, combination tub/shower
Safety features
Smoke detector
Exterior lighting
Location Type
Mountain ViewProperty located in mountains outside of Puerto Vallarta
Ocean ViewView of Banderas Bay
General
Telephone
Air Conditioning
Linens Provided
Washing MachineFull sized
Clothes DryerFull sized
InternetInfinitum
Towels ProvidedBathroom & beach towels
Wireless InternetInfinitum
Iron & Board
Hair Dryer
Paper Towels
Shampoo
Basic Soaps
Toilet Paper
Living Room
Kitchen
DishwasherFull sized
RefrigeratorFull sized
Stove4-top gas stove
OvenGas oven
Microwave
Coffee Maker
Toaster
Blender
Dishes & UtensilsCookware included
KitchenFull sized kitchen
Dining
Dining Area
DiningOption of 4 bar stools near kitchen area or outdoor table that seats 4
Entertainment
Television50" television
Satellite / CableDISH satellite system
Outside
Beach Chairs
Beach Towels
Deck / PatioApproximately 300 sq. ft.
Outdoor Furniture
Pool / Spa
Outdoor Pool
Heated Pool
Communal PoolPool depth ranges from 3 ft.-5.5 ft. Area includes BBQ, shower, bar with outlets, and bathroom. NOTE: Property faces Northwest, pool area receives partial sun October-May.
Onsite Services
Massage
Private Chef
Housekeeper Included
Notes
Housekeeping provided once per week. Additional housekeeping service may be purchased for 300 pesos. Access to the condo is from a side entrance at Casa Linda. There are 19 steps down to Condo Azul. There is an additional 58 steps to get to the pool.
Policies
Cancellation Policy
100% refund if you cancel at least 30 days before check-in.
50% refund (minus the service fee) if you cancel at least 14 days before check-in.
No refund if you cancel less than 14 days before check-in.
Travelers who canceled due to Covid 19 told us they recovered the full value of their booking through refund, credit or rebook options
30 days before check-in
50% refund14 days before check-in
No refund Check in
Damage and Incidentals
You will be responsible for any damage to the rental property caused by you or your party during your stay.
House Rules
Check in after: 3:00 PM Check out before: 11:00 AM
Please keep any glass items away from Pool area.
Please use beach towels for Pool area.
No smoking allowed on property.
Cleaning practices
High-touch surfaces cleaned with disinfectant (like countertops, light switches, handles, and faucets)

All towels and bedding washed in hot water that's at least 60ºC/140ºF

Cleaned with disinfectant
6 Reviews
Exceptional5/5
Beautiful Property and Location
5/5 Stayed Feb 2020 laura l.

Beautiful property, beautiful location and exactly as advertised.

It is a very short eight minute walk down a steep steep street to get to the beach. But the problem with that is what goes down must come up! To get back up the steep street where The condo is located takes a alot of cardio seriously. That being said a cab ride worked out to be two dollars to take us back up so it was really no issue......... we always found a cab at bottom of hill.

The location and view is spectacular. The condo is beautiful and everything in there is pretty much new including dishes cutlery pots pans beach chairs and such. The pool area is clean. I found that the unit could've had a deep clean done. It looks clean but once when you're in the unit it needed a deep clean. IE outside of cupboards have a think oil/dirt coating mostly around the cupboards around stove. Edging and corners of tiles need a scrub. That is offset it by the nicely appointed decorations that were there . The bed had an extra foam pad on it so it was nice and comfortable . I would suggest getting a different outside patio set . It looks nice and Mexican but it was extremely uncomfortable to sit in

When we arrived Mercedes (property manager) was there but she seemed in a rush , maybe because we were late. After she left I realize there's several things she forgot to tell us like where is the washer and dryer ? Where did we take out the garbage? I texted her these questions and she did respond back to me immediately always. If I could rate 4.5 I would . It doesn't qualify as a five but I feel given it a force to low since the only issues we had was the check in process and the cleanliness We would stay here again.

Owner's Response:

Thanks Laura for kind words & suggestions, we will definitely look into everything & earn that 5 stars! It definitely is a hike from the beach and the pool makes it worthwhile. Looking forward to having you back in Condo Azul or one of the other condos. Safe travels, Rod & Gail
Best View
5/5 Stayed Feb 2020

Beautiful condo with magnificent view. Short bus ride into PV. Well equipped , very clean and charming. Definitely recommend!
View to a thrill
5/5 Stayed Jan 2020 Vaquero C.Denver, CO

Mother Nature was her decidedly quirky self and refused to show much sun during our visit. Atypically for this time of year, it rained 4 of the 6 days we were in Puerto Vallarta. Fortunately, Condo Azul provided a great space to snuggle in away from the weather. Reading a bunch was on our agenda anyway, so the covered balcony with the patio chairs, arranged just so, became a favored spot to stretch out with a book. The sound of the warm rain falling into the jungle below formed an auditory curtain of stillness and serenity.

And when the sun did shine we were treated to a fabulous view of Banderas Bay to the north, with the marina and Nuevo Vallarta in the distance. We could also just barely see some of the rocks around Playa Conchas Chinas below. When we took the easy 10-minute trek down the hill we were rewarded with an enchanting, primordial beach, with white-capped waves breaking over volcanic rock formations. And we had it all to ourselves. Magical!

We give kudos to Rod and Gail for furnishing Condo Azul with all the comforts of a home away: A well apportioned kitchen, lots of hot water, plenty of space and large cozy beds. The wi-fi available through-out the condo provided a fast connection to the internet. (I measured 8-9 Mbps with the Internet Speed Test site), for those wanting that specific info.) Old Town Vallarta and the Romantic Zone were just 5 minutes away by Uber, and there always seemed to be a driver nearby.

Thank you to everyone who contributed to our very enjoyable stay.

Owner's Response:

Thanks Vaquero for so splendidly sharing your stay at Condo Azul. We appreciate that you appreciate the beauty of the area no matter what Mother Nature throws at you. Looking forward to having you back! Rod & Gail
Perfect holiday rental.
5/5 Stayed Jan 2020 Crystal D.

The space and view was beautiful. We enjoyed the pool, walking down to the beach and quick Uber rides into the Romantica zone. The property manager was friendly, helpful and attentive.

Owner's Response:

It's great to hear you enjoyed your stay at Condo Azul. It's a special place & we are glad that we got to share it with you. Looking forward to having you back again!

Thanks,

Rod & Gail
Beautiful retreat
5/5 Stayed Jan 2020 Donna R.Cleveland, Ohio

We stayed in condo azul at casa Linda. Beautifully situated on the hillside with plenty of greenery and an ocean view. Lovely verandas right outside the bedrooms. Property exactly as presented. Peaceful and quiet but just a quick cab ride to the town. Cabs very easy to get. Staff were exceptional as well as the services offered.

Owner's Response:

Thanks so much Donna! It was nice to meet the both of you & share stories of beautiful PV. Looking forward to having you back!

Rod & Gail
Beautiful condo and neighborhood!
5/5 Stayed Dec 2019 Maureen M.

We had a wonderful stay at this property! Easy check-in. Courteous property manager. Very clean. This condo had a beautiful view over the bay with lots of wild life to watch having our morning coffee. Quick walk to the beach and restaurants. We would definitely stay here again! Thank you from Canada!

Owner's Response:

It was great having you & your friends stay at Condo Azul. We hope to have you back again. Thanks!

Rod & Gail

Rate

High Season 190 USD November to April

Low Season 160 USD May to October

Tax 19%

Safe and Secure Payments with your choice of PayPal or credit card + 4% PayPal/credit card fee

Address:Fantastic Villas

1482 E. Valley Rd. #325

Santa Barbara, CA 93108

Skype: fantastic.villas

E mail: suzy@fantasticvillas.com