HOME ALL RENTALS CONCIERGE FUN THINGS TO DO PROPERTY MANAGEMENT FAQs ABOUT US CONTACT
Fabulous Apartment
Conchas Chinas, Puerto Vallarta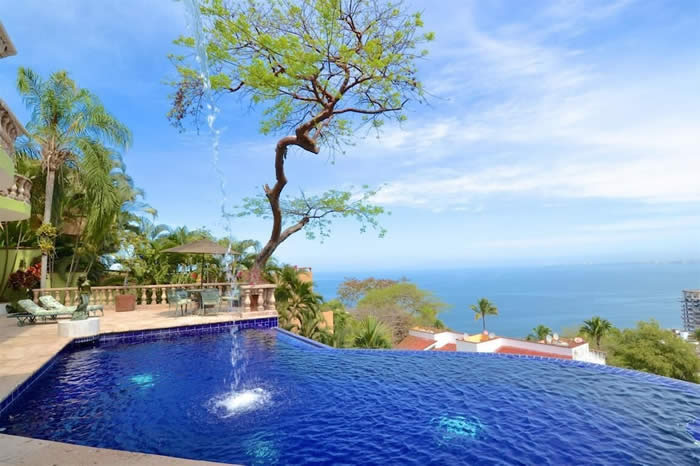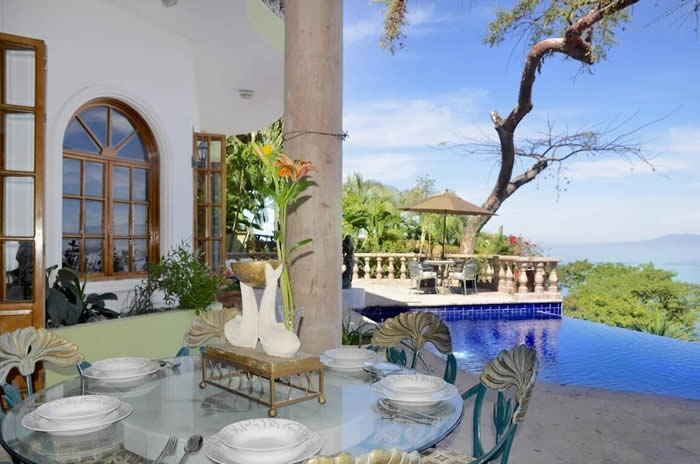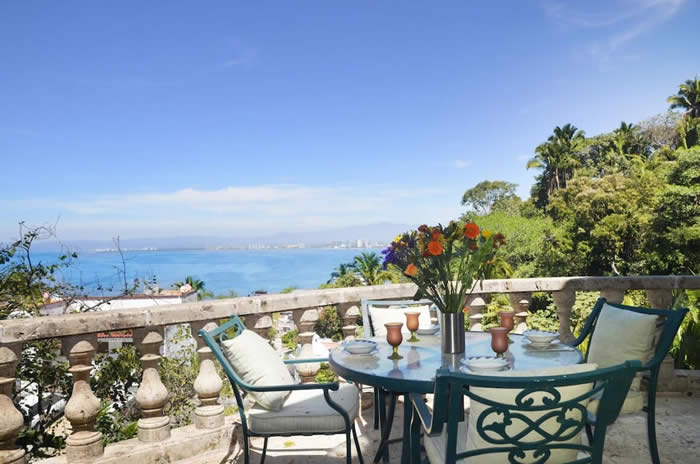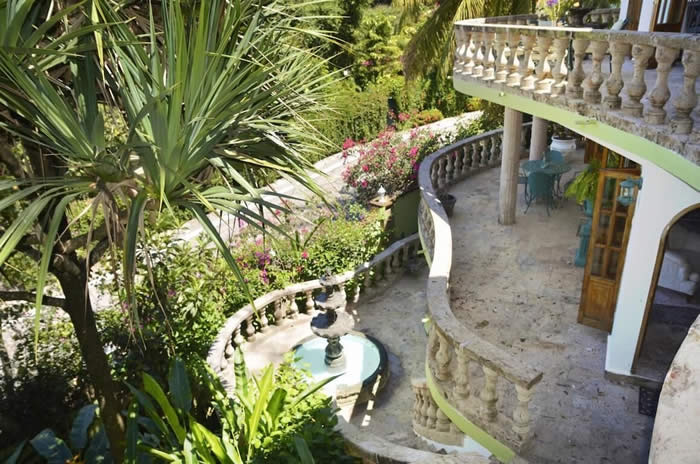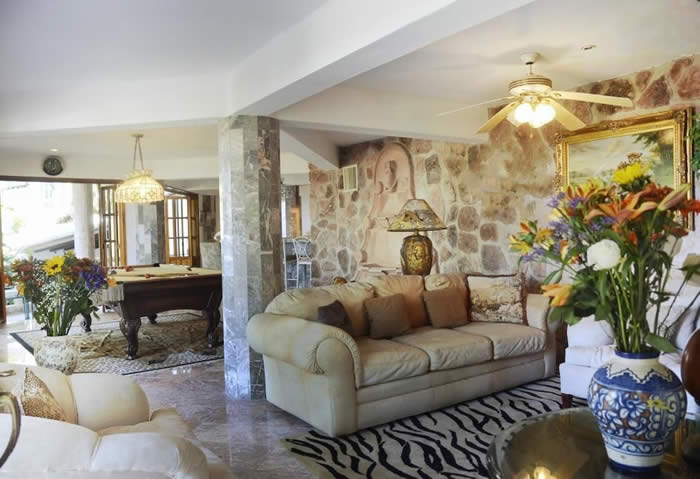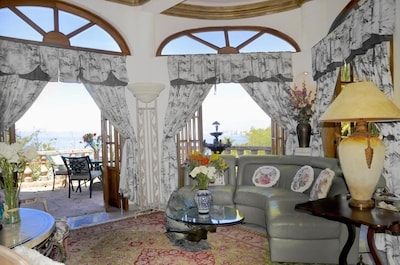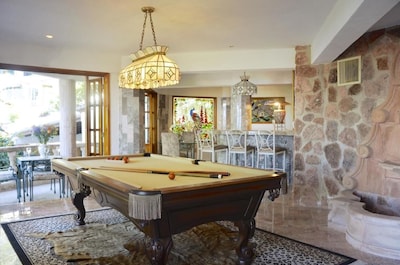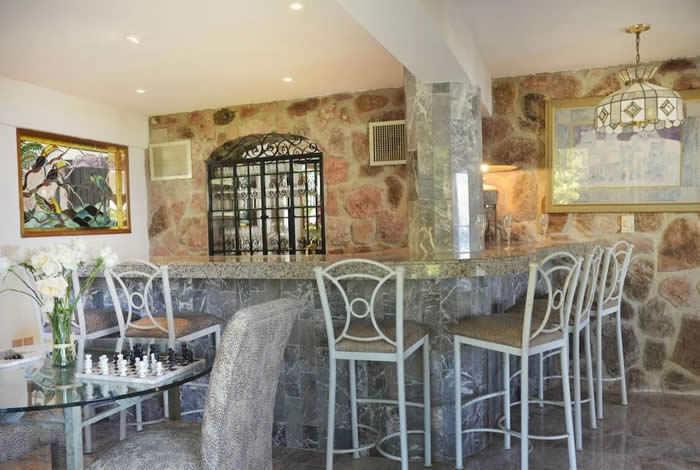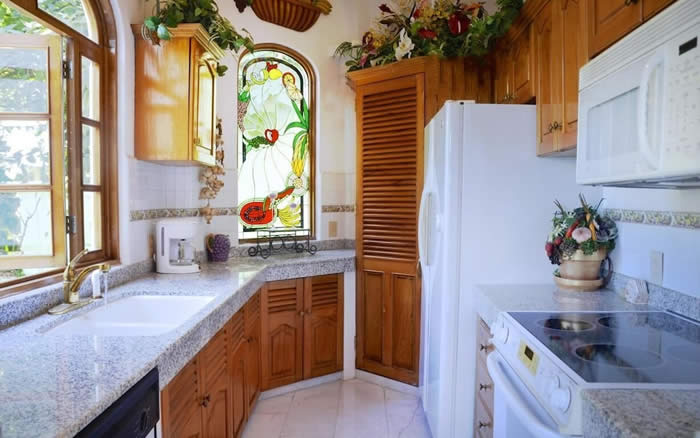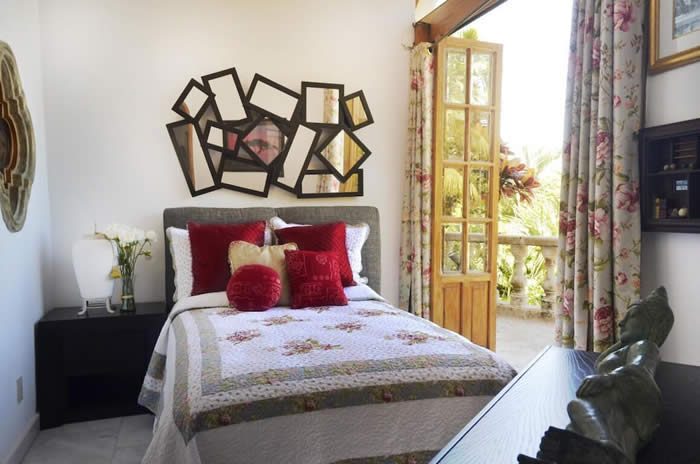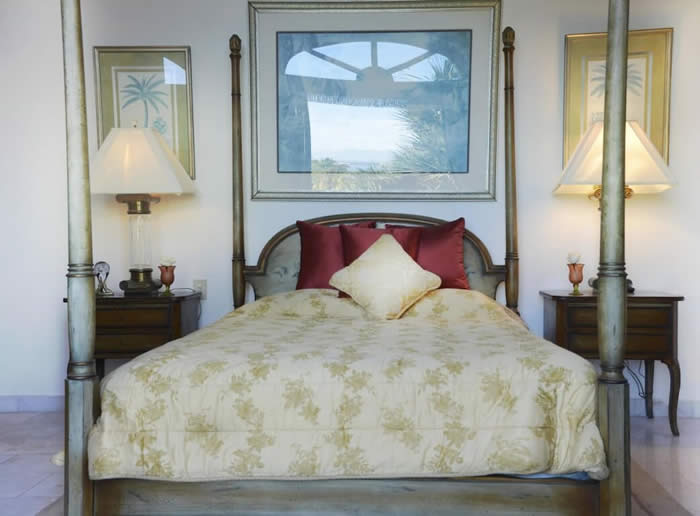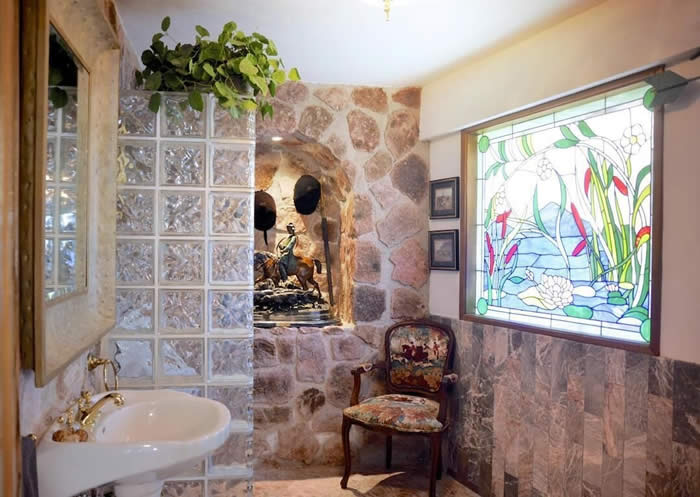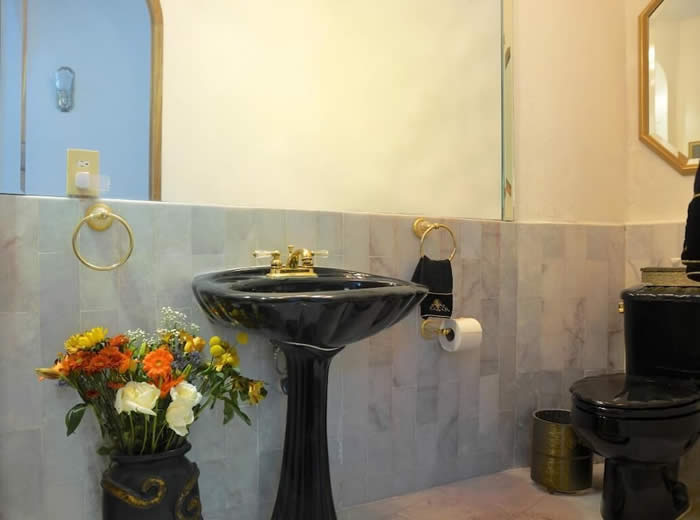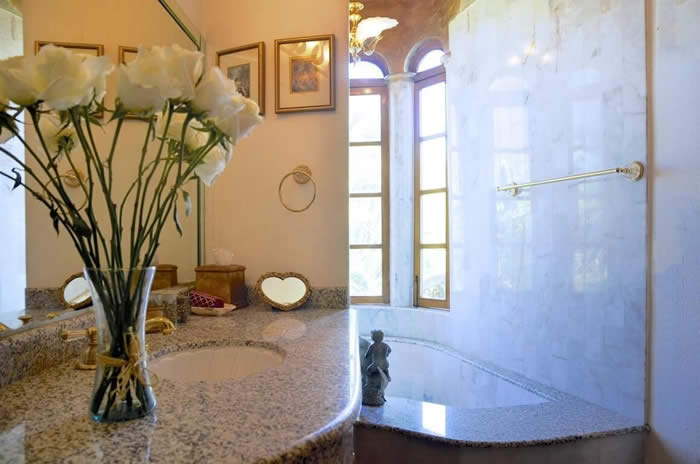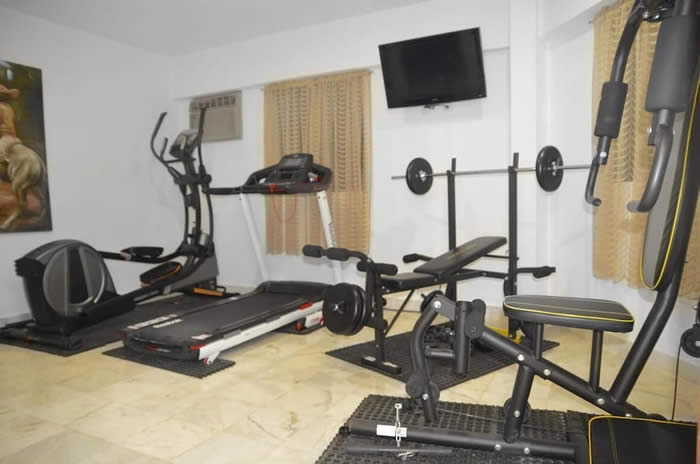 Apartment
2 bedrooms
4 bathrooms

2 full baths
2 half baths

Spaces

Kitchen
Living Room
Deck/Patio
2 BR, 2 1/2 BA apt. in Conchas Chinas villa....pool, gym, game room, and garage
The owner of one of the most spectacular 20,000 square foot hillside villas in Conchas Chinas is now making his private guest apartment available for rent. The apartment is approximately 2,000 square feet and has 2 bedrooms and 1 ½ bathrooms, a kitchen, dining area, and living room. The main bedroom has a queen sized bed and the second bedroom has a double sized bed. All rooms have beautiful views of the Banderas Bay. The huge cantera terrace with cantera railings has a sitting area with table and 4 chairs, fountain, planters, etc. all with spectacular views of the Banderas Bay and the Sierra Madre hillsides.
The rental of the apartment includes an 800 square foot gymnasium with a full bathroom and shower. The gymnasium has all brand new exercise equipment allowing about any kind of workout you may want. If you want more exercise, then you can take a 22 minute walk or 10 minute jog to Old Town.
The rental also includes a 2,000 square foot game room with a large wet bar, pool table, media center, a half bath, and another huge cantera terrace with cantera railings having two separate sitting areas with beautiful outdoor tables with 4 chairs each.
All furnishings are of the highest quality; the kitchen has all amenities, the TV´s in the apartment, gym, and game room offer more than 300 channels from the US and Canada, the apartment has Internet, and every other amenity one could ask for including weekly maid service. The apartment and the game room have central air conditioning and the gym has a wall a/c unit. The apartment also has a separate entrance and a covered garage that is included in the rental.
There are beautiful fountains at the front entry to the apartment, on the apartment terrace, in the game room, below the game room as you pass through the tropical gardens, and on the lower garage wall. A total of 5 fountains exclusively for the enjoyment of the guests! The gardens around the villa and apartment are full of orchids, bougainvilleas, hibiscus, and numerous other tropical plants maintained by professional gardeners as you would expect in villa of this type in Paradise!
The entire villa is enclosed within 10´walls with 5 security cameras and sirens strategically located around the complex. Conchas Chinas is one of the most secure neighborhoods in Vallarta and has always been referred to as "The Beverly Hills of Vallarta". The 22 minute walk to Old Town is almost all downhill and through a neighborhood of multi-million dollar homes; the 4 minute Uber ride back, almost all the way uphill, is about 50 Pesos or $2.50 US.
Amenities
TV
Washer & Dryer
Satellite or cable
Children Welcome
Internet
Air Conditioning
Parking
Swimming pool
Rooms & beds
Bedrooms: 2(Sleeps: 4)
Master bedroom
queen
Guest bedroom
double
Bathrooms: 2, Half Baths: 2
Master Bedroom
Toilet · Combination tub/shower
Gym Bathroom
Toilet · shower
Game Room Bathroom
Toilet
Apartment
Toilet
Spaces
Kitchen
Living Room
Deck/Patio
DiningSeating for 6 people
Balcony
Lawn/Garden
Porch/Veranda
Reviews
Wonderful!4.8/5
Beautiful home very close to downtown
5/5 Stayed Nov 2020 Larissa D.

This home is absolutely stunning on all corners! It is located up in the hills right above downtown, very short uber ride and only a dollar or two cost wise. The view of the town and bay is amazing! The pool is not on the level of the apartment that you rent, but the owner is happy to have you up there anytime you want to enjoy. Would definitely stay here again on a future PV trip!

Host's response:

I'm so happy that you had a nice vacation with such beautiful weather. I wish we could have spent a little more time together. Please know that you and your family are always welcome in the future.

Stay well,

Jim
The most elegant villa in Puerto Vallart!
5/5 Stayed Oct 2020 Al N.

Simply stunning

Host's response:

Glad to have you folks as guests again; you are always welcome.

Jim
Spectacular views from a Mansion on a Hill!
4/5 Stayed Jan 2020 Cybele I.

This place is basically as advertised. Lots of space and wonderful views from this big airy mansion resting in a quiet residential neighbourhood. There are no amenities right outside your door but a 10 minute walk (hike?) down the hill will get you to the bottom and then it's an easy saunter to the beginning of Old Town. Up and down the hill is a bit of a workout -not a bad thing what with all the great food in PV- but, as he stated it's a very simple Uber or Taxi trip for a few dollars. We found that Uber worked really well to get us anywhere we wanted. Jim is a delight and a great source of info about PV and promptly dealt with any issues that we brought up. He really is a fabulous and accommodating host and wants his guests to enjoy PV as much as he does. The private gym and the games room were a bonus and we used them everyday. The second bedroom is quite small so the place is probably not ideal for two couples but great for a couple (like us) or a couple with a kid or two. The only possible issues that we came across were that the Wifi could have been a little stronger so that I could use my computer on the couch in the living room and perhaps that the TV situation could be updated. All in all the place is a great find and we'll likely return. See you again Jim!

Cybele and San.

Host's response:

Hi San & Cybele,

It was a real pleasure meeting you both...I think of you often and welcome you back during your next visit to PV. It's hard to believe that it's been six months since you were here; the sky is the same blue but it's about 15°F hotter!!

Please avoid the Coronavirus & stay well,

Jim
2 weeks in paradise
5/5 Stayed Dec 2019 Rahim T.

We always love PV and this time was no exception. Jim has a beautiful home and was an absolutely fantastic host!

Warm welcoming and always there to lend a hand if needed.

Host's response:

Hi Rahim & Lamia,

It was a pleasure having you here with me; I wish we could have spent more time together...thank you again for the swell lunch we enjoyed on the beach at SWELL!

You can be proud of your really well behaved, good looking, and smart kids. Please tell Avah that I look at her Princess Heart Strong painting all the time.

The apartment looked the same after you returned to the "real world" as it did when you arrived here in Paradise. You´re always welcome at Villa Anastasia.

Best Regards,

Jim
A dream come true!
5/5 Stayed Nov 2019 Linda R.Winnipeg, Manitoba Canada

We have to admit that the pictures of this Villa looked too good to be true. However they are true and the Villa was even more beautiful then we could ever have dreamt! Our host Jim was unbelievable! He guided us basically in getting around PV as in where to shop, restaurants and entertainment. We now consider Jim to be a friend, in fact we are returning to Jim's Villa for our two month summer vacation.

Host's response:

Thank you Ted and Linda for the kind words. It was a true pleasure having you spend a month at Villa Anastasia; the time went by too fast! I also consider you both as new friends and look forward to seeing you when you return to PV.
Policies
Cancellation Policy
100% refund (minus the service fee) if you cancel at least 30 days before check-in.
50% refund (minus the service fee) if you cancel at least 14 days before check-in.
No refund if you cancel less than 14 days before check-in.
Damage and Incidentals
You will be responsible for any damage to the rental property caused by you or your party during your stay.
House Rules
Check in after: 4:00 PM Check out before: 11:00 AM

Rate

350 USD/night

Address: Fantastic Villas

1482 East Valley Road #325

Santa Barbara, CA 93108

Skype: fantastic.villas

E-mail: suzy@fantasticvillas.com