HOME ALL RENTALS CONCIERGE FUN THINGS TO DO PROPERTY MANAGEMENT FAQs ABOUT US CONTACT
Condo Vista Del Sol, Romantic Zone, Puerto Vallarta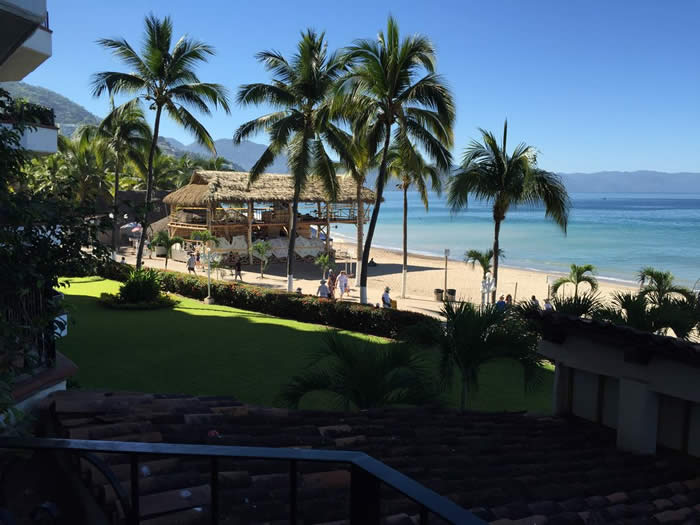 view from deck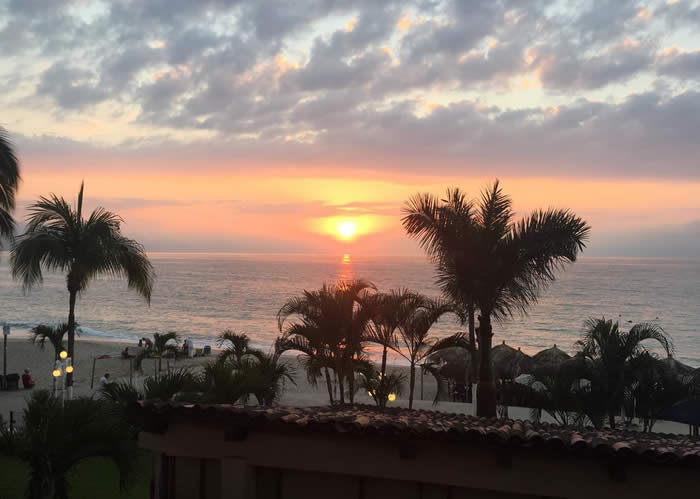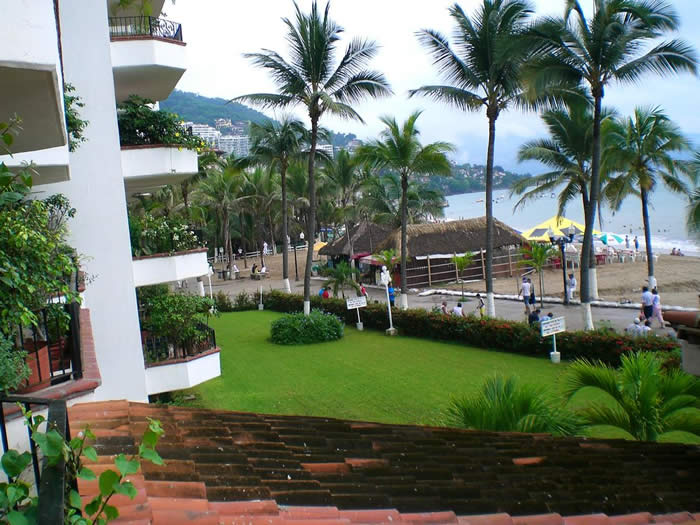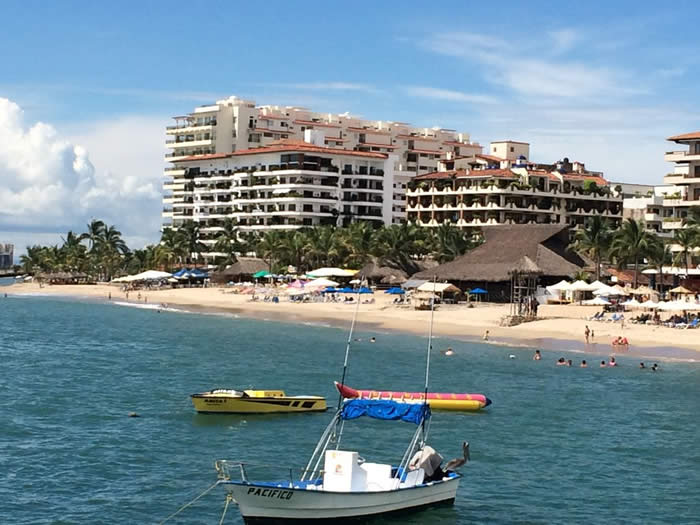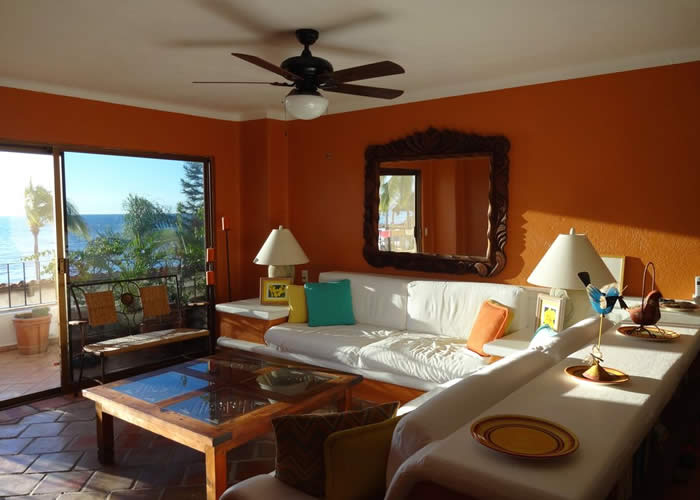 living room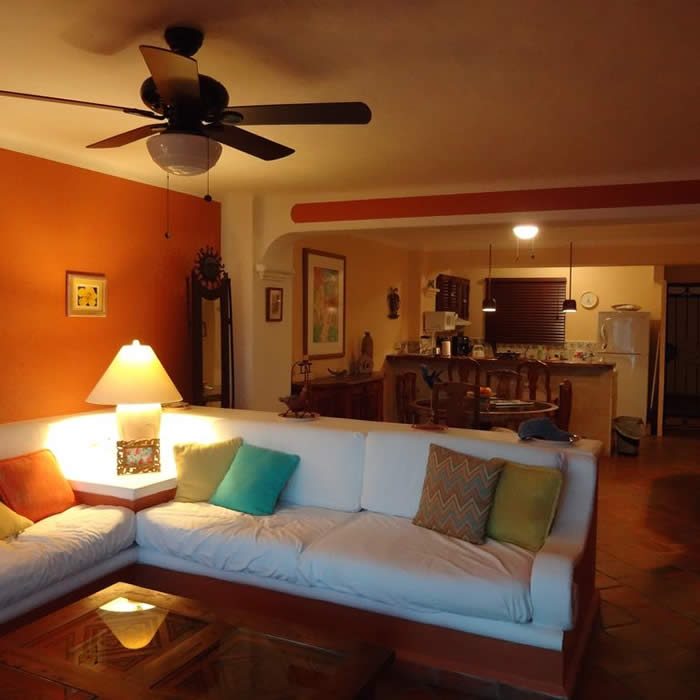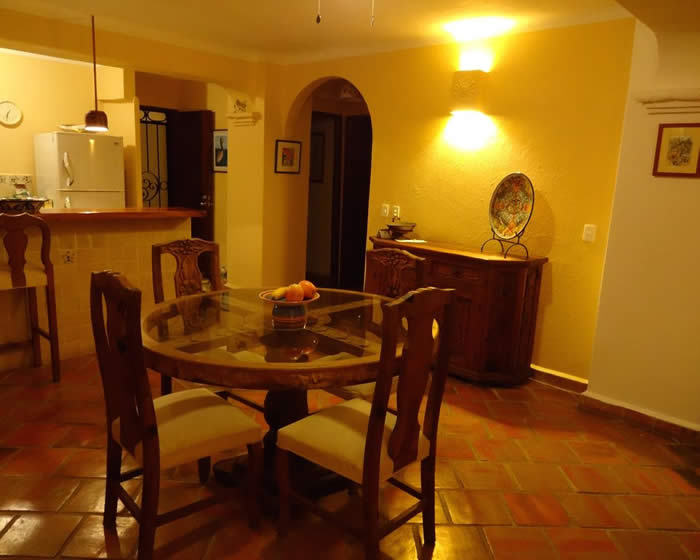 dining room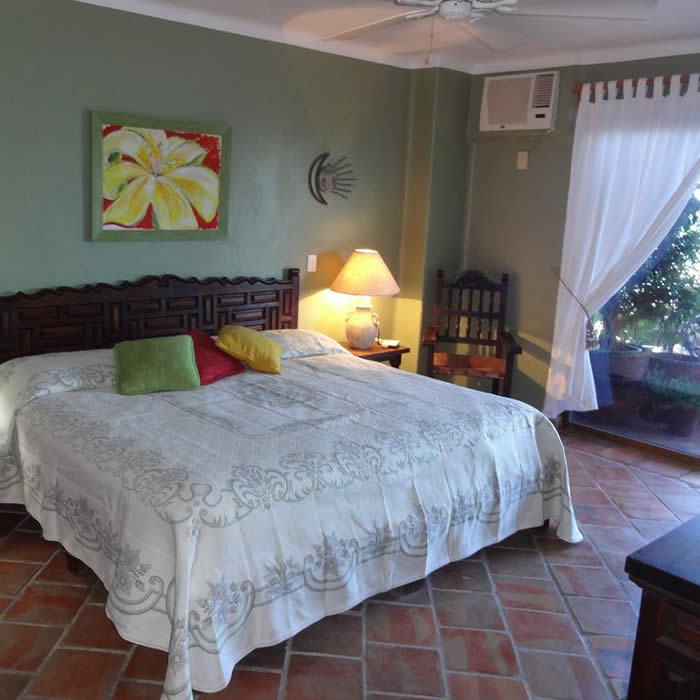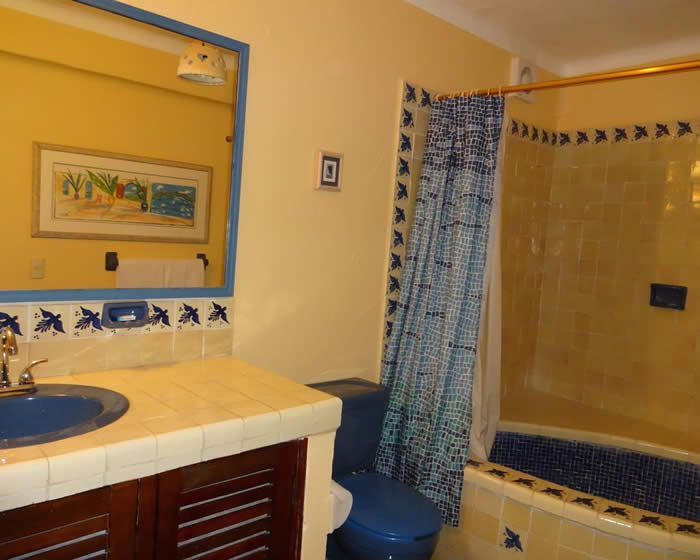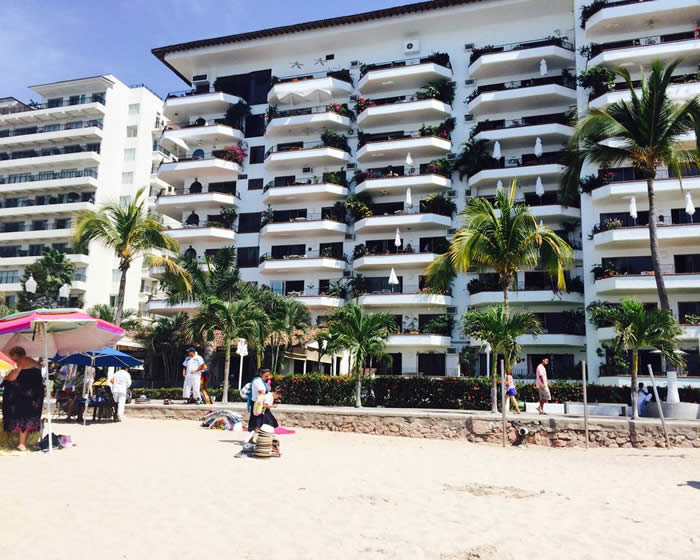 Condo, 2 Bedrooms, 2 Baths, sleeps 4 second floor unit
Puerto Vallarta is a charming seaside town on the western coast of Mexico. The vibrant colors of ocean, sky, flowering shrubs, and trees abound. Brightly colored flowers surround the Spanish style buildings with their characteristic red roofs. Because of the tropical climate, the living in Puerto Vallarta is a blend of outdoors and in.
Music abounds in Puerto Vallarta. One can find mariachis and other musicians just about everywhere in clubs, restaurants or by the beach. The town is safe for strolling, both day and night. On Sunday nights you can join the families of Puerto Vallarta as they enjoy walking along the Malecon or as they listen to a band concert in the town square.
Departing every day from the Marina are a variety of boat trips. You can go to Yelapa, a small fishing village south of Puerto Vallarta which can only be reached by water, or join the folks on the schooner Maragalante for a dinner cruise and fireworks or snorkel the waters around the Mariettas Islands. Or you just might choose to sit on your deck, overlooking the Bahia de Banderas and do nothing but read and relax. For the sports minded there is golf, tennis, and horseback riding, as well as other activities.
You can enjoy all of this and more from our beachfront condominium at the Villas Vista del Sol, on the southern end of old town Puerto Vallarta. It is located near the river Cuale and within walking distance of a food market, the Malecon, many find restaurants, craft shops, and art galleries.
Our condominium integrates outside and in with its flower theme. It is light, airy and cheerful; the perfect spot for a relaxing and fun vacation. There are two bedrooms, two full baths, a completely outfitted kitchen, dining room, living room with TV and deck. Maid service is provided every day but Sunday. Laundry facilities are available on a reservation basis. The roof holds a good sized pool, lounge chairs, and a covered area in which to gather when the sun is particularly hot.
Sunsets in Puerto Vallarta are a changing palette which you can view from the deck or the rooftop pool while relaxing with refreshments, companions or family. Enjoy!
Amenities
Featured
TV
Satellite or cable
Washer & Dryer
No Smoking
Internet
Children Welcome
Air Conditioning
Accessible
Swimming pool
Location Type
General
Telephone
Air Conditioning
Linens Provided
Washing Machine
Clothes Dryer
InternetWiFi. Password situated on router in master bedroom.
Towels Provided
Iron & Board
Elevator
Living Room
Kitchen
Refrigerator
Stove
Oven
Microwave
Coffee Maker
Toaster
Dishes & Utensils
Kitchen
Dining
Entertainment
Television
Satellite / Cable
DVD Player
Books
Outside
Suitability
Pool / Spa
Heated Pool
Communal Pool
Onsite Services
Concierge
Housekeeper Included
Notes
Pool, Air conditioning in bedrooms only, Beachfront
Policies
Cancellation Policy
100% refund if you cancel at least 30 days before check-in.
50% refund (minus the service fee) if you cancel at least 14 days before check-in.
No refund if you cancel less than 14 days before check-in.
Travelers who canceled due to COVID-19 told us they recovered the full value of their booking through refund, credit, or rebook options
Damage and Incidentals
You will be responsible for any damage to the rental property caused by you or your party during your stay.
House Rules
Check in after: Flexible Check out before: Flexible
30 Reviews
Wonderful4.9/5
Fantastic
5/5 Stayed Jan 2020Louis K.Vancouver, Canada

Excellent location overlooking the ocean and right on the Malecon. Morning coffee and breakfast on the deck was a fantastic start to each new day. Staff is super friendly, and the building is very secure (There are 24 hour security staff who have to open a locked gate to let owners and guests into the building). The condo is well furnished with Mexican charm. Everything including drinking water and towels for the pool are provided. The Sea Monkey restaurant can be a bit noisy up to about 11:00 PM, but the noise blends in with the gentle sound of waves crashing on the beach. We really enjoyed our stay and will be going back soon.
happy
5/5 Stayed Jan 2020 susan s.

excellent accommodations and outstanding communication with owner
Experience the Romantic Zone
5/5 Stayed Dec 2019george g.

Puerto Vallarta encompasses miles of waterfront, and is divided into different "zones." This condo is in the old, original part. The streets are all bumpy cobblestones, often narrow, but filled with life at every turn. Local citizens are out cooking on the corners, giving haircuts in open air shops, tending stores and restaurants, playing music. If you want perfectly manicured sidewalks, modern malls, and obvious wealth, then stay in a different neighborhood.

The condo is directly over the Malecon (wide, concrete beach path), and the beach directly touches it, so you can easily throw a ball from the terrace onto the sand. The condo is on the second floor (the lobby is the first floor), and the roof of the restaurant below that the balcony overlooks actually afforded some privacy but did not block the great ocean view. Entering the older style building, there is usually a doorman, and always a front desk manager, so the place feels like a small hotel. There are elevators, but you can easily climb the one flight up to the unit if you prefer. The condo is spacious, maybe 1400 square feet. There is air conditioning in the bedroom, but ceiling fans and the cool ocean breeze was usually enough (in December). Bedroom number one is quiet, with a small window to the interior courtyard. It has a decent closet and a bathroom with shower. Two twin beds were pushed together for a couple. The master bedroom faces the ocean, has a king bed, has a flat screen TV, and opens to the large balcony. It has a full bathroom as well, with a tub/shower.

The kitchen is old, but everything works. It has dishes, kitchen gadgets, etc. A 20 liter jug of pure water sits in a dispenser and the staff replaces it when you ask them. The dining area is adjacent, and has a large table and chairs. Beyond that is the comfortable living room, with a large flat screen TV, with Netflix, Amazon prime, and many US and Mexican channels. The long balcony is beyond the living room, and it is accessible from there as well as the master bedroom. There is a tall table and chairs, so you can people watch or ocean watch all day. It's a great spot for breakfast, as the sun is hidden early. There are two beach chairs and an umbrella and towels you may use, but it's best to get a chair and umbrella (basically free) behind "Daquiri Dick's," a restaurant that's a brief walk. The best swimming's at the pier just beyond. Or the great rooftop pool in your building!
Location, Warmth, Charm
5/5 Stayed Dec 2019 Linda P.

This condo, beachfront in the Old Town neighborhood, is perfectly located to meet the needs and interests of travelers of all ages and inclinations. Quiet walks, active outdoor sports, art gallery and museum visits, day trips outside the city, shopping malls, fine dining and street food stalls - everything Puerto Vallarta offers is within easy walking distance or via readily-accessible taxi or bus rides. The traditional colonial-style building is very well maintained and set on beautifully-landscaped grounds. This design maximizes air flow and natural cooling, quiet hallways, and extensive light throughout the unit. The rooftop deck and large new pool are delightful and were not busy during our stay. Likewise the laundry facilities, which cost $1.00 US per hour.

Furnishings and decor within the unit are traditional, colorful and comfortable, and cooking would be easy given all the useful appliances and tableware. The owner is very responsive, and on-site staff are gracious and knowledgeable. Twenty-four-hour desk service and security offer peace-of-mind and immediate assistance if needed.

The second bedroom is airy and sunny, and beach and ocean views from the master suite, open-plan living areas, and large landscaped balcony are totally unobstructed, and the restaurant/bar just below and in front of the building is low key, with closing no later than 10:00 PM daily. Music from other venues down the beachfront is also muted by surf sounds. The beach itself is wide and clean.
Perfect for us
5/5 Stayed Oct 2019 Laurel A D.

We love this building, especially the traditionally decorated suites like this. The staff here are wonderful. How many condos have maid service 6 days a week?

Communication with the owner was prompt. Condo had everything we needed, and then some. Everything was as described. We will return.
Perfect location
5/5 Stayed May 2019 bob P.

Location was perfect. Sunset views were amazing. No obstruction. We left the slider open at night and had a fantastic breeze and heard the waves crashing. Short walk to Old Town. Everybody we encountered was friendly and helpful. We can't wait to go back.

Published Jul 8, 2019
Vacation
4/5 Stayed May 2019 Joe J.

The property is very nice. The staff are very nice and friendly and pool is brand new. We walked every where its right on the malecon. The shops and restaurants are great in the romantic zone.
Out standing!!
5/5 Stayed Mar 2019 Brian Y.

We have always gone (except once to Huatulco) to all inclusives but seriously think we might not do this again. The food in and around Puerto Vallarta is so amazing and Vista Del Sol is so awesome. We would go back in a heart beat. But I know for next year we might want 10 days as apposed to just 7.

On a scale out of 10---it was a 10. Hotel staff were excellent!
Best Location In Vallarta
5/5 Stayed Mar 2019 Leith R.

The condo was very nicely appointed, Every thing that was necessary was provided. The only thing that was missing was a water jug holder/dispenser, which I provided and left in the condo for the owner. The staff were as usual excellent, from the security, housekeepers, the doorman, and a special thanks to the front desk who went above and beyond, and were so helpful to us the entire trip. The three TV's were a nice touch as well. Can't beat the location, walk everywhere, and a great spot from which to enjoy people watching.
Great location
5/5 Stayed Jan 2019 becky g.

Great location; Nice Oceanview and nice to be on the Malecon

Rate 198 USD/night

Safe and Secure Payments with your choice of PayPal or credit card + 4% PayPal or credit card fee

Address: Fantastic Villas

1482 East Valley Road #325

Santa Barbara, CA 93108

Skype: fantastic.villas

E-mail: suzy@fantasticvillas.com