HOME ALL RENTALS CONCIERGE FUN THINGS TO DO PROPERTY MANAGEMENT FAQs ABOUT US CONTACT
GOLETA HOUSE - Steps from the Beach
Goleta, California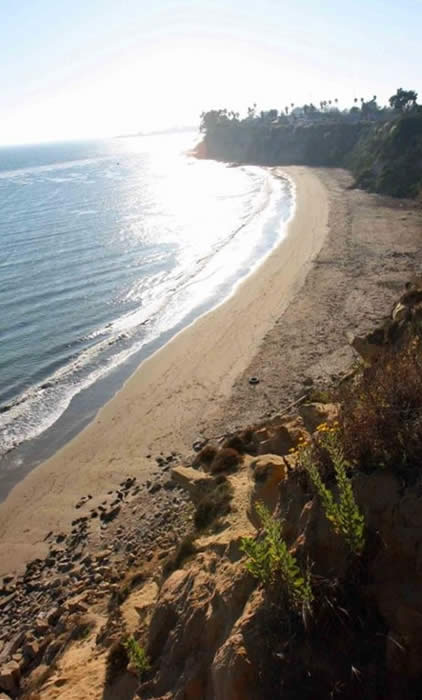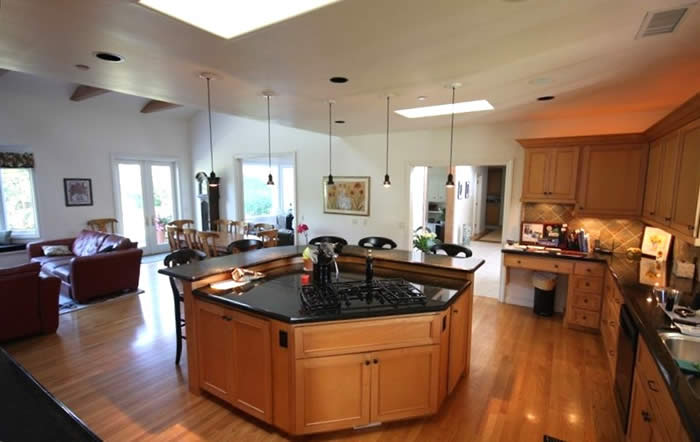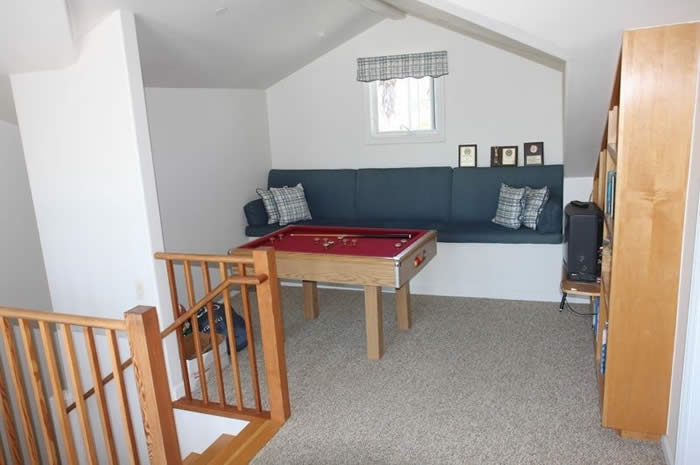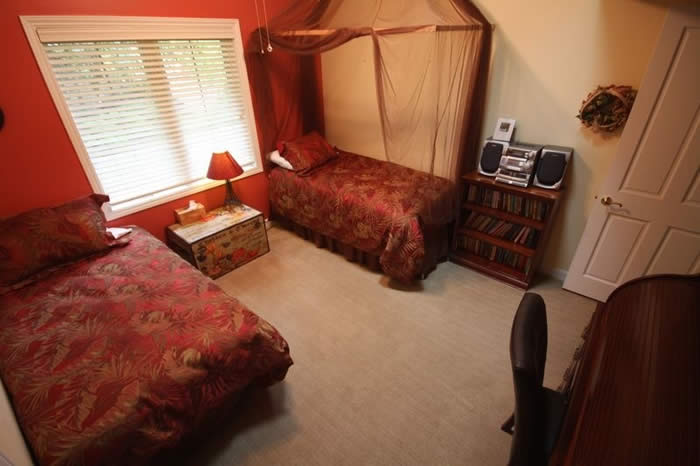 Bedroom
Loft
A gorgeous home in a spectacular location! Best value in Santa Barbara!

Completed in 2000, this 3600 sq ft home is within walking distance of a private beach and bike/hike access to scenic More Mesa with miles of trails.

Five spacious bedrooms with kitchen/family great room, and formal living room-- perfect for enjoying a vibrant social life while still offering the room to relax and enjoy your privacy. A private office and upstairs game room with balcony and peeks of the ocean make this the perfect getaway.

Your stay is also complimented by an on-site caretaker housed in a separated private studio. For special occasions, the studio which sleeps two can also be made available for an additional charge.

Included in your rental is the use of mountain bikes and surfboards!
Bedrooms: 5 Bedrooms, Sleeps 10, Beds for 10
Bedroom 1
Bedroom 2
Bedroom 3
Bedroom 4
Bedroom 5
Bathrooms: 4 Bathrooms
Bathroom 1
Bathroom 2
Bathroom 3
Bathroom 4
Other Amenities
Private Beach!-- key to a locked gate that allows you access to a beautiful private beach along California's most scenic coastline! Included in your rental is use of mountain bikes and surfboards.
Entertainment
Ping Pong Table
Pool Table
Satellite / Cable
Stereo
Video Game Console
Suitability
Attractions
Local Services & Businesses
Leisure Activities
Location Type
Sports & Adventure Activities
Basketball Court
Cycling
Fishing
Hiking
Mountain Biking
Parasailing
Rock Climbing
Sailing
Snorkeling/Diving
Surfing
Swimming
Wind-Surfing
Dining
General
Broadband Access
Clothes Dryer
Computer Available
Dialup Access
Gas Fireplace
Linens Provided
Parking Off Street
Washing Machine
Wireless Internet
Kitchen
Cooking Utensils
Dishwasher
Outside
Great place to gather
Our family gathered here for our son's wedding at the nearby Bacara Resort. We had lots of comings and goings, but the house easily accommodated us with ten people at the most! Our three year old grandson loved the playhouse that was hidden in the back yard. We all enjoyed the private beach and saw sea lions and porpoises and many birds. The garage was filled with bikes and beach toys, including a paddle board! The kitchen was a joy to use, as was the outdoor grill. We had several meals and were able to sit twelve around the table without difficulty. Great place to gather our far flung family! Cordelia, St. Luis Missouri
Best family vacation!
We are so glad we chose this home for our recent trip to Santa Barbara. This was a perfect home for our four generations to get together from 3 different states for our daughter's wedding. Norm and Tricia were fantastic, generous hosts, always available when needed and gave us complete privacy at all other times. (They also gave us great suggestions for running and biking trails - thanks!!!) The huge house gave everyone their own privacy, along with a huge backyard for the kids and the nearby beach is a treasure. We walked endlessly and couldn't believe the calming waters. My niece and nephew even had the local seals swim with them on the boogie boards in the easy surf! The house allowed total relaxation and a calming oasis during a busy time for our family. Thank you Norm and Tricia for all you did to make our stay so fantastic and perfect! It could not been gone better! Susan K. Michigan
Great for families
We recently stayed here and were very pleased with the home and the helpfulness of the owner. The house was very well maintained and had everything that we needed for our stay. Everything from a well equipped kitchen to all the beach basics. Our group also had several children and the house was perfect for them as well. It has a great back yard and patio that was perfect for both adults and children. The private beach is only a 5 minute walk from the house. Would definitely come back for another stay. It met all of my expectations and then some. Beckie, Truckee, CA
Lovely stay at the beach house
We were so pleased that we found such a lovely place for our extended family to celebrate our daughter's graduation from UCSB. The house was spacious with plenty of room for group games and a large table for family meals. The property had everything we needed and more; the kitchen was so well equipped - the best we have encountered. From the bouquet of flowers as we entered to the quality of linens and furnishings, we found the house to be very comfortable. Having such nice access to the beach was a real plus. Our family also enjoyed the lawn games provided and the pingpong table. The house was very accessible and perfect for our 90+ year old grandmothers. We would highly recommend this property to any large families looking for a relaxing getaway. Jane V.
Could not have had a better experience
This house way exceeded our expectations. We gathered family there from around the country for a weekend birthday celebration for my mother, who lives in a nearby retirement center. We spent three days hanging out and cooking and eating together. Perfect house for that sort of family entertaining. Kitchen was very well stocked. We hiked on the beach, and rode bikes on the mesa. The owners are wonderfully welcoming. The large single story house worked wonderfully for our older guests. Joe, Bremen, Germany
Over delivered
We had a wonderful experience in this fantastic home. I have been accustomed to properties overpromising... this property over-delivered. Very spacious, very clean, very welcoming, very well maintained, very well stocked, fresh linens, and very homelike. The owners were fantastic and gave us some good activity advice. The outdoor patio was a wonderful experience for our three generations to catch up over the 4th of July. The beach was truly private and for once REALLY "just steps to the beach"... we enjoyed the seals sunning themselves on the rocks... The short drive to downtown was just right... Kids and adults liked the owner provided bikes and beach gear... you will not be disappointed... MRA, Seattle, WA
Incredible Family Vacation
The pictures don't do this property justice as the property looked nice online however when we arrived we were thrilled at how wonderful the property was and how perfect it was for families. Access to pretty much your own private beach (we saw 4 people the entire time there) was a treat. Bike trails 1/4 mile away were great however having access to 9 bikes or so on property was even better. Perfect location in the central coast as we were just 40 minutes away from wine country, 10 minutes to the harbour and beautiful downtown Santa Barbara. Chris Gilbert
Wonderful
All ten of us, from 8 to 75, loved staying at your house the past five days. Plenty for everyone to do and space to do nothing if that's what we wanted. Beautiful, quiet, yet close enough to SB to enjoy whatever we chose in town. Think our favorite time was nearby beach and Sunset Catamaran ride. Excellent choice! Fulton Happy, Azusa, CA
Wonderful family vacation home!
We loved staying in this beautiful home for our SB trip - what a great home for grandparents, kids and grandkids! The home was very well-maintained and all the rooms were so spacious. The kitchen area was beautiful with so much room for meal preparation and the nice big dining table was great.Two bedrooms had large enough closets to put pac-n-plays in. The backyard was also awesome (much bigger than the picture shows) - lovely places to sit, a large lawn and even a playhouse for the little ones. We also really enjoyed the quiet neighborhood with our private beach and fun bike paths (bikes provided) nearby. The owners were so pleasant to work with and happy to help if anything was needed. We arrived at the home to beautiful flowers and a bottle of wine from our hosts! Thank you for a wonderful stay - we highly recommend it! Arnold, V
Welcoming, Warm, & Wonderful!
Loved this house!! From the moment we arrived we were welcomed! Norm met us at the house upon our arrival. As we entered the house we were greeted by a beautiful vase of flowers, and a lovely bottle of wine! Norm was great and helpful through out the stay whenever we needed him, otherwise you would never know he was there. The house is beautiful, BIG, and perfect for large gatherings. We rented the house for a week for our sons graduation from UCSB. It enabled us to have everyone together for a great celebration. Your one block away from a gorgeous private beach, and the owners have provided the house with lots of toys. Mountain and beach bikes, boogie boards, surf board, and plenty more for the beach. The back yard is quite big with two seating area's, BBQ, and more lawn games. Oh yea, not to mention ping pong, and a billard table. Needless to say we were thrilled with the house and would definitely recommend it! Beverly and James C. Bakersfield, CA
RATES
May 1 - Sept 30 645/night 3,995/weekly
Standard Rate 595/night 3,695/weekly
4 night minimum stay
Additional information about rental rates
Fees:
Refundable Damage Deposit $750
Cleaning $200
Tax Rate 10%
Notes:
Holiday rates are $695 nightly, UCSB Graduation, Thanksgiving week, Labor Day/MLK day, Memorial Day, President's Weekend, and Christmas/New Years weeks.
10% with submission of rental agreement to hold your reservation. Balance due the week before you arrive.
Safe and Secure Payments with your choice of PayPal or credit card + 4% PayPal/credit card fee, checks and wire transfers also accepted.
Address: Fantastic Villas
1482 East Valley Road #325
Santa Barbara, CA 93108
Skype: fantastic.villas
E-mail: suzy@fantasticvillas.com