HOME ALL RENTALS CONCIERGE FUN THINGS TO DO PROPERTY MANAGEMENT FAQs ABOUT US CONTACT
HEALDSBURG LODGE
Wine Country
Sonoma County, California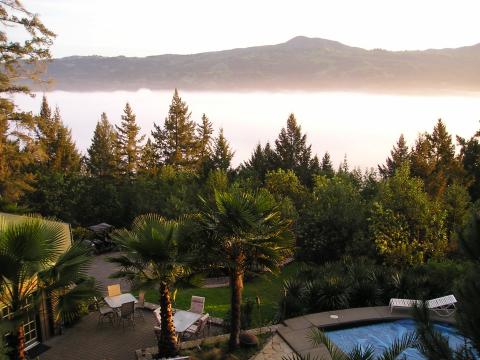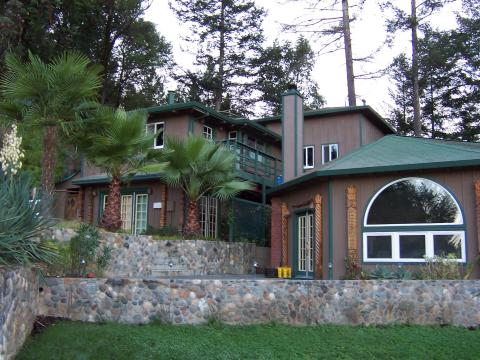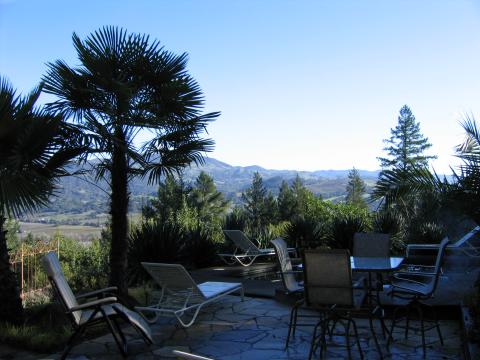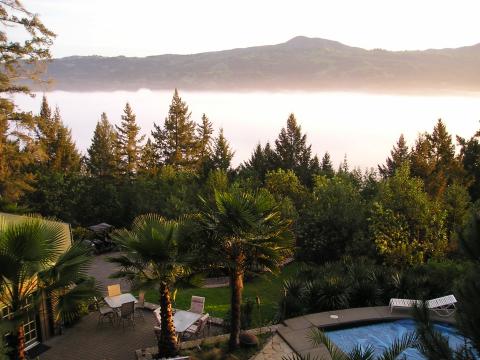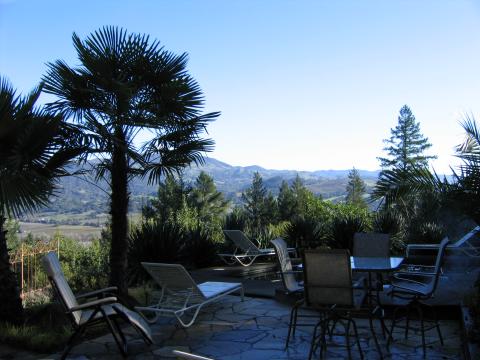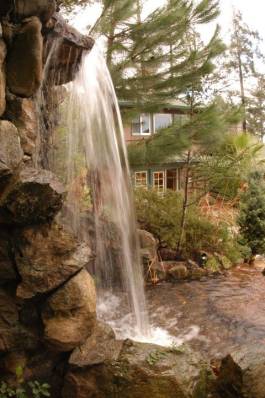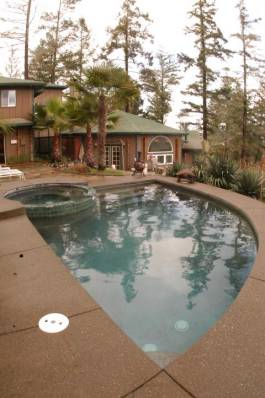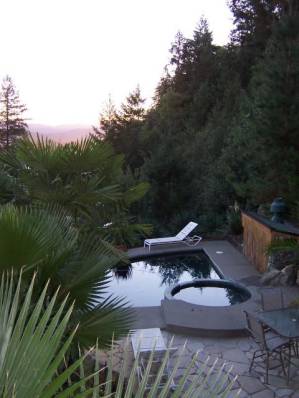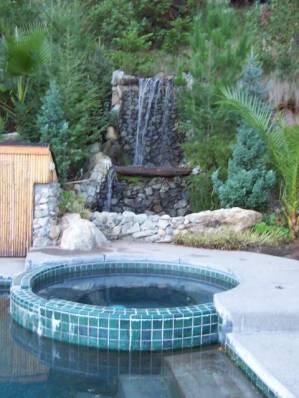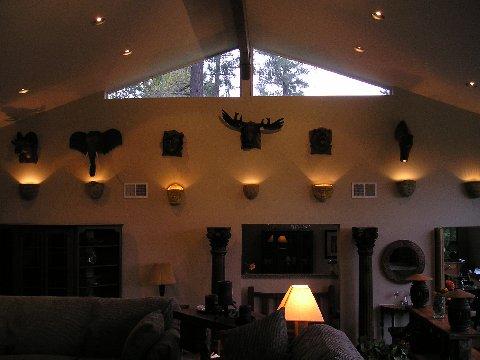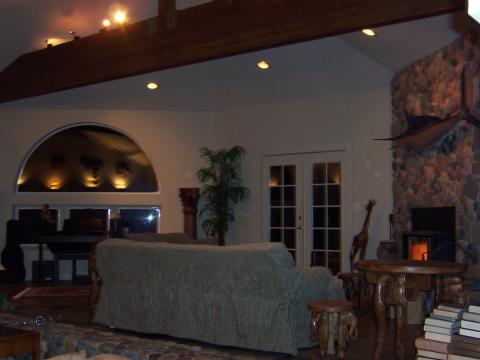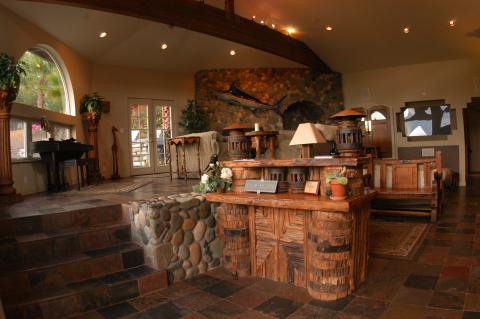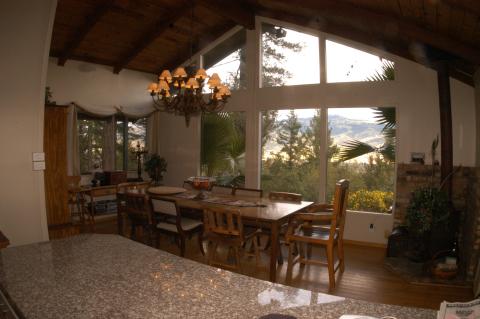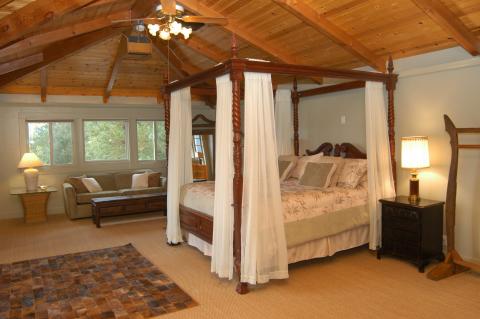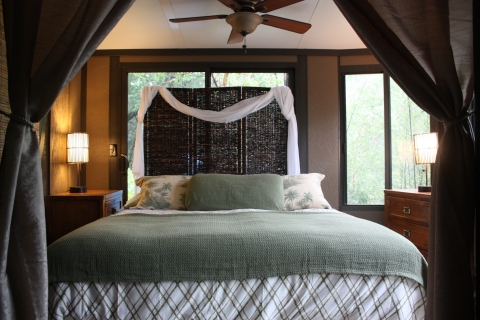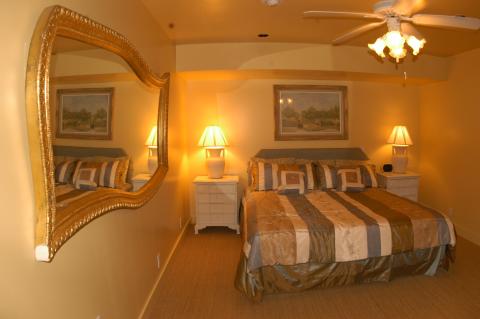 High on a wooded ridge, overlooking the beautiful wine region of the Alexander Valley; the Alexander Valley Lodge in Healdsburg is cut into the wilderness range on over 53 acres of private wooden terrain with magnificent views and hiking trails to enjoy.This 6 Bedroom Wine Country Healdsburg Lodge is only minutes from the Alexander Valley and Dry Creek Valley Wineries. A site for beauty and relaxing - come enjoy local wines and cheeses on the deck taking in the beautiful view. There is wireless internet available throughout the lodge - even the pool. The Healdsburg vacation rental Lodge is complete with an in-ground pool, spa, cascading waterfall and deck, 900 sq ft living room, formal dining area, and a family room with state of the art built-in Big Screen TV .

Sleeps: 16 Bedrooms: 6 Bathrooms:
Features and Amenities Nearby Attractions
Jacuzzi, Hot Tub for 5 Rafting
Microwave Windsurfing
TV/VCR Fishing
Fireplace Shuffleboard
BBQ Fitness Center/Gym
Ice Maker Waterskiing/Boating
Stereo Biking
CD Player Hunting
Cable/Satellite Horseback Riding
Air Conditioning Tennis
Golf
Just minutes from Alexander Valley and Dry Creek Wineries.-1 minute drive to the local grocery store, post office, and restaurants (such as Chateau Souverain's Alexander Valley Grill).-Five minutes from the River Rock Casino.-5 minutes from the quaint town square (including shopping and restaurants) of Healdsburg.-10 minutes from Lake Sonoma - boating, bike riding, fishing and hiking.
Deposits

$600 Refundable Security Deposit. Deposit must be sent in for reservation to be confirmed MINIMUM STAY REQUIREMENT AND DIFFERENT PRICING ON HOLIDAYS 4 NIGHT MINIMUM FOR WEEKENDS JULY-SEPT. Call for Last Minute Specials and Bed and Breakfast Pricing that starts at 175/nt

Cancellation

Deposit will be kept if reservation is cancelled more than 60 days prior to arrival. Less than 60 days- Balance is kept unless re-rented for same price and term. If it is a date change with enough notice, this may be waived. $100 fee charged on all cancellations.

Fees & Taxes

9% room/sales tax. Pool Heat fee of $200/day in summer ($360 in winter). No charge for jacuzzi heat unless spa is left on for more than 1 hour after heating period. Extra person charge of $35 (over 2 ppl/bedroom). Cleaning fee of $125. Day charge of $390 if not checked out by 11am (must inform owner beforehand of late check out). Call for B&B rates (175-250/nt)

Comments for Alexander Valley Lodge in Healdsburg Vacation Rental





We went there as a group of eleven. There are six bedrooms, 5 baths. The rooms vary in size. Huge living area w/ big acreen TV, satellite, dvd, stereo etc. Gorgeous views of Alexander Valley out of the windows. We cooked in one night and the kitchen is pretty much fully equipped, even for the foodies in the group. The next night we had Chef Martin come in and he served us a wonderful dinner- 6 courses I think- lost count. If you do this you MUST request the mushroom soup! The owners, Scott & Danielle were fantastic and arranged for a 14 person van and took us wine tasting for two days. They are very gracious, knowledgable and professional. I HIGHLY recommend it.
Posted by: Lynn Kenton
I recently had the pleasure of staying at the Alexander Valley Lodge and got to experience the warm, comfortable atmosphere, breathtaking views, relaxing poolside and the incredible hospitality offered by the owners, Danielle and Scott I look forward to staying there again and highly recommend it to all who are interested in taking in some peaceful, relaxing days and incredible views of the valley.
Posted by: Tia Rancourt
We had a great time - the lodge is in a good location and easily accessible from SF. Plenty of room for a large group and all the amenities you would want, plus more. If you are looking to rent a house with proximity to the Sonoma/Healdsburg wine country, this is the place.
Posted by: Greg Danielle
We can't thank you enough for allowing us to stay in your wonderful Lodge. We visited with a total of 5 couples and had an incredible stay there. The Lodge is lovely, clean, spacious and the drive up the mountain is intense! The views from all around your lodge were just spectacular! We LOVED how at home we felt there; we had a blast. Martin was AWESOME; we tried to bring him back to Chicago with us! He is a fantastic chef! Thank you for all of your recommendations and hospitality! We can't wait to return! I would recommend staying at the Alexander Valley Lodge to anyone heading out that way! Dyann
Posted by: Dyann Callipari
We LOVED your home. It was amazing. We did some wine tasting and arrived around 5 pm. Martin was awesome. It was so wonderful having someone cook dinner for us. We look forward to renting your house again.
Posted by: Susan
I rented the AVL with 3 other couples and we had a great time. The lodge is perched on a mountaintop and is both private and secluded, yet within 1 hour drive to most Napa and Sonoma locations. We loved the awesome views, wildlife, shooting stars, outdoor patio and jacuzzi, and other amenities. The 3 suites are very large and private with their own baths, but one couple had a less than stellar suite downstairs by the kitchen - the only bummer about the lodge. The road up to the lodge is very dicey and you should make sure you always have a DD, especially after visiting wineries all day.
Posted by: Monica
Hi Danielle! As the saying goes, "Time flies by when you're having fun!" And, that we did! My friends and I had a marvelous time in California! The road to AVL was an adventure for some, but it was beautiful with the fall colors just beginning to show. Kathy met us just as we were getting out of the cars. You are lucky to have such a wonderful neighbor and friend, who happens to be your property manager, too! The pictures on your website do not do AVL justice. Experiencing the Lodge and its surroundings first hand definitely brings about an inner peace! We all brought home such special memories of this special trip - my " next steps" into retirement. Thank you, Danielle, for all your assistance in helping to make this a memorable one, too! Until then, take care. Enjoy your family. ˜ Lenore
Posted by: Lenore Danielle
Thanks so much for renting your beautiful home to us. I have to admit, driving up to the house, we were all making jokes about what we would find, but our mouths fell open when we finally pulled into the driveway. When you rent a home off the internet, I guess there is always the possibility that someone could mislead you. All of us had a wonderful time and are trying to figure out when we can return. I trust you found everything in good order upon inspection. I felt we all tried to treat your home as if it were our own. I wondered if you were going to return my check, tear it up, or if you found something not to your liking. Our only regret is that we didn't have more time to just relax and enjoy your home. Hope to visit again soon, Sharon
Posted by: Sharon
I'm from Fortworth Texas, Travel to northern Calf,spent one night with Scott an loving wife Danielle an his newborn,,,,,,Everything was Great, I will be back!
Posted by: Hamen

From / To Date
Rates
From Night
To Night
Nightly
Nightly On
Weekends
Weekly
Monthly
Minimum
Stay In
Nights
Jan 01
Dec 31
USD790
USD940
USD 5200
n/a
2
Entire Lodge
Safe and Secure Payments with your choice of PayPal or credit card
Address: Fantastic Villas
1482 East Valley Road #325
Santa Barbara, CA 93108
Skype: fantastic.villas
E-mail: suzy@fantasticvillas.com