HOME ALL RENTALS CONCIERGE FUN THINGS TO DO PROPERTY MANAGEMENT FAQs ABOUT US CONTACT
HILLSIDE OASIS
Montecito, California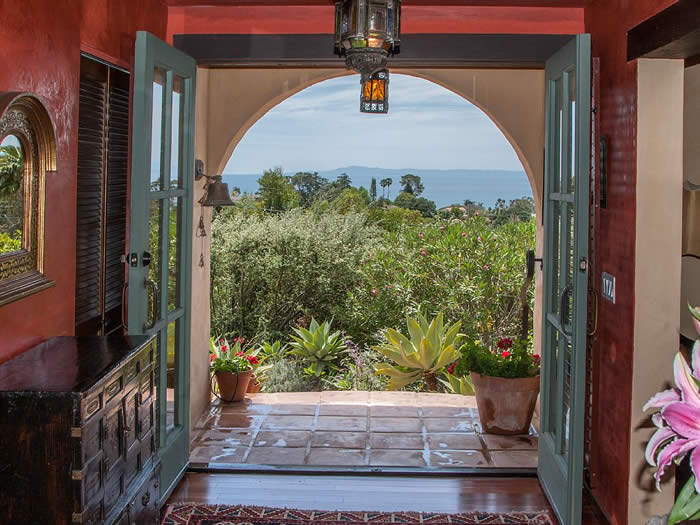 Ocean View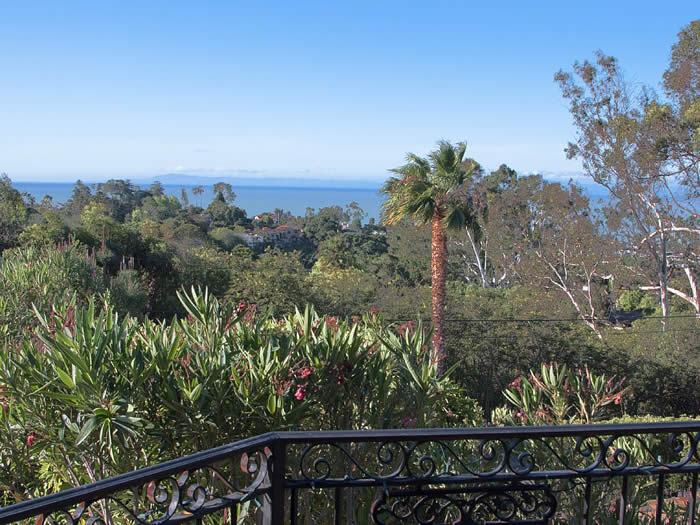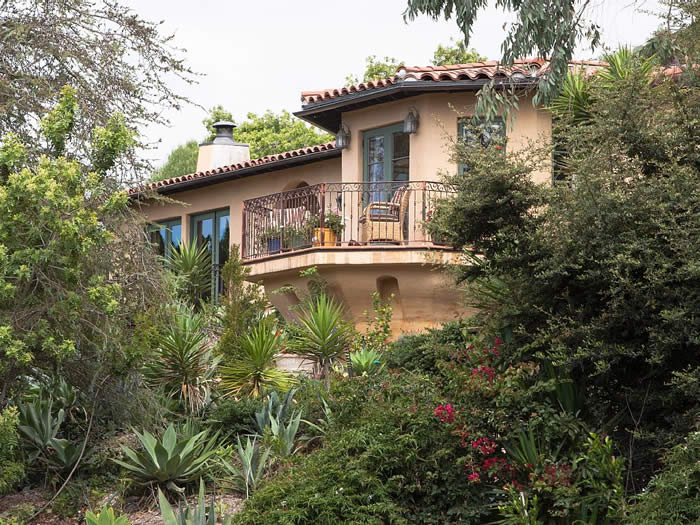 Living Room and Beyond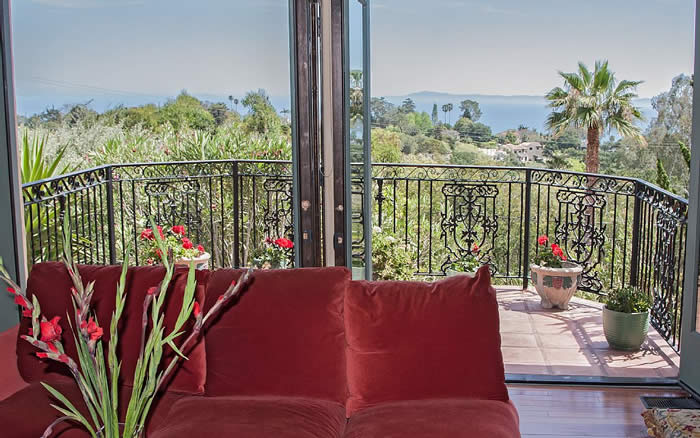 Living Room and Fireplace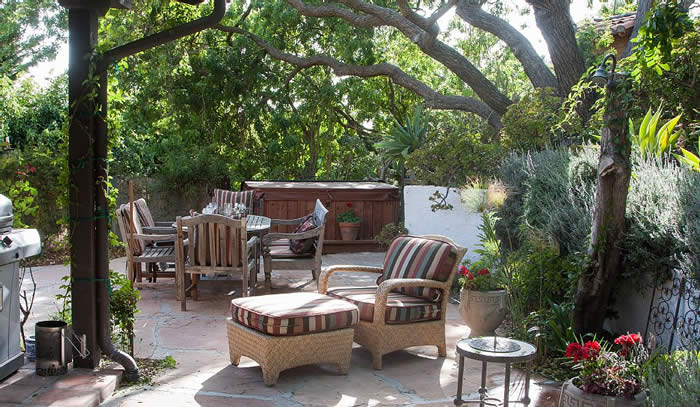 Patio off the back of the main house. sauna just up from the spa.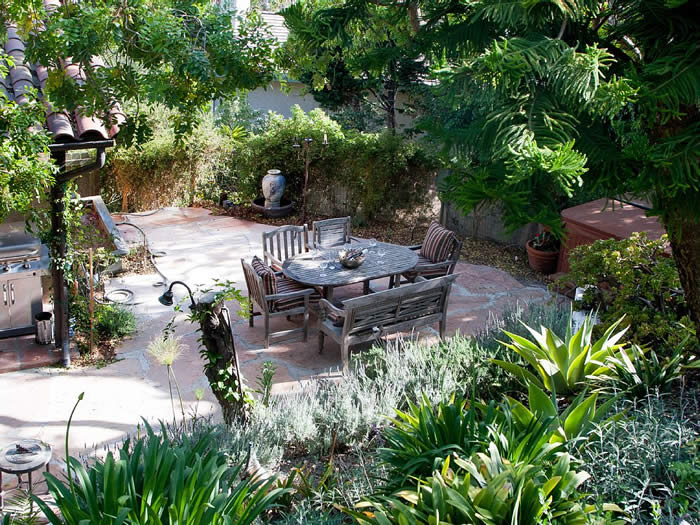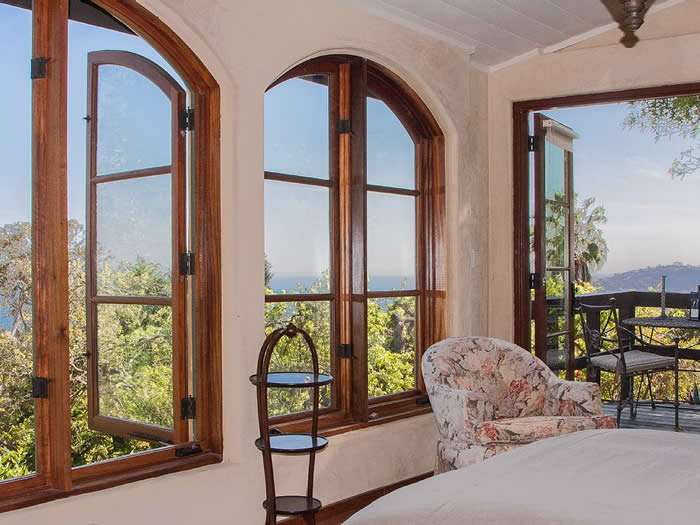 Dining room through to the back doors.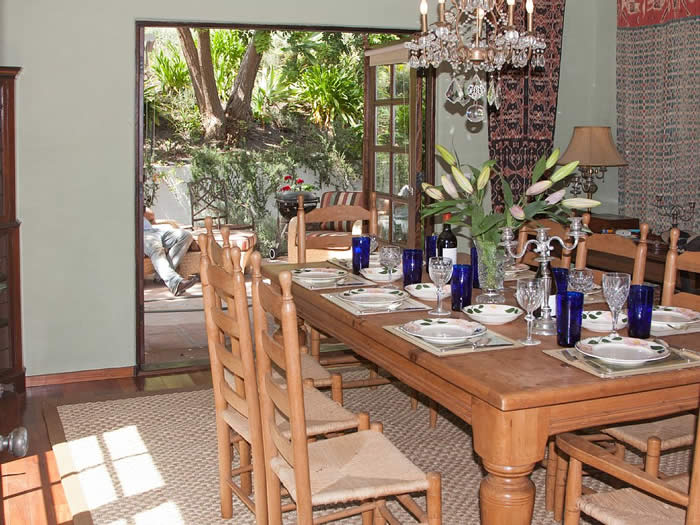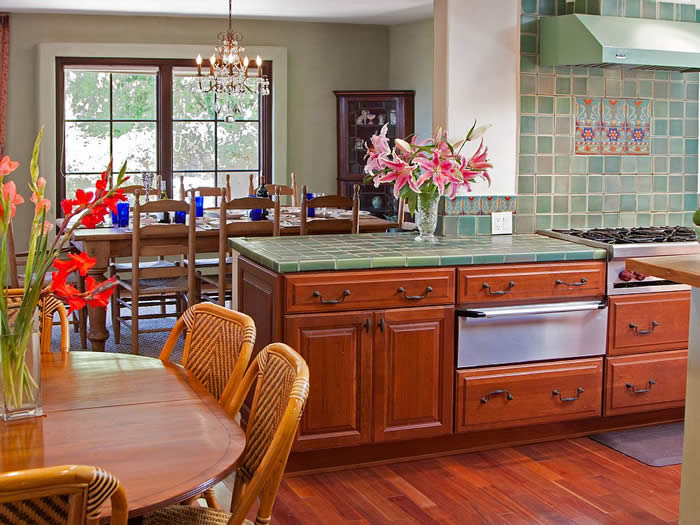 Gourmet kitchen with all the good stuff.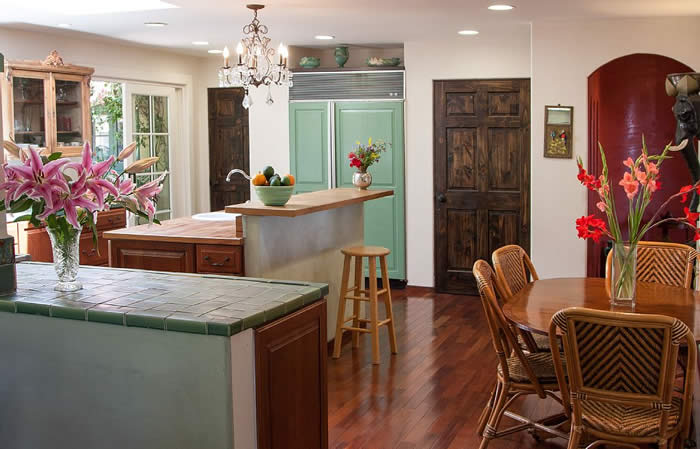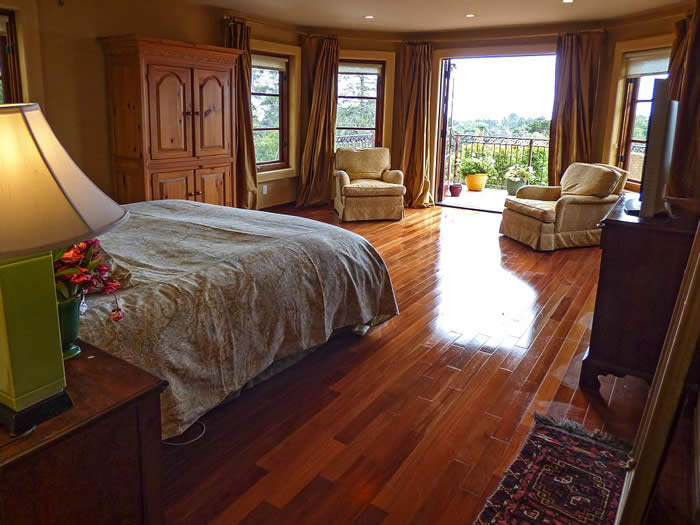 Master Bedroom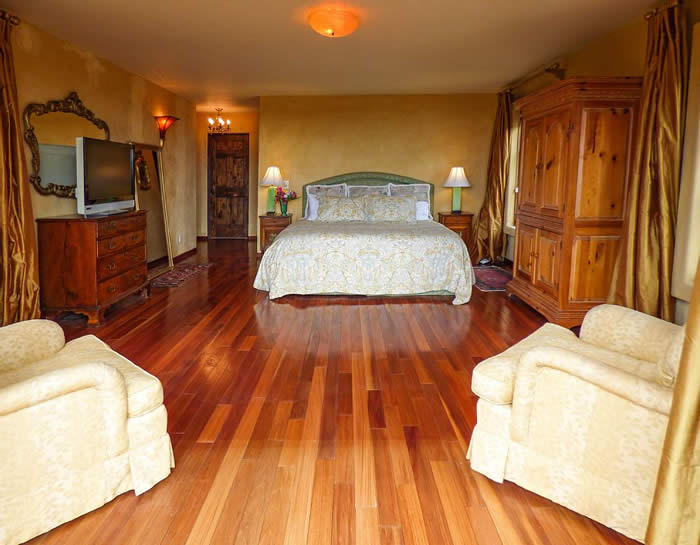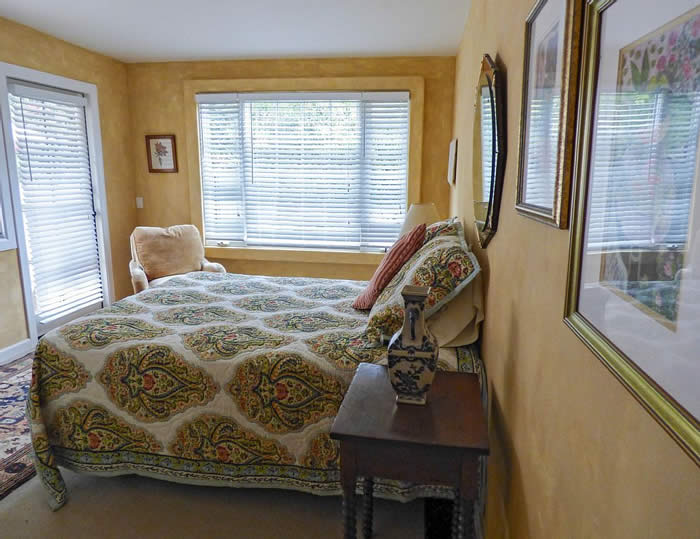 Master bath with great Kohler bath, and great views as well.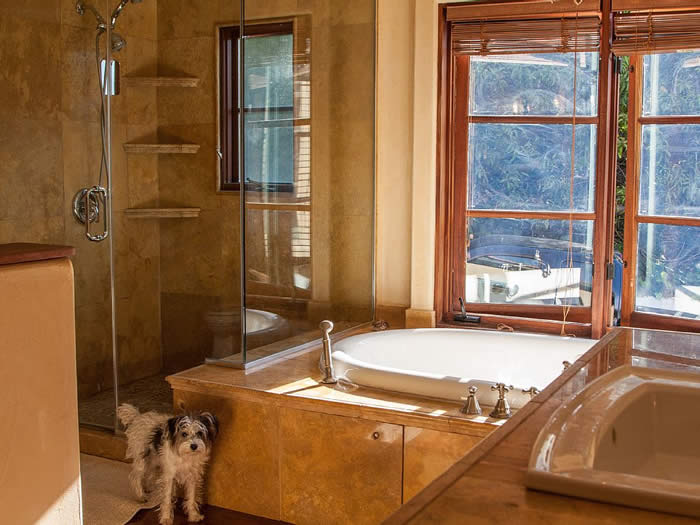 This beautiful light filled home has ocean views from almost every room. This house has been upgraded to a very high standard with Italian plaster and limewash on every wall inside and out, creating a wonderful ambience of color and natural beauty. The main house has 3 bedroom, 3 baths, (2 en suite) plus our Love Shack, a separate structure a little way up the hill with sensational views, 1 bed, 1/2 bath and outside jacuzzi bathtub under the olive tree! 2 outside showers. The master bedroom is 15' W x 18' L. There is a gourmet kitchen with Wolf Range, Viking Oven, Sub Zero Refrigerator, Microwave & enough counter space for 8 people to prep at the same time!
Spacious living room (23 x 17).
Property Type
Accommodation Type
Meals
Guests Provide Their Own Meals
Onsite Services
Suitability
Long-Term Renters Welcome
Minimum Age Limit For Renters:
Bedrooms: 4 Bedrooms, Sleeps 9, Beds for 8
Love Shack-free standing room on top of our property: 1 queen
living on top of the world, an inspirational experience

Bedroom 2: 1 double

Smallest BR, fantastic view thru majogany arched windows

Bedroom 4: 1 queen

Lots of light with own separate entrance to house.

Master Bedroom: 1 king

Beautiful. deck, fantastic views, Dux bed.

With 3 bedrooms in the main house, and one very special bedroom sitting in a separate structure on the top of our property, there are many luscious choices for sleeping everyone. A spacious master bedroom with stunning ocean views, large balcony, Brazilian mesquite floors, mahogany windows, California king bed, cable hdtv... very, very comfortable. Two other bedrooms in the main house, one with its own attached full bathroom, and the other with great views and its bathroom directly across the hallway, about 3 steps away, or maybe just 2. Our Love Shack room with its own half bath sits on top of our hill with the best views from all around. This space is so very special for creative people and romantics. It is always a special place to spend time. Friends want it to just sit and meditate, others want it to write their books, or play their music. You feel like you have made it to somewhere very special indeed. Some just can't bear the idea of leaving.
Bathrooms: 3 Bathrooms, 1 Half Bathroom
Master Bath: toilet, tub, shower, jetted tub
2 sinks, 6' Kohler Tub, fantastic views, very bright.

Hallway Bathroom: toilet, shower

One of our green bathrooms with lots of style!

Bathroom 3: toilet, combination tub/shower, bidet

part of the on-suite of the back bedroom

Love Shack Bathroom: toilet

a half bath, outdoor jacuzzi & outdoor shower are close

All the bathrooms are beautiful. See the photos to get an idea about their unique individual looks. The master has a great Kohler bath and the adjacent glass enclosed shower all have wonderful views of the ocean and the islands beyond.
Entertainment
Theme
Attractions
Botanical Garden
Churches
Cinemas
Festivals
Health/Beauty Spa
Library
Live Theater
Marina
Museums
Playground
Restaurants
Synagogues
Winery Tours
Zoo
Local Services & Businesses
ATM/Bank
Babysitter
Fitness Center
Groceries
Hospital
Laundromat
Massage Therapist
Medical Services
Leisure Activities
Antiquing
Beachcombing
Bird Watching
Boating
Eco Tourism
Photography
Scenic Drives
Shelling
Shopping
Sight Seeing
Walking
Whale Watching
Wildlife Viewing
Location Type
The incredible beauty of this property is only highlighted ever more by its fantastic ocean, island, city & harbor views - everything good that Santa Barbara is!
Sports & Adventure Activities
Basketball Court
Cycling
Deepsea Fishing
Equestrian Events
Fishing
Golf
Hiking
Jet Skiing
Kayaking
Mountain Biking
Mountain Climbing
Mountaineering
Paragliding
Pier Fishing
Rock Climbing
Roller Blading
Sailing
Scuba Diving Or Snorkeling
Snorkeling
Snorkeling/Diving
Sound/Bay Fishing
Surf Fishing
Surfing
Swimming
Tennis
Water Skiing
Wind-Surfing
Dining
General
yes

Fireplace:

Beautiful fireplace/gas only please

Fitness Room / Equipment:

we have an weider adjustable dumbbell set if you would like to work out a little
yes, we do have one of these rascals as well.

Internet:

we have the wifi turned on

Linens Provided:

for 8
Kitchen
Spacious gourmet kitchen, great views, custom tile. Enough counter space for 8 people to cook at once

Microwave

Oven:

Viking
Pantry Items
Refrigerator:
Sub Zero

Stove:

Wolf 6 burner

Toaster
Outside
Hammock
Spa
House Cleaning
The perfect family retreat location
This property is very well named, as it was indeed a hillside oasis. We brought together our family of four California-based children, spouses, significant others (and ourselves from the East Coast) for an end of summer get together. We couldn't have imagined a better place to do this. Everyone in our group was taken in by the location, beautiful house, and the tranquil outside spaces. The listing is very accurate but cannot capture the extraordinary ambience with pictures or words. Everything was in perfect order,and we felt very much at home from the start. It was easy and enjoyable to cook meals for a group of eight and enjoy them in the delightful dining room, and in the outdoor seating area. Although we had plenty of activities planned, no one wanted to leave, and we found ourselves instead relaxing and enjoying being together on this picturesque hillside. Most of all we hope to return to enjoy this entrancing place in the future. David H.
Beautiful!
We all loved the house, the location and overall, everyone raved about my selection. We had some minor issues that were immediately taken care of. My only complaint would be the steep driveway and the stairs to the Love Shack. Everyone wanted to sit up there for the view which for Texans is a real treat. The steepness didn't bother anyone else except me and the Uber drivers at night. At the age of 78 it was a little more challenging, but I did fine and took 45 minute walks with my kids every morning up and down the hills. Everything was just as appeared on the wesite. I was familiar with Montecito, so I had some favorite Haunts and found more. We loved Lucky's for dinner, the Honor Bar and the Four Seasons for cocktails, and Janine's for breakfast and lunch. We also had a good breakfast at the Montecito Village Pharmacy and and found an Italian restaurant in the same area of upper Montecito. Brophy's is my favorite for seafood . I most definitely would recommend this house to my family and friends and rate it five stars. The views are gorgeous. Thank you Fiona for sharing your beautiful home with us. Anne C.
Very special house, views, and owner
Terrific house in the hills that surround Santa Barbara. The views, obviously a focal point, look DIRECTLY down to town, the harbor and the sea. The house is perfectly situated in a way that takes advantage of this position but is itself a destination. It oozes character and is clearly very well taken care of. The house works well for a group of people with a variety of options. We ended up staying in the "Love Shack" due to the views and treetop feel. I would encourage you to also reach out to the owner who is readily accessible and accommodating. Charles, P.
Santa Barbara Riviera Bliss
My husband and I (& Boston, the dog) rented this property for my birthday week. It's centrally located on the Santa Barbara Riviera with relatively easy access to downtown Santa Barbara. The views from this property are stunning, especially from the top of the property at the Love Shack. Upon arrival, we arranged for a fantastic masseuse to set up on the deck overlooking the ocean. It was the perfect temperature to have an outdoor massage. We utilized the spacious kitchen to make meals with our Tuesday afternoon farmer's market goodies. We also took advantage of the hot tub. This home has 3 large bedrooms in the main house, with a lovely "Love Shack" bedroom at the top of the property. Spacious kitchen, ample bathrooms, outdoor living rooms galore, great dining room. We loved the ornate decor that spoke volumes from the owner's trips all over the world! Only trick was managing a steep, narrow driveway everyday. Fiona answered all my questions and made me feel very welcome at her gorgeous home. Worth the visit! We'd love to return. Cat. M.
A lovely and most enjoyable retreat
My family and I thoroughly enjoyed our stay at this lovely hillside retreat. I can't give enough kudos to Fiona and the property managers who went to great lengths to ensure we had all we needed. Everything is as advertised - the kitchen is amazing and the bedding is first class.The ocean and surrounding views are stunning - one could sit on the balcony and gaze at them all day. The house itself brings the lovely setting indoors. The furnishings and layout are eclectic, mixing a Santa Barbara lifestyle with other cultures - truly charming. It is also very private and if I have the chance again, I'll come back to this one. We loved it. Anne K.
Beautiful property! Beautiful memories!
The description is exactly what this property is ...a "Lovely Hillside Oasis". We rented this for a place to stay during our daughter's wedding week-end and this property provided our family a great place to stay with amazing amenities and incredible views. The entire bridal party got ready at the home on the day of the wedding and there was plenty of space, bathrooms, mirrors, and lush landscaping and views for pre-wedding pics. The cottage provided a private and magical setting for the honeymoon night! This home is perfect for any family who wants to get away and have a relaxing stay. We strongly recommend renting the Hillside Oasis!
Beautiful home, perfect for a group
This is the perfect place for a family or group of friends. We were three couples and a single person, some from the Bay Area and some from Southern California, all meeting in Santa Barbara to celebrate a milestone birthday for one person in our group. The bedrooms provided a lot of privacy. The love shack is a great feature--separated from the main house, but still part of the property so anyone who wants a little extra space has it. The well-appointed kitchen, large dining room and outdoor dining table are such good communal areas that we were loathe to eat at restaurants. I highly recommend this house for special gatherings of family and friends. Dan M. SF
Gracious and casual elegance!
We just enjoyed a superb and memorable family reunion at this sumptuous hillside Villa. Although there were comfortable and spacious accommodations for 8 of us, there was ample room for our Santa Barbara family to join us for cookouts, and festive get togethers. We spent a lot of time, morning and evening, relaxing in the private and lush back yard garden area. It was so luxurious to awaken to ocean views from most of the bedrooms, including the glorious eagle's nest vantage of the "Love Shack". We felt surrounded by our own serene shangri la, yet we were minutes to beaches, shopping and hiking trails. Everyone left with great reluctance - we extend huge thanks to Fiona for responding to our every need and request with gracious hospitality! Barbara T.
Truly Lovely
Love this property! Charming Spanish architecture, lush colorful gardens and gorgeous global art and antiques throughout distinguish this home. The 3 bedrooms, 3 bathrooms, living spaces and kitchen in the main house are beautifully appointed, and owner Fiona was divine to work with and very attentive. The Love Shack up the hill would be perfect for a couple or even two older kids to share. Eucalyptus Hill is centrally located between SB and Montecito, near hiking trails and minutes from beaches and downtown. Very convenient and comfortable. Our dog was welcomed too, and we felt secure knowing the back gardens are gated and fenced Ginger P.
Wonderful home
Our time in Santa Barbara was great. Fiona was so accommodating and helpful. The house was well furnished and comfortable. The location was convenient to Montecito as well as Santa Barbara. The hot tub was a plus as was the outdoor shower and bath tub. We had 7 family members and the house was perfect and had everything we needed. We will be back. Tom N.
wonderful family home
I have a son that lives in Santa Barbara and another in Oakland, Ca. I live in Los Angeles. We decided that we wanted a family vacation for the 9 members of our family in Santa Barbara. We stayed at this wonderful home in the hills and had a great time. The home had everything that we needed. The property went back up the hill and had amazing views. There were terraces off the bedrooms also with great views. We could all gather in the living room or out back on the patio and have a BBQ. The home was in excellent condition and we were treated wonderfully by Fiona & Ocean. I would love to return to this home. Fiona & Ocean open their home for rental when they travel so check with them to see if the house is available. Martin K
Tranquil, Beautiful Villa in the hills of Santa Barbara
We stayed at this gorgeous home for 5 days in October 2014 for our daughter's wedding at Montecito Country Club. The interior is beautiful and well appointed. Everything we could have possibly needed was there, the kitchen was a dream. Our daughter and her wedding attendants all got ready here, the photos were beautiful in the garden and in the luxurious master bedroom with the ocean view in the background. The hot tub was most welcome in the evenings after busy days. Garden and grounds were so lovely and relaxing. The owner was a joy to talk to and was so kind and considerate that I felt as if I was speaking with a dear friend!! Cannot wait to go back and would highly recommend this beautiful home away from home. Sue D.
Wonderful villa in the eucalyptus hills of santa barbara
We spent a wonderful week in this lovely Oasis. The view is exceptionnal. the place inspires calm and serenity. The garden is a small paradise for lovers of nature and meditation. Ara A.
Beautiful, Beautiful Property
We had a wonderful time over the fourth of July weekend at this stunning home. We were four adults, three small children and two dogs and the house felt spacious and open. Though the pictures posted here adequately show the interior (which is really incredibly lovely), they do not do justice to the outdoors of the property and the care and detail given to the landscaping. I think we spent as much time enjoying the grounds as we did playing with the kids in the living room and cooking dinner together. We had a few questions about the house upon arrival, and contacted the people provided as the homeowners were traveling. Within an hour, the homeowners themselves called us back to answer our questions which seemed over and above to us! We are looking forward to making it back as soon as we can. James Q.
Gorgeous, tranquil home in the hills!
This was the perfect getaway oasis for our week long trip to Santa Barbara. Nestled in the hills of SB it's quiet yet accessible to the main town. The rooms are spacious and charming with lovely decor. You can tell the owners have put great thought into this home rental. They communicated all of the nuances of the property which made it very easy to enjoy our stay. We enjoyed the outdoor patio and lounges overlooking the Pacific along with the hot tub. The gardens are impressive and mature - truly making you feel as if you are in a luxury resort. The style of home is one of my favorites - Mediterranean design - charming entry ways, french doors, wrought iron details that add to the many charms of this magnificent home. We cannot wait to return next year! We feel so fortunate to have had this opportunity to stay in this lovely hillside oasis! Julie S.
RATES
$690/night
Fees and Rental Conditions:
cleaning fee $150
Pet Fee $150
Property Damage Protection $99
Refundable Damage Deposit $1,000
Tax Rate 12%
Owner's cancellation policy:
Cancelled bookings will not receive a refund.
Safe and Secure Payments with your choice of PayPal or credit card + 4% PayPal/credit card fee
Address: Fantastic Villas
1482 East Valley Road #325
Santa Barbara, CA 93108
Skype: fantastic.villas
E-mail:suzy@fantasticvillas.com