HOME ALL RENTALS CONCIERGE FUN THINGS TO DO PROPERTY MANAGEMENT FAQs ABOUT US CONTACT
LA VILLITA
A Magnificent Rental Villa in Beautiful
Puerto Vallarta, Mexico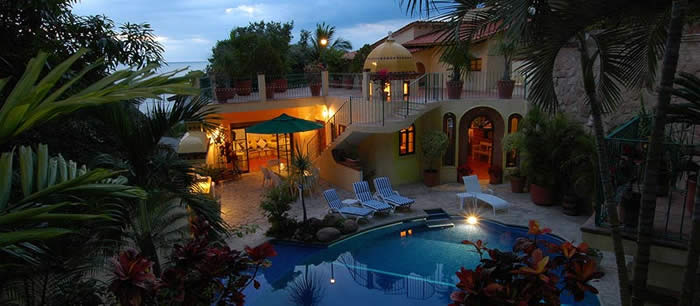 Located in lower Conchas Chinas area of Puerto Vallarta overlooking Banderas Bay.
This wonderfully appointed villa is only a few steps away from some of the most perfect sandy
beaches in Puerto Vallarta and is within easy walking distance of downtown.
Ideal for Groups, Company Conferences, Family Reunions and Weddings
Come Enjoy the Good Life on a Grand Scale at La Villita!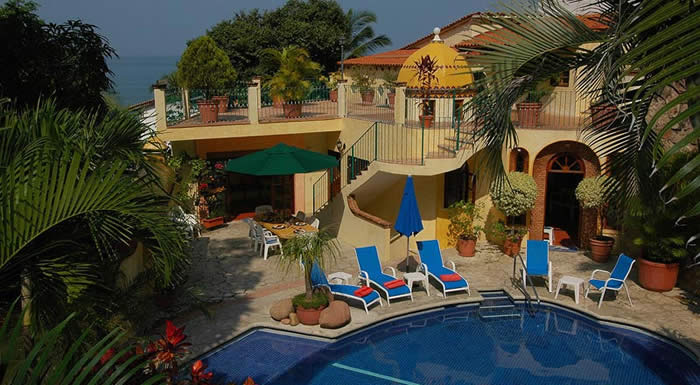 Casa La Villita is a spectacular 14 bedroom 16 bath boutique villa located in lower Conchas Chinas, Puerto Vallarta. Known as the Beverly Hills of Puerto Vallarta. Nestled along the Pacific coast, with fabulous views of the Banderas Bay it is hard to leave once you arrive. The villa is only steps to many wonderful beaches, including the Conchas Chinas Beach, the Amapas beach and further north Los Muertos. Located a short mile to the Romantic zone in the old town of Puerto Vallarta. This spacious villa is filled with Mexican charm, decorated in bright festive colours with Mexican artwork, the attention to detail however, is truly found in the traditional artisan telavera throughout. It comes with a full complement of staff to serve your every need. From the moment you arrive you are welcomed with warm Mexican hospitality, every whim and desire is satisfied, your stay can be as pampered as you wish and you can be ensured that it will be a memorable one. Enjoy the delicious fare (Mexican and International cuisine) made from local ingredients and prepared lovingly by our long term Chef. Each meal can be catered and served in one of the many indoor or outdoor dining areas. Lounge by the pool, enjoy an afternoon bar-b-q at the out door grill or soak up the sun on our roof top deck as you watch the whales and dolphins pass by. The roof top terrace comes complete with a Palapa bar, not to be missed are the stunning sunsets while enjoying a drink. Enjoy one of our many terraces before really relaxing your body in the hot tub.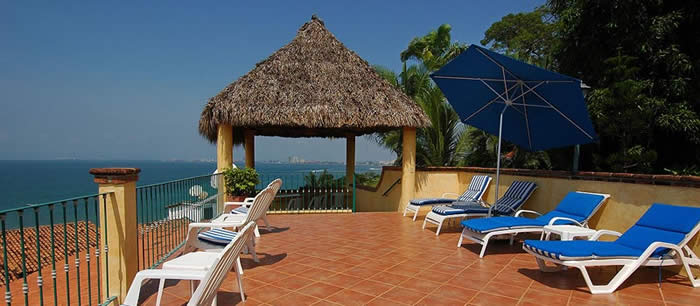 Rooftop Terrace - Panorama View of Banderas Bay
Terrace Dining and Entertainment Area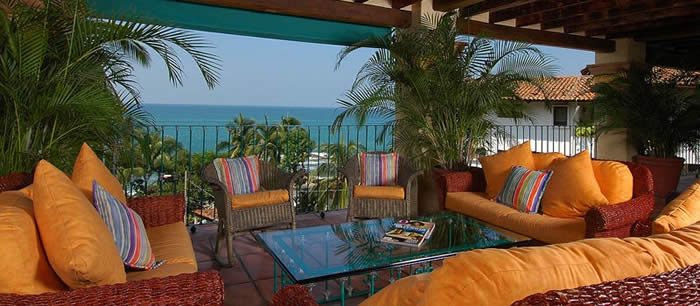 Terrace Sitting Area
Terrace Dining
Multimedia Room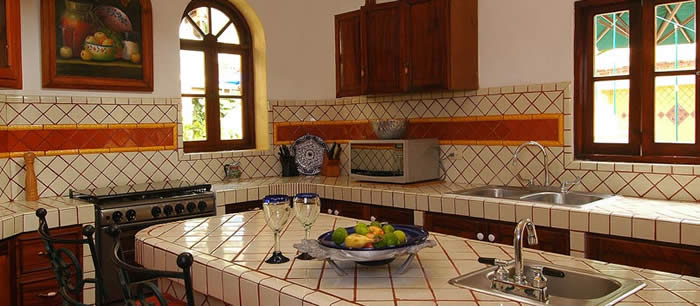 Kitchen
Casa La Villita Bedrooms & Rates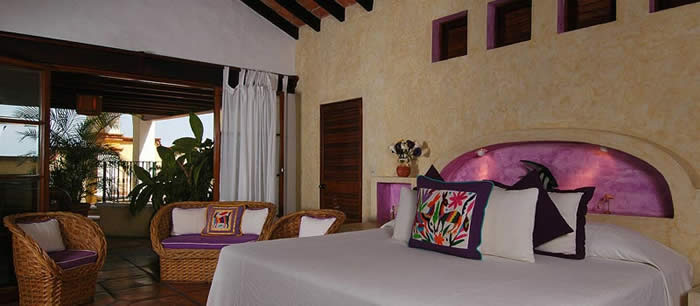 Master Suite with 100 foot Private Terrace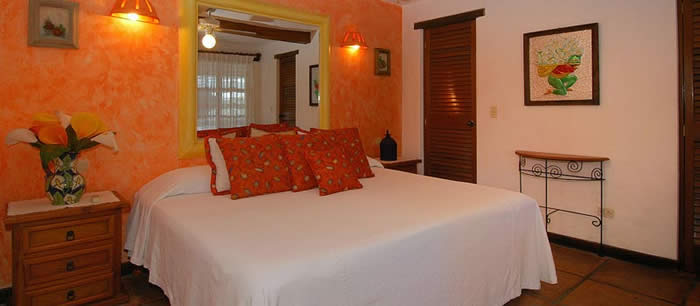 Orange Room
There is a 3 night minimum stay.
High Season - November 1 - April 30

For all 5 Bedrooms $1,850.00 US per night

For all 6 Bedrooms $1,960.00 US per night

For all 7 Bedrooms $2,070.00 US per night

For all 8 Bedrooms $2,190.00 US per night

For all 9 Bedrooms $2,420.00 US per night

For all 10 Bedrooms: $2,540.00 US per night

For all 11 Bedrooms: $2,750.00 US per night

For all 12 Bedrooms: $2,950.00 US per night

For all 13 Bedrooms: $3,100.00 US per night

For all 14 Bedrooms: $3,300.00 US per night

Low Season - May 1 - October 31

For all 5 Bedrooms $1,500.00 US per night

For all 6 Bedrooms $1,625.00 US per night

For all 7 Bedrooms $1,750.00 US per night

For all 8 Bedrooms $1,875.00 US per night

For all 9 Bedrooms $2,000.00 US per night

For all 10 Bedrooms: $2,125.00 US per night

For all 11 Bedrooms: $2,250.00 US per night

For all 12 Bedrooms: $2,375.00 US per night

For all 13 Bedrooms: $2,500.00 US per night

For all 14 Bedrooms: $2,550.00 US per night

When renting more than 10 bedrooms there are a few different variations of rooms that you can choose from. Including our Garden Suite or our 3 bedroom Casita that has it's own private entrance and is fully self contained with sitting room and kitchen. The 3 bedroom casita is perfect for families and can be rented on it's own for a cost of $500.00 US per night.
Rates are based on 2 people per room, for a third or fourth person in the room there is a $50.00 charge per night per person

All rates include the 16% Mexican IVA tax. Food, Beverage and Gratuities are not included.

Holidays: Christmas, New Years, Canadian and US Thanksgiving: $3132.00 US per night for 10 bedrooms. For all 14 bedrooms the rate is $4000.00 US per night.

All holidays are non-refundable.

We require a 50% deposit upon booking with the balance due 60 days prior to arrival. If the booking date is less than 60 days, we require 100% payment at booking.


A 60 day notice for cancellation is required. A 20% handling fee will be deducted from all refunds on cancellations.


A $1000 USD Security Deposit is required for all bookings and is fully refundable within 30 days of the stay provided there is no damage.

Blue Room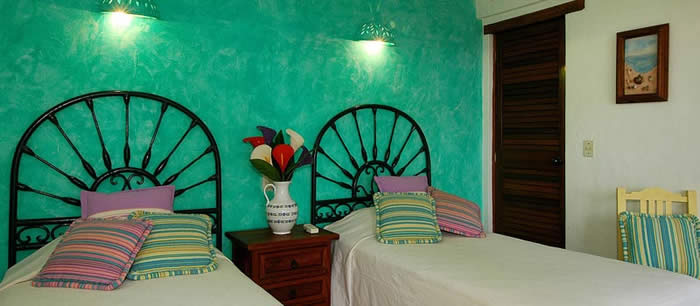 Green Room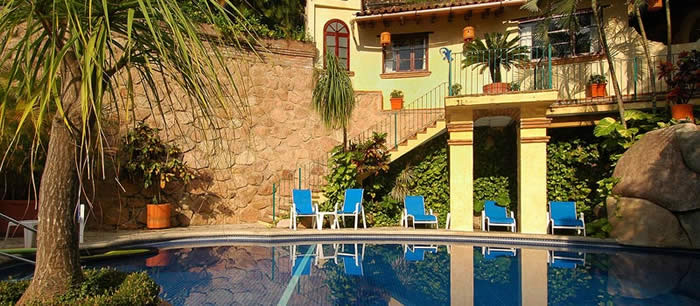 Upper Casita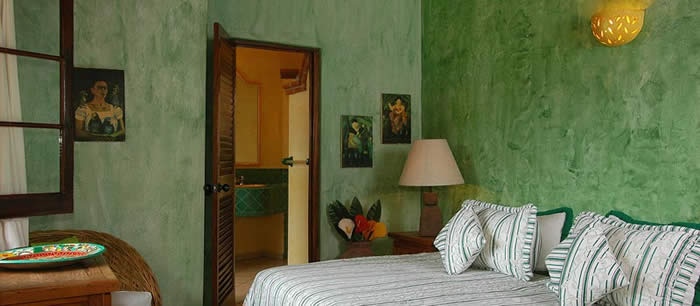 Upper Casita
Tropical · Delightful · Luxury
Frequently Asked Questions

How far is the villa from the airport?

It is a 20 to 30 minute taxi drive south of the airport, depending on the time of day and flow of traffic.

How much does it cost to take a taxi from the airport to the villa?

Small Taxis from the airport cost 300.00 pesos, these taxi are unionized. Returning to the airport from the villa in a regular taxi should cost about 250.00 pesos. We can also arrange transportation vans for you with 3 people or more, a private driver will be at the airport to greet you. The cost is $15.00 US per person.

How far is the beach?

It is a 45 second walk to the beach from the back entrance of La Villita, you walk across a small cobblestone lane (Calle Sagitario) 15 meters and down some steps, 10 meters and the beach lies in front of you. You can go to the right or left and voila, two more fabulous beaches are in front of you. It is 50 meters to the Amapas Beach to the right of the villa , 50 meters to the left of the villa is another semi private beach with white sand and if you go an additional 50 meters you will come to the beautiful beach of Conchas Chinas. Please see the photo gallery for photos of the beaches.

Can we walk into town from the villa?

Yes, you can walk into the old town of Puerto Vallarta where there are excellent restaurants, shopping and the beautiful new Malecon. You can also walk along Calle Santa Barbara which takes about 20 minutes and will take you into the Romantic zone or by the beach (over some rocky outcrops) which takes 10 to 15 minutes to Los Muertos Beach.

How much does it cost to go to town by taxi from the villa?

For a regular taxi, 60 pesos per ride into the old town, it takes between 3 and 5 minutes to get into town with a taxi.

Does the villa have hair dryers?

Yes, we have a few hair dryers on site, please ask the guest services manager to borrow one.

What amenities are provided in the rooms?

2 bottles of fresh water, liquid hand soap and bar soap and eco bambu towels.

Does the villa have pool and beach towels?

Yes, we do have pool towels on site, you are also welcome to take them to the beach. If they are lost or destroyed there is a cost of $300 pesos per towel.

Does the villa have a safe?

All rooms have safes.

Does the villa have an iron and ironing board?

Yes, we do have an iron and ironing board and our staff can also do personal laundry for you at a small additional cost.

Does the villa have kayaks?

We have four kayaks that we are happy to lend to our guests.

How much should we tip the staff?

Gratuities are a very personal matter and you should give what feels appropriate for the service you received and requested. As we are often asked this question, we give the guidelines of between $10.00 to $16.00 dollars per guest per day. This would then be divided up between the staff at the end of your stay. Our Guest Services Manager will provide envelopes for each staff member.

How many staff work at the villa and what are their hours?

We have a staff of 5 an English/Spanish speaking Guest Services Manager/Concierge, a Waiter, a Chef, one Housekeeper and a Gardener. They work Monday to Saturday and Sunday is their day off. They are also off on national holidays.

How do meals work if we book the whole villa?

Our Chef will prepare two meals a day for you. Food and Beverage are not included in the rate of the villa. We recommend budgeting about $36.00 a person a day for food and beverage. Often our groups request a traditional Mexican dinner on their day of arrival, with cocktails, beer and margaritas, home made salsa, guacamole and chips as a snack on arrival. Subsequent meals and service times can then be organized with our Guest Services Manager upon arrival.

We want the staff to come in on Sunday or serve a 3rd meal for us on a particular day, is this possible and what is the cost?

Our staff is happy to come in and accommodate your wishes. The cost for three staff members, Chef, Guest Services Manager /Bar Tender and Waiter to come in to perform an additional service is $100.00 US per service.

Can we arrange for a DJ or live music at the villa?

YES, we can certainly arrange for a DJ or live music at the villa. There is normally a 3 hour minimum for DJ's at a cost of $3500.00 pesos and they then charge a fixed rate per hour thereafter. A 9 piece Mariachi band will cost between $3500.00 pesos to $4500.00 pesos per hour with each additional hour being negotiable. A trio will cost $1800.00 pesos per hour.

Inquire about DJ's as they all charge different amounts.

Can we plan our meals in advance?

Yes, please ask for the menus and we can send them through to you in PDF format.

Name: Casa La Villita

Attributes: Beautiful Authentic Mexican Villa, Gated and Private

Built: 1980's & renovated in 2000 and 2010, additions done in 2015

Location: Conchas Chinas the Beverly Hills of Puerto Vallarta, MX

Size: 18 000 sq ft.

Number of Rooms: 14

Sleeping Capacity: 28

Number of Terraces: 6

Pool: Private and Heated, oval shaped

Waterfalls: 2

Distance to Beach: 25 meters

Distance to Old Town: 1 mile / 1.8 km

Staff on Site: Guest Services Manager, Chef, Waiter, Housekeeper

Favorite Sayings: Carpediem y Salud!

Wifi: Free Wireless Wifi on site

Safes: All rooms have safes

T.V.: Yes

Sound System: Wireless Speakers

My favorite restaurants

1. La Palapa


2. Cocos


3. El Brujo


4. Cafe des Artistes

Perfect Spot for our Destination Wedding
My husband and I chose to celebrate our wedding with a five day trip to Casa La Villita with our friends and family - we could not have asked for a better venue or experience. We had a total of 20 friends occupying the villa, with family members staying at a nearby hotel. Fili, Victor, and the rest of the villa staff were helpful and friendly - they accommodated all of the unique needs that came with hosting our wedding at the villa, and the food and drinks they prepared were awesome (some of the best food we have ever eaten). Our group is already talking about a reunion trip next year - we would all love to come back. Morgan H.
Yoga Retreat
This beautiful villa is a real gem close to town yet far enough away for peace and tranquility. I felt at home as soon as we walked in. The accommodations, food and hospitality were fantastic, and views of the ocean, bay and hills were spectacular. We are planning to come back. Thank you Karla and your warm and attentive staff. Lorrie J.
Paradise!!!
This was a big family trip involving 16 adults and 1 child. This place is AMAZING, comfortably accommodating all of us with ease. Property is immaculate, can't ask for better staff, and location is convenient. Karla, the owner, made sure our experience was positive throughout the stay. If you are looking for a place to accommodate a large group of people, no need to look further. We'd love to return every year, but life will unfortunately get in the way!!! Ben S.
Great 30th Birthday Party Venue!
I along with my fiancé and 8 other couples spent a Thursday-Sunday at this fabulous home to celebrate my 30th birthday. The house was such a great choice for us as it was steps to the beach and had a lovely pool. The house was decorated nicely and we loved how there were so many different sitting areas and decks to relax on. The staff was beyond excellent - their cooking was amazing. On our last night, they set up cocktails on the roof at sunset and and then threw a fun birthday dinner for me complete with singing, bubbles and a piñata! Filli and the staff remained extremely attentive throughout the weekend, restocking the fridge with anything we needed. I would definitely return to this property again. Raquel R
Casa La Villita Experience, Calgary family review
Look no further as this house is fantastic in every aspect. Immaculate, impeccable service, incredible food and relaxing atmosphere. We were only able to stay 3 days but loved every minute! The photos reflect exactly what it is like. We would go again! Hails K.
Fabulous vacation
My wife and I spent a week in late February at this beautiful villa with a dozen other friends. We were able to take advantage of yoga, surfing, massage, lots of down time for reading and even a few afternoon naps. The evenings were for dinner out at a few very reasonably priced Puerto Vallarta restaurants. A funny thing happened midweek where we all collectively reached a similar conclusion. The food and staff were far superior to what was considered to be good restaurant food. We ended up eating almost all of our meals at the villa later in the week. For those of us who cannot be unconnected from work, it should be mentioned that both the internet access and speed were excellent. Also, for those not fond of an ocean experience, the large pool and surrounding area provided a lot of sun and shade. Lastly, our private suite was large and well appointed with a nice spacious bathroom and plenty of hot water. Ben, Boston
Perfect for week of Yoga and relaxation.
February escape to beautiful Casa la Vallita. We spent the week doing yoga in this perfect setting, eating wonderful fresh food, relaxing at the lovely pool and ocean access., The staff were amazing and took care of our every need. Our group hopes to return in the years to come. Bahkti, Pa
Exceeded my expectations!
Our yoga group spent a week at Casa La Villita. What a wonderful experience! It was a perfect venue for our group. We have done several yoga retreats in previous years. Casa La Villita has been the best. Private bedrooms and baths were very comfortable. Public spaces were numerous with sun and shade options. The staff was first rate. It was truly a vacation, with staff anticipating all our needs. The food was first rate and the setting was breathtaking. We did morning yoga on the roof overlooking the ocean. Evening yoga on the labyrinth..............Idyllic............. Jo, Boston
By special request, we also make arrangements for airport transfers, baby sitting, massages, mariachi bands, chauffered cars and flower delivery for that special occasion.
Safe and Secure Payments with your choice of PayPal or credit card + 4% PayPal/credit card fee
Address: Fantastic Villas
1482 E. Valley Rd. #325
Santa Barbara, CA 93108
Skype: fantastic.villas
E mail: suzy@fantasticvillas.com