HOME ALL RENTALS CONCIERGE FUN THINGS TO DO PROPERTY MANAGEMENT FAQs ABOUT US CONTACT
Mission Canyon
Santa Barabara, California
Ideal Location with Tree Top Views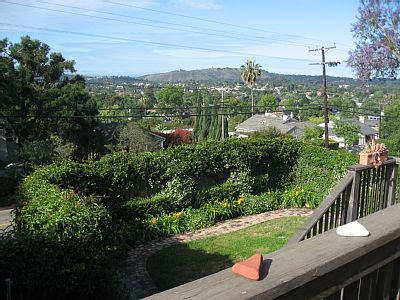 Deck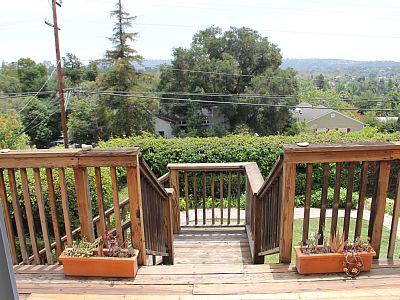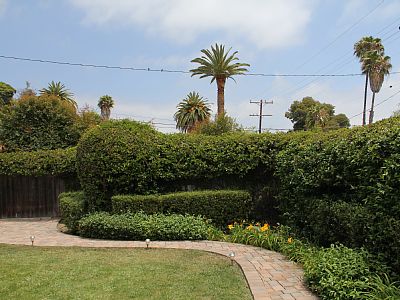 Fenced Backyard Below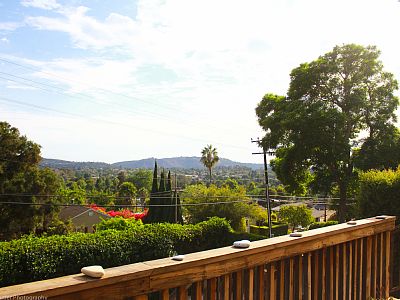 View From Deck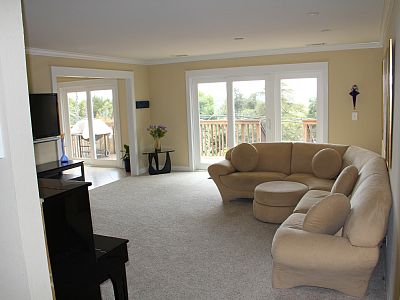 L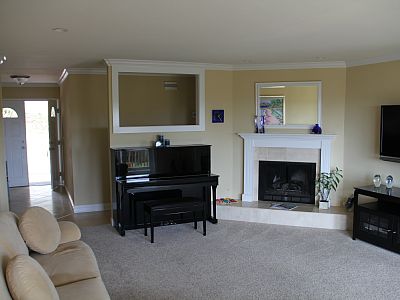 Living Room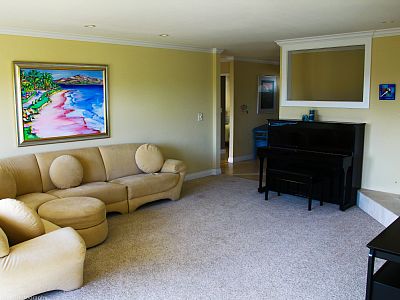 Living Room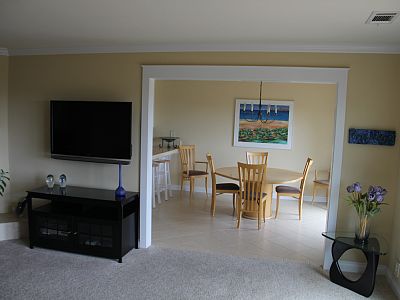 Living Room/Dining room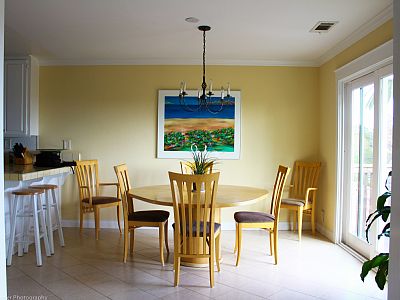 Dining Room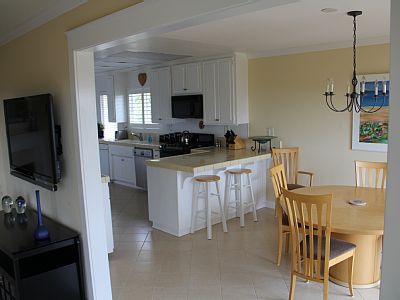 Dining Area and Kitchen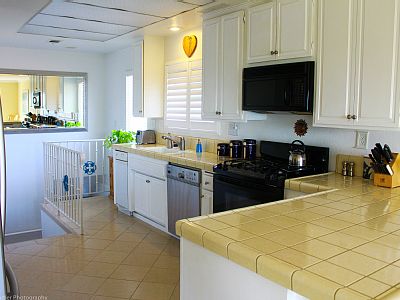 Kitchen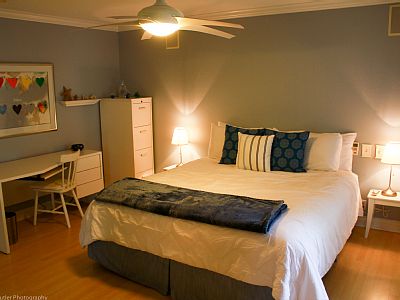 Master Bedroom King Sleep Number Bed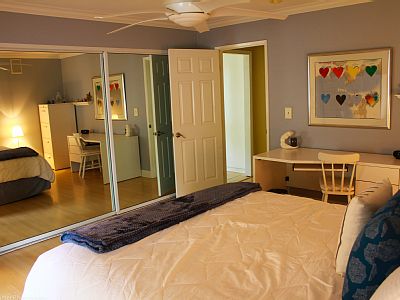 Master Bedroom King Sleep Number Bed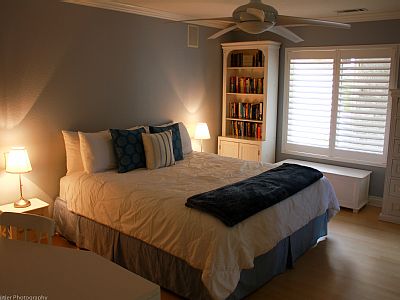 Master Bedroom King Sleep Number Bed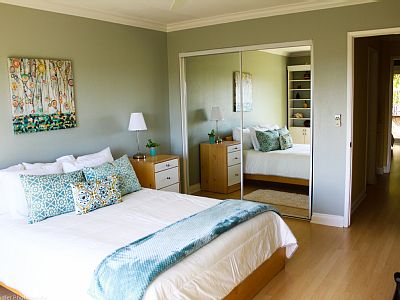 1st Guest Room Queen Bed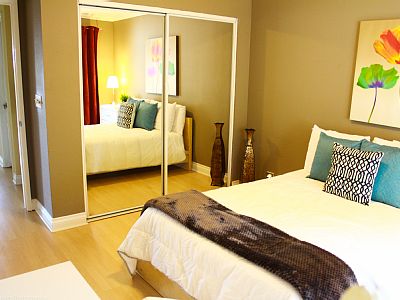 2nd Guestroom Double Bed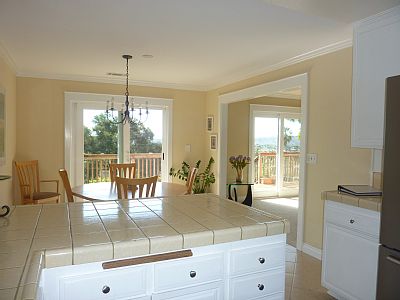 View From Kitchen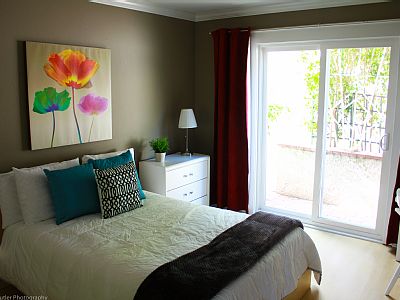 2nd Guestroom Double Bed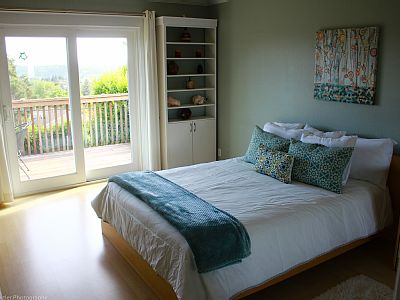 1st Guestroom Queen Bed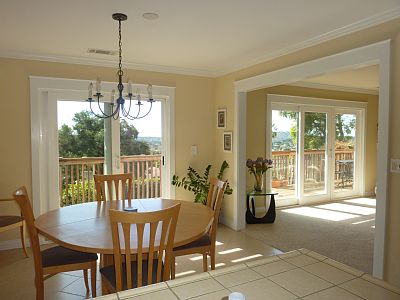 Dining Area and Living Room leading out to deck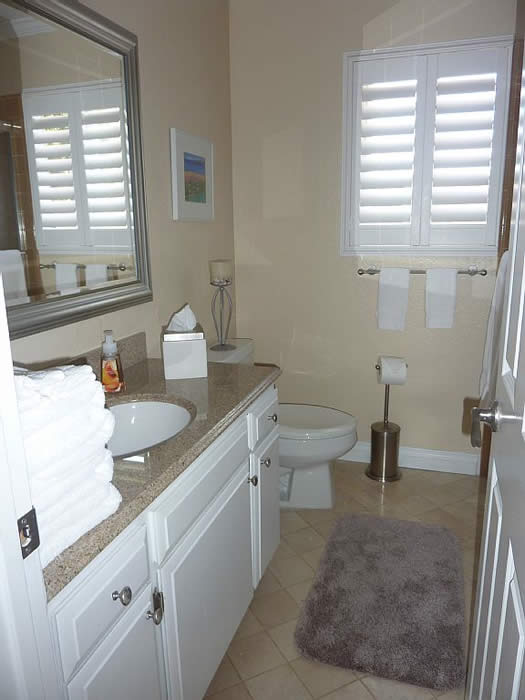 Guest Bathroom Shower/Tub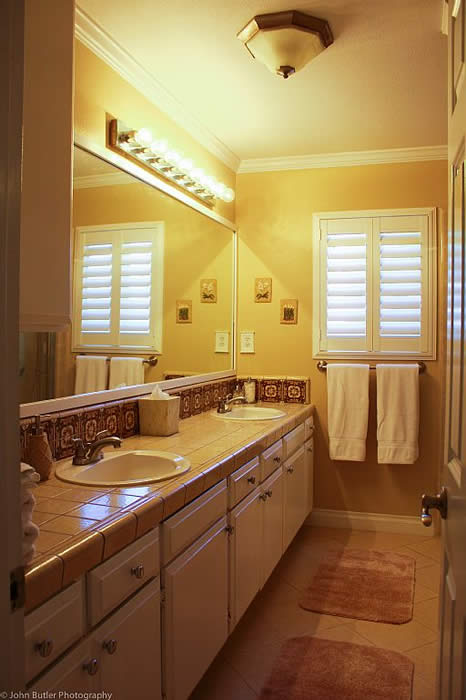 Master Bathroom Shower/Tub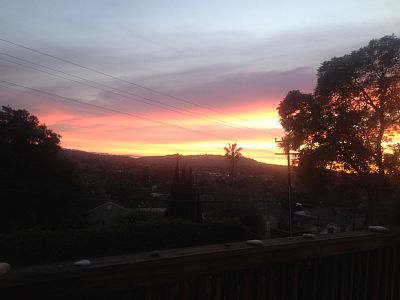 Views, Views, Views- Contemporary, Comfortable, Immaculate Santa Barbara Home, Centrally Located near Foothill Road and Alamar Street.
Attending a wedding in Santa Barbara-This is the perfect place for 2-3 couples, 6 people.
Master Bedroom with King Size Sleep Number Bed and Attached Bath with Tub/Shower. Large Guest Room with Queen Bed and Guest Room with Double Bed. Twin Aerobed availalbe. Additional Bath with tub/shower between two guest rooms. Large Redwood Deck with Landscaped, Fenced Yard Below. Gas Fireplace, Piano, Big Screen-Hi Def. TV with DVD player and selection of DVDs.
The home is a 5-10 minute drive from:
Santa Barbara Beaches-East Beach, West Beach, Leadbetter Beach and Hendry's Beach, Biltmore Butterfly Beach
Downtown, Santa Barbara Mission, Santa Barbara Botanic Garden,
Shopping-Paseo Neuevo Mall, La Cumbre Plaza Mall, La Arcada Court
Santa Barbara Zoo, Stearn's Wharf, Santa Barbara Harbor, Santa Barbara Sea Center
Museums-Santa Barbara Museum of Art, Santa Barbara Museum of Natural History, El Presidio State Historic Park
The Arlington Theatre, Santa Barbara County Bowl, The Granada Theatre, The Lobero Theatre, The Alecama Theatre, Santa Barbara Center Stage
The public golf course-Santa Barbara Community Golf Course is just minutes down the street with several other golf course options nearby including Sandpiper Golf Course, Glen Annie Golf Course and Ocean Meadows Golf Course
Enjoy nearby:
Santa Ynez Valley, Solvang, Carpinteria Beaches, U.C.S.B Lagoon, Campus Point Surfing, Santa Barbara Wine Country, Wine Tasting
Favorite Restaurants: Brophy Brother, Enterprise Fish Co., Pascuccis, Chuck's Waterfront Grill, Longboards, Beachside Bar-Cafe, Boathouse at Hendry's Beach, The Fish House
Reviews
Beautiful House
The house was well appointed and very clean. Lots of DVD's and games available. Kitchen was roomy and fully equipped.Bedrooms are full size and comfortable. Easy to get in to property, and met the owner upon check-in. He has a smaller apartment below the main house, and keeps some items in closets of main house. Beautiful deck had been recently renovated, but stairs to garden below were not complete at time of stay. Will be a great feature once completed. Overall a great spot, with views and quiet surroundings. Near Downtown, but far enough away. Views of city and Mission Santa Barbara. Some may be put off by proximity of owner, but we did not see or hear him. Mark L
Ideal location and comfortable home
My family enjoyed this home by the foothills of Santa Barbara. It is ideally located with a full balcony overlooking
tree tops, yet a short drive to the beach and to the restos and shops. other nice places like Solvang, Sta. Ynez and the
wine country of Santa Barbara and its neighboring cities/towns were all within 30 minutes or an hour's reach by car.
Lying on the bench at the entrance is a clear book with information on the home and suggestions of places to go and
things to do --this was an important detail provided by the hosts to make moving into the place for a short stay easy.
This spacious and clean 3-bedroom home is equipped with double glazed windows to shut out any external noise, and
is fully air-conditioned (a big plus in the very hot summer months like July when we were there). The rooms are equipped
with very comfortable beddings and the kitchen had all the equipment and utensils needed. All other necessities were also provided.
Parking was also available in the house. I would certainly recommend this home to others. The down side of it was that the master
bedroom and the kitchen had some of the personal belongings of the owner kept there in unlocked spaces, and it was something
extra to look out for that no one should touch these. I suggest that owner's personal belongings be kept in locked spaces for peace
of mind and ease of visitors. The owners also live in a studio right below this home, so extra consideration has to be given to keep
noise down and the centralized airconditioning temperature at a given setting. Overall, we had a very pleasant and happy stay at this
home. Mari Ines
Great Location, Beautiful Views, Accommodating Owner
We enjoyed this well-maintained property during our recent visit to Santa Barbara. Property is comfortable and in a convenient location. Perfect for our family's needs. Owner was very helpful. We were in town for a family wedding, and found this location to be ideal for wedding events (Leadbetter Beach and Elings Park). We also visited the nearby Botanic Garden. We recommend the property, and would definitely stay here again. Alice M
Spacious and welcoming
This was a great vacation house. It is large, open, comfortable and clean. The kitchen is well-stocked so cooking was easy. Great location and it was very easy to communicate with Greg. Will definitely stay here for my next Santa Barbara visit. Cynthia O
Great light-filled house
Stayed in Greg's place with two other couples and it was perfect. Besides being one of the only places I could find with three adult-size beds, the location was beautiful, overlooking the Mission and most of SB. The house itself was spacious and super clean, I really loved the deck, especially enjoying a morning coffee. The hot tub is an extra bonus! Though I did not get to meet Greg myself, he was very accommodating and easy to communicate with. HIghly recommend! Kimberley S.
Spacious & comfortable - great host
We had a great stay at this home. Everything was really spacious and even bigger than it looks in the pictures. We had two adults and four children and never felt crowded. The kitchen was really well stocked, including having spices and other basic staples. The kids loved the closet filled with board games and movies. The home also has a great, fenced in backyard so the kids could go outside and play.
The host is excellent - he was there to welcome us when we arrived, even though we came much later than planned. He gave us a tour of the house and made sure we knew he was available if we needed anything during our stay.
The location is great too - very close to the Mission and the Museum of Natural History. Karen C.
Beautiful, clean, spacious Santa Barbara home
We loved our time staying in Santa Barbara and were fortunate to have beautiful weather for the weekend. The backyard is spacious, and the deck offers awesome Santa Barbara views, especially on clear days. The home was absolutely spotless and comfortable with plenty of space for our group of 6 to stay. We loved being close to everything in Santa Barbara, and would recommend this home to a family, or group of friends who are looking to spend time together. HGD Santa Barbara
comfortable home, great view, convenient location
Greg was friendly and helpful from start to finish. This is a beautiful, light-filled, and clean home. Our group was 4 adults and 2 children. Fun to use the beach chairs, towels, and toys on our visit. Outdoor deck is great for breakfast dining. Location was convenient: short drive to restaurants, beaches, shopping. Would definitely stay here again and recommend this place to friends. Ann T.
Scenic, bright and Inviting Place to stay
Our family sure enjoyed this property and the great response and help from the owners. Many great things to see and do in and around Santa Barbara, and then end the day with some wine and games while enjoying the wonderful hilltop view of Santa Barbara. This is definitely one of our better vacation experiences and we would highly recommend this property. Well decorated to compliment the cheery atmosphere of the area. Would be our first choice if we stayed again. Brian B.
Everything was perfect!
Greg was as hospitable as can be! The place was very nice and very clean. It was perfect for our getaway, and I couldn't recommend it more. Wayland M.
Very nice property in a very good location.
We found the home just as described. It was clean and well maintained. The location was central for activities and the house was very comfortable. Greg was accommodating and served as a very good host. We would recommend the home to others as a very good place to stay for a Santa Barbara vacation. Cheryl E.
Beautiful home and gracious hosts!
This home was absolutely gorgeous! Greg and his wife think of everything to ensure you have an amazing stay. Not only was it spotless, but the linens and towels were top quality. The kitchen was stocked with every dish, pot, pan, bowl & serving platter you could ever want, plus we had access to a very well stocked pantry. We didn't have any children in our party, but if you were traveling with children there was a closet full of games and videos to keep the kids entertained. The deck has an amazing view and we really enjoyed having our morning coffee there. Also, the location was perfect for us, close to grocery stores, the fairgrounds, and shopping. Our hosts include a notebook with information about Santa Barbara and recommendations for local restaurants which we found very useful. Thank you for such an enjoyable stay! Barbara H.
Spacious, light filled home in a residential area
Good home for a family visiting Santa Barbara. Full kitchen and dining area makes it convenient for eating in. We chose this home because it was close to the hotel where the wedding we attended was being held. We enjoyed being up on the hill and above the city. Marjorie A.
excellent place to stay
greg was very nice and accommodating. the house was very clean and matched all the pictures. he left a lot of information on places to eat and visit which was a big help. I would definitely recommend this house to anyone looking in the santa barbara area Colleen E.
Excellent Rental - Highly Recommended
My family and I had a great time at Greg's place. It had everything we could ever need in the kitchen, including pots, pans, cups, mugs, plates, bowls, and dish washer. The excellent heating system kept the house warm, especially with the sudden cold weather. Beds were very comfortable and there were plenty of bathroom amenities (towels, hotel sized shampoo and soap, even kids toys for the bath!). The house had plenty of space for all of us and overall was very clean and well-maintained.
The house is also very conveniently located close to shopping centers, grocery stores, and downtown SB. My favorite places nearby were the FOUR supermarkets (Gelson's, Wholefoods, Vons, Albertsons), Chic-fil-a, and Old Mission Santa Barbara! We never had to drive more than few minutes on local streets to get to our destination.
Greg was also a pleasure to work with throughout the rental process. He was quick to respond with emails, phone calls, contracts, you name it.
What was especially awesome was what happened on our way home. By the time we realized we forgot something at the house and called Greg, he was already at the post office sending it back to our home in San Francisco!
It was a pleasure working with Greg and a wonderful stay. Highly recommended!
Fantastic Vacation Home!
Me and some friends rented this home while in town for a wedding and we had amazing time. The property was very nice and well-maintained.
The location was perfect, being nestled in a cute neighborhood away from the hustle & bustle, yet just a short drive to State St. and the beach.
The owner, Greg, was very friendly & helpful. He even took the time to mail a bridesmaid gift that was left at the house back to me after I returned home.
I would definitely recommend this property!
General:
Air Conditioning
Clothes Dryer
Fireplace
Hair Dryer
Heating
Internet
Iron & Board
Linens Provided
Living Room
Parking
Towels Provided
Washing Machine
Kitchen:
Coffee Maker
Dishes & Utensils
Dishwasher
Kitchen
Microwave
Oven
Pantry Items
Refrigerator
Stove
Toaster
Dining:
Bathrooms:
2 Bathrooms
Bathroom 1 - toilet , combination tub/shower
Bathroom 2 - toilet , combination tub/shower

Bedrooms:
3 Bedrooms, Sleeps 6
Bedroom 1 - 1 king
Bedroom 2 - 1 double
Bedroom 3 - 1 queen

Entertainment:
Books
DVD Player
Games
Music Library
Satellite / Cable
Stereo
Television
Video Library
Outside:
Suitability:
Long-term Renters Welcome
children welcome
non smoking only
pets not allowed
Attractions:
botanical garden
churches
cinemas
coin laundry
festivals
library
live theater
marina
museums
playground
restaurants
synagogues
winery tours
zoo
Leisure Activities:
beachcombing
bird watching
gambling casinos
horseback riding
horseshoes
photography
scenic drives
sight seeing
walking
whale watching
Local Services & Businesses:
ATM/bank
fitness center
groceries
hospital
laundromat
massage therapist
medical services
Sports & Adventure Activities:
cycling
deepsea fishing
equestrian events
fishing
golf
hiking
ice skating
jet skiing
mountain climbing
pier fishing
sailing
scuba diving or snorkeling
snorkeling
surfing
swimming
tennis
wind-surfing
Notes: Amenities * Central Air Conditioning * Washer * Dryer * Linens Provided * Off Street Parking * Gas Fireplace Beds * King Bed * Queen Bed * Double Bed * Twin Aerobed Entertainment * Cable/HD TV * DVD * Video Library * CD Player * Stereo System * Music Library Kitchen * Full Kitchen * Cooking Utensils Provided * Refrigerator * Dishwasher * Microwave * Ice Maker Outdoor Features * Gas/Electric BBQ Grill * Deck/Patio * Balcony * Fenced Yard Communications * WiFi (Wireless Internet)
Rate
450 USD/night
Safe and Secure Payments with your choice of PayPal or credit card + 4% PayPal/credit card fee, checks.
Address: Fantastic Villas
1482 East Valley Road #325
Santa Barbara, CA 93108
Skype: fantastic.villas
E-mail: suzy@fantasticvillas.com