HOME ALL RENTALS CONCIERGE FUN THINGS TO DO PROPERTY MANAGEMENT FAQs ABOUT US CONTACT
MONTECITO HIDEAWAY
Montecito, California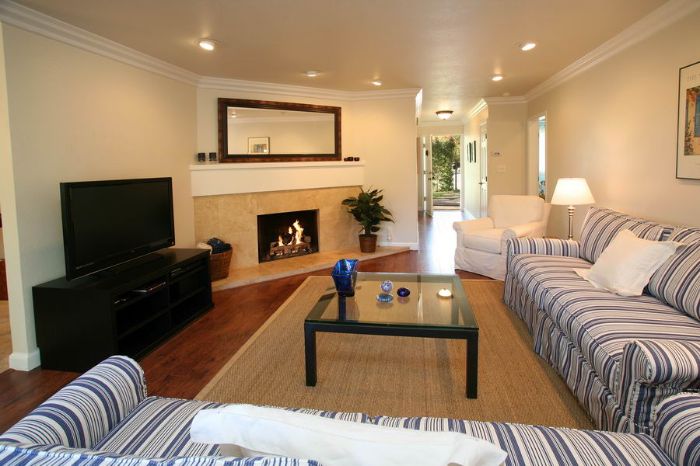 Dining Room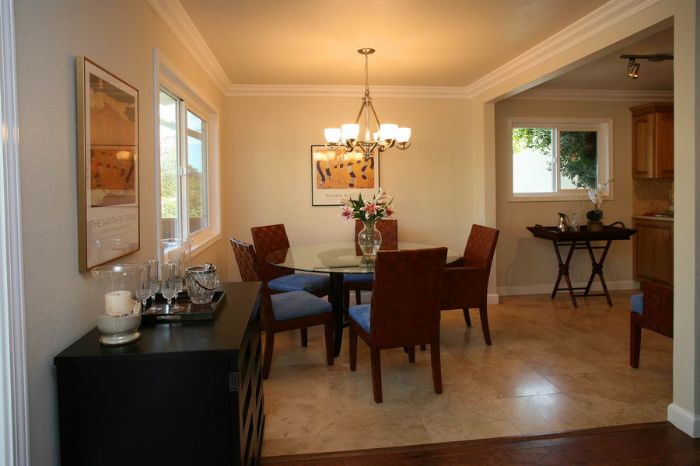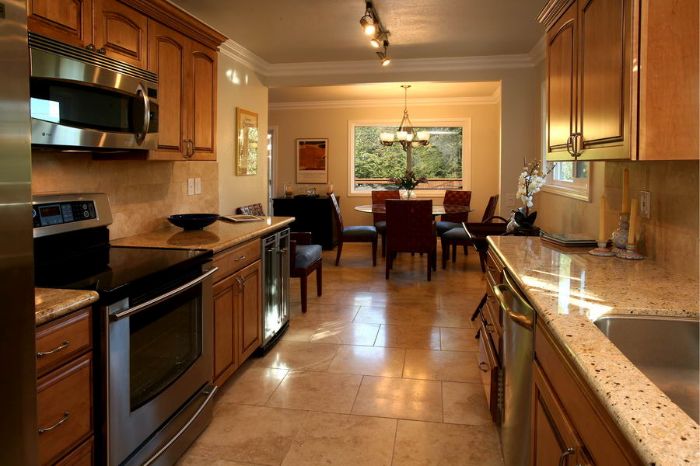 Bedroom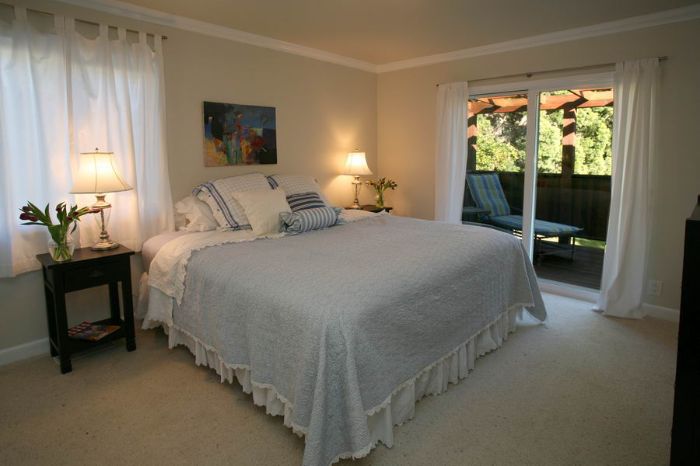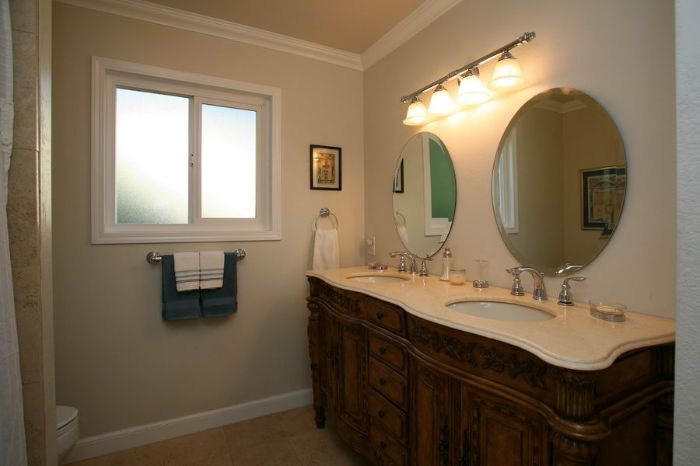 Day Room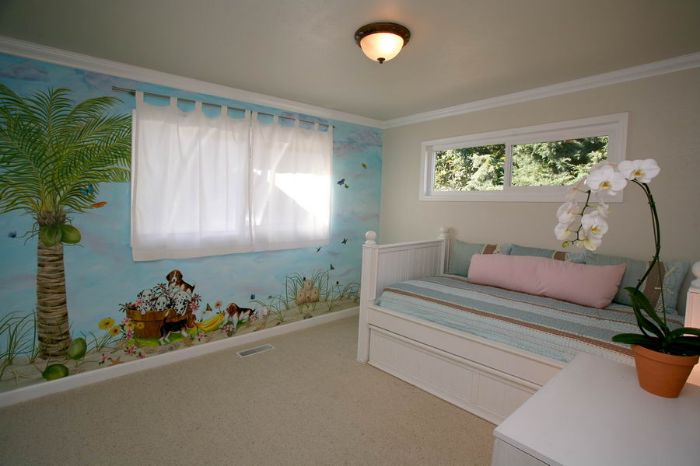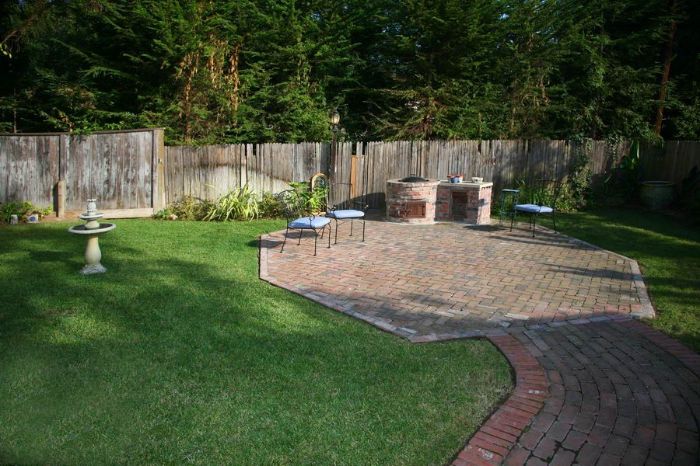 Barbecue on the patio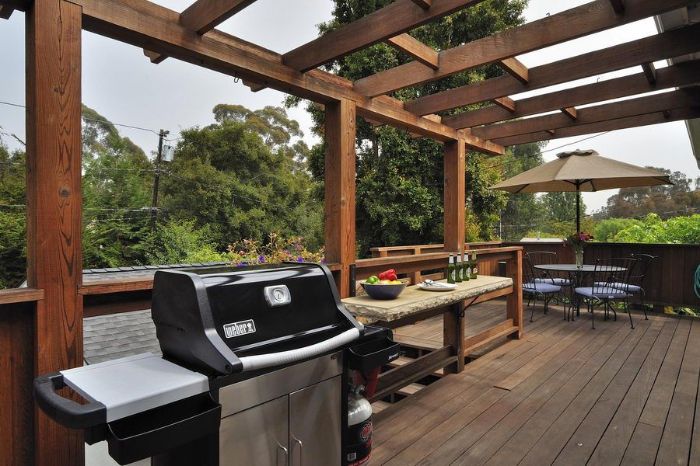 Description of this 3 Bedroom Villa in Montecito
It's a great family beach getaway in Santa Barbara. The lovely Montecito villa is a short walk from the beach, local restaurants and boutiques. This charming villa is newly remodeled and furnished, offering a fantastic taste of Montecito living. Enjoy a truly relaxing beach vacation in this inviting beach villa.

The master suite offers a king size bed and ensuite bath. A second guest room has a king size bed with glass doors leading out to the deck. A third bedroom has a trundle bed and a beautiful hand painted mural that kids and adults alike will enjoy.

The deck just outside the living room offers outdoor seating and a lovely space to enjoy the sunshine. A short flight of stairs leads down to the private backyard area, complete with grass and a bricked BBQ area. There is also a 2 car garage available for your use.
REVIEWS
Beautiful Cottage in Montecito Lower Village
We stayed here for a month over the summer and loved every minute of it! Walking distance of fantastic restaurants (definitely try Cava, Sakana Sushi, and Tre Lune), shopping, groceries, and less than a half mile walk to Butterfly Beach. The house is beautifully updated with hardwood floors (other than the bedrooms which are carpeted), an update kitchen (with granite/stainless steel), and an excellent washer and dryer. The house was fully stocked with everything we could possibly need for the summer. Highly recommend and we hope to return again!
Beautiful Cottage in Montecito Lower Village
We stayed here for a month over the summer and loved every minute of it! Walking distance of fantastic restaurants (definitely try Cava, Sakana Sushi, and Tre Lune), shopping, groceries, and less than a half mile walk to Butterfly Beach. The house is beautifully updated with hardwood floors (other than the bedrooms which are carpeted), an update kitchen (with granite/stainless steel), and an excellent washer and dryer. The house was fully stocked with everything we could possibly need for the summer. Highly recommend and we hope to return again! Kevin
3 Bed/2 bath in Montecito

We stayed here with our 4-year-old son recently. We found a nice basket of snacks and a bottle of wine on the table when we arrived. We were happy to find the home was very clean and as described, with a graciously-furnished kitchen. Everything we needed --- from good quality glasses, dishes, and silverware to wine glasses, cooking utensils and mixing bowls -- was available. I even found birthday candles in the "everything" drawer. Stainless appliances were newer and in good condition. Bathrooms were also well-appointed with good quality towels, soap and shampoo. The bedrooms were attractive with nice linens as well. My son loved the puppy mural in the kids room, and he found several age-appropriate games in the closets. (We could have left ours at home.) He also enjoyed learning ping pong at the table in the garage. The house was a comfortable size with a large round dining table for family meals. Out back and down the driveway was a nice grassy area. The beach was a truly short walk away: down Butterfly, across the street to the passage under the freeway and you're on the small stretch of neighborhood leading to the shore. We also enjoyed biking just up the road at the bird refuge. I think what we liked most was that the home was surrounded by trees and plant life from nearly every window and door. It made for a lovely view from the living and dining areas, and especially on the back deck where there was a table with umbrella. We were also happy to find a good working internet connection and printer, which helped us buy some advance tickets for attractions.We appreciated the books featuring local restaurants, attractions, and points of interest -- a very nice touch. The owner was very easy to communicate with, and her attention to detail was refreshing. We truly enjoyed our stay. Thanks! Laura A.

Loved every minute of our stay in this sparkling, super comfortable home; outstanding location!

My husband and I spent a fun week here with our adult daughter over the Thanksgiving holiday. The entire house is newly renovated, sunny, and sparkling clean, with a beautiful, well-supplied kitchen and cute "beachy" living room with big comfy sofas. We spent hours just hanging out in the living room and wandering out to sit on the sunny deck overlooking the trees. The layout was perfect for us, with the bedrooms on opposite sides of the house, each with its own large bathroom, affording everyone plenty of space and privacy. The beds are luxurious and comfortable, and there is also a charming child's bedroom which we didn't use. We especially loved the location. The house is in a nice neighborhood just off Coast Village Road, which is the very pretty main street of Montecito. We walked to Butterfly Beach (the most beautiful in Santa Barbara), to the grocery store, Starbucks, and all sorts of good restaurants. The property exceeded our expectations in every way. We felt it was a great bargain and recommend it without qualification. Kathryn, San Francisco
Rate
$450/night
10% tax
security deposit $500
Safe and Secure Payments with your choice of PayPal or credit card + 4% PayPal/credit card fee, checks
Address: Fantastic Villas
1482 East Valley Road #325
Santa Barbara, CA 93108
Skype: fantastic.villas
E-mail: suzy@fantasticvillas.com