HOME ALL RENTALS CONCIERGE FUN THINGS TO DO PROPERTY MANAGEMENT FAQs ABOUT US CONTACT
Montecito 5 bedroom/4 bathroom one level close to beach, sleeps 12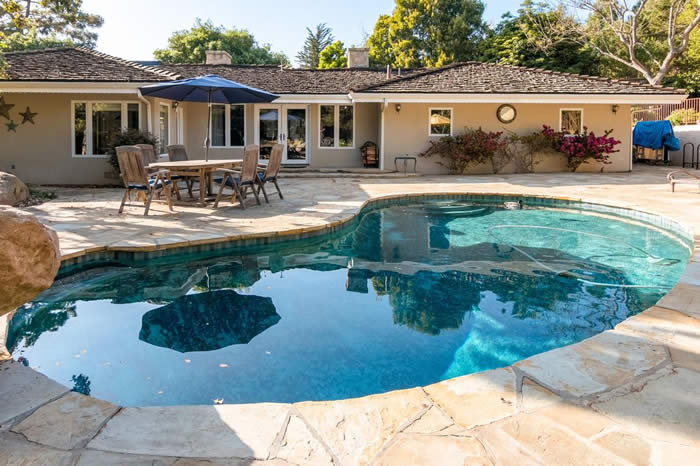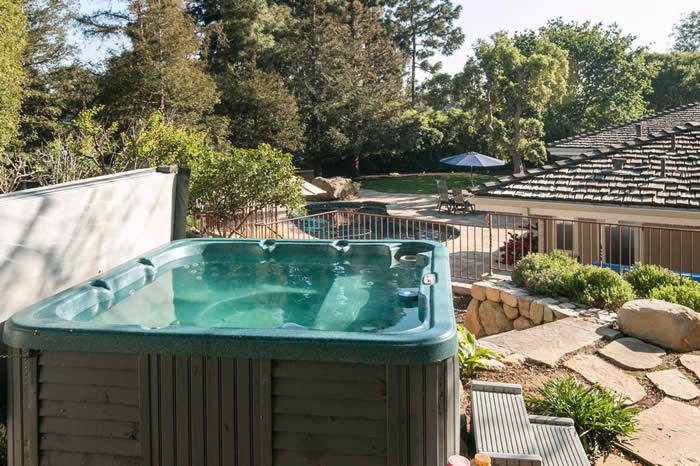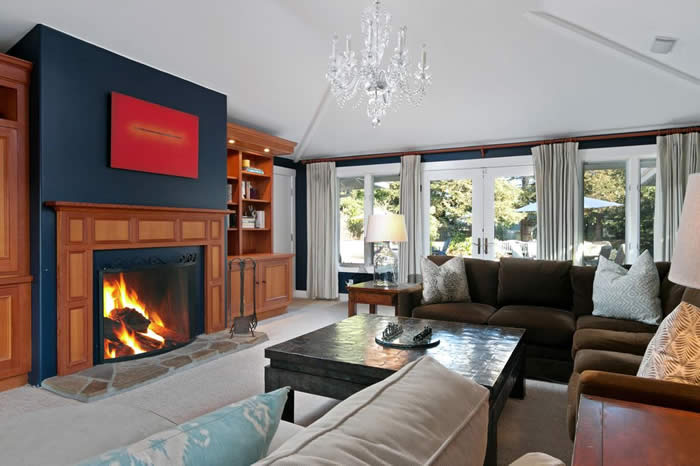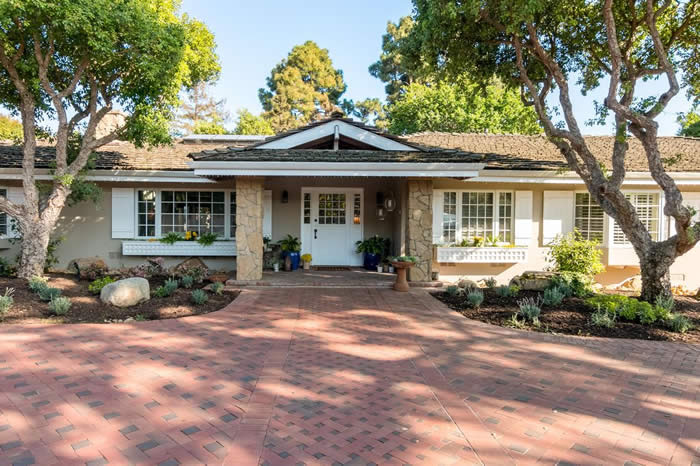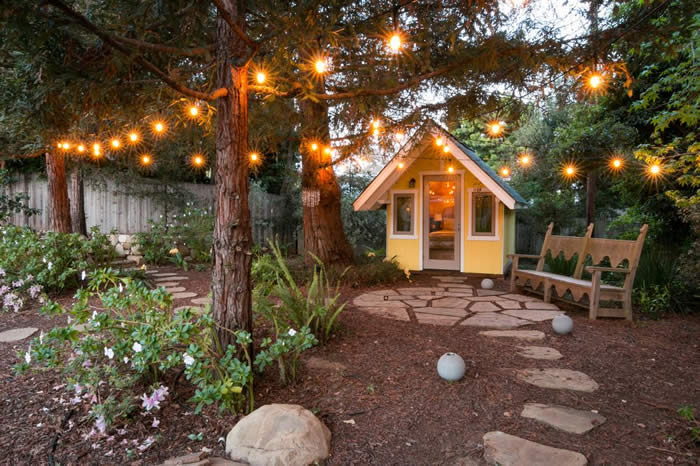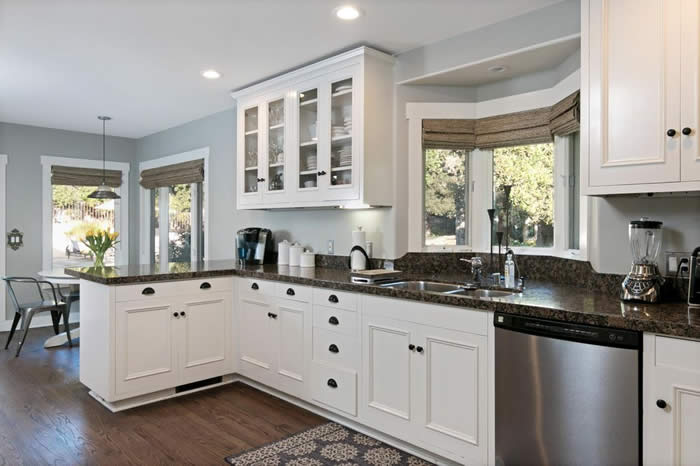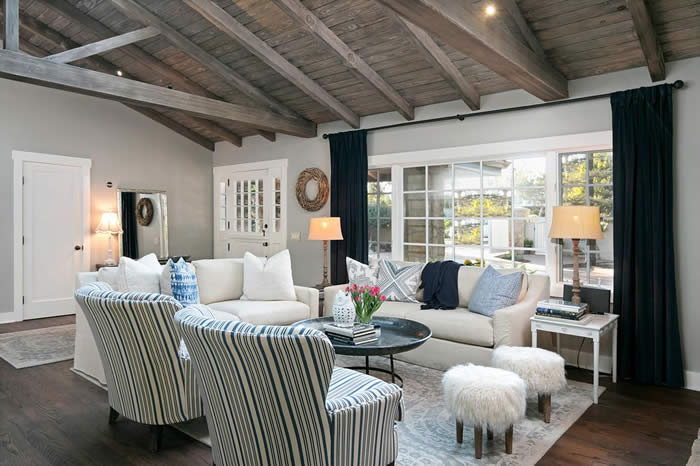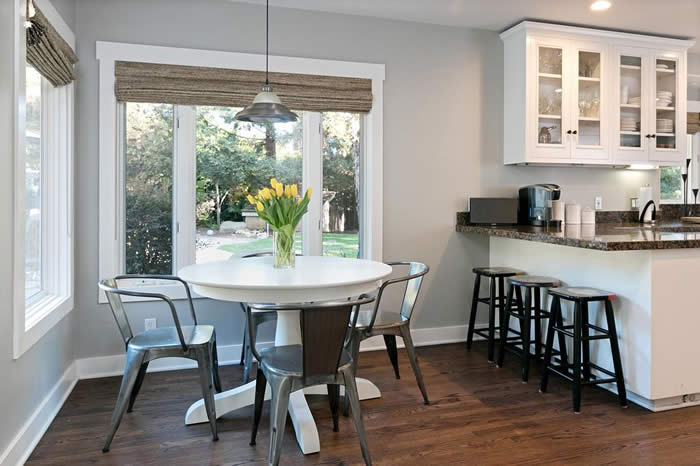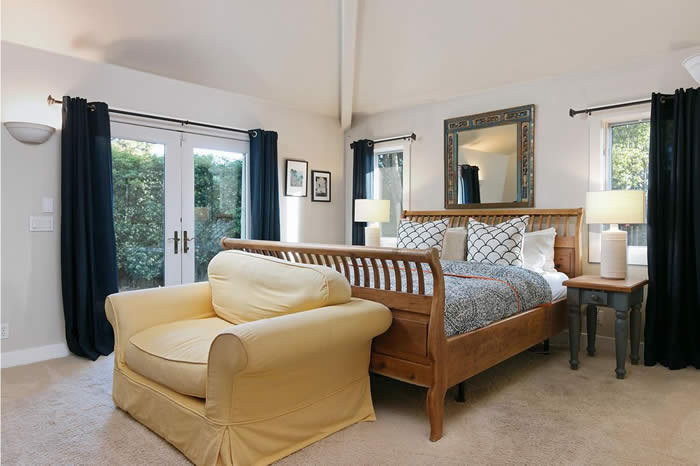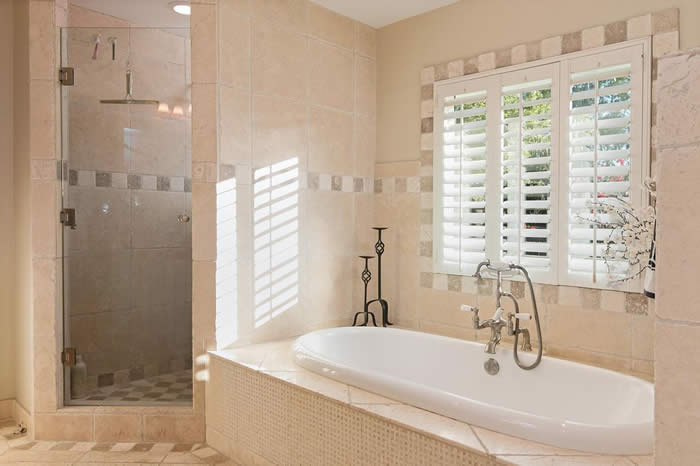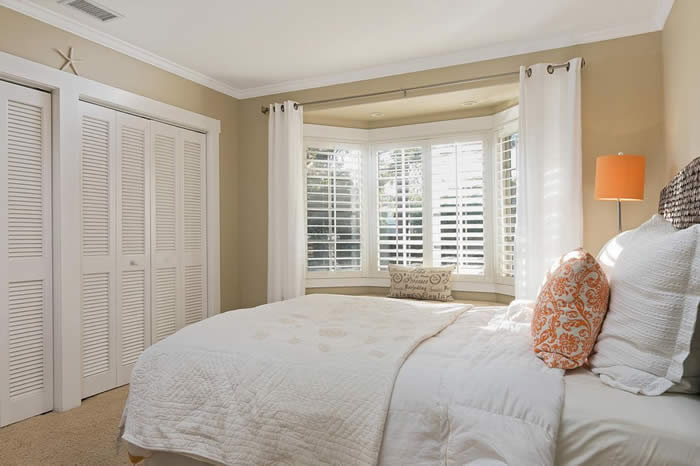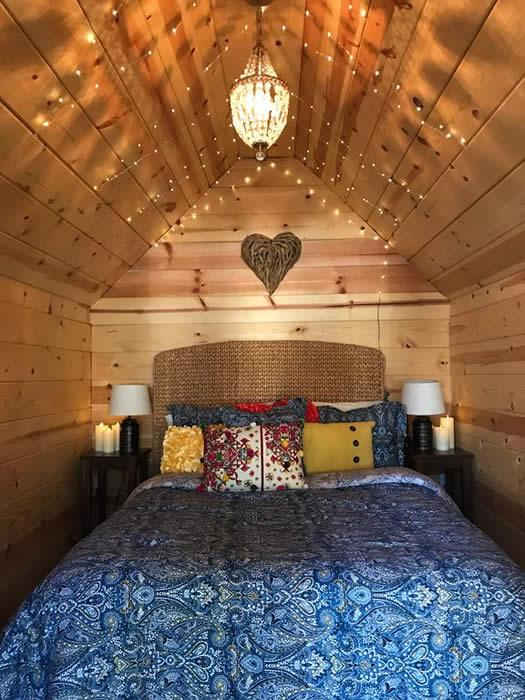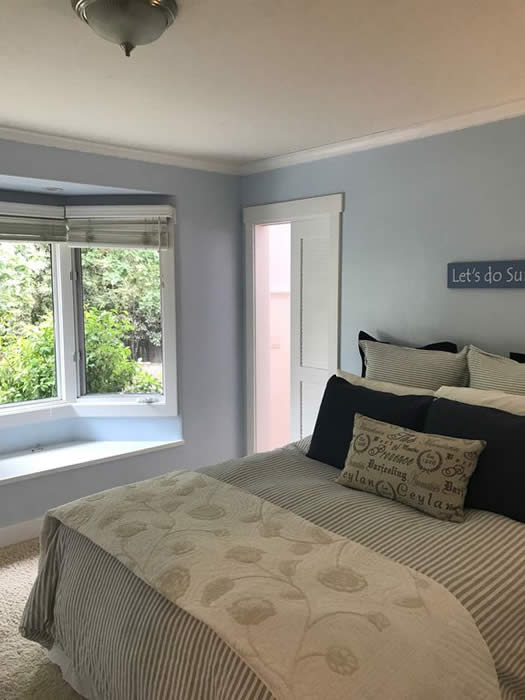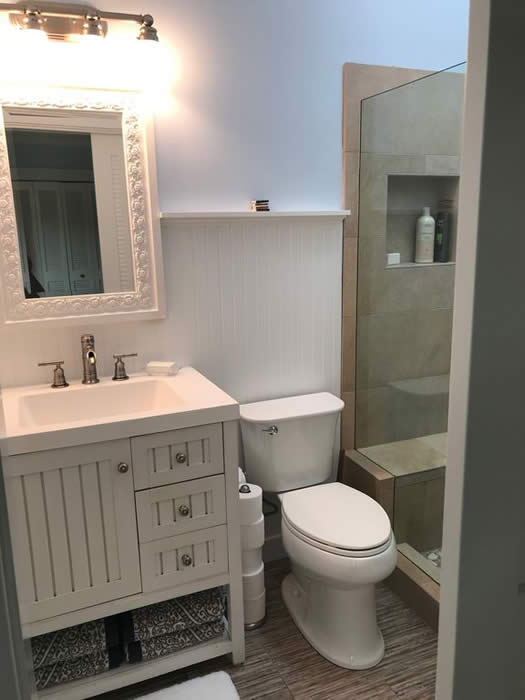 5 bedroom/4 bathroom one level close to beach, sleeps 12
This is a five bedroom, four bath home on a private cul de sac in Montecito. The gated entry and completely enclosed yard make this property very private and the perfect home for the family with kids. Your kids will love being here, there is so much for them to do. Inside there are three bedrooms plus a large master bedroom with master bathroom. There is also a detached one room cottage with TV and mini refrigerator. This has a double bed
The kitchen looks out onto the gardens and pool area.
The den is the most desirable room in this home. Always bright and centered right in the hub of everything. Double doors open up to the pool area and almost make you feel like you are outside. The den has a large TV, DVD player. The living room is very comfortable with carpeting. There are wood floors throughout, high beamed ceilings and a gas fireplace.
Beautiful Kitchen with fur cabinets and granite countertops. Top and of the line appliances. Everything you will need to feel right at home. Dining room and counter area off of kitchen. Two doors leading outside, one to the pool area and the other to the outside patio area and BBQ. Pool area has Table and chairs with umbrellas. Laundry Room has MayTag front loading washer and dryer, sink and lots of cabinets.
Bedroom 1
king
Master bedroom has attached bathroom
Bedroom 2
queenThis bedroom has a queen bed and an attached bathroom/shower
Bedroom 3
queen
Bedroom 4
queen · twin/ single (2) · baby crib
outside cottage
queen · doubleThis bedroom is outside by the pool. Has TV and mini-refridge
Fabulous Montecito House for our Family Reunion group
5/5 Stayed Jul 2019Joy T.Oregon

This is the 2nd Family reunion we've held at this location in Montecito/Santa Barbara. The previous reunion we rented the house across the street (VRBO 110017). This reunion we were able to rent BOTH houses which allowed our entire group. Our group has grown over the years and it was fabulous to be able to accommodate our group and be steps away from each other. Both homes have amazing yards and community spaces inside the homes. It was like a luxury resort as we had choices of pool, jacuzzi, bocce ball, ping pong, basketball, corn hole, outside fireplace, card playing, puzzles, and very large kitchens with plenty of space for eating. Julie, the owner of both houses, was always responsive with our questions. We also found plenty to do in the Santa Barbara area especially hanging at our favorite beach that was a pleasant 1 mile morning walk from the house. Our group also did so many more activities in Santa Barbara including beer and wine tasting, bike riding, hiking, Stearns Pier, boat ride, Zoo, visiting the Mission, and long walks on the beach. We loved the houses so much though that many days we just hung out at the houses together all day long. We absolutely love these homes for our family reunions.
Home Away From Home
5/5 Stayed Jul 2019Kimberly K.

Spent an amazing week in this beautiful comfortable home for a mini family reunion. It's walking distance from cute shops and restaurants in coast village, the beach and Vons. The backyard is gorgeous with a glorious pool. Would highly recommend this vacation rental.
As advertised. Excellent location and very comfortable house.
5/5 Stayed May 2018Richard K.

As advertised. Excellent location and comfortable house. Well laid out; nice furnishings. Complete CATV package. Well supplied kitchen and baths. The fact that the property is gated, with a security access code required to drive onto the property, is a nice touch. As an additional "plus", this is one of the few rentals we have ever had where the pool was actually heating warm enough.
Excellent Wedding Weekend
5/5 Stayed Oct 2011Stryker S.

The house is perfect and has all the amenities.... We are already planning a trip back next summer! Thank you Palm Tree Properties!

Best,

Stryker Scales
Perfect family vacation!
5/5 Stayed Oct 2011Theresa I.Los Altos, CA

Thank you, Julie. We came to Santa Barbara with all our children and grandchildren to attend a friends wedding. We could not have asked for better weather or a nicer place to stay. The house was so roomy and well laid out, that there was plenty of space for all of us... especially once we discovered where the other bathroon was...Everyone loved the pool and the s'mores and guitar around the firepit in the evenings. The kitchen was very well equiped. I loved those orange bowls and glasses. We all wished we could have stayed longer... and we all want to come back. Thanks again.
Thank you
5/5 Stayed May 2011Nayla S.Southern California

It was wonderful to stay in your house, the inviting charm inside out has won us over and we will definitely come back . I have stayed in many vacation rentals, yours in on top of my recommendation list for whomever wants subtle luxury and relaxation. Again, thank you for sharing your home with us.
Perfect place for visiting family
5/5 Stayed May 2011pstadelSanta Barbara, CA

My family stayed here for a long weekend while in town for my wedding. It's the perfect location, close to grocery stores, the beach, and downtown Santa Barbara but feels very secluded and private. It was great for my 5 year old nephew who spent lots of time in the pool and had plenty of room to run around and play. The house is beautifully laid out to provide privacy for those who want it and great gathering spaces for spending time together. The kitchen was stocked with everything we needed and we even enjoyed fresh fruit from some of the fruit trees on the property. The fresh flowers throughout the house made it feel extra special. Julie was wonderful to work with and we'll definitely be coming back!
April 2001
5/5 Stayed Apr 2011Sepi V.Hillsborough,ca

We stayed at this property with our two daughters two weeks ago and we loved it!!!!!

the place is so serene and quiet. the pool was wonderful our girls could not get enough of it. I was so impressed with the kitchen it was stacked with top of the line dishes, pots and........

this place is a walking distance to grocery,shops and a short distance to the beach.

rooms were nicely furnished and comfortable. I do highly recomend staying at this property

july was very helpful through the whole process. we would stay again at this property.
Awesome Girls Weekend!
5/5 Stayed Feb 2011

We stayed at this beautiful property for a long weekend in February. It was an amazing house with a really comfortable atmosphere. When we arrived the house was perfectly clean with candles lit and the fireplace burning. We wish the weather would have been a little nicer, but we had a GREAT house to stay warm in. The house was located near a grocery story and about 10 minutes from downtown Santa Barbara. The only problem with this place was the fact we had to leave. I can't wait to return in the future.
The O'Gorman Family, San Clemente CA
5/5 Stayed Oct 2010Heather O.San Clemente, CA

We rented the home for a long weekend for our son's wedding. The home was absolutely perfect for us...I can't express how much we enjoyed this beautiful home, we were lucky enough to have a warm weekend for March, we would love to go again and stay during the warm summer months. The house would be a perfect place to rent for the holiday season, you could have a large family gathering with all the space.

The location was perfect for us as we could easily get to the stores, beach and shopping...

Hope to see you guys again soon. Great having you.

By special request, we also make arrangements for airport transfers, baby sitting, massages, mariachi bands chauffered cars and flower delivery for that special occasion.


Safe and Secure Payments with your choice of PayPal or credit card + 4% PayPal/credit card fee, checks and wire transfers also accepted.

Rate; $1,200/night

Address: Fantastic Villas

1482 East Valley Road #325

Santa Barbara, CA 93108

Skype: fantastic.villas

E-mail: suzy@fantasticvillas.com