HOME ALL RENTALS CONCIERGE FUN THINGS TO DO PROPERTY MANAGEMENT FAQs ABOUT US CONTACT
Olive Mill Cottage
Montecito, California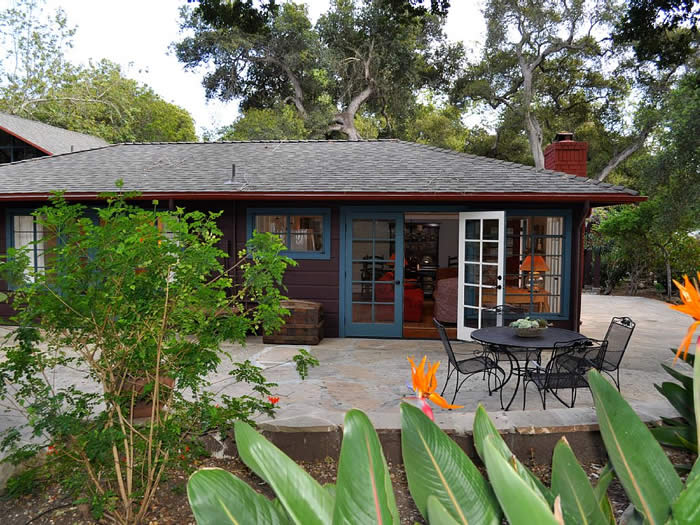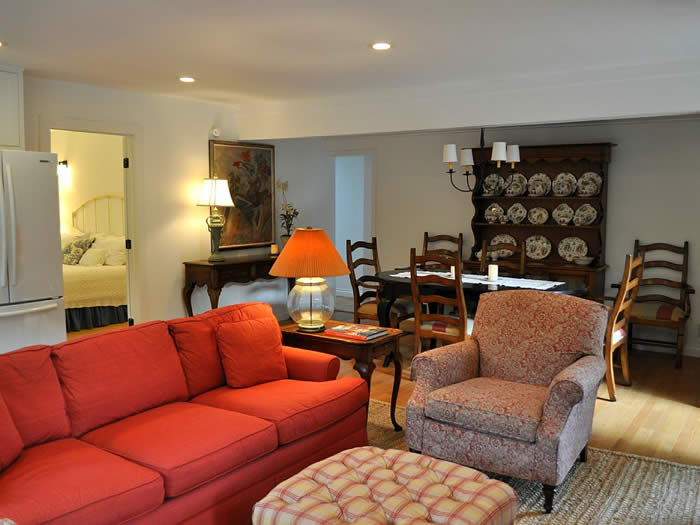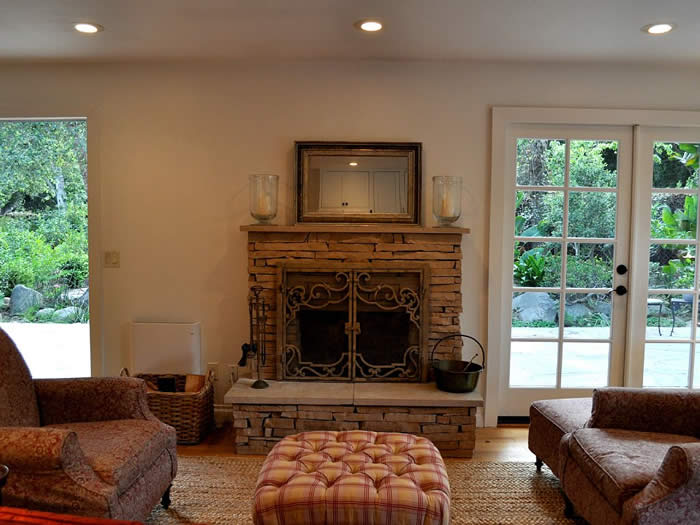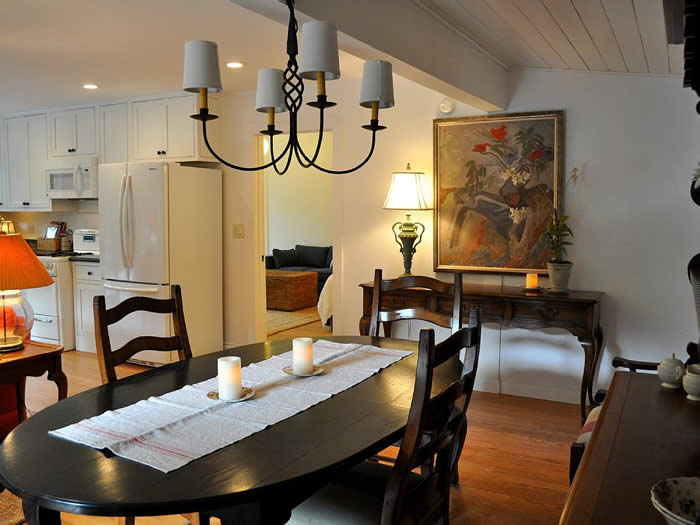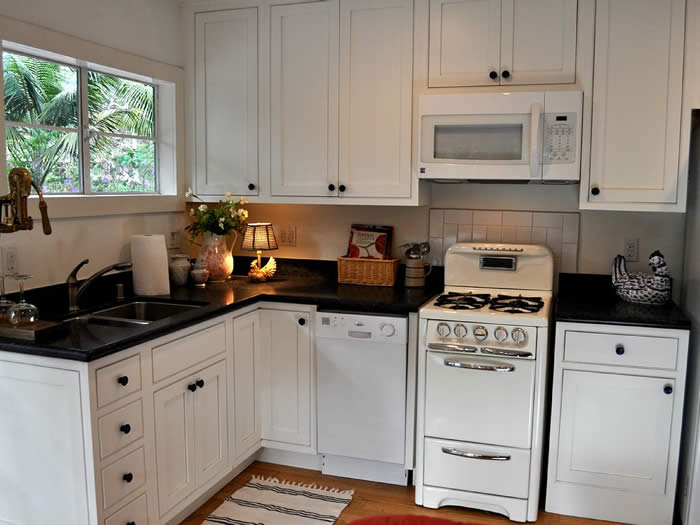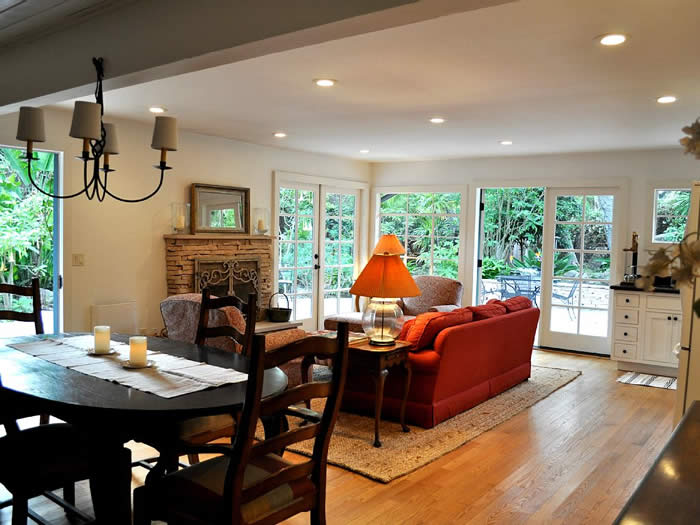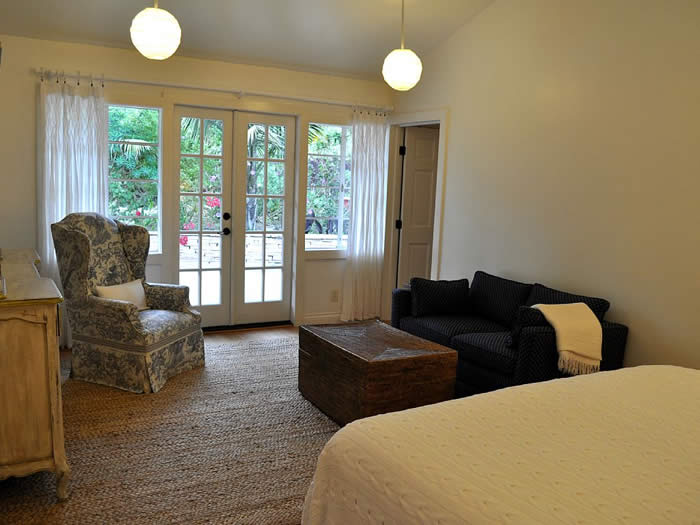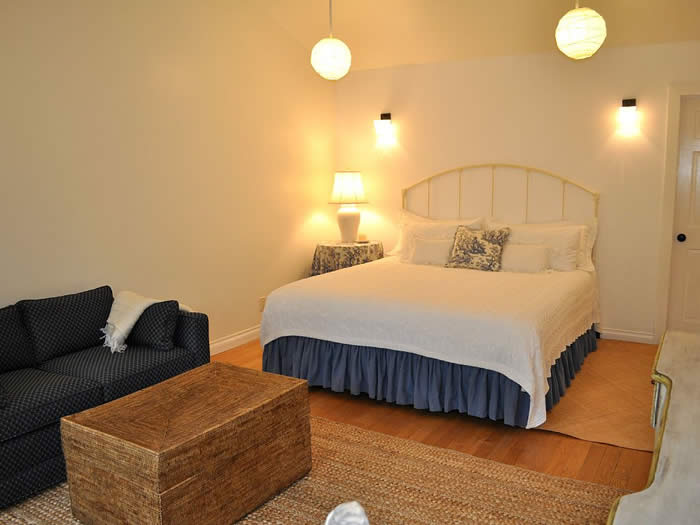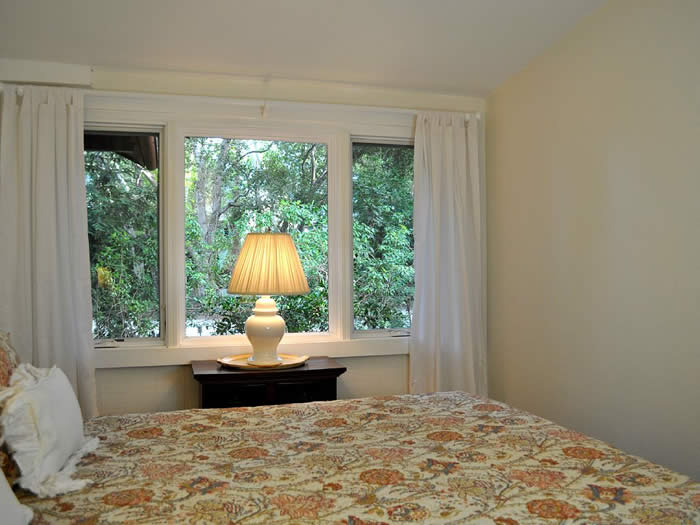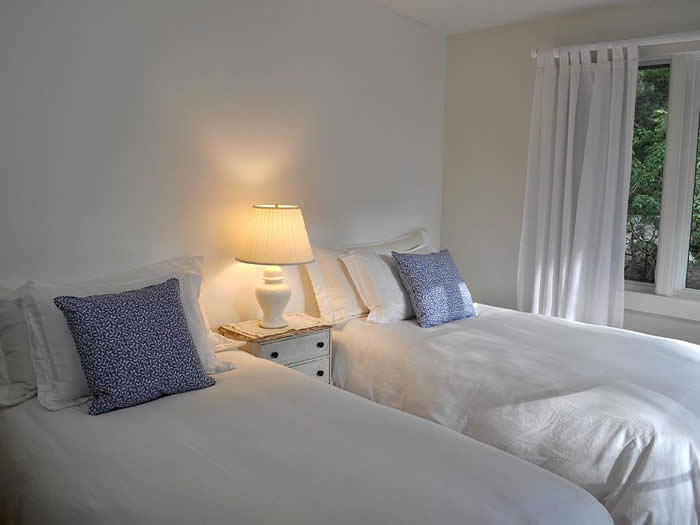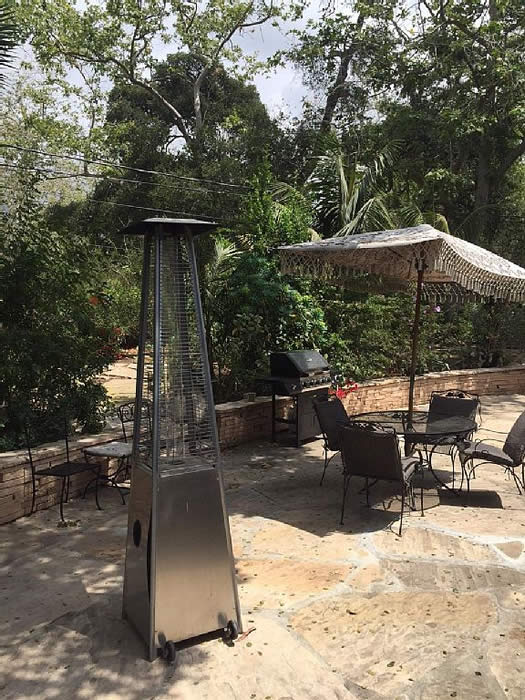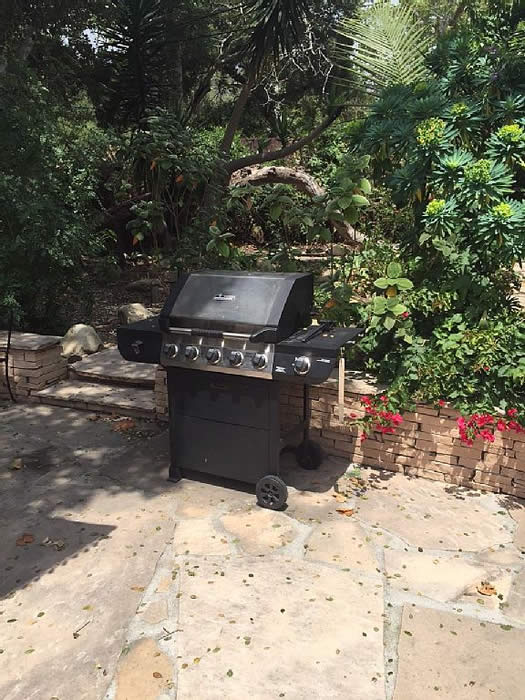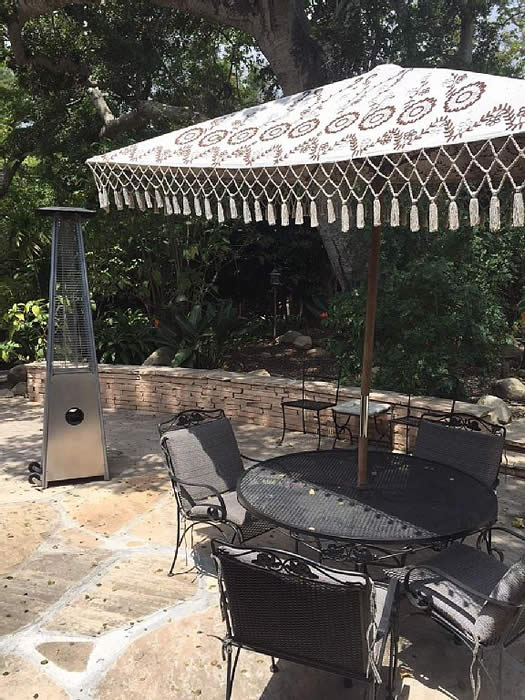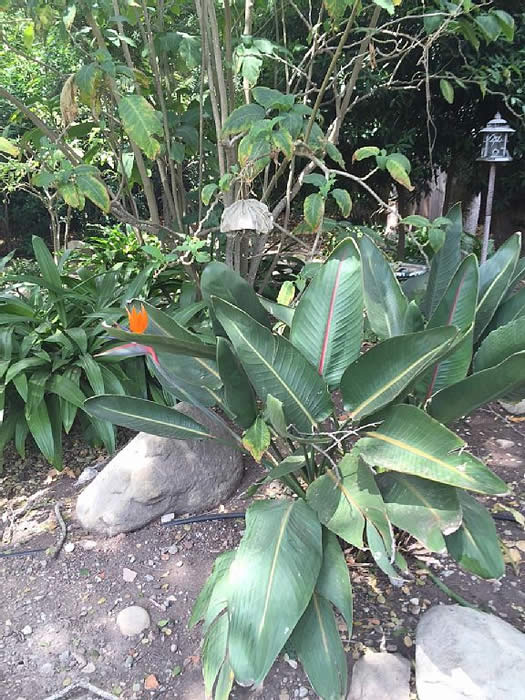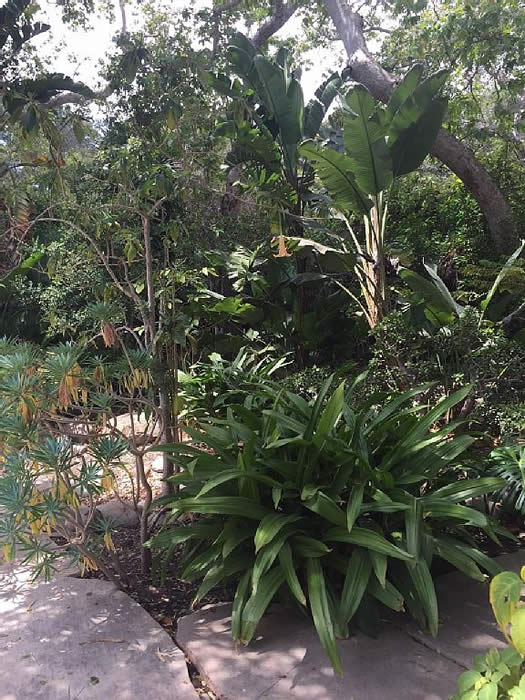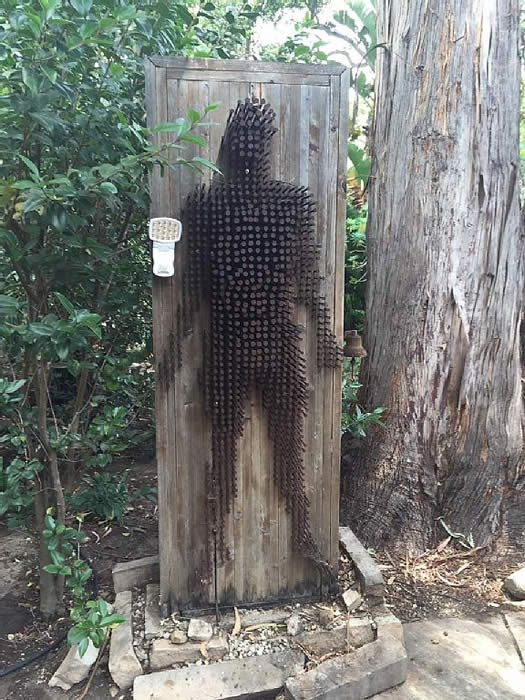 This charming Montecito hideaway offers the perfect ambiance to relax and enjoy all that Montecito has to offer. With three* bedrooms (*third bedroom access through 2nd bedroom)and two bathrooms, this property is perfect for a romantic weekend hideaway or a California seaside vacation. This beautifully furnished home features tons of natural light, with access to outdoor patios from each room. Mature exterior landscaping with walking paths, allow you to enjoy dinners al fresco on the large outdoor terrace or a romantic evening in the front of the fireplace. Close to Montecito's upper and lower village, this home is perfect for your next vacation.
A warm and cozy atmosphere, find fresh linens and towels, a fireplace in the living room & flat screen TV. Flat screen TV in master bedroom with own private bathroom. Private area perfect for reading, sunbathing or conversation. Open kitchen makes for a great entertaining environment, while you look out at the garden.
Now is the time to plan an escape from the hectic and slip into a romantic retreat located in one of the most beautiful cities in America. Superb hiking, biking and beaches coupled with unparalleled shopping and dining are all available only a stone's throw away from this delightful cottage.
Bathrooms:
2 Bathrooms
Bathroom 1 - toilet , combination tub/shower
Bathroom 2 - toilet , shower

Bedrooms:
3 Bedrooms, Sleeps 8
Bedroom 1 - 1 king
Bedroom 3 - 2 twin/ single
Bedroom 2 - 1 king

Suitability:
children welcome
limited accessibility
non smoking only
pets considered
REVIEWS
Charming and cozy cottage
We came to celebrate our son's graduation from Westmont College. This wonderful cottage was the perfect location for family and friends to gather. The kitchen, though small, was more than adequate to prepare delicious meals for our guests. Full sized refrigerator was extremely helpful. The patio and garden were a beautiful spot for wine and appetizers. (We even squeezed in a Mother's Day breakfast surrounded by the lush garden.) Evening's concluded by the fire under the stars. Beds were comfy and bathrooms were well-appointed. Our teenagers loved that they could walk to the beach. We knew in advance to bring additional towels and larger kitchen pots and pans for cooking. The kitchen has more than enough supplies for smaller, informal trips. We would not hesitate to book this cottage again for future getaways or maybe a Westmont reunion. Robert, our host, was always available for questions and willing to work out special requests. Many thanks to him for helping to make our special weekend so memorable. Jeff B.
Perfect getaway
We were celebrating our son's college graduation and this beautiful cottage was the perfect home base for our family gathering. Cozy and comfortable. Outside patio was great for evening wine and appetizers and brunch. Robert (owner) was a wonderful host and mindful of our needs. Many thanks for making this past weekend so d Percival.
ABSOLUTE OASIS
First off Skyline Mngt was nothing short of a joy to work with. They went out of their way to make our stay a memorable one.
When you stay somewhere for only 3 days and relax more than some place else for 2 weeks you know your coming back.
The beach, sea life, food and super friendly people and not mention to some WORLD class shopping practically outside your door. Thank you Olive Mill Cottage. Sincerely Jerry and Family Jerry M.
Montecito Cottage Escape!!
Came here for my friends 30th bday.
Upon arrival, you understand that this is much bigger than any cottage property. In fact, the cottage is surrounded by a lush garden, and lots of room to spread out.
The house itself, is pretty much as it seems in the pictures and description. My girlfriend and I had the master, and it was an awesome room with plenty of space;it even has an attached shower and door that opens into the backyard.
Also, the location is perfect. 0.4 miles away from town, and a 6-7 min Uber to state st!
Things I would change if I could:
1. Beds are pretty stiff, but suffice.
2. Kitchen isn't as big as you think, and could use more glassware and supplies (I.e. Paper towels)
3. House could have more stocked toiletries and towels etc.
Other than that, the place was amazing, and I would highly recommend.
All in all, it was a great weekend! Mike D.
Private and Charming Cottage
My girlfriends and I rented the cottage for a weekend getaway and it was just what we were looking for! The house was spacious yet cozy and slept 6 of us very comfortably. The outdoor area was private and beautifully landscaped and offered a great place to hang out during the day and at night. Robert was very attentive and was a pleasure to rent from. Jillian C.
Perfect location. Awesome garden.
We stayed at The Cottage for a weekend with my mom, my in-laws, my husband and our infant son. There was plenty of room that we never felt on top of each other. The gardens are awesome. If our little one had been walking we know he would have spent hours out there playing. The beds were very comfortable, and the cottage was very, very clean. The location was ideal for us - super close to Butterfly beach, walkable to downtown Montecito, and minutes from central Santa Barbara.
To reiterate other reviews, the lighting from the parking area to the cottage is very bad. When it's dark, you cannot see anything, so a flashlight or phone light is essential. Also, to note, there are limited towels and no extra toilet paper - nothing a quick stop at the store couldn't fix.
Property management was VERY EASY and pleasant to work with. We would rent from them again. Amy C.
Private yet convenient
We were two couples looking for a comfortable retreat to serve as a base for exploring California's Central coast and we found it in the cottage at Olive Mill. Located in exclusive Montecito, the cottage was a half mile from beautiful Butterfly beach where we saw two wedding parties posing for sunset photos (they were married at the adjacent Four seasons Biltmore).Roughly 30-40 minutes from Solvang and other quaint towns that offer winetasting and a mere 5 minutes to the heart of Santa Barbara, we found it to be a perfect location. A shopping center nearby housed a Vons market as well as some of the best homemade ice cream we've ever tasted. The cottage has a private garden where we enjoyed breakfast al fresco surrounded by birds of paradise blooming despite the drought. A thoughtfully placed propane heater allowed us to sit outside in the evening chill. The cottage was perfect for 2 couples with the bedrooms sufficiently separated to allow for privacy. When it warmed up, we opened the two sets of french doors in the living room to allow a comfortable breeze ( the house is not air conditioned). The kitchen provided everything we needed to cook breakfast and dinner. The decor is fresh California cottage and the house was immaculate upon arrival. The mattresses were very comfortable as was the living room furniture. As the cottage abuts a busy road, there is noise from passing traffic but nothing that couldn't be drowned out by playing music while sitting in the garden. There are no screens on the doors or windows so we did have to remove some bug guests who wandered indoors. We would definitely rent the cottage on Olive Mill again and Robert couldn't have been nicer in providing guidance on how much time to allow to get to LAX on time. Merceds T.
charming respite
wonderful setting, comfortable beds, homey ambience, beautiful grounds, and nice eateries close by. Wish list: better outdoor lighting, enclosed grounds for kids and pets (but the foliage is amazing), and Olive Mill can be high traffic at times, but would stay again! Property management was very easy to work with. Kristina K
Great cottage!
This cottage was lovely, and was relaxing for myself and my elderly parents and my 12 year old golden retriever, where we met for a short vacation together. The "large room" contained the kitchen, living room, and a large dining table that would seat 6 to 8, was comfortable for the three of us and my 80# golden. The Wi-Fi worked great which allowed me to handle some business emergencies very quickly during the week. The propane gas grill was used each night, with some of the great fresh fish and beef sold at local butcher and fish shops. The outside gardens are great, with flagstone walking paths and patio to enjoy the garden and greenery, still beautiful even with the severe water rationing in this area because of the serious drought. The house is in an easy location - on Olive Mill Road and less than 1/2 a mile from Coast Village Road and Butterfly Beach, where you can walk on the beach (with your dog!) or above the beach on the sidewalk/road if you don't like sand. Santa Barbara is right down the road, and downtown/Stern Wharf is a 5-10 minute drive. The owners providded 2 bikes, though I did not have an opportunity to ride them. Though the house is right off of Olive Mill Road, and you can hear the traffic at times, the house was quiet and there was no traffic noise at night. I slept with the french doors open all week which was a treat. The small Wedgewood gas stove and oven was more than large enough to prepare meals for three, and the house is fully stocked. (Though a toaster would have been nice). Both bathrooms are nice, with great shower heads and water pressure. The beds were comfortable, linens soft and luxurious. The bath towels plentiful. Though the listing identifies a DVD, one was not available during our stay. My only critical comments are that there should be more kitchen towels and cleaning towels available, but more importantly, the outdoor lighting should be better; the walk from the gravel driveway through the gate to the patio/front door of the cottage at night was a challenge after the sun went down for all of us. The trip was wonderful: I traveled from Humboldt County; my parents from Orange County. We all loved "The Cottage." I would return! Denise M.
Charming, Spacious and Luxurious
We stayed for 5 glorious days at this lovely home. Everything was great about this experience. The garden is majestic and the house is very comfortable and clean. Beds are very cozy and the decor is very Montecito. We had a great/easy experience booking this house and upon our arrival, the vrbo agent was kindly waiting for us with keys and presented the house well. All of the necessities were already provided which was really nice. The beds are very comfortable and everything new and fresh. Easy access to Butterfly beach and Montecito village. A special thank you to the renter to gave us a parting gift and to vrbo for being very friendly and accommodating. Best priced house for the value in Montecito. We have been staying here with our family for years and this was the best house that we have stayed at. Very spacious and the garden felt like we were in Kauai. Thanks VRBO! Bay Area family
RATE
425 USD/night
Safe and Secure Payments with your choice of PayPal or credit card + 4% PayPal/credit card fee
Address: Fantastic Villas
1482 East Valley Road #325
Santa Barbara, CA 93108
Skype: fantastic.villas
E-mail: suzy@fantasticvillas.com