Santa Barbara Estate
Santa Barbara, California
HOME ALL RENTALS FUN THINGS TO DO PROPERTY MANAGEMENT FAQs TRAVEL TIPS ABOUT US CONTACT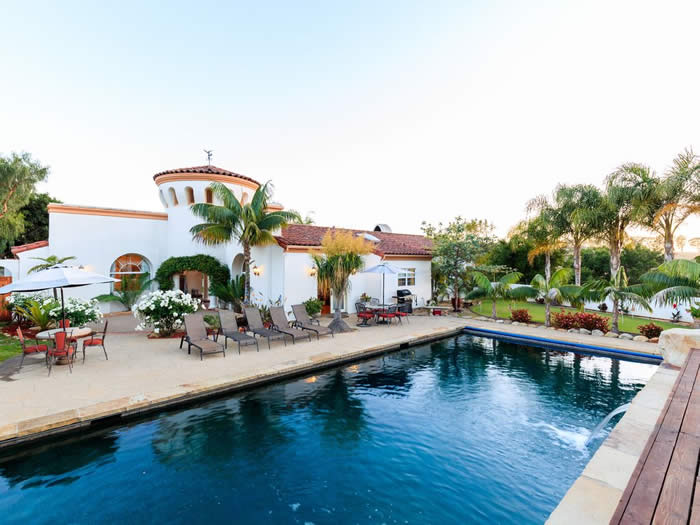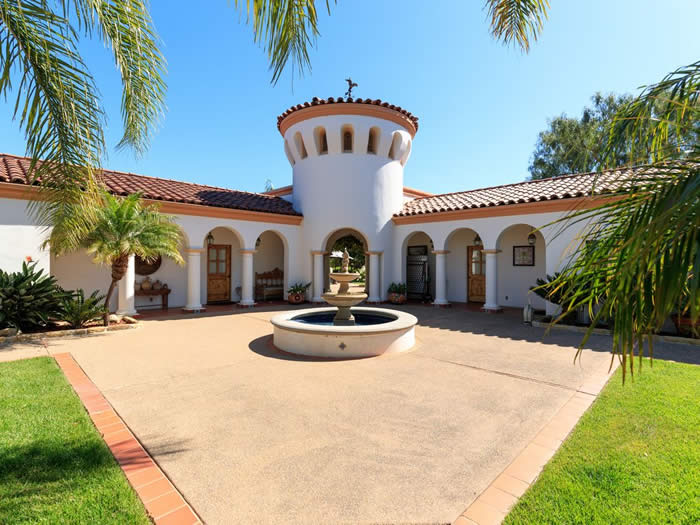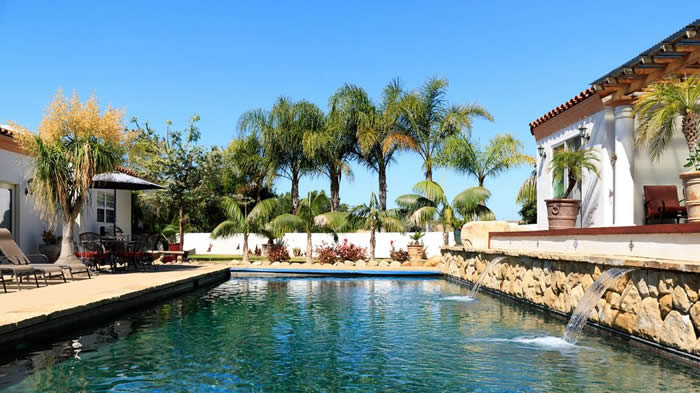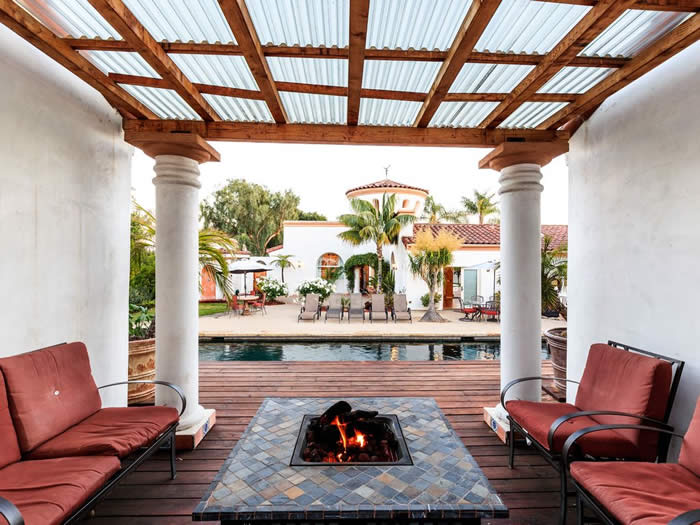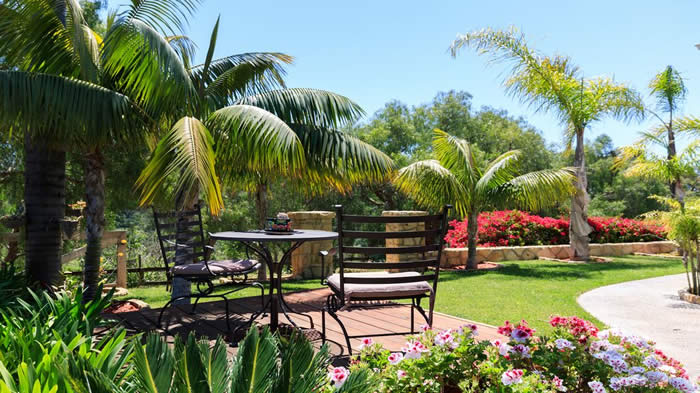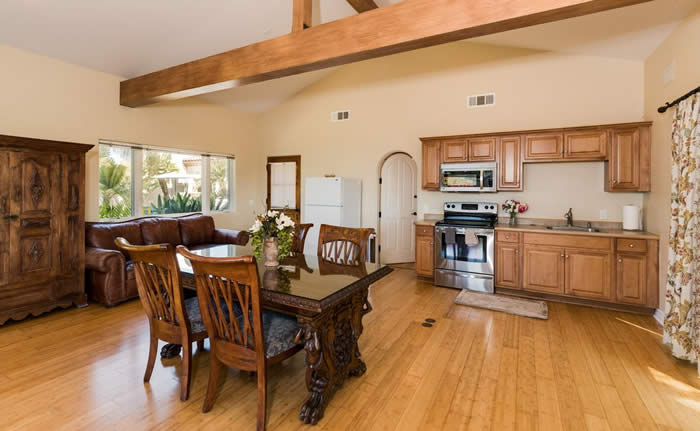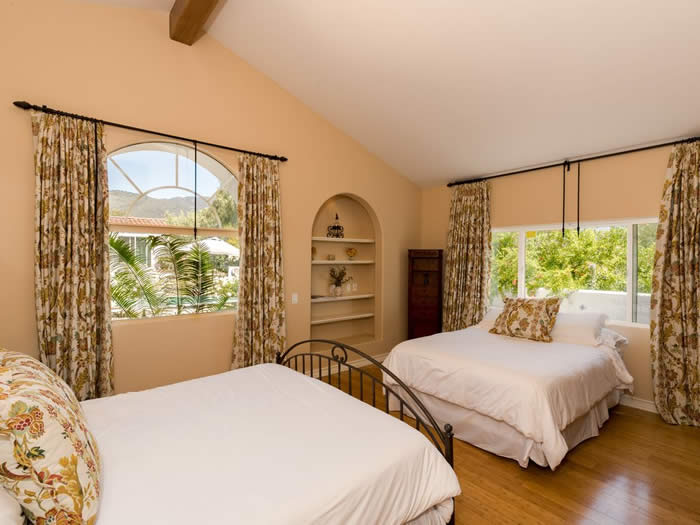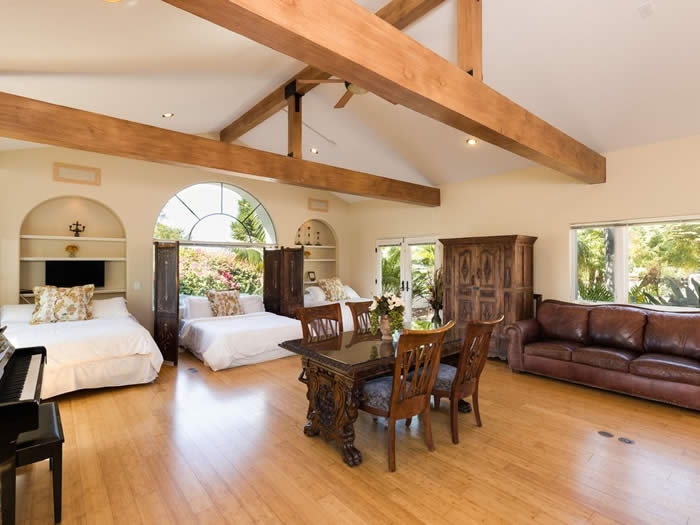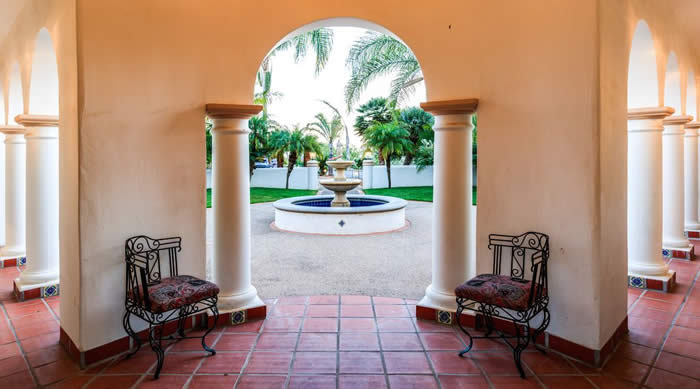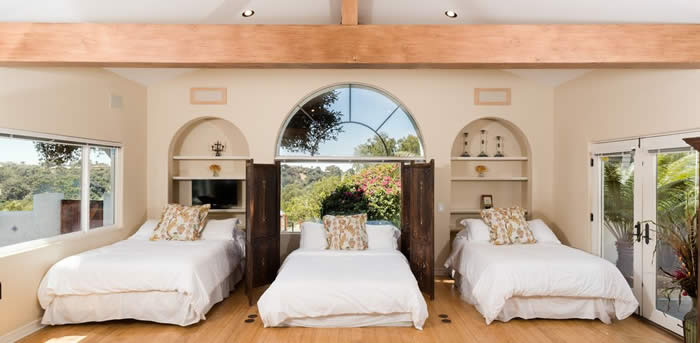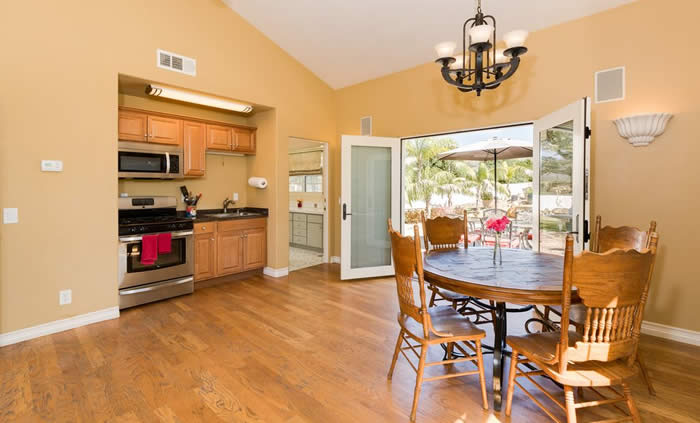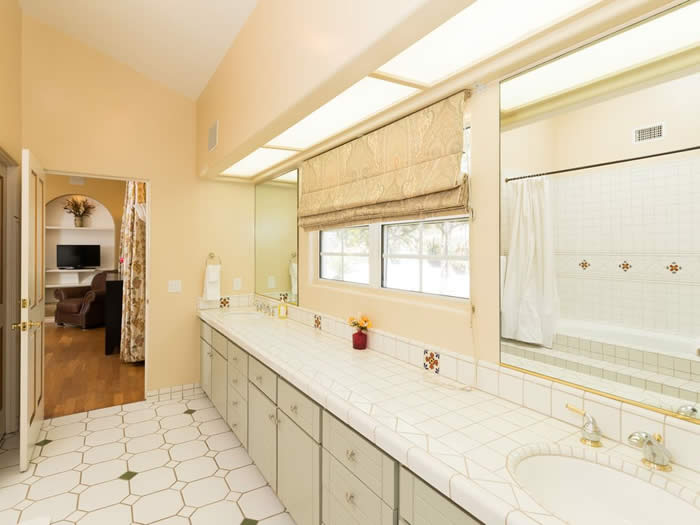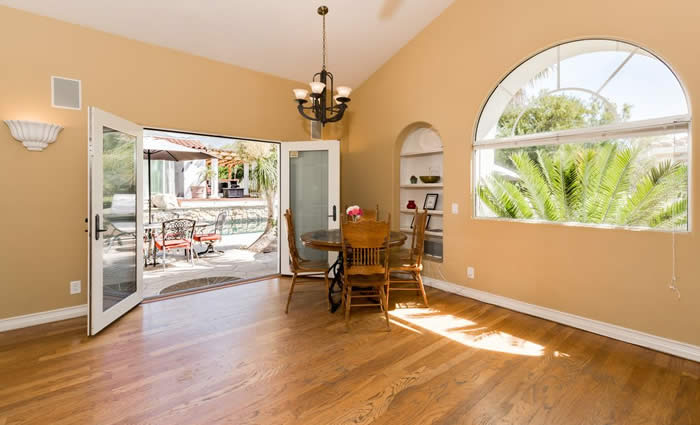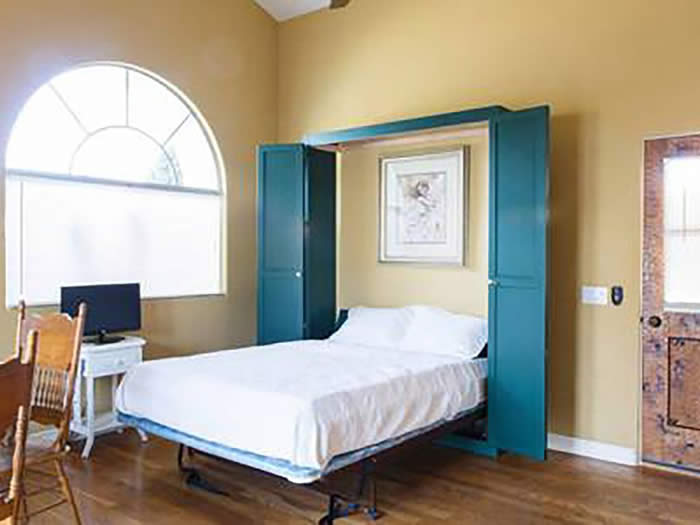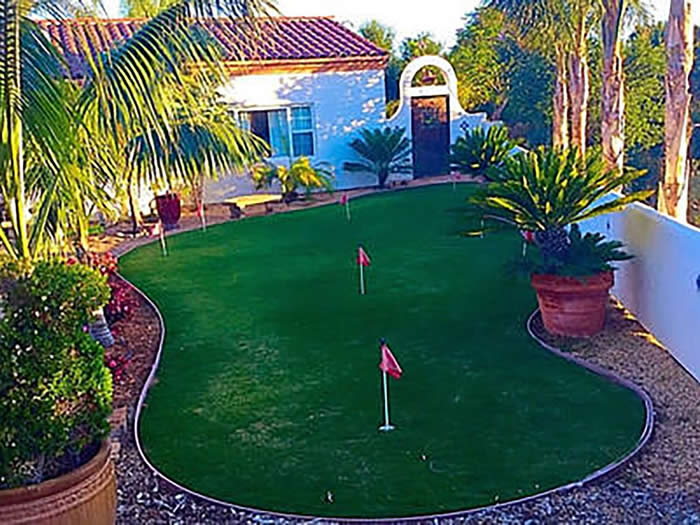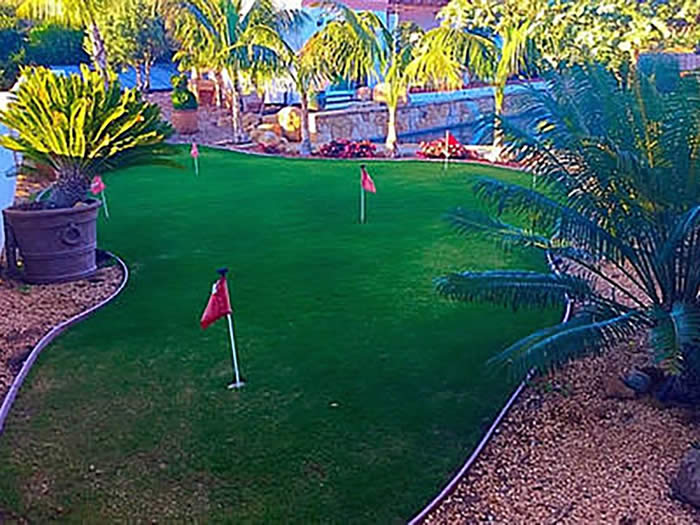 2 Guest Houses, 2 Pool Side Casitas, Putting Green, Salt Water Pool & Spa
(The property has 5 separate dwellings, this listing is for the 2 guest houses and 2 pool casitas only. Read below for a description of all houses on the property. The main house includes both guest houses and pool casitas.
Rancho Vista De La Playa Guest Villas rests on 25 acres with stunning views of the Pacific Ocean, Channel Islands, Organic Orchards, Vineyards, and beautiful Mountain Side. Located in the hills above Santa Barbara, yet still very close to the town and the beach. Although far enough away to relax and enjoy this spectacular tranquil little piece of heaven. The property there is a two bedroom guest house that can sleep 10 people, one bed room luxury guest house that sleeps 4 people, and there are also 2 pool side casitas that sleep 2 people each. Walk out side to a large bar with a flat screen T.V., and gas fire pit. Sonos system is through out the whole property, so crisp its like having your own band in your backyard. Rejuvenate in the salt water pool, and jacuzzi. There is also an outdoor luxury full restroom with indoor shower, toilet and outdoor shower, most often used by casita guests. For the golf lovers there is also a putting green next to the pool. The property has 2 working wells and 2 solar panels, as we are an all organic and green run ranch. A perfect hideaway to enjoy privacy, pool, and great for groups who will enjoy the privacy of separate residences on property. You can customize your reservation to fit your groups specific needs. Additional guests over 18 people will be charged at daily rate of $50. The Luxury Villa (Left side guest house -2bd 1bath with fireplace, full bath, 2 mattress beds and kitchen), Chestnut Villa (2 bedrooms with 5 mattress beds, kitchen and full bath), and the 2 Pool Casita (1 queen bed in each casita)
We are a green run ranch with 2 working wells, organic orchards, and the whole property is run off solar power. The estate is the perfect hideaway to enjoy privacy and is great for groups who want separate residences. Both of the guest houses and both of the pool casitas surround the pool, and are in very close proximity with each other. You can customize your reservation (ONLY DURING OFF PEAK SEASON) to fit your group's specific needs. The outdoor living spaces make this property the perfect place to host both grand events and intimate gatherings (Events & Weddings under 30 guests START at a $3000 Venue Fee plus $500 Cleaning Fee – email us for additional information). Maximum capacity is 100 guests, with a 2 night minimum stay
Bedrooms
6 bedrooms, sleeps 18
Chestnut Guest Villa Bedroom #2
3 queens
Luxury Guest Villa Bedroom #1
1 king
Chestnut Guest Villa Bedroom #1
king and queen

Chestnut Guest Villa has 2 rooms 1 bathroom 1 kitchen

Luxury Guest Villa

murphy bed

The Murphy Bed is a Double
Pool Casita #1
queen
Pool Casita #2
queen
Amenities
Accessible
Children Welcome
Washer & Dryer
Swimming pool
Fireplace
Satellite or Cable
Parking
TV
Hot Tub
Internet
Heater
Bathrooms
Bathroom 1 toilet, combination tub/shower, shower, Luxury Villa
Bathroom 2 toilet, shower, Chestnut Villa
Bathroom 3 toilet, shower, outdoor shower, Pool Side Casita Bathroom
Location Type
Meals
General
Heating
Linens Provided
Washing Machine
Clothes Dryer
Fireplace
Parking
Internet
Towels Provided
Iron & Board
Hair Dryer
Kitchen
Refrigerator
Stove
Oven
Microwave
Coffee Maker
Toaster
Dishes & Utensils
KitchenA full Guest House Size Kitchen is in the Chestnut Villa and the Luxury Villa. No kitchens in the Pool Casitas.
Dining
Dining Area
DiningChestnut Villa and Luxury Villa both have dining tables to seat 4 each. 4 Outside dining tables around the pool to seat 18
comfy seating for 4 people
Entertainment
Television
Satellite / Cable
Stereo
Music LibrarySonos
Ping Pong Table
Outside
Lawn / Garden
Outdoor Grill
Deck / Patio
Golf
Suitability
Pool / Spa
Private PoolSalt Water Pool
Hot TubSalt Water Spa
Onsite Services
Staff
Car Available
Massage
Chauffeur
Private Chef
Concierge
House Rules
Check-in: 3:00 PM
Check-out: 10:00 AM
No parties/events
No smoking
No pets
Children allowed
Max occupancy:18
Cancellation Policy
Canceled bookings will not receive a refund
Intimate Home for Large Group
4/5 Stayed Aug 2018 Olivia D.

I hosted a Bachelorette party here and we thoroughly enjoyed staying at this property. It was a large, beautiful and quiet setting that comfortably accommodated our party of 18. Eddie and Michelle were both lovely to work with along the process. Eddie was our main point of contact during our stay; he was extremely responsive and made himself available if we needed anything. The pool is definitely the best part about staying here! Feels like you're truly in a private oasis in the hills of Santa Barbara.

Some feedback from our stay: There were a ton of ants and spiders around the property, most especially on all the chairs, lounge chairs and umbrellas outside/near the pool and fire pit. Since we spent most of our time around the pool we wished it was as clean outside as it was pristine inside.

We felt there was not enough lighting outside for those who slept in the Pool Casitas; the nearest bathroom is a short walk from casitas but not enough lighting outside during the night and the pool lights do not work either.

The property is pretty strict about towels so I would suggest bringing your own shower towels so you do not get charged for make-up stains on towels. We did not get charged for this however it is an easy thing to miss if you have a large group. We actually provided pool towels for everyone in our group and asked everyone to bring their own shower towels.

Be sure to read through carefully the rules that are left inside the kitchen nearest to the pool for all rules and clean up instructions. There are hidden fees that you should be aware of at the start of your stay!

Overall, we really enjoyed staying here and I highly recommend this especially for a large group looking for an overnight stay nestled in the stunning hills of Santa Barbara!!
Incredible Experience in Santa Barbara
5/5 Stayed Jul 2018 Jamie Lynne M.

I cannot say enough positive things about working with Michelle, or staying at this gorgeous property. Everything is exactly as pictured/described, and Michelle and her groundskeeper go above and beyond to make sure everything is working smoothly for you and your guests. We had the BEST time and hope to visit again! We didn't want to leave!
Great house for Mom's trip!
5/5 Stayed Mar 2018 Tarah S.

I organized a mom's wine tasting weekend in Santa Barbara and booked this property with Michelle. What a great find! It was quiet yet 10 minutes from Santa Barbara and had PLENTY of space for 14 moms! We really enjoyed our trip and working with Michelle. Would highly recommend this property for other large groups!
Successful Girls' Getaway
5/5 Stayed Jul 2017 Christine F.

The first thing that I should mention is that the property manager, Michelle, went above and beyond for me in securing this rental. I had a big weekend planned with 14 girlfriends to go wine tasting in Santa Ynez. Plane tickets were booked; schedules were cleared. Then, to make a long story short, about a month before the trip I wasn't able to stay there anymore. Michelle, who had been my point person for the original trip, said that I could stay at this property instead, which was way better than the other, both in terms of location and amenities.

The property is located on a working ranch and it's a bit of a drive to get to it, but it didn't confuse any of the rideshare drivers that picked us up. We stayed in the casitas and the smaller guest house, and that was more than enough room for 14 of us. Our original plan was to be out most of the time wine tasting, but we ended up staying in a little more than planned just because the pool was so amazing! The kitchen was not ideal to cook in, but you're so close to good places to eat you might as well just grab some wine and cheese from the Funk Zone on the way back from lunch or dinner out to tide you over. All in all, an excellent rental. Thanks Michelle!
Everything you need in one place for a perfect vacation
5/5 Stayed Jun 2017 Katie B.

We had a family reunion here and it was a fantastic experience! I will try and be systematic is what we loved and what could be improved (spoiler alert: not a lot needs to be improved). What we loved: we were greeted by the groundskeeper who lives just down the road and is available anytime you need with any questions. He was very kind and patient anytime we had a question. He showed us around the property and all of its amenities, how the pool and hot tub worked, where all the lights were located, how the outdoor speakers worked, and answered all questions. We loved the sprawling estate and that there was plenty of room for our 14 guests. All of the beds were very comfortable with nice bedding. The pool and hot tub are definitely the focal point of the estate and we spent most of our time there. All the rooms were clean, and the bathrooms were well kept and stocked with shower toiletries.

Some small things that could be improved upon is that the kitchen could use a utensil update- the knives were dull and there just wasn't enough serving utensils, it also didn't have a whisk. Another small thing is that we wished the pool and hot tub lights worked for night swimming. It also looked like the pool had a waterfall feature but it didn't work. Other than those small things, everything was wonderful! We loved staying here and will likely stay here in the future!
Captures the Magic of the Central Coast
5/5 Stayed Nov 2016 Zach P.

Had a big group of cyclists to entertain for three days, and the ranch was perfect. Not only situated at the foot of the region's most spectacular rides, it was also perfectly laid out to comfortably accommodate everyone in our group, and had great post-ride amenities (fireplace, pool, hot tub). The location is undeniably incredible, but if you're riding a bike, you'll be earning the amazing view with every pedal stroke back up that super-steep driveway. Many thanks to Michelle and Eddie for their flexibility and fast, reliable communications.
Beautiful home for larger group
5/5 Stayed Jul 2016 Daniel B.

We had our bridal party stay at this magnificent estate for our wedding. The owner Eddie was nice enough to let us take some photos on the property, and was flexible with all of our bustle on the wedding day. Michelle was a great help as well with communication. We took full advantage of all 6 rooms and found everything to be excellent.

Owner's Response:

Hello Daniel,

So glad the property worked perfect for your wedding party. Can't wait to see your beautiful pictures taken at the estate!

Warm Regards,

Michelle
Perfect weekend escape
5/5 Stayed May 2016 Megan G.

Our stay at the Santa Barbara estate was nothing short of amazing. We went for a girls getaway weekend and this property was the perfect fit for the occasion. There was a minor miscommunication regarding our arrival time the morning of, but the owner, Eddie, and the property manager, Michelle, were very accommodating and willing to make it work which was greatly appreciated. Eddie was on the property at all times since it is a fully working estate, but he made sure to give us our space and he was very responsive and right there whenever we needed anything (more trash bags, getting the speakers to work, etc.). We had a large group of 11 people so we rented the Chestnut Villa and one pool casita. Michelle was very helpful in figuring out which parts of the estate we needed to rent in order for us to sleep comfortably and not be stepping over one another. The views are spectacular and it was only a 15 minute uber ride to downtown Santa Barbara which made the location very ideal. We highly recommend this property and would definitely go back in a heart beat!

Submitted May 18, 2016Owner's Response:

Hello Megan,

Delighted to hear your girls weekend was amazing! We love accomodating all you lovely ladies, as this a lot of what we do ( girls get aways) Hope to see you again in the near future.

Regards,

Michelle
Ideal family gathering place
5/5 Stayed Oct 2015 Amber B.

We really enjoyed our stay which provided the ideal familial gathering place. The communal setting, well kept grounds, beautiful views, pool and spa were excellent amenities for our water friendly family. The property manager, Michelle, and owner, Eddie, provided excellent customer service. We strongly recommend this property and appreciate the quick response to any questions we had.

Submitted Oct 13, 2015

Owner's Response:

Hello Amber,

So glad the commual guest houses worked out perfectly giving your family there own private spaces. We love accomodating family functions and are so happy you chose our property for your annual getaway.

Warm Regards,

Michelle
ABSOLUTELY PERFECT!!!!!
5/5 Stayed Aug 2015 Adina Newport Beach, CA

Our company had a pleasurable stay at this estate. We were working on a wedding at the Dos Pueblos Estate, and our Event Company's coordination crew were all so happy to have this home away from home to stay at while being in the Goleta area. Michelle took great care of us, and she is always completely hospitable and available. We will look forward to many more stays there when the need arises. Beds were so comfortable and the privacy was fabulous!

Submitted Aug 20, 2015Owner's Response:

Hello Adina,

So glad to hear your group enjoyed your stay and the all the beds were comfortable!!! Your group was awesome and we look forward to working with you again in the future:)

Warm Regards,

Michelle
Amazing girls weekend!!
5/5 Stayed May 2015 Kelci S.

Planned a girls weekend at this beautiful ranch estate. It was everything we wanted and more. everything was perfect, you were welcomed with a basket of fresh fruit from the orchards, a bottle of wine, and this amazing English toffee like none you have ever had before. Everything was a delight, the grounds are absolutely breath taking, and it's complete serene heaven on earth. You can relax by the beautiful salt water pool, bbq, and listen to ur favorite music. Or even go walk around the property. We had a fabulous time and would use this vacation rental company again in the near future. Michelle was delightful to work with and provided us with everything we needed to enjoy our stay.

Submitted Jun 4, 2015Owner's Response:

Hello Kelci,

So glad to hear your group had a fabulous time stay at the estate. We strive to give our guests a 5 star experience, leaving with unforgettable memories that last a lifetime.

Warm Regards,

Michelle

Rates

Safe and Secure Payments with your choice of PayPal or credit card + 4% PayPal/credit card fee

Address:Fantastic Villas

1482 E. Valley Rd. #325

Santa Barbara, CA 93108

Text/Talk:805 448-6976

E mail: suzy@fantasticvillas.com