HOME ALL RENTALS CONCIERGE FUN THINGS TO DO PROPERTY MANAGEMENT FAQs ABOUT US CONTACT
Steps to the Beach
Santa Barbara, California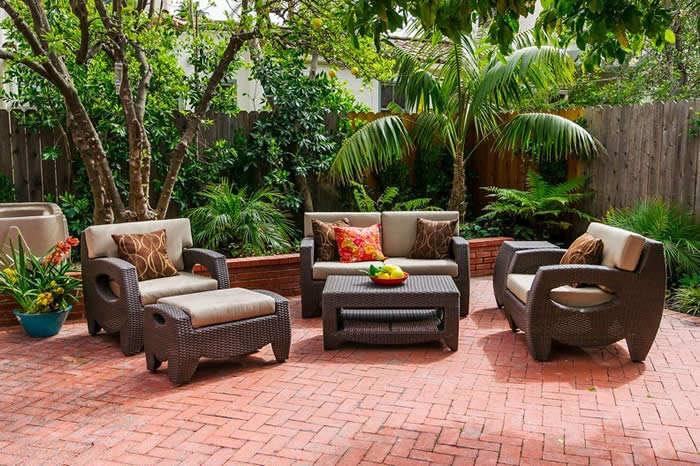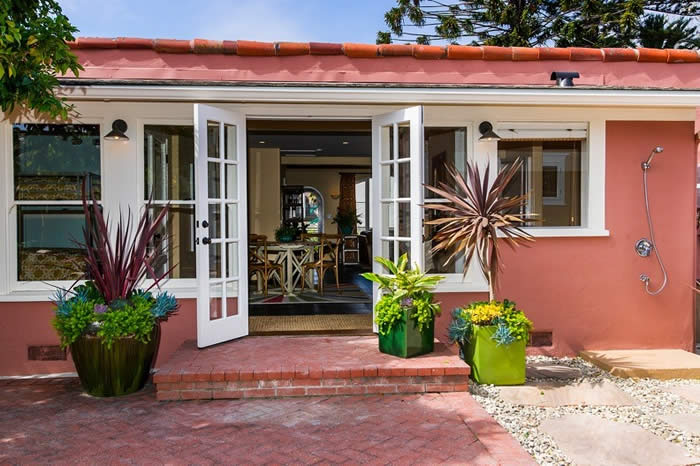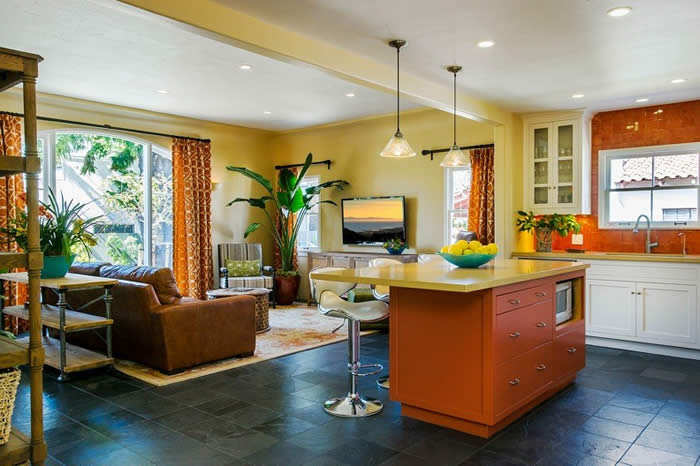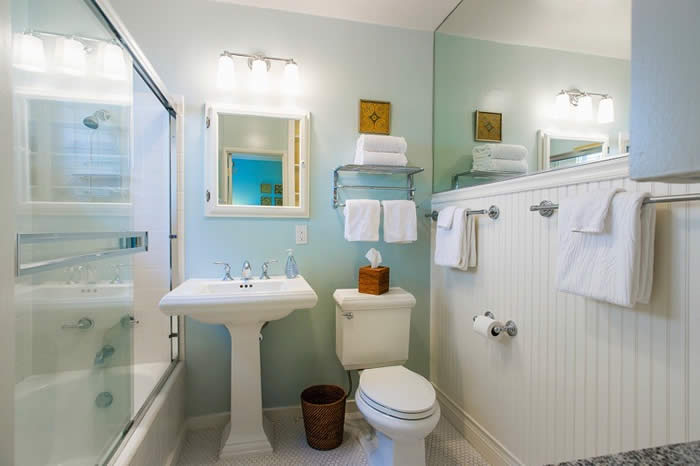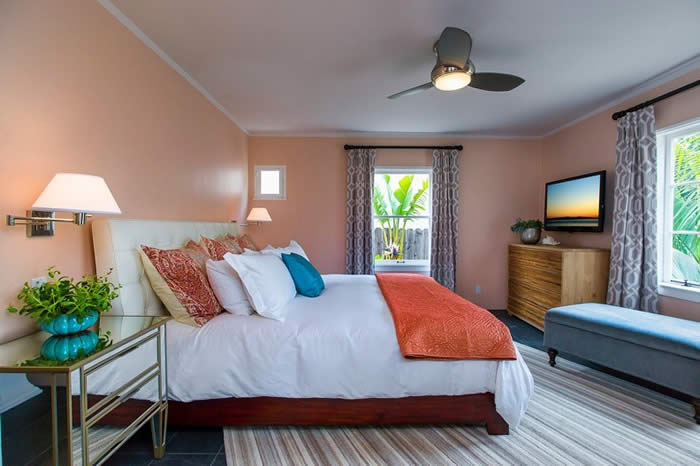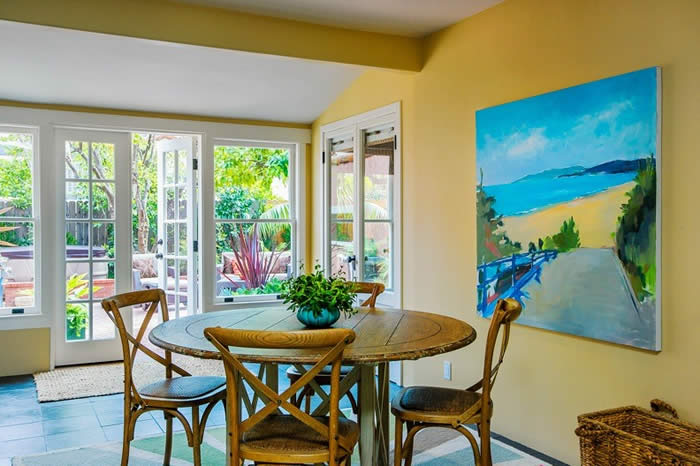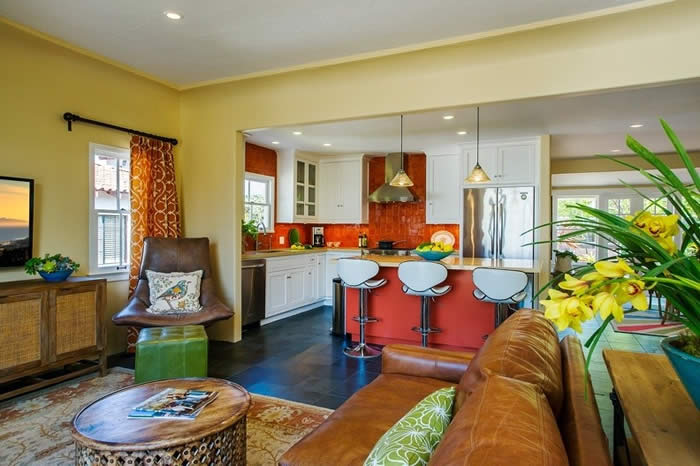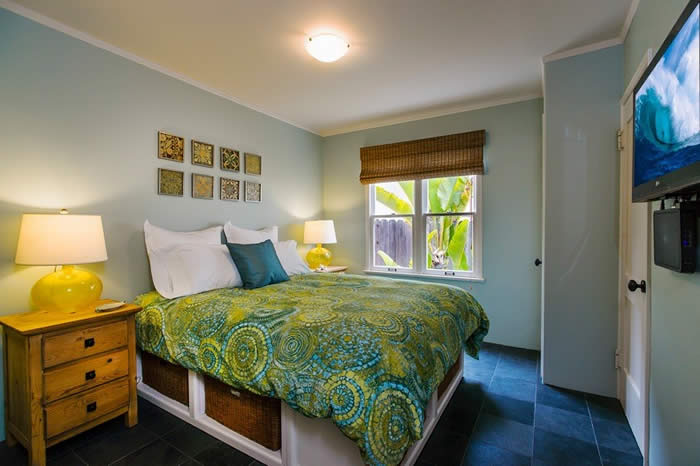 Location and Luxury!
This quintessential Santa Barbara Spanish Style Beach Home is conveniently located Just 2 blocks from one of Santa Barbara's most popular beaches, West Beach, and one block from State Street shopping and restaurants . This home has been completely remodeled from floor to ceiling with all of the latest amenities. Luxury is at your fingertips from the gourmet kitchen with stainless steel appliances and terracotta tile to the back yard patio with comfortable outdoor furniture. Enjoy outdoor living with the BBQ, outdoor shower.
There are three bedrooms and three full baths to accommodate up to six guests. The master bedroom hosts a luxurious king size bed and an attached bathroom. The second guest room also has an attached bathroom with a queen size bed and the third bedroom with twin bunk beds has a wonderful view of the back yard patio.
The wide open living area combines the living room, dining area, and kitchen creating the perfect platform.
*Hot tub is available upon request. Additional fees may apply. Please do not request our place if you have more than 6 people and please do not request our place if it does not meet the minimum 'stay requirement.
Alarm Clock
Basic Soaps
Ceiling Fans
Clothes Dryer
Hair Dryer
Heating
Internet
Laundry Soap
Linens Provided
Local Maps
Paper Towels
Parking
Parking Off Street
Parking On Street
Shampoo
Telephone
Toilet Paper
Towels Provided
Washing Machine
Wireless Internet
Kitchen:
Blender
Coffee Maker
Cooking Utensils
Dishwasher
Freezer
Grill
Ice Maker
Microwave
Oven
Refrigerator
Stove
Toaster
Dining:
Bathrooms:
3 Bathrooms
Bathroom 1 - toilet , shower
Bathroom 2 - toilet , combination tub/shower
Bathroom 3 - toilet , shower

Bedrooms:
3 Bedrooms, Sleeps 6
Bedroom 1 - 1 king
Bedroom 2 - 1 queen
Bedroom 3 - 2 twin/ single , Bunk Bed

Entertainment:
Outside:
Barbecue
Bicycles
Lawn / Garden
Suitability:
Long-term Renters Welcome
Low Allergen Environment
children welcome
non smoking only
Pool / Spa:
Onsite Services:
Attractions:
botanical garden
cinemas
library
marina
museums
restaurants
winery tours
zoo
Leisure Activities:
beachcombing
bird watching
horseback riding
paddle boating
scenic drives
sight seeing
walking
whale watching
Local Services & Businesses:
ATM/bank
fitness center
groceries
hospital
medical services
Sports & Adventure Activities:
cycling
hiking
pier fishing
Notes: **Hot tub is available upon request** Additional fees may apply. Under no circumstances can more than 6 people stay overnight (unless you receive prior approval for a small child or infant).
REVIEWS
Wow and double wow!
We stayed here (a family with two teenage girls) for four nights as part of our California road trip and were blown away by the property and its location. This is a super stylish, modern, comfortable home, set in a quiet residential area just a couple of blocks from Santa Barbara's stunning beach - and very close to State Street (for shopping and night life.) The property's has a small garden, nicely landscaped and sunny for breakfast and most of the afternoon. The property comes with a selection of bikes, which we used to cruise the cycle way/promenade that runs the length of the beach - we loved feeling part of Santa Barbara's laid-back beach life style and didn't use our hire car for the whole stay. We were hugely impressed when Jeff – the owner – contacted us about some unanticipated construction work taking place opposite the property – his honesty and offer of a discount meant this wasn't an issue. We'd love to visit again (and again). Kathleen V.
So beautiful and close to the beach, you won't want to leave!!!
I have never written an online review but wanted to for this house because it was SO PERFECT!! My family and I had an amazing stay here for my daughter's graduation from UCSB recently. The house is absolutely beautiful, much better than it looks online. And it has everything you will want, from really nice bedrooms, three luxurious full bathrooms, a hot tub, great kitchen, and bountiful grapefruit tree, to a fleet of bikes to ride to the beach or State Street, only 1-2 blocks away. My older parents, who like a lot of luxury lol, said they wouldn't mind living in this home, and I thought this as well. I highly recommend this house and hope to stay there again soon! Alison K.
Comfortable, convenient and well-appointed home only steps to Funk Zone, State St. and beaches
We are frequent visitors to Santa Barbara and choose to stay in this neighborhood because of its location to beaches, running/biking paths, restaurants, and the shops. On this most recent visit, there were 6 of us in the home including two 6 y/o and grandparents and everyone had a blast.
The home is very comfortable and well-stocked with bicycles, beach chairs, yard toys, kitchen amenities, and homey touches. The backyard is an oasis with fruit trees, plenty of seating and a hot tub. There's plenty of parking in the long driveway and a parking permit is provided. Of course, there's ample multimedia (new televisions in 2 of the 3 bedrooms and Wi-Fi).
The owners were accommodating, easily contact-able and very involved in the care of the property.
For our next visit, we'll definitely check availability for this property. Stacy V.
Perfect location, beautiful home, wonderful hosts!
We were so pleased with the location of this beautiful home. It was literally a couple blocks to the beach, bike path, Stearn's Wharf, and State street. We walked and biked everywhere, which we love to do! Having the bikes (with locks) on site, was such a bonus for us!
But beyond location, this home has everything one could possibly need. Every bedroom has a bathroom and we were really impressed with how well appointed the kitchen was. We even used the BBQ one night! We have a baby who loved playing with the beach toys and they even had an umbrella which we were really excited about because it allowed us to take him to the beach any time of day! Because we came during a bit of a heat wave, we really appreciated the quaint and charming back patio where we ended up eating most of our meals under the shade of the big grapefruit tree! Also, having fans in every room (even the third bedroom which we used for our little one) was a lifesaver, thank you! And of course, I already mentioned how much we loved having the bikes....
And finally, you will not find a better host to deal! My husband had to attend to some business matters during our trip and Jeff went out of his way to arrange somewhere nearby that he could accept international phone conference calls. Wow! Talk about going above and beyond! He also ensured we had a high chair and travel crib put out for us on arrival. The bottled water and wine set offered as a welcome gift was really considerate as well! THANK YOU for everything!!!
We absolutely loved our stay, and if we travel to Santa Barbara again will be sure to try and book here again. Thank you, Crosby family, for sharing your beautiful home with us!Kesa R.
Owner's Response: Kesa, I am so glad you were happy with your stay and had a nice time. I am sorry it was so warm but hopefully you managed. Thank you for your nice comments about your stay. It is very important to us that our guests (you and your family) have the right expectations and have a very special time. We are thrilled you had a nice time and we would love to have you back if that ever fits into your families travel schedule. We are glad the phone call office worked out for Darren. Have a great fall. Thank you again. Kindly, Jeff.
The Best!
What a perfect place to stay in Santa Barbara - the beach casa is above and beyond the usual vacation rental! Immaculate, spacious, well-appointed, beautifully decorated - every superlative applies! And the owners' consideration and responsiveness were exceptional - and much appreciated.
We feel so fortunate to have been able to stay here for our daughter's destination wedding! (The only "issue" is that it was so HOT during the recent heat wave that fans just could not cool the house down sufficiently - so we enjoyed long evenings on the lovely, lush tropical patio!) Susan T.
Owner's Response: Susan, WOW, a wedding in Santa Barbara - VERY COOL. Thank you for your nice comments and we are thrilled you had such a nice stay and thank you for treating our place like your home - we appreciate it very much. You are always welcome back. Thank you again. Kindly, Jeff.
Perfect for Girls' Trip or for Families!
This house is perfectly located near the beach, wharf and State Street. It is cute, clean and in a quiet neighborhood. The backyard is a plus for enjoying morning coffee (Keurig in kitchen) or a glass of wine at the end of the day. (Thank you, Jeff, for the bottle you left for us upon arrival!) I stayed in the house with 5 friends and it worked out perfectly! Having 3 bathrooms is a huge bonus. We only cooked breakfast 2 mornings and ate out the other meals, but the kitchen has everything you need! The beds (especially the king) and linens are amazingly comfortable! I never slept so well away from home. There are 6 bikes with locks to use in the garage. They are a blast. There is so much to do in Santa Barbara and this home is a perfect base! Susan M.
Family Time
We came from London, New York, and Connecticut to Santa Barbara for a family wedding over Memorial Day weekend. As soon as we arrived at the property, we felt very lucky that this was the home we decided to rent. Everything you have read or will read about this home in the other reviews is true. Terrific location--you can walk almost anywhere, beautifully decorated, meticulously maintained by owners who have thought of everything and seem to really care that you enjoy your stay. All of these would be reasons enough to love this home, but to us, the biggest reason to love it was because it felt like a home. We could sit around and just talk in the open living area or grab a book and a glass of wine and read on the welcoming patio...very comfortable and relaxing five days...wish it could have lasted forever. Thank you for making your home available.
Mary Lynn Howard
Owner's Response:
Mary Lynn, perfect, you experienced our home just how we want our guests (very warm and home like experience). Thank you for trusting in our description of the home and have the right expectations. Any body from Minnesota is a friend of ours, Including former Governor Ventura :-). Thank you again for your nice comments and we appreciate so much how great of care you kept our place. Please consider us again in the future. Kindly, Jeff and Leann
Great location , beautiful home
The layout of this house is amazing. We had 5 adults staying here, and the 3 bathrooms were perfect. This house is extremely well maintained, clean and well designed. It is a true 'home.'
The professional grade kitchen was a dream to cook in.
The location is a quick walk to Backyard Bowls, or for a run along the ocean. I would definitely stay here again if back in Santa Barbara! Megan H.
Owner's Response: Megan, we are clones. You did what I love to do (Back yard bowls and a run a long the beach). Very cool. I love how close it is to beach. One of my favorite things is to keep my car parked on the streets and bike in and out of the garage with out any thing blocking my exit or entrance (just like you see in the movies :-). Thank you again for treating our place so well and I am glad you had a such a nice time. Come in again. Kindly, Jeff and Leann
Perfect Rental
Perfect is the best way to describe this wonderful place. It is beautifully appointed, close to everything and Jeff is a very atttentive owner. We really enjoyed having the use of the bikes. This cottage was everything we expected and more. We even offered to buy it! Sue M.
Owner's Response:
Ha. Thank you. If I sold it then I would have a very upset wife and daughters and son, but thank you for kind offer. We are thrilled you had such a nice time. As owners it is important to us that guests at our place can create life long memories, I hope that was your case. Thank you again and you are always welcome. Returning guests always get special discounts :-). Thanks and Kindly, Jeff and Leann.
Our second stay
I am simply in love with this beach cottage. It is a short walk to the beach and State Street. My daughters enjoyed picking grapefruit in the backyard and riding on the bikes and scooters provided. It is perfectly set up for young kids. The house is adorable and the owners were very responsive helping us with every need. Wendy C.
Owner's Response: Wendy, thank you. It is always a great compliment when we have returning guests like yourself, especially when you have a vacation home that you and your family could go too. You are always welcome to come back and thank you for treating our place so well during your stay. Also, thank you for letting us know about the missing Duvet, we appreciate. Finally, you enjoyed Santa Barbara and our place like we would hope (bike on the boardwalk, go to the beach, quality time with your family, and privacy time in our back yard). Thank you again. Kindly, Jeff and Leann (the owners)
Sue's Review
My family of 4 stayed in this lovely home for the Christmas holiday. It is in a perfect location, two blocks from the beach and two blocks from State Street and The Funk Zone. The only time we used our car was to go to the grocery store and to get to the hiking trails. The home was well equipped with everything we needed, from all necessary kitchen/cooking items to beach towels and chairs. We especially enjoyed the bikes, hot tub and beautiful back patio. The owner was very accommodating and responsive to questions we had. We would definitely stay here again and highly recommend it! Susan L.
Owner's Response: Susan, thank you, and also, thank you for taking such good care of our place while you were there (almost two weeks - wow). Our house cleaner said it looked like almost nobody stayed after you left. THANK YOU!!!! I am glad you enjoyed the backyard, hot tub and the bikes, and location. Those were the amenitities we want the renters to be able to use and enjoy. We bought it for the location and tried remodeling in a way that would make it make feel real homey. Thanks again and I am sorry about Bob's loss while you were there and that he had to cut his stay short. If you ever revisit SB again, we would love to have you stay with us again. Blessings to you and 2015. Kindly, Jeff.
Wonderful vacation
This is a gorgeous house in the most perfect Santa Barbara location- walking distance to State Street and the beach. The house is adorable, professionally decorated. The kitchen is well equipped and the beach cruisers that came with the house made the trip really fun. We had an infant and they had a new pack and play crib and high hair. This was one of our favorite vacations. We can't wait to return. Wendy L.
Great location - close to everything.
Such a lovely home - very clean and comfortable with all the conveniences. Just perfect for our family of 4. We parked the car in the driveway and didn't move it during our 3 night stay. Easy walk to the beach and loads of great restaurants, shopping, museums and theatres. Didn't get a chance to take the bikes out, but the bike path is right there. We'll do that next time as we hope to return soon! Joan in Pasadena
Owner's Response:
Joan, thank you for very much. Our house cleaner said you left our place spotless - that is very nice of you and you are welcome back any time - THANK YOU!!! If you choose to rent again, please send me a personal note so I can book you again personally. Also, we would love to have you ride the bikes next time - they are a lot of fun. Thanks again and we appreciate you choosing to stay at our place. Kindly, Jeff the owner. p.s. Thank you for making me aware of the middle toilet issue. I really appreciate it.
Relaxing
The house was perfect! Every detail was seen too. The bikes and jacuzzi we fun to have avaiable and the location was spectacular. My husband and I went to UCSB many years ago, it was like being home again. The house was very spacious for 4 teenage boys and 2 adults. We loved the proximity to the beach and the fact that there are nice places for other relatives to stay within walking distance. It was also nice being so close to the Sea landing for whale watching, kayaking, paddle boarding and jet skiing - all of which I would recommend doing with that company if you come to SB. I could go on and on! Suffice it to say I am ready to go back! Kelly
Owner's Response:
Kelly, awesome, I am glad you and your family had such a good time, that makes it really special for our family knowing you built life time memories. Also, our house cleaner said you left it in really good condidtion and we really appreciate it. I am glad you got good use out of the bikes - they are soooo much fun, as you experienced. Finally, I know it is hard to accurately explain the quality of the location, but you did a great job. You are always weclome back. Thank you again for allowing us to share our place with you. Jeff and our family.
Perfect location!
Stayed here for a quick girls weekend. Ultimate location for shopping, dining, biking and wine tasting....what more could you want?
The house was everything that it is advertised, beautifully decorated, lovely outside courtyard. Would definitely stay here again. Julie
Lovely Beach House...PERFECT LOCATION!!
We loved our stay in this beautiful beach home! We spent five days there with our two sons, daughter-in-law and grandson. The home is open with an updated kitchen that was fully stocked...although we ate out most meals because it is within walking distance of many awesome restaurants. The location of the house is perfect...close to the beach, fantastic shopping and restaurants. After a busy day we enjoyed relaxing in the hot tub and loved the beautiful secluded back yard with citrus trees and succulents. The house is very clean and well maintained. The beds were perfect as well...very comfortable! Jeffrey, the owner, was always available for any questions and very accommodating. We had so much fun...the house is cozy and feels like home...awesome family time...our kids are still talking about what a great vacation we spent there. Thanks for sharing your beautiful home with our family...we hope to return next year!! Jan
Owner's Response: Jan, thank you and we are thrilled you had a great time with your family. Also, thank you for taking great care of our place during your stay, our House Cleaner said you left almost spotless, THANK YOU. It is always very special to us when we hear families celebrate their time together at our place, especially with their grandchild like yourself - horray!!. We would love to have you back and thank you again, you were a joy to work with!! Kindly, Jeff (and not Jeffrey, my first grade teacher, Sister Maria use to call me Jeffrey and it was only because I would get into trouble :-)) thanks again. Jeff.
PERFECTION
Perfect. This house is just perfect. Cheerful. Comfortable. Spacious. What a sweet location too! It was hard to say goodbye - we can't wait to come back.
Owner's Response:
Tracey, thank you for taking such good care of our place and it is always great to hear when the renters have such a good time. All the nice things about our place is a compliment to my wife and decorator, Heather. I am glad you want to come back, we can't wait to get back down their ourselves. Talk to you soon. Jeff.
Perfect gem home away from home.
Pictures don't do it justice. The home is well planned out with common area & kitchen at the heart.
The decore beautiful and comfortable.
We came out for some R & R with our three sons ages...18,19 &20.
On our first day it rained so we found ourselves enjoying quiet family time.
The kitchen was well equiped so much so that we decided to shop and cook all our meals.
The beds were very comfortable. The hot tub and back yard perfectly accentuate the home.
All in alll it was a very posetive experience We plan on doing it again.
Jeff the owner very easy to deal with from the start. Recieved security deposit back five days
after departure.
Finally I have to mention the bikes......They were the cherry ont top!!!!!
Owner's Response:
Keren, awesome, I am glad you loved the bikes, aren't they fun!!! We went back and forth if we should get bikes and leave them in the renters garage or our personal garage, and I am so glad they are available to the renters. Heather said you left our place really clean and treated it well and we really appreciate it. It makes us want to keep renting when people treat it so well like yourself and that you enjoy it. Thanks again and we would love to have you back. Jeff. rselves) and
**GIRLS WEEKEND GETAWAY**
What a wonderful weekend getaway and retreat the house on Yanonli was for 5 childhood girlfriends. The place is immaculate and charming. No detail spared, from the decor to the outdoor furnishings and the 5 beach cruisers which allowed us to hit the beach and state street with great ease and without concern about parking. The beds were comfortable, the kitchen fantastic to cook meals and the neighborhood overall quiet and peaceful. Highly recommend this rental and will be back!
Owner's Response: Melissa, very cool. I am glad you had such a nice time. When we bought the place you stayed in, girlfriend get away's was exactly what we imagined and we are so thrilled you had such a nice time. I hope you were able to spoil yourself with a spa when you were there. Also, thank you for taking such great care of our place and making it really nice for the next renters that come in. Enjoy and we would love to have you back.
Great house, great location.
We had a lovely stay at this house, which is very well equipped. We have stayed in several vacations rentals in the US over the years (we are from the UK), including others in Santa Barbara, and this one is our clear favorite. It is a very comfortable place to relax in, a great location close to both the beach and State Street, and we had no problem cooking and baking for our Christmas meals with all the great facilities in the kitchen. There was even an electric kettle, something we usually ruefully note is lacking, essential for our morning cups of tea!! Other great small touches was discovering a bed guard in the room with the bunk beds, which set our minds at ease about our little boy falling out of bed, and decent wifi that didn't always fall over (another usual vacation rental bugbear). I would have absolutely no hesitation in recommending this property, and hope we are fortunate to visit again one day. MJN
Owner's Response:
Thank you for your nice response and thank you for taking such good care of our place during your extended stay. We have always wanted to stay their during Christmas, and I am glad you had such a nice time. It is really important to our family that the renters can create a memory for a life time and you are welcome back. I hope the American's in Santa Barbara treated you like special guests as the Britians do when we travel to your special country. Thanks again and Happy New Year. Kindly, Jeff (the owner).
RATE
560 USD
Tax 10%
Cleaning 275 USD
Safe and Secure Payments with your choice of PayPal or credit card + 4% PayPal/credit card fee
Address: Fantastic Villas
1482 East Valley Road #325
Santa Barbara, CA 93108
Skype: fantastic.villas
E-mail: suzy@fantasticvillas.com