HOME ALL RENTALS CONCIERGE FUN THINGS TO DO PROPERTY MANAGEMENT FAQs ABOUT US CONTACT
VILLA ENCANTO
Bucerias, Mexico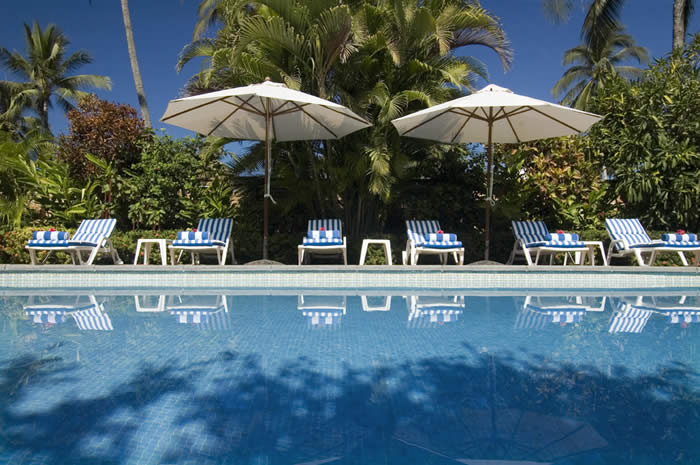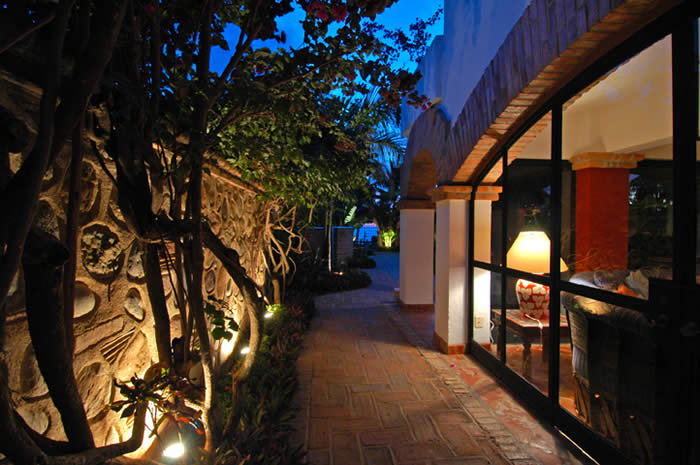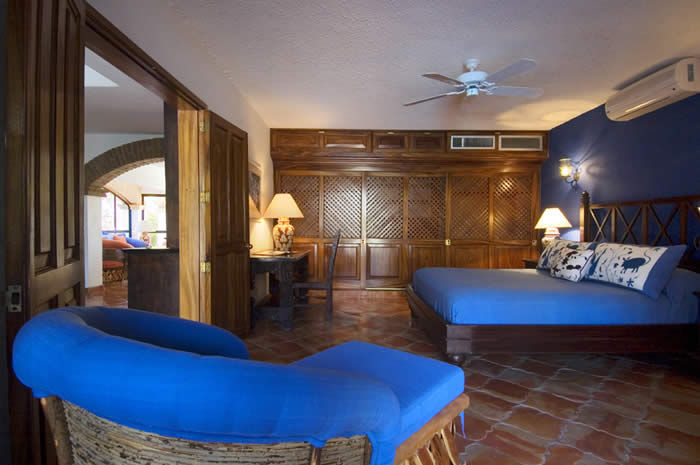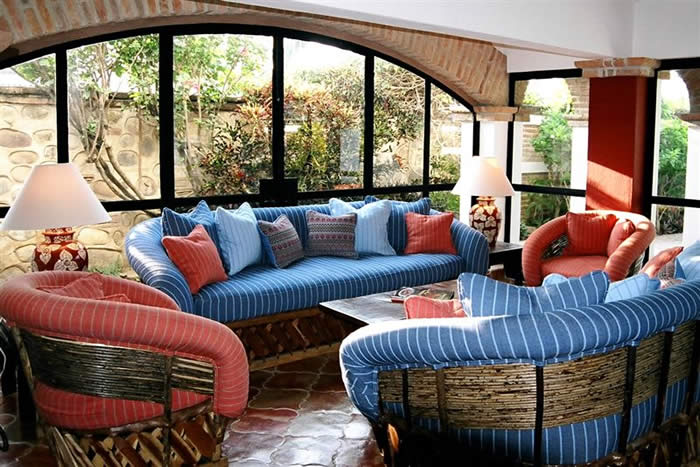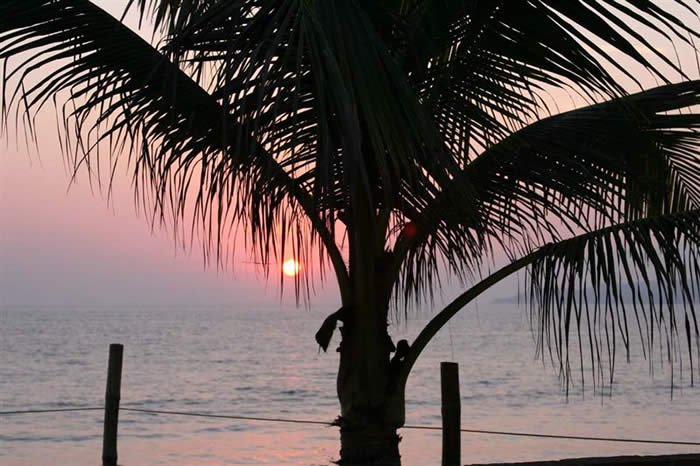 In the small village of Bucerias, just 25 minutes north of the Puerto Vallarta International Airport, lies this private, ocean-front estate. Recently renovated by its new owners, this magnificent villa is fully staffed and can accommodate up to 16 guests. The main house is over 5,000 square feet and consists of five beautifully decorated bedrooms that open on to private terraces, all with king size beds and private bathrooms. Two of the rooms have ocean views while the remaining three have pool views. The downstairs Master bedroom (one of three) is very spacious and can accommodate a person in a wheelchair. There is a large great room on the main floor that opens to a covered patio for outdoor dining with views of the ocean and garden. In addition, the home features a media room with a 42" wide screen TV (high definition), DVD and VCR player, satellite television, wireless high speed internet access, an "all in one" HP fax machine with printer, copier and scanner. There is also a dedicated phone line where guest can make unlimited calls to the US and Canada at no charge. The media room also has two day beds and a game table.

Beyond the main house, in the center of the estate, is the Jr. Size Olympic pool and guest house. The guest house consists of two bedrooms, separated by a kitchenette, each with a private bathroom and a king size bed. This small house is only rented along with the main property, never separately. All rooms on the estate have their own central air conditioning system. Maids, cook, caretaker, gardener and bilingual property manger are included in the rental price. The property can also accommodate a small private wedding at an extra cost.

The villa is located in Bucerias on the Bay of Banderas with miles of white sandy beaches in either direction of the property. The beach is extremely safe and clean. The village of Bucerias has many wonderful restaurants and gift shops all within walking distance from the estate. There are also many leisure activities offered locally, such as, surfing, sport fishing, parasailing, jungle adventures, swimming with the dolphins and horseback riding. Bucerias is located between Puerto Vallarta and The Four Seasons Resort in Punta Mita, approximately 25 minutes to either destination.
DATES
BEDROOMS
RATE (U.S. dollars)
SUMMER SEASON SPECIAL RATES

May 1 - October 31

5bds

$1400 per night

6bds

$1600 per night

7bds

$1800 per night

REGULAR SEASON RATES - Welcome Mexican Fiesta dinner is included

November 1 - April 30

5bds

$1800 per night

6bds

$2000 per night

7bds

$2150 per night

HOLIDAY RATES
Thanksgiving week

7bds

$2900 per night

Christmas week

7bds

$3900 per night

New Year's week

7bds

$3900 per night

All nightly rates subject to a 15% Mexican Hotel Tax (IVA)

*3 and 4 bedroom rates available.

MASSAGE
SPECIAL THERAPIES
Relaxing Massage
60 min
$50.00 usd
(Therapeutic) Hot Stone Therapy
90 min
$32.00 usd
Therapeautic Massage
75 min
$65.00 usd
Therapeutic Massage (4 hands)
75 min
$40.00 usd
Deep-Tissue Massage
90 min
$65.00 usd
Lymphatic Massage
60 min
$50.00 usd
Shiatsu Massage
90 min
$65.00 usd
Refiexology
60 min
$50.00 usd
Mud Massage
90 min
$65.00 usd
Pre-natal Massage
60 min
$60.00 usd
Craneo Sacral
30 min
$40.00 usd
PACKAGES
FACIALS
"Tropical"
Coconut body scrub refresher facial massage
$85.00 usd
Teen's Refresh Facial
30 min
$30.00 usd
"Detoxifier"
Body scrub, body seaweed wrap, refiexology
$99.00 usd
Hydrating Facial
55 min
$50.00 usd
"Special"
Body scrub, hydrating facial, manicure-pedicure
$99.00 usd
Chocolate Facial
55 min
$60.00 usd
"Glinka"
Aromatherapy massage, hydrating facial, craneo sacral
$99.00 usd
Anti-aging Facial
80 min
$70.00 usd
Collagen Facial
80 min
$83.00 usd
Executive Facial (for men)
80 min
$75.00 usd
Back Facial
40 min
$60.00 usd
MANICURE - PEDICURE
BODY TREATMENTS
Manicure
25 min
$19.00 usd
Body Scrub
30 min
$35.00 usd
Pedicure
30 min
$23.00 usd
Body Wrap with Volcanic Mud
50 min
$60.00 usd
Seaweed Manicure
50 min
$29.00 usd
Body Wrap with Seaweed
80 min
$75.00 usd
Seaweed Pedicure
50 min
$30.00 usd
Tired Legs Treatments
40 min
$45.00 usd
Paraffin Manicure
50 min
$30.00 usd
Chocolate Wrap
80 min
$80.00 usd
Paraffin Pedicure
50 min
$32.00 usd
Body Wrap Arcilla Termal
80 min
$70.00 usd
Treatment for Tired Feet
50 min
$40.00 usd
French Manicure
$23.00 usd
French Pedicure
$27.00 usd
By special request, we also make arrangements for airport transfers, baby sitting, massages, mariachi bands, chauffered cars and flower delivery for that special occasion.
Safe and Secure Payments with your choice of PayPal or credit card
Address: Fantastic Villas
1482 East Valley Road #325
Santa Barbara, CA 93108
Skype: fantastic.villas
E-mail: suzy@fantasticvillas.com