HOME ALL RENTALS CONCIERGE FUN THINGS TO DO PROPERTY MANAGEMENT FAQs ABOUT US CONTACT
Villa Balboa
Puerto Vallarta, Mexico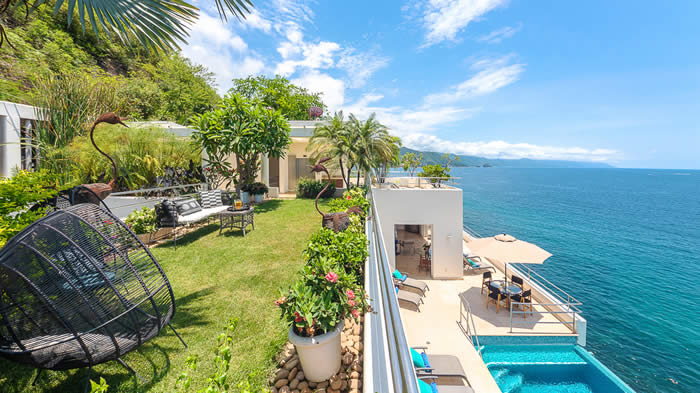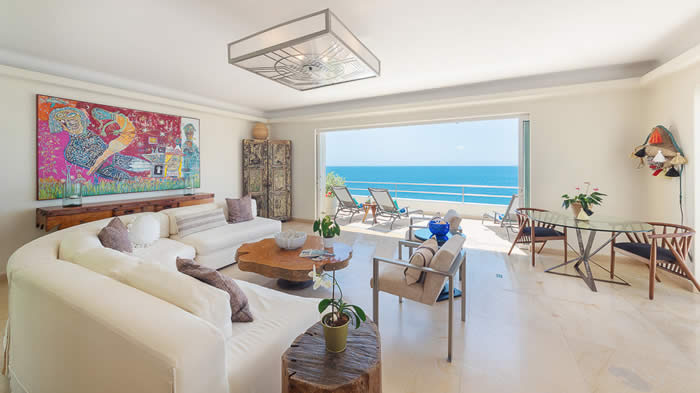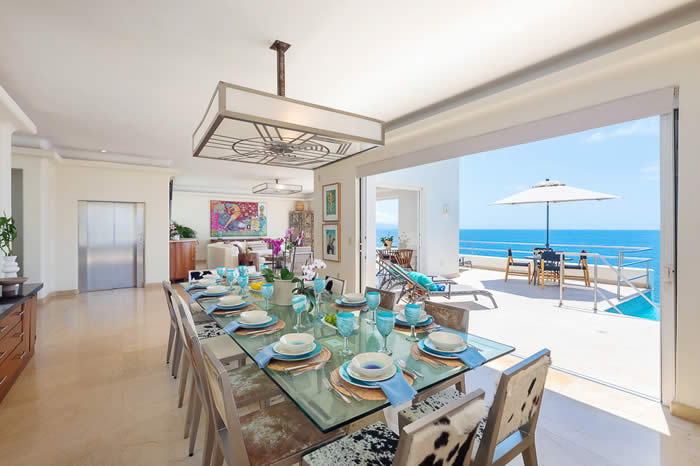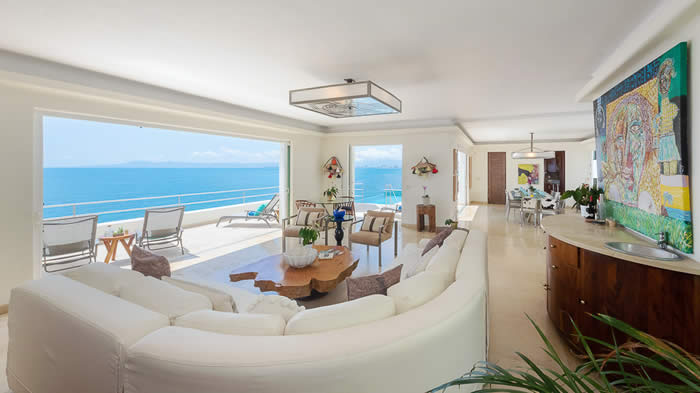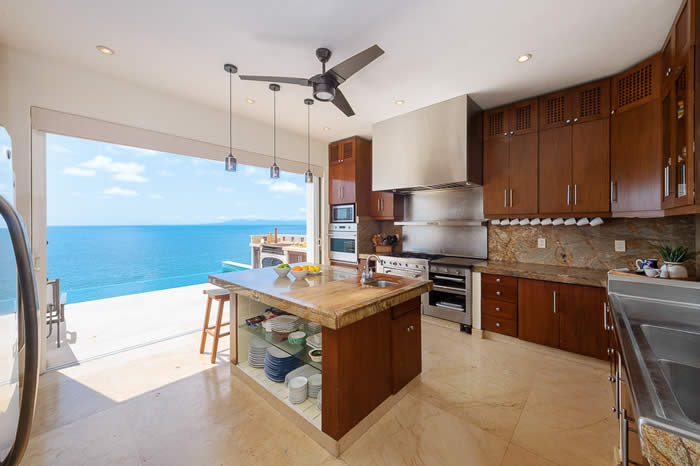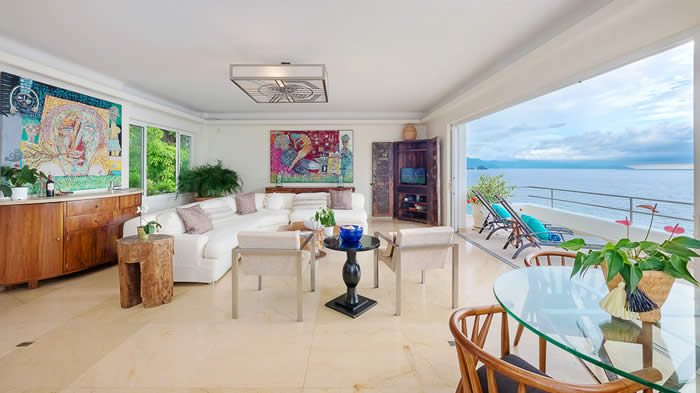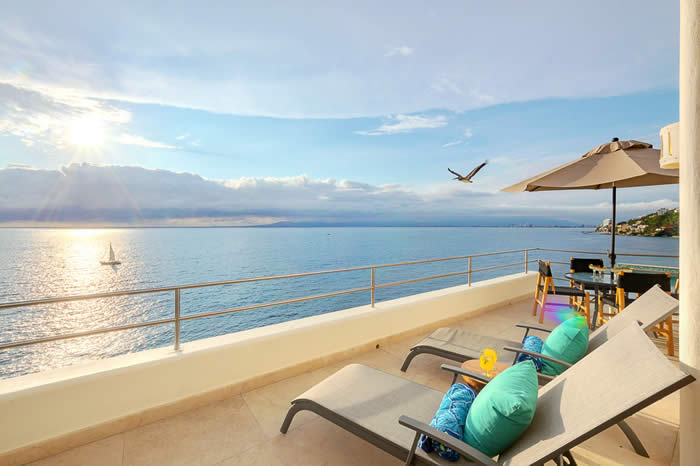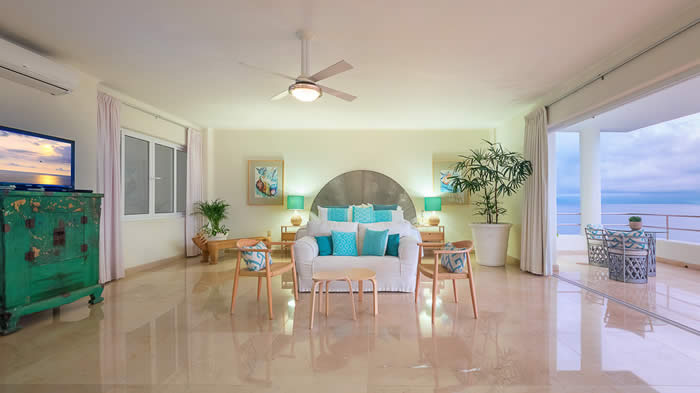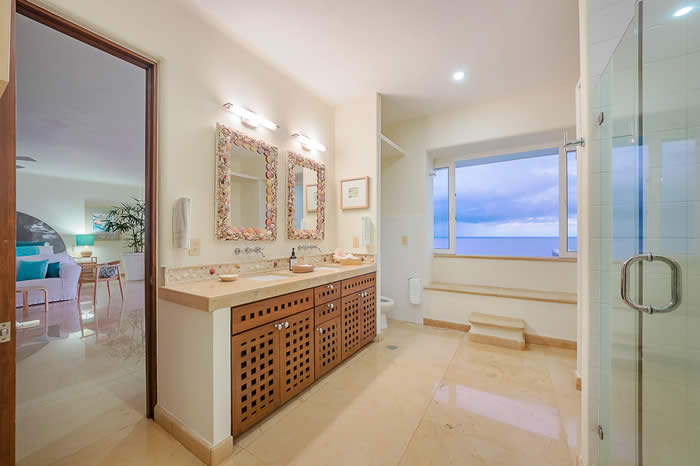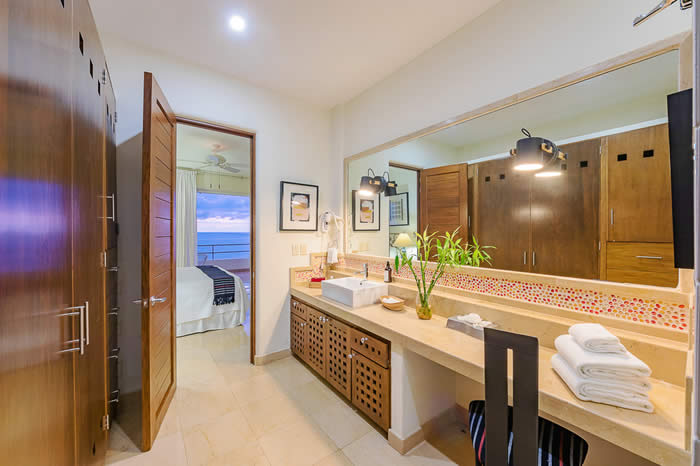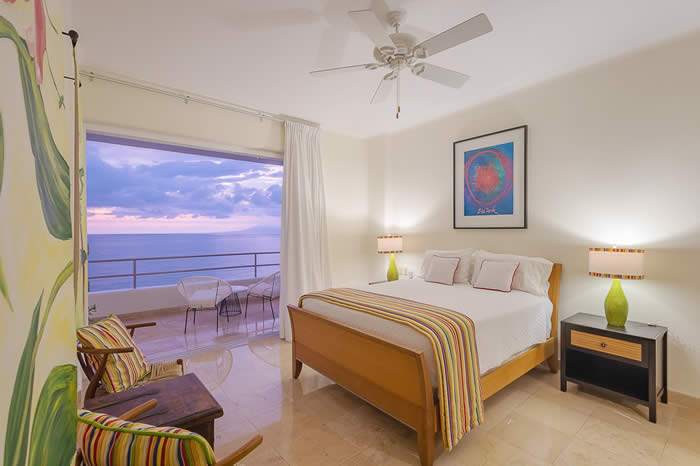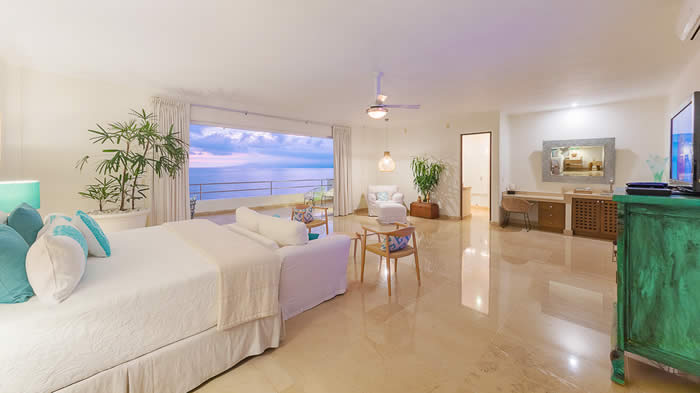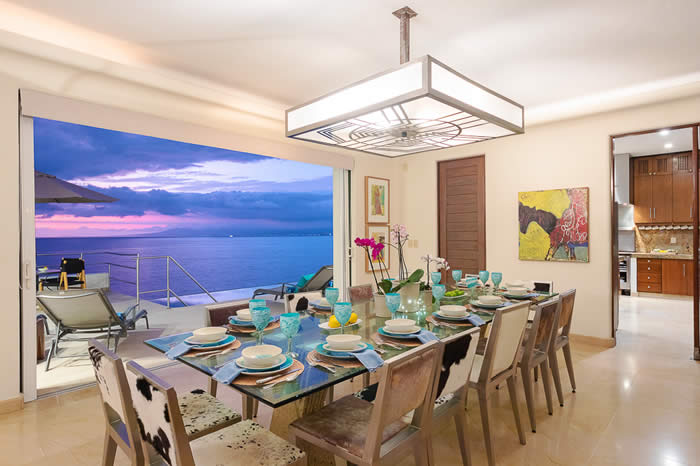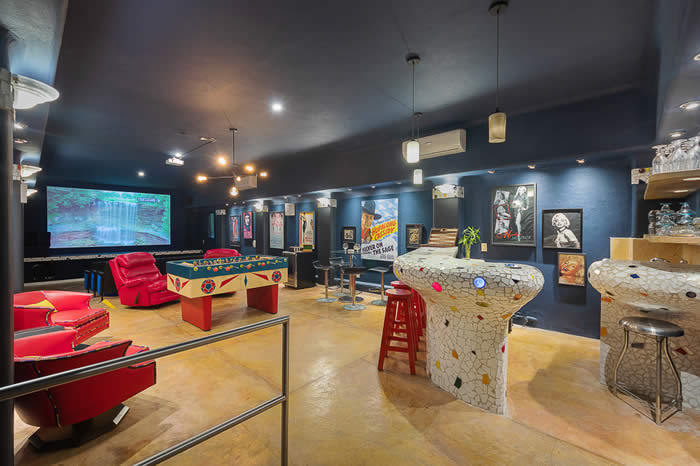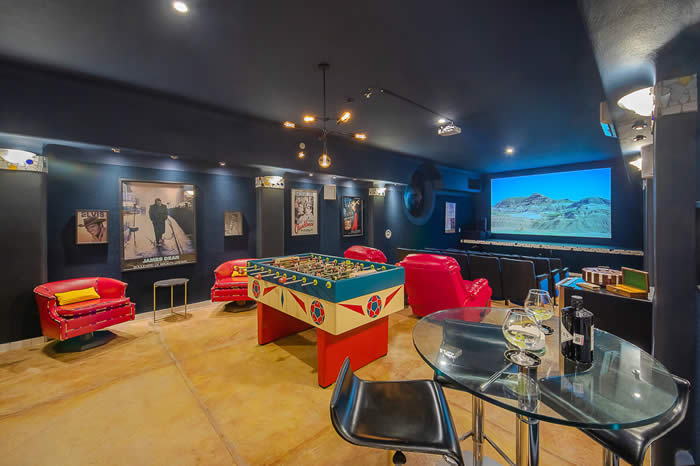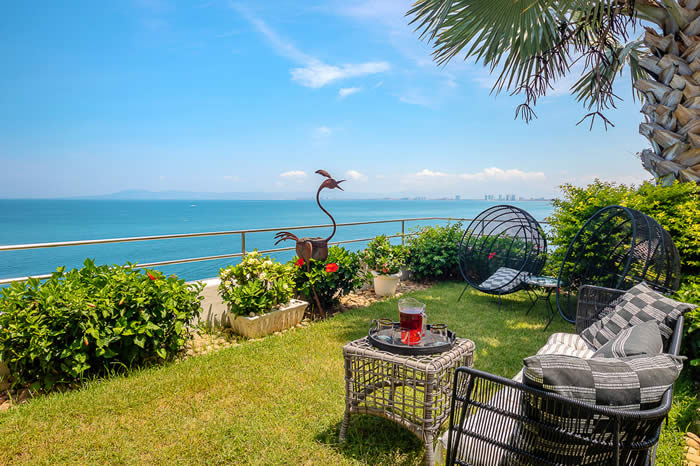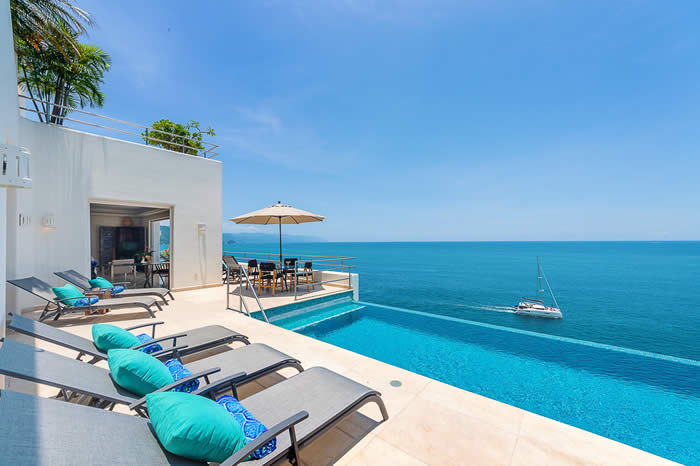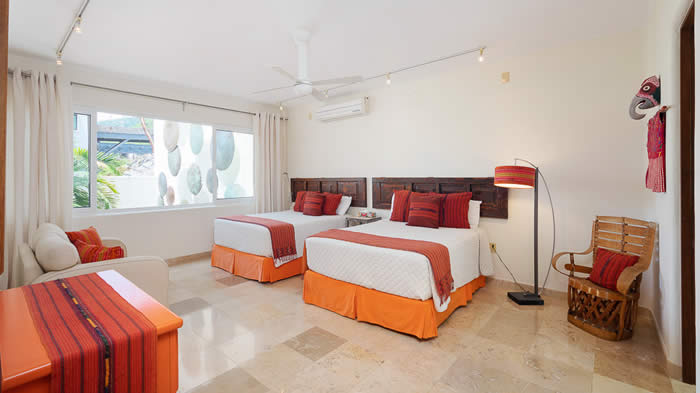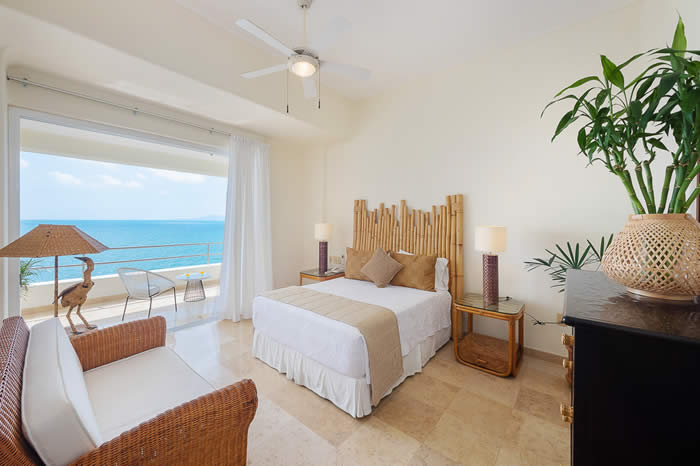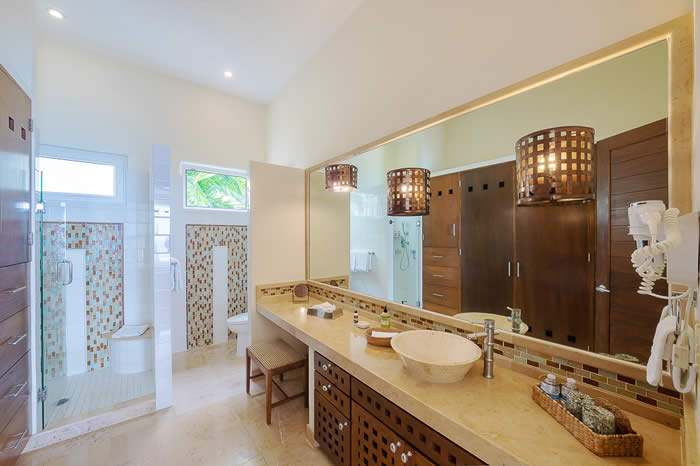 Villa Balboa combines luxurious comfort & spectacular contemporary design in a breathtaking oceanfront setting. Located on the south coast of Puerto Vallarta less than 2 ½ miles from downtown Puerto Vallarta, the villa is surrounded by unparalleled natural beauty, from the rugged Sierra Madre Mountains covered in tropical rainforest to the sparkling Pacific Ocean.
The simple elegant lines of the villa are juxtaposed with organic details, splashes of bright tropical colors & some of the best works of local artists giving a sophisticated ambiance embracing the flavor of Mexico.
The spacious villa has 9 bedrooms, sleeps up to 20 persons, the perfect place for Families, groups of friends reconnecting or celebrating a milestone birthday or anniversary as well as corporate and wellness retreats. The villa includes all the comforts and amenities from an elevator, private screening room, most bedrooms have ocean views and terraces.
The staff includes private chef, houseman, housekeepers & English-speaking concierge.
Villa Balboa's staff & your concierge will ensure your stay is a relaxing and care-free experience. The Villa Balboa experience includes full staff, chef, houseman/waiter, housekeepers and concierge. The you chose your menu and the chef takes care of all the details from shopping for the freshest ingredients, preparation, serving and clean up. Cost of Food and Beverages not includes. Housekeepers do all general cleaning, household linens and personal laundry time permitting.
We can help with arranging everything from your airport transfer, a private boat cruise, inhouse spa services and all the fun activities from ziplines thru the jungle, horseback riding and much more.
Reviews
TIME OF OUR LIFE!
"My (now) husband and I got married there and our families stayed in the Villa Balboa for a week, and it was the coolest thing any of us have EVER done! The pictures (though amazing) don't do the house justice, it is even more fantastic and beautiful and bigger than in the pics. But despite the incredible house and VIEW the best part was the staff… They took care of EVERYTHING! WHile I was planning my wedding Christian was so quick and responsive to all my emails/questions about everything and he planned and put together the wedding of our dreams that could not have been better in any way (my sister says she's going to elope because there is no way to top my wedding! lol) Luiz the cook we all wanted to take home with us, he was like our momma bird taking care of all of us and then cooking the most DELICIOUS foods that made us never want to have to eat (or spend time) outside the villa! Normally in these house rental situations you have a cook they call "chef", but Luiz is a real chef who could cook for any foodie. Eduardo took care of everything else you can imagine and Maria and Sonia (we almost never saw) were there all day every day discreetly cleaning the villa from top to bottom. We have never felt so pampered in our lives. Even if you go to an amazing resort you never get the individualized attention and caring that we got at Villa Balboa. We will never forget it and we will always miss it! Just as a side note, we were QUITE nervous (1st time on homeaway) to be renting a house/sending money via internet to Mexico, but you can trust everything at Villa Balboa to be extremely professional with no funny business. I would recommend this house and this experience to anyone and everyone! Miss you guys, thanks so much for making our stay with you so wonderful!"
BREATHTAKING PROPERTY WITH REMARKABLE STAFF!
"Our girls trip to Villa Balboa was truly spectacular. The house exceeded our expectations with it's luxury touches, incredible views, and phenomenal staff. Oliver (concierge) was a tremendous help before and during the trip. He made us feel so comfortable and attended to our every request. Jose Luis (chef) was such a delight and made the most delicious food, prepared exactly as we asked. He made sure to get the best and freshest ingredients and we adored how lovingly he presented his food. Eduardo (house manager), there aren't enough words to express our thanks to Eduardo. We were at the house almost the entire trip (why leave?) and he never tired from our endless requests. He made sure that we always had a cold beverage and did so with a smile. To feel so taken care of by him really allowed us to relax and enjoy every moment. We felt like we made friends in Oliver, Jose Luis and Eduardo which truly transported the trip from amazing to once-in-a-lifetime! While I knew that Villa Balboa was going to be great, I could have never expected how the thoughtful little touches put into the home would elevate the experience. It is truly like staying at a five star resort, but better. The service matched experiences that I've had in some of the most exclusive hotels internationally. And even after saying all of this, I feel like I haven't fully expressed how much we loved our trip. I can't find enough words to fully express our thanks!"
AMAZING HOUSE FOR GATHERING FRIENDS AND FAMILY!
"My wife and I gathered 14 friends for a week holiday and had a fantastic experience. The house is simply incredible and the staff is amazing. The chef, concierge, service staff, etc… were beyond helpful with everything from cooking, cleaning, serving, recommending restaurants, bars, clubs, helping with taxis, etc…
Puerta Vallarta is a fabulous charming city and the house was had a perfect view of the harbor and surrounding area from the sea cliff. We went deep sea fishing, scuba diving, jet skiing, etc… Thank you Villa Balboa for a week of paradise!"
WHAT A WONDERFUL PLACE
"Our stay at Villa Balboa was absolutely fantastic. The staff was phenomenal – extremely personable, helpful and professional. They were able to cater to our every need and request with efficiency and a positive attitude. Martha and Eduardo in the kitchen were superb – the food and service every day were far better than anything we experienced in our nights out in Puerto Vallarta. Edgar, the concierge, was also wonderful. He ensured that our trip ran without a hitch. As there was a group of nine young adults in the group, he was able to organize trips into town to experience the local nightlife – everything was taken care of – what a way to enjoy PV! They were all most certainly an integral part of making this an incredible vacation.
Villa Balboa itself was also ideal. It was the perfect spot for our group. The villa is spacious and beautifully decorated. The view is beautiful – a great spot for watching sunsets. It is also well located for trips into town. Overall the experience couldn't have been better. This has certainly been a vacation that will be remembered for years to come."
Rates
Bed summer winter Christmas New Year
5 $1,750 $2,500 $4,500 $4,975
6 $1,950 $2,700 $4,500 $4,975
7 $2,275 $3,150 $4,500 $4,975
8 $2,600 $3,600 $4,500 $4,975
9 $2,975 $3,975 $4,500 $4,975
SEASON DATES & MIN. NIGHTS
Summer / Low: May 1 – Oct 31 – 4 night minimum rental
Winter / Peak: Nov 1 – April 31 – 5 night minimum rental
Christmas / New Years: 7 night minimum rental per holiday
# BDRMSSUMMERWINTERCHRIST
Safe and Secure Payments with your choice of PayPal or credit card + 4% PayPal/credit card fee, checks and wire transfers also accepted.
Weddings and events
Villa Balboa is a breathtaking venue for weddings & events or retreats both wellness or corporate.
Rates & Availability (50 person max):Use the contact form below to reach us for more information.
Weddings, events & Milestone celebrations: The setting with oceanfront location offering unparalleled oceanfront and city views as well as the spectacular rooftop terrace & garden are a perfect setting for the ceremony & celebration.
Wellness Retreats: the rooftop garden and terrace are a perfect setting for yoga, meditation or other wellness options. The 9 bedrooms offer occupancy for up to 20 persons, all with ensuite private bath, 7 bedrooms have ocean views many have option for 2 beds in each bedroom. Full staff including chef
Corporate Retreats: many spaces from the private screening room perfect for presentations or leisure. The 9 bedrooms offer occupancy for up to 20 persons, all with ensuite private bath, 7 bedrooms have ocean views many have option for 2 beds in each bedroom, full staff plus chef.
Dining
A central part of your stay with us will be our signature dining services. Our chef has created a menu that is fresh, regional and tasty with Mexican and International accents. Relaxed sophistication is our concept as we present anything from the Mexican classics to upscale dinners with wine pairings. We strive to source all of our ingredients locally at one of the several farmers' markets, preferring those producers and grocers with fair and sustainable practices.
You may choose between the offerings of our menu, or for a truly unique experience, the villa's private Chef will work with you to develop a custom dining experience.
Download Sample Menu
Our Concierge offers clients access to the top activities and services available in the area. Just use the contact form below to reach our concierge.
TOURS
Transportation (Any)
Horseback Riding
Jungle & Canopy Tours
Whale Watching
Dolphin Experiences
ATV & Dune Buggy Tours
MASSAGE
Deep Tissue
Acupressure
Relaxing Massage
Hot Stone
SPA SERVICES
Specialized Facials
Relaxing Facial
Moisturizing Facial
Manicure
Pedicure
Mani/Pedi combo
BOAT & FISH
Cruise The Bay At Sunset
Scuba Diving
Snorkeling
Deep Water Fishing
Top Boats And Captains At Your Service
WELLNESS
Trainer: on site
Private Yoga Classes
Trainer: off site
GOLF
There are several world-class golf courses within a thirty minute drive to the north of Villa Balboa. The courses have a range of challenge levels and were designed by some well known Golf. Check with the concierge to arrange Tee times
Safe and Secure Payments with your choice of PayPal or credit card + 4% PayPal/credit card fee, checks and wire transfers also accepted.
Address: Fantastic Villas
1482 East Valley Road #325
Santa Barbara, CA 93108
E-mail: suzy@fantasticvillas.com