HOME ALL RENTALS CONCIERGE FUN THINGS TO DO PROPERTY MANAGEMENT FAQs ABOUT US CONTACT
VILLA MARBELLA
Puerto Vallarta, Meico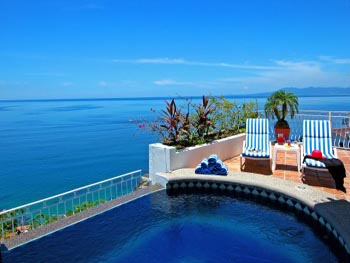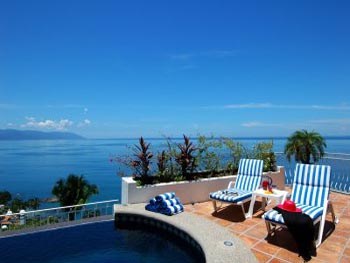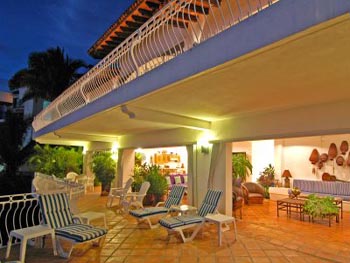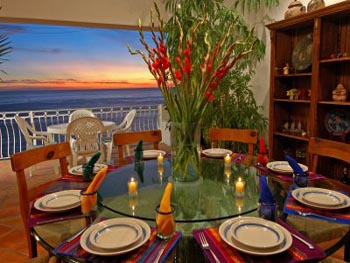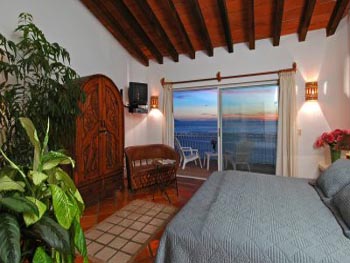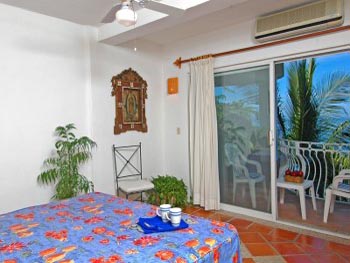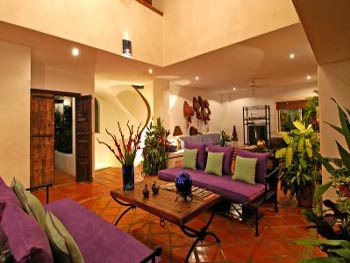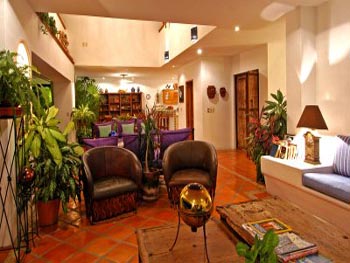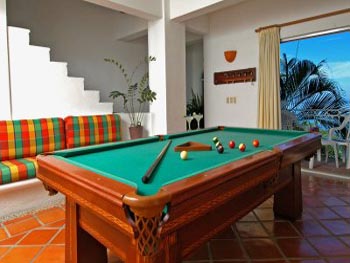 Villa Marbella is a Mexican style villa located in the exclusive Conchas Chinas district of Puerto Vallarta. Enter the antique wooden doors and be transported into a magical setting. The magnificent view of the Bay of Banderas catches your attention immediately. The open architecture of the living room brings the wonderful view right into the house. You notice the tasteful furniture and beautiful handicrafts, imported from throughout Mexico. Fresh ocean breezes invigorate and cool you. High ceilings impart a feeling of freedom and comfort.
Villa Marbella offers 10,000 square feet of living area, and is one of the largest houses in Puerto Vallarta. It was designed and constructed in 1997, and features wrought ironworks, stained glass windows, and hand-painted tiles. The game room has a pool table, wet bar, Sky TV, computer, fax, VCR and CD.
Villa Marbella offers eight spacious bedrooms and can accomodate 16 adults. All bedrooms have fantastic ocean views and balconies. Seven of the bedrooms have private attached bathrooms. There are seven king sized beds and one queen sized bed. Each room also has an individual air conditioner, ample closet space, a ceiling fan, and a lockable safe.
This property features a stunning view of the Bay of Banderas. The house is perched on a hillside several hundred feet above the ocean, and offers a 180 degree view up and down the coastline. Los Arcos can be seen on the left horizon, and Punta de Mita can be seen on the right. Watch the fishing boats go out at the break of dawn as you breakfast from the patio. Enjoy the glittering sunset as you supper. The view will take your breath away.
The deck has ample space for sunbathing or relaxing. If you are observant, you may catch sight of a pod of dolphins or whales making their way down the coast
Contemporary multilevel villa designed to provide the maximum in indoor and outdoor living. Excellent for entertaining with breathtaking ocean views from every room. Dramatic hillside setting in the prestigious upper Conchas Chinas residential area, located on the edge of town headed south to Mismaloya, just a short walk to the beach and easily accessible to local sites.
What others have to say about Villa Marbella:
Just wanted to drop a line, and say we enjoyed Villa Marbella more than any place we have stayed in our well-traveled young lives. We visited with 3 other couples over Thanksgiving 2002. Carlos and Mari made the stay effortless, with amazing authentic foods at every meal (!) and margaritas and coladas to die for. The view and house are second to none; we left only to golf, fish and shop. We made our own nightlife, again with Carlos' help, and couldn't have been happier. Here's hoping we can make it back sooner than later.
Kirby W.
I had the fortunate opportunity to experience your wonderful house in Puerto Vallarta from November 3rd through the 11th. I want to say thank you for the experience. I have been to PV several times in the past and stayed at several different hotels, but NOTHING compares to the service of your staff -- Carlos, Filo and Mari all took care of us as though we were in their own house. Truly, the house in one of the most beautiful in PV!
Christine M.
We had an incredible stay at Villa Marbella! Everyone arrived on the 12th and left on the 18th but we all thoroughly appreciated the flexibility to leave on the 19th. Carlos and the staff were very accomodating and easy to work with and the house is beautiful. We took advantage of the 18 holes at Marina Vallarta, Carlos' cousin took us deep sea fishing and we took a dune buggy tour through old PV. I would like to make that trip an annual excursion and I'd like to make plans as far in advance as I have to.
Troy T.
We loved the house and the staff was really friendly. I don't know if you had heard but I had made up a certificate of achievement for the best staff we have had, I hope they liked it.
Doug K.
The staff catered to all our needs, making it truly a relaxing and enjoyable vacation. The view from the house was beautiful. Puerto Vallarta's spectacular colors were seen through the waves in the water, the beach, the lush mountainside and of course the fantastic sunsets.
Vivian H.
I just wanted to tell you that we had an absolutely wonderful time in your house. Everything was perfect and what a beautiful place. The service was outstanding-we were so impressed with everyone. We wanted to bring Carlos back with us! If anyone ever requests a reference, please feel free to give them my name and number or email.
Thank you,
Amy
My family recently stayed at your villa on the occasion of my son's wedding. We enjoyed our stay at your beautiful villa and were warmly cared for by Carlos and Rosa. As an interior designer I was honestly afraid of what the furnishings might be but was pleasantly surprised to find the home thoughtfully and tastefully decorated. We did wish it had an elevator, we are an aging bunch. Carlos did a great job of keeping us organized and relaxed. He always had a warm smile and a pleasant attitude. His "connections" proved invaluable to us during our stay. Rosa's cooking was suburb and enjoyed by all. Her guacamole is the best we've had, as were her wonderful flans. The price we ended up for all the food and drink we consumed was very fair and much appreciated. I would recommend the Villa Marabella to any of our friends traveling to Vallarta. It is not inexpensive but it was very fairly priced considering the accommodations and staff. Thanks so much for such an enjoyable stay. Please pass our fondest regards to both Carlos and Rosa with our thanks for thier wonderful care. We hope to be able to visit you in the coming years with our family again.
Warmest personal regards,
James & Patricia K, et al
PROPERTY INCLUDES
8 Bedrooms (sleeps 16 adults)
9 Baths
Heated infinity pool
Full staff
Entertainment and media room with pool table
A/C in bedrooms
10000 sq. ft.
Restrictions: High season rate applies Nov 1st Apr 30, maximum of 16 persons
Price high season Nov.1 - April 30
$ 1,200 usd/night
Price low season
$ 1,000 usd/night
Price holidays
$ 21,000 usd/WEEK
By special request, we also make arrangements for airport transfers, baby sitting, massages, mariachi bands, chauffered cars and flower delivery for that special occasion
Safe and Secure Payments with your choice of PayPal or credit card plus 4% transaction charge
.
Address: Fantastic Villas
1482 East Valley Road #325
Santa Barbara, CA 93108
Text/Talk: 805 448-6976
E-mail: suzy@fantasticvillas.com