HOME ALL RENTALS FUN THINGS TO DO PROPERTY MANAGEMENT FAQs ABOUT US CONTACT
VILLA SUZANNAH
Puerto Vallarta, Mexico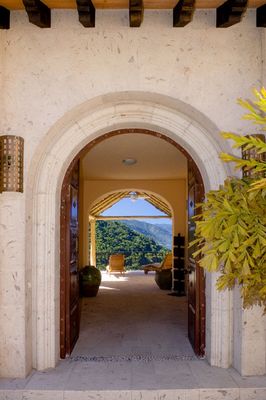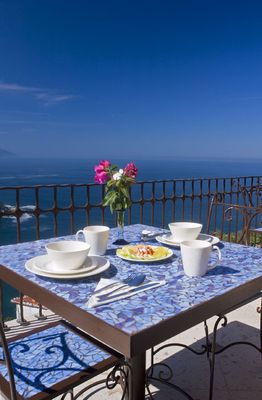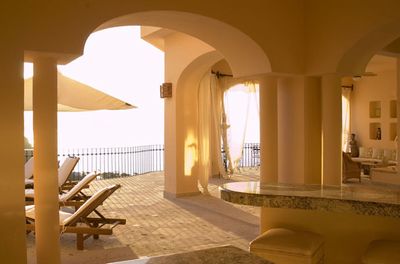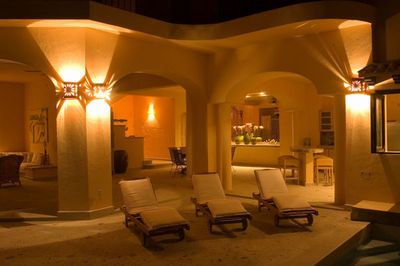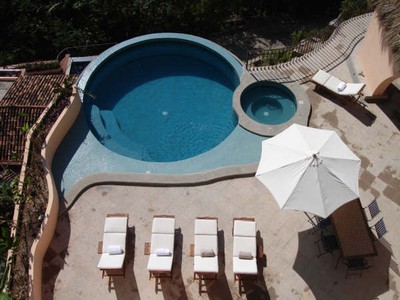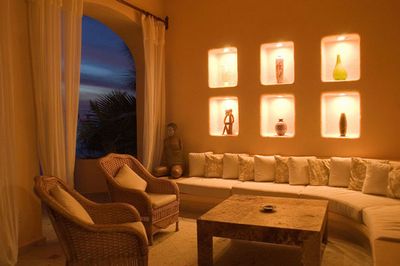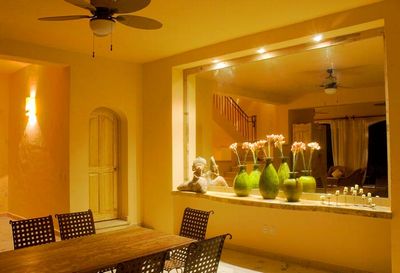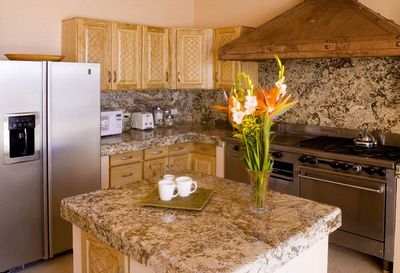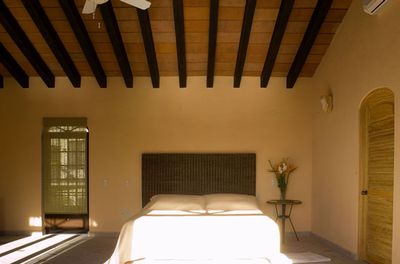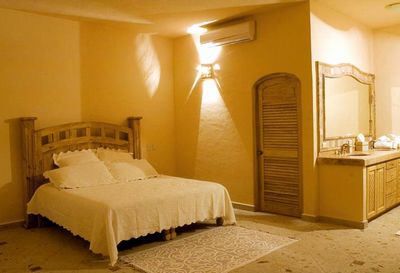 Villa Suzannah is a spectacular 8,000 square foot, four story, four bedroom, four-and-a-half bath luxury villa located just six miles south of sophisticated Puerto Vallarta.

The home, easily reachable by taxi, is situated high on a cobblestone street overlooking beautiful Mismaloya Bay and the breathtaking Pacific coastline of the Bay of Banderas. The Riviera-like view is prominent from every room in the house. Each bedroom comes complete with its own outside deck, remote controlled air conditioning, walk-in closet, and bathroom with hand-crafted natural stone work. The house is fully-staffed with a chef (two meals per day), a maid, and an administrator who speaks perfect English and is eager to assist with information ranging from restaurant, shopping, spa and night club recommendations, to sport fishing, jungle tours or golf.
Open air design
Soothing sound of the surf
Soaring ceilings
Large palapa on upper deck
Natural stone flooring throughout
Heated dipping pool
Professional grade kitchen
Formal dining room
Spacious living room with stereo, Satellite TV and DVD player
Outdoor breakfast seating
Air conditioned bedrooms
Internet access
Laundry
Parking
Villa Suzannah - rental rates 2006 - 2007 - 2008 - 2009


High season
November 1, 2006 to April 30, 2007
US $1,000 per night
(Seven night minimum stay)
Low Season
May 1, 2007 to October 31, 2007
US $800 per night
(Five night minimum stay)
Thanksgiving
and Easter Week
Thanksgiving 2006 and 2007, and Easter Week, 2007
US $1,200 per night
Holiday
December 16, 2007 to January 2, 2008
US $1,750 per night
High season
November 1, 2007 to April 30, 2008
US $1,100 per night
(Seven night minimum stay)
Low Season
May 1, 2008 to October 31, 2008
US $800 per night
(Five night minimum stay)
Thanksgiving
and Easter Week
Thanksgiving 2008, and Easter Week, 2008
US $1,250 per night
Holiday
December 20, 2008 to January 3, 2009
US $1,850 per night
Event Fee
One night's rent

Notes Regarding Rental Rates:

- Rates include preparation of two meals per day except for Sunday.
- Rates do not include cost of food or beverages, nor taxi fare when staff needs to make shopping trips.
- Local telephone calls are free of charge. Long distance calls are blocked but can be made through a toll-free access number and a telephone card which you can purchase in Puerto Vallarta.
- Rates do not include gratuities for staff - It is customary for each guest to pay a "propina" (gratuity) of $3 to $5 USD to each staff member per day, on the last day of your stay (the administrator is not tipped). For example, each guest pays $30 to each staff member for a week's stay assuming excellent service ($5 x 6 days, as staff normally does not work on Sunday).
- Rates are not guaranteed and can change without notice. Your rental rate is guaranteed only when we receive the agreed-upon rent in our bank account. Villa Suzannah reserves the right to change any rental rates at its discretion.



By special request, we also make arrangements for airport transfers, baby sitting, massages, mariachi bands, chauffered cars and flower delivery for that special occasion.
Address: Fantastic Villas
1482 East Valley Road #325
Santa Barbara, CA 93108
Text/Talk: 805 448-6976
E-mail: suzy @fantasticvillas.com