HOME ALL RENTALS CONCIERGE FUN THINGS TO DO PROPERTY MANAGEMENT FAQs ABOUT US CONTACT
Villa Veranos
Conchas Chinas, Puerto Vallarta, Mexico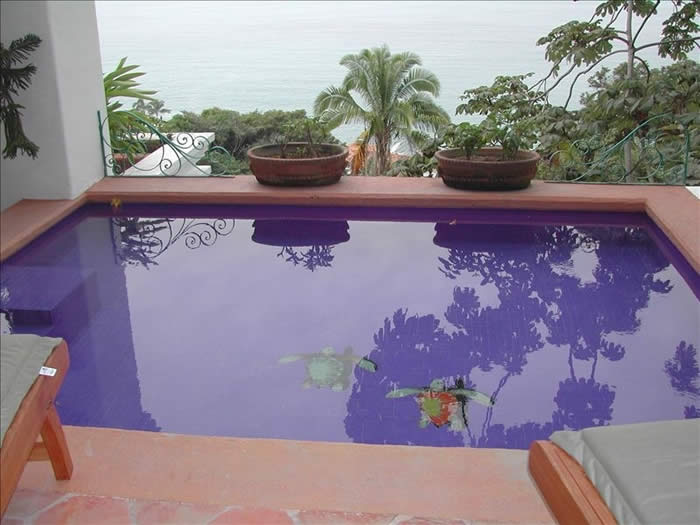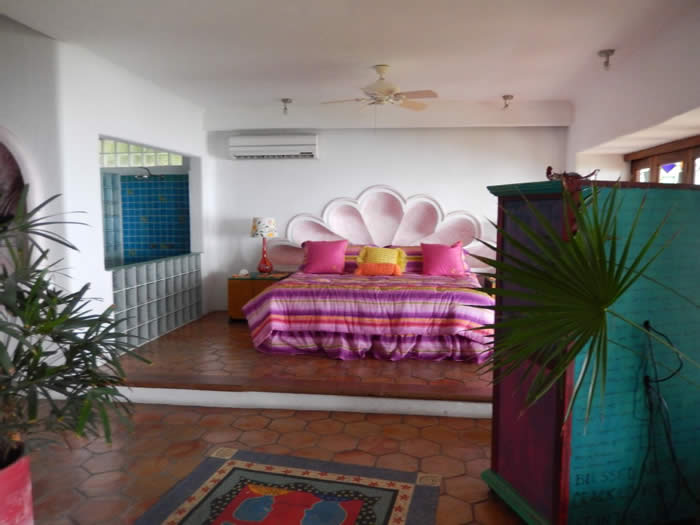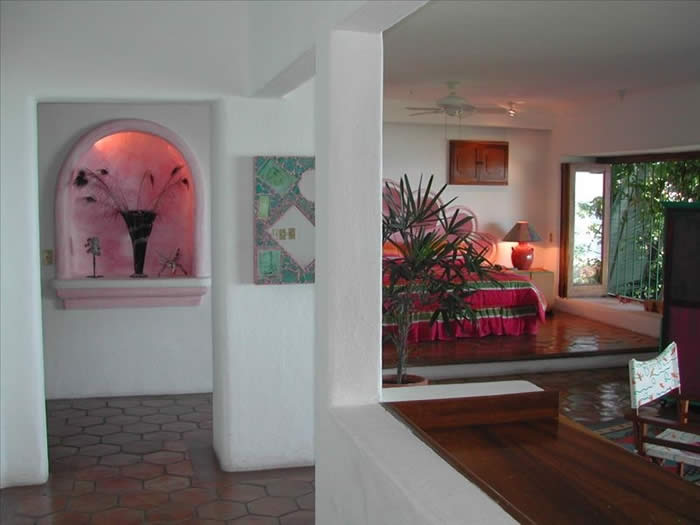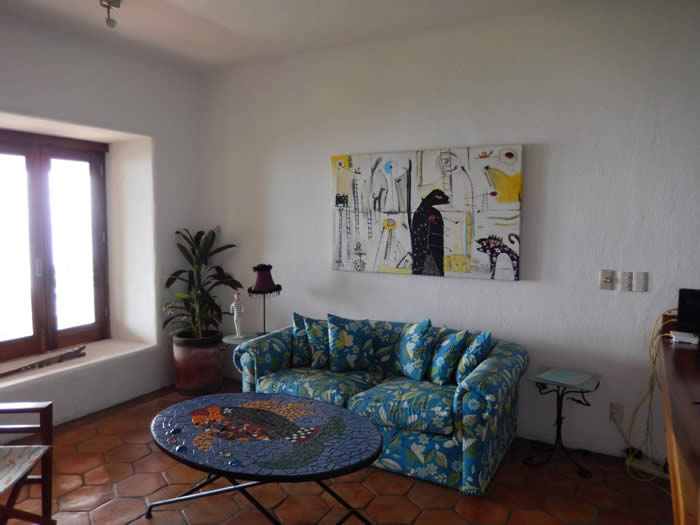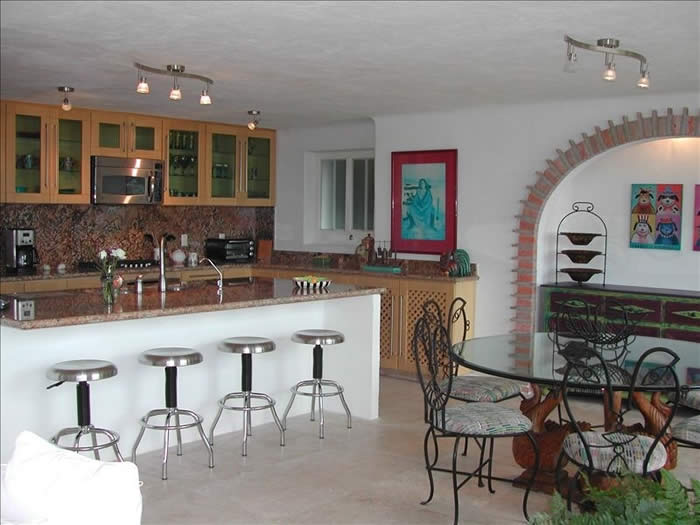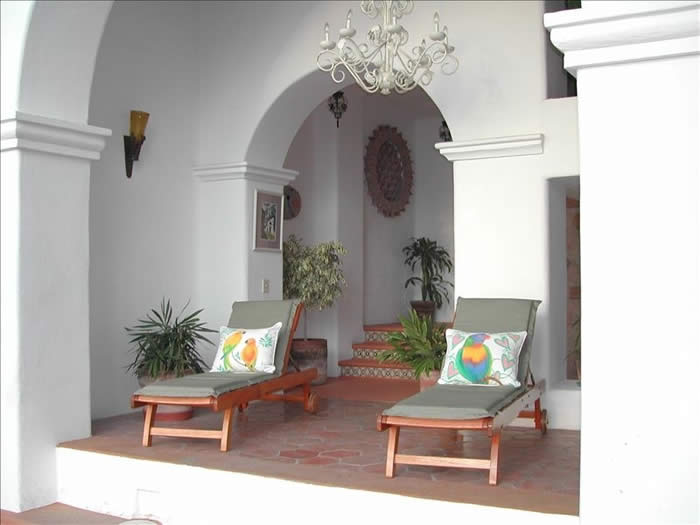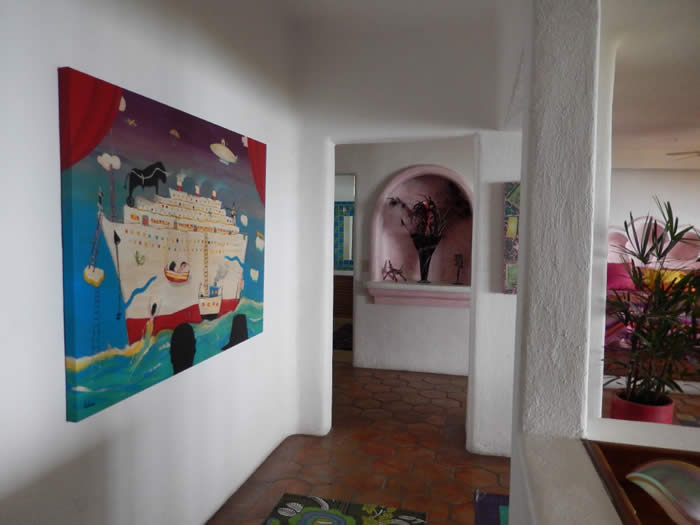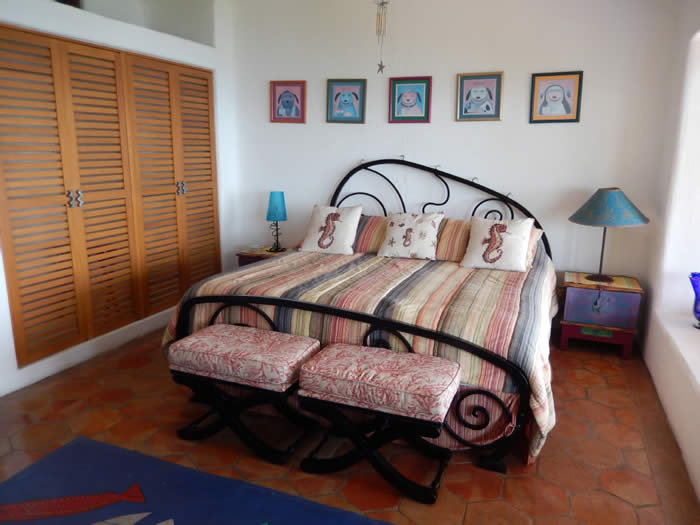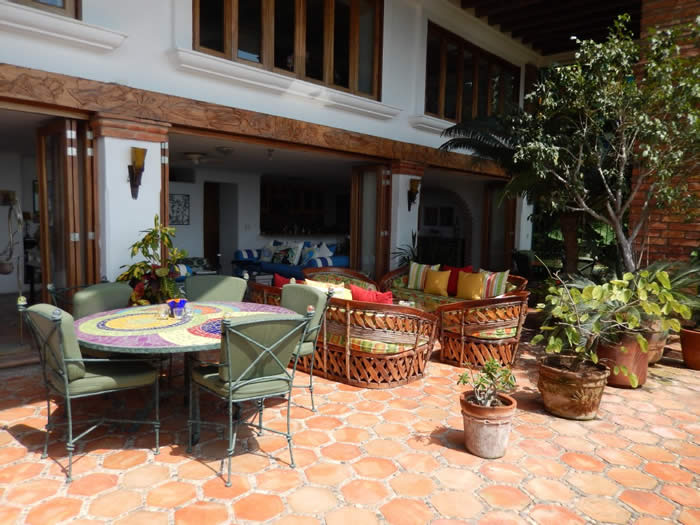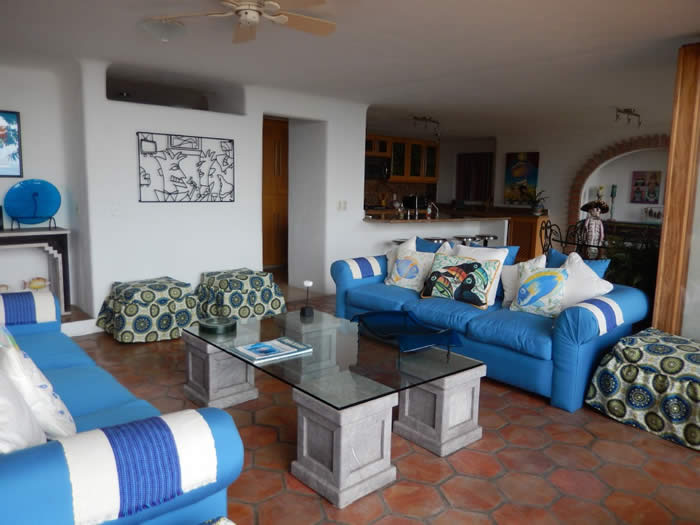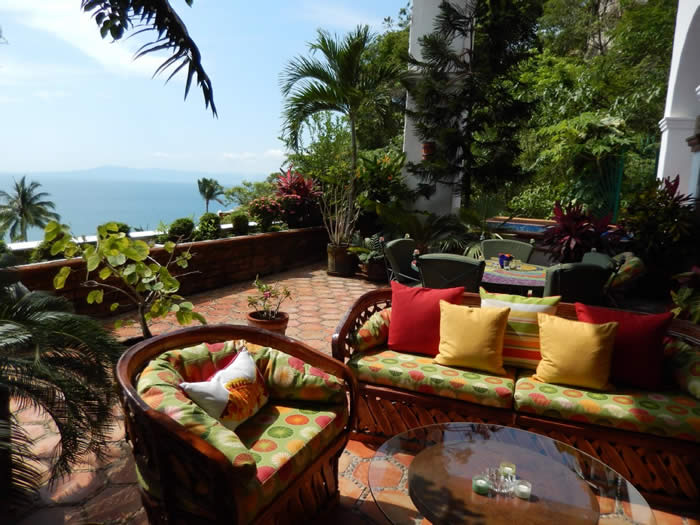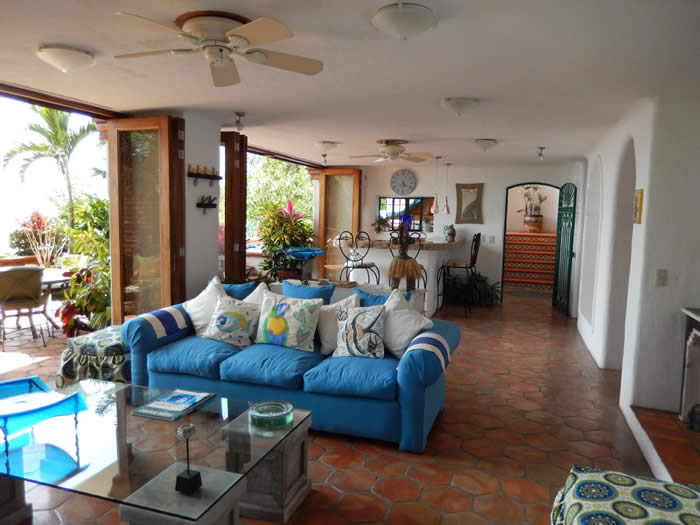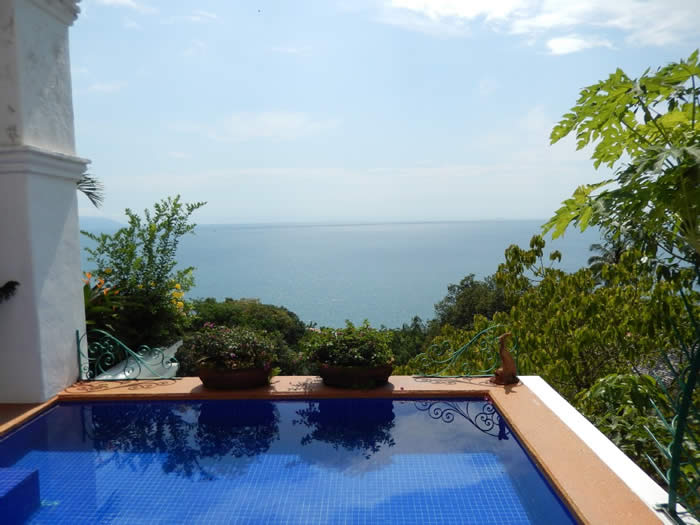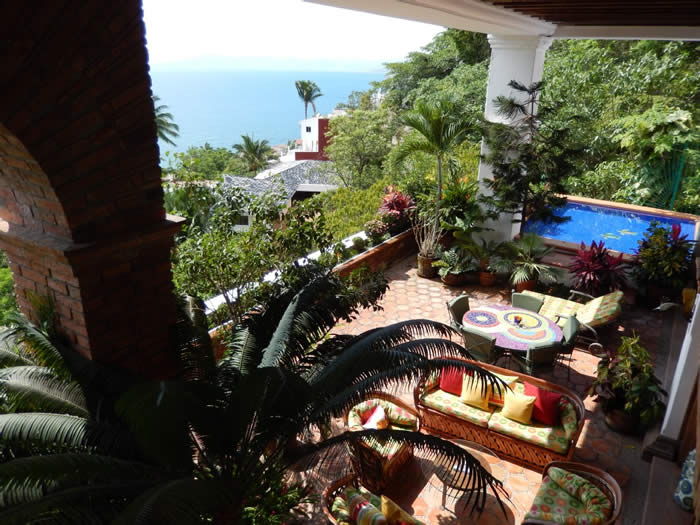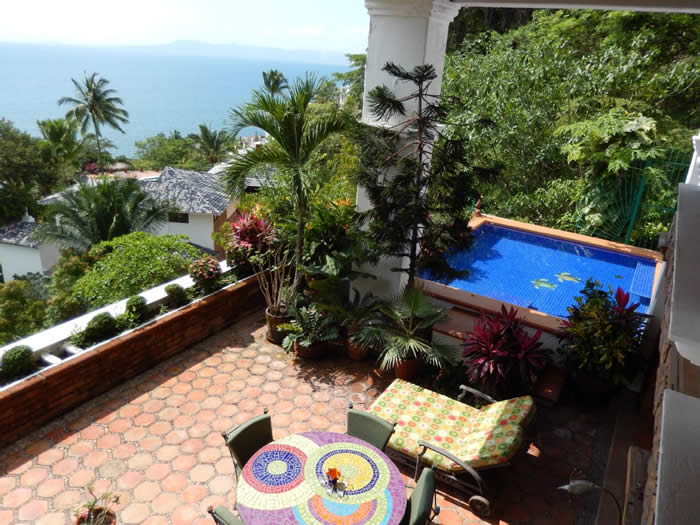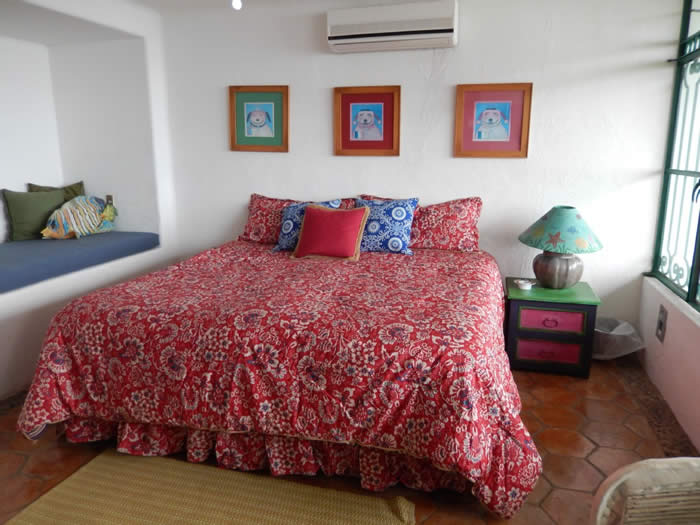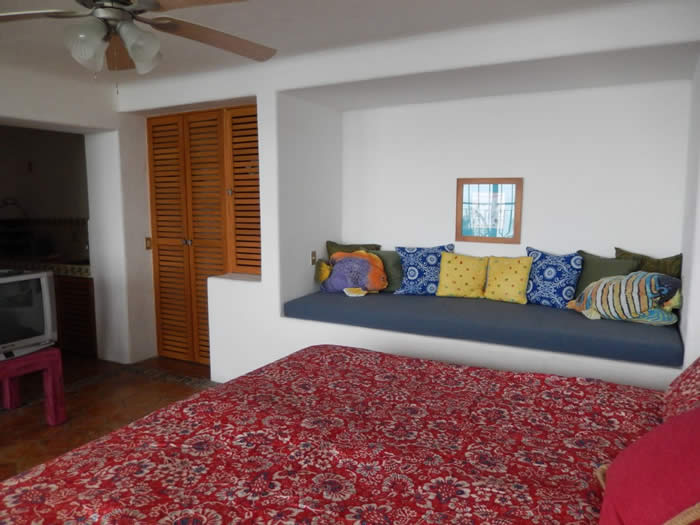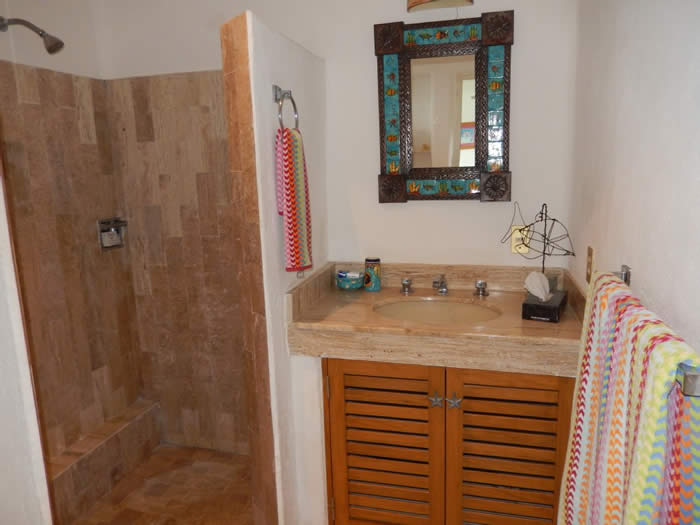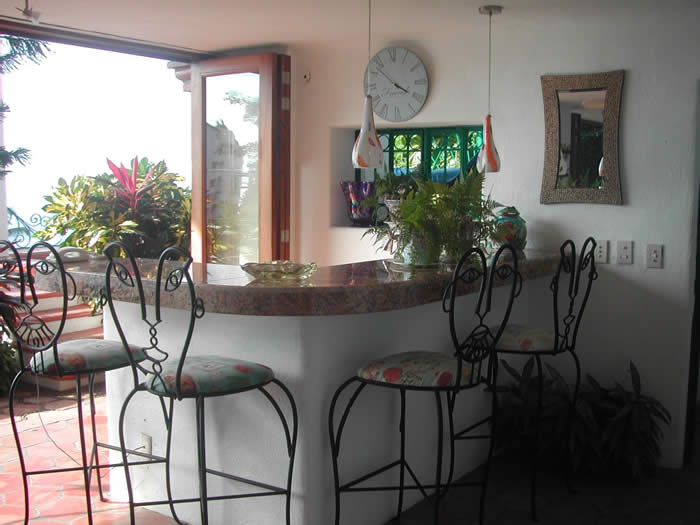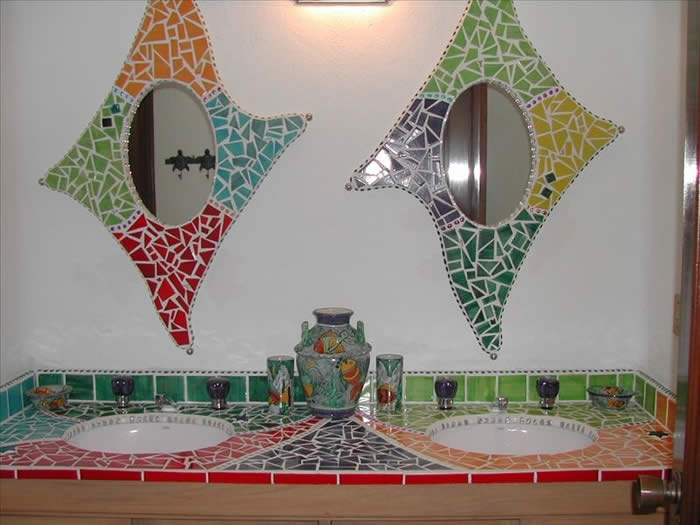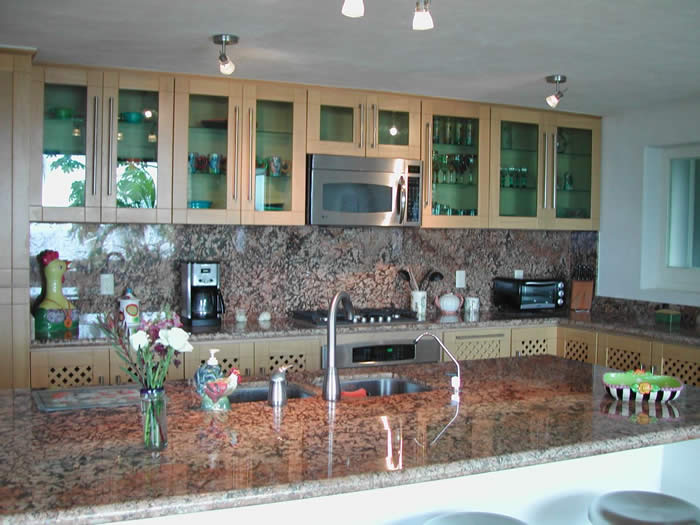 Set high above the sea with views of Mexico's sparkling Pacific Ocean and the tropical jungles is
Villa Veranos. Just a few short blocks from the ocean, this unique designer home is located
in the heart of "Conchas Chinas", Puerto Vallarta's most desirable residential area.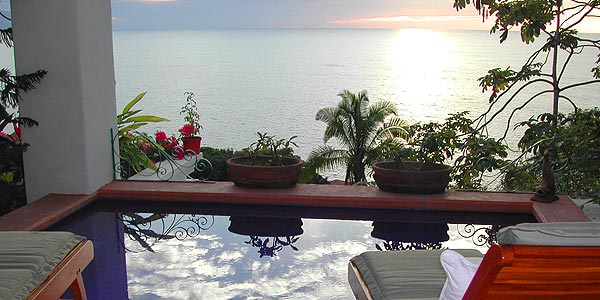 Villa Veranos is a beautifully decorated, superbly maintained, quality residence that offers you a sense of luxury and privacy unavailable at any beachside resort. This spacious villa, with over four thousand five hundred square feet of living space, has a fully equipped kitchen, three bedrooms, four bathrooms and a full time staff to pamper you during your stay. Villa Veranos has a magnificent open living room, dining room and bar area making it an excellent choice for entertaining. Warm ocean breezes flow throughout the casa all day long and through the night.
Incomparable Ocean View
Three Bedrooms and Four Baths
4,500 square feet of living area on 3 levels
Spacious 1,500 square foot Terrace
Professionally decorated, luxurious accoutrements
Large Master Suite
Private, Heated Pool
Terrace Barbecue
Fully equipped kitchen
Satellite Television, DVD Player, Stereo with CD Player
Air Conditioning
Dish Washer
Full Maid Services
Fantastic Views from Every Room!
Puerto Vallarta is a beautiful village filled with romance and adventure!
Located on the Bay of Banderas, on the same latitude as Hawaii,
Puerto Vallarta enjoys a year round tropical climate.
Enjoy the enchanting town where cobblestone streets are lined with quaint whitewashed houses,
centuries old churches and an inviting array of restaurants and shops.
Beautiful Conchas Chinas Beach just minutes away
The night life sizzles, deep-sea fishing is excellent, there is tennis, world-class golf courses and a full range of water sports are all nearby as well as many sights of interest to explore.

It was here that the motion picture "Night of the Iguana" was filmed, starring Ava Gardner and Richard Burton. And it was in Puerto Vallarta that Elizabeth Taylor and Richard Burton began their legendary romance that turned a once sleepy Mexican village into a world famous resort.
RATE 700 USD/night 7 night minimum
Reviews
Perfect villa with spectacular view!!
This villa was stunning. It is the rare occasion where the villa is actually better than the pictures!! It is beautifully decorated and very user friendly. The alfresco living arrangement is fabulous for friend/family dinners. The villa is very well appointed with all the comforts of home. The view of the bay is spectacular and we loved the beach at the end of Easy street. Property comes with a maid who was lovely and helpful. We actually used a cook one night and the dinner was delicious. The villa owner is a very knowledgable and helpful resource for dinner/entertainment recommendations. We LOVED this villa! KB Morristown, N.J.
Pictures do no justice
Our family are frequent visitors to Puerto Vallarta (2-3 times a year) and were fortunate enough to spend two weeks at Casa de la Noche over the Christmas/ New Year holidays.The pictures are a shadow of what you really experience. The villa is well kept and you can see pride of ownership in every detail. The kitchen is well equipped, with state of the art appliances,the bedrooms are comfortable and the terrace view is amazing, We saw whales in the bay the last day of our stay. The casa is at the top of a hill,so there was a bit of noise from traffic, but nothing that would keep us from sleeping until the smell of coffee, that Maria had ready for us every morning, would wake us. The sun doesn't hit the terrace until 1:00 pm, so we did spend most days at La Palapa, where they have a beach club that supplies, chairs, umbrellas, etc... They are open for lunch and dinner, which was so good, we kept going back for more. The taxi service was very prompt, and fares were reasonable, 50 to 60 pesos to downtown. Lalo, the caretaker of the whole property (6 suites) was very helpful, and was quick in responding to any requests, or concerns. He even brought our family some pasole that his mother in law had made for their family. Gerri, the owner of the property, is pleasant, professional, and prompt in all matters related to the casa. There are a lot of stairs to deal with. A short flight, from the elevator to the entry,two short flights to the bedrooms, another flight to the main floor and another external flight to the third bedroom. The third bedroom is like it's own suite, it was perfect for our grown son, but would not recommend using for younger people or the infirm. All in all WE LOVED IT! Thank you Maria and Lalo. Hope to see you again soon. Char, Alberta, Canada
Better than advertised
February 2010 We found this villa to be spectacular. The description of it is accurate. This is a fabulous space, with an unreal view of the bay including sunsets and full moon (in season). It is also comfortable and flexible. With a party of 6 we could eat or party together or go our separate ways. I've never had a maid before and though it would be 'strange' but it worked out great. We had breakfast a few mornings! Favorite restaurants are Tony's in Mismaloya (a bit hidden) and Trattoria Michelle (world class!) in the romantic zone which is nearby You can walk to town (about 2KM) and walk back up if you're a little adventurous. Taxis are also quick and easy to find. Zip lining, fishing, finding new restaurants, and art galleries are all interesting activities. Enjoy! V. Claudius, St. Paul, MN
Safe and Secure Payments with your choice of PayPal or credit card + 4% PayPal/credit card fee
Address:Fantastic Villas
1482 E. Valley Rd. #325
Santa Barbara, CA 93108
Skype: fantastic.villas
E mail: suzy@fantasticvillas.com