HOME ALL RENTALS CONCIERGE FUN THINGS TO DO PROPERTY MANAGEMENT FAQs ABOUT US CONTACT
Villa di Montagna
Montecito, California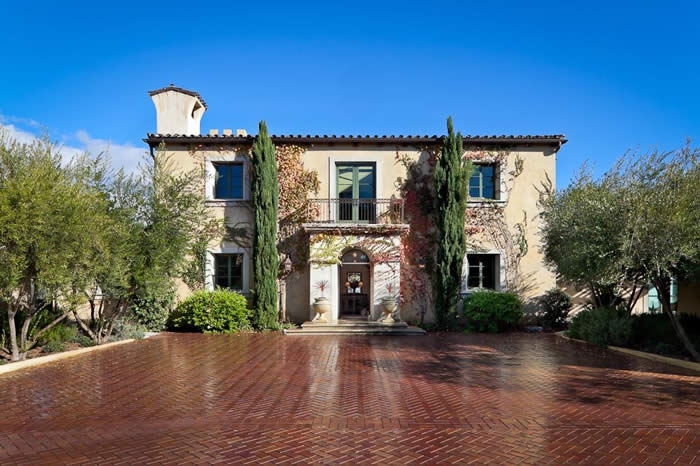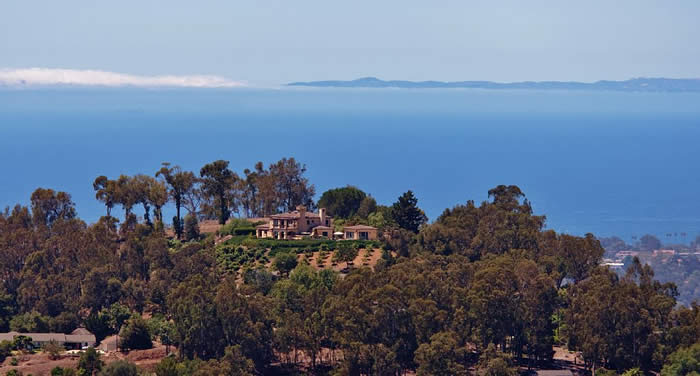 hilltop oceanview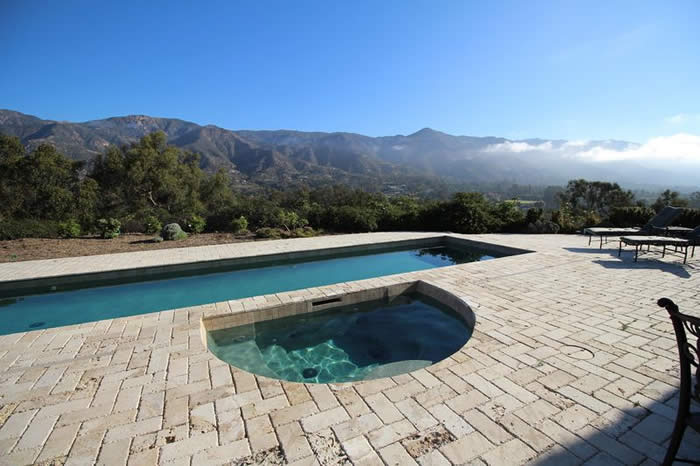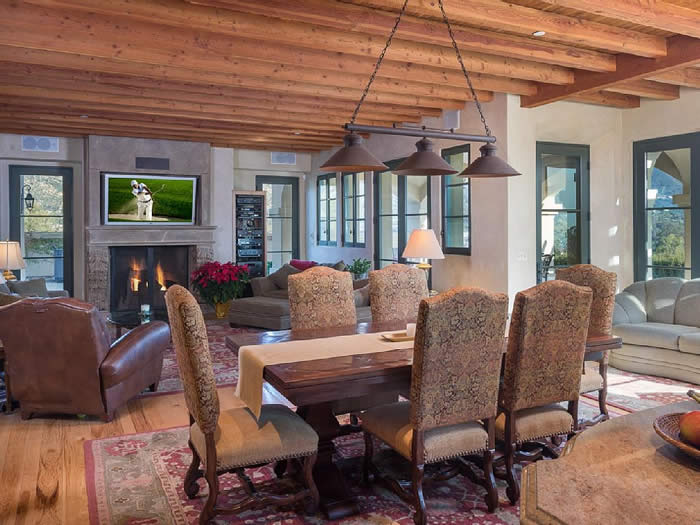 dining room
Swim with ever-changing Santa Barbara mountain views in the background.

2nd floor master bedroom deck (Note: This deck now has outdoor patio furniture)

Warm, inviting 2nd floor interior

Bedroom in the cabana / guesthouse by the pool
Hilltop privacy

Master bedroom opens onto an outdoor deck with mountain and ocean views

First-floor guest bedroom with private outdoor space

Living area in the cabana / guesthouse by the pool
Villa di Montagna is a strikingly beautiful, authentic Tuscan-style private home located on a prominent hilltop in Montecito with stunning mountain and ocean views. It is a peaceful and private getaway that is perfect for entertaining or family living.

The ground level boasts a spacious, open, warm and inviting great room and kitchen with abundant seating, a top-of-the-line indoor/outdoor sound and entertainment system, large flat screen TV, and Rumford-certified masonry fireplace. The great room opens onto two outdoor patios with outdoor furniture, one of which includes an outdoor Rumford-certified masonry fireplace for evening entertaining under the stars, as well as an old-world stucco fountain.

The outdoor pool area includes a 60-foot pool with attached spa, a green lawn next to the pool area, lounge chairs for relaxing by the pool, and a separate guest house / cabana by the pool that includes a luxury steam bath.

The home has 6 bedrooms (including the guest house / cabana) and 5.5 bathrooms, plus an office that contains a daybed with a pop-up trundle for additional sleeping space. The home also has a parlor, living room, and detached exercise room above the 3-car garage. The master bedroom features a luxury bathroom and large his-and-her closet. The master bathtub is perched next to large windows that offer stunning ocean views, and the master bedroom outdoor deck also has breathtaking mountain and ocean views.

Villa di Montagna was custom-built with meticulous attention to detail and is outfitted with high-end appliances and finishes, including luxury bathrooms, hand-carved kitchen cabinets, and more. The main house is approximately 5,000 sq. ft., and the cabana / guest house is approximately 800 sq. ft.

What makes this home truly special, however, more than anything, are the views. The views of the Santa Barbara mountains, in particular, are truly breathtaking, constantly changing depending on the time of day and weather, and quite rare (there are only a few hills in the Santa Barbara area from which one can see this particular view of both the mountains and ocean at the same time).

The Montecito Upper and Lower Villages are both a 5 minute drive away, and Santa Barbara proper is only a 10-15 minute drive away. The home's hilltop location offers extreme quiet and privacy.
Property Type
Accommodation Type
Meals
Guests Provide Their Own Meals
Suitability
Bedrooms: 6 Bedrooms, Sleeps 14, Beds for 14
Bedroom in cabana/guesthouse (ground floor, by pool): 1 queen
Small separate guesthouse w/ sitting area, TV, and bathroom

Master bedroom (2nd floor): 1 king

Guest bedroom (ground floor): 1 queen

Twin daybed w/ trundle, in the office (ground floor): 2 twin/ single

The office includes a twin daybed with a trundle mattress

South bedroom (2nd floor, facing ocean): 1 king

North bedroom (2nd floor, facing mountains): 1 queen

Additional guest bedroom (ground floor): 1 queen

This bedroom shares a bathroom with the guest bedroom
Bathrooms: 5 Bathrooms, 1 Half Bathroom
Master bathroom (2nd floor): toilet, tub, shower, jetted tub
Luxury master bathroom; beautiful ocean view from master tub

Guest bathroom (ground floor): toilet, shower

Two bedrooms share this bathroom

Bathroom in south bedroom (2nd floor): toilet, shower

Bathroom in north bedroom (2nd floor): toilet, shower

Bathroom in cabana/guesthouse (ground floor): toilet, shower

This bathroom features a luxury deluxe steam bath

Powder room next to Great Room (ground floor): toilet

Toilet and sink/powder room, off the Great Room
Entertainment
We have a handful of board games and card games onsite.

Music Library:

Direct TV includes access to a large number of music stations
Satellite / Cable
Stereo:
Theme
Attractions
Botanical Garden
Churches
Cinemas
Festivals
Health/Beauty Spa
Marina
Restaurants
Winery Tours
Zoo
Local Services & Businesses
ATM/Bank
Babysitter
Fitness Center
Groceries
Hospital
Laundromat
Massage Therapist
Medical Services
Leisure Activities
Beachcombing
Boating
Horseback Riding
Photography
Scenic Drives
Shopping
Sight Seeing
Walking
Whale Watching
Location Type
Sports & Adventure Activities
Cycling
Equestrian Events
Fishing
Golf
Hiking
Jet Skiing
Mountain Biking
Rock Climbing
Roller Blading
Sailing
Scuba Diving Or Snorkeling
Snorkeling/Diving
Surfing
Swimming
Tennis
Wind-Surfing
Dining
Dining Area
Seating for 8 people
General
4 fireplaces in total, including one outside which is ideal for evening entertainment outside.

Fitness Room / Equipment:

Detached exercise room above the garage

Hair Dryer
Heating
Internet
Iron & Board
Linens Provided
Kitchen
Coffee Maker
Dishes & Utensils
Dishwasher
Pantry Items
Refrigerator
Stove
Toaster
Outside
Pool / Spa
LUMINOUS AND PRECIOUS TREASURE!!
My husband rented this beautiful home for a 10-day getaway to celebrate my 50th birthday. We, along with our 7-year-old, thoroughly enjoyed our stay in this very special home. To provide some context, we have rented luxury properties in myriad locations, and we count this home among our all-time favorites. The last time that we visited Montecito, we stayed at San Ysidro Ranch, but our stay at this home was even more delightful. This precious venue is an architectural treasure and a much-beloved, carefully cultivated and nurtured, luminous family home, that radiantly filled with light, love and care. Attention has been paid to every detail, and every aspect of the home is beautifully and tastefully executed. Unlike some other very impressive luxury estates, this one is absolutely immaculate (this, coming from someone who is admittedly exacting in their standards about cleanliness). It was heavenly to relax peacefully here, catch up on reading, and imbibe the breathtaking views, as our daughter frolicked with delight in the lap pool (which is perfect for children who are still mastering swimming). We headed into Montecito for our meals (literally a seven-minute drive from the house), and enjoyed the plethora of wonderful food there. While downtown Montecito is a hop-skip away, the villa's setting is completely private and, as a result, secluded enough to feel that one is in Tuscany somewhere. This home is, indeed, a luminous and precious gem, and it was our great delight (and privilege) to spend such a meaningful time in a home that was created with so much love and care, and continues to be nurtured with such love and light. It is a haven that is special beyond measure.
Perfect home for a family vacation

My siblings and I were looking for a place to celebrate my dad's 75th birthday when we found the listing for Villa Di Montagna. From the description, it sounded like the perfect place for us to spend a few days together in a beautiful setting just a short drive away from LA. From the moment we arrived, we felt we would never want to leave. Perched atop its own little hill, the house enjoys panoramic views from the mountains to the ocean from every angle. The house itself is elegant without being stuffy. It had everything we needed for our stay, including a fully-stocked gourmet kitchen where we prepared most of our meals (eating out only once). We spent most of our time in the great room, with plenty of space for each of us to be busy with our own activity - from watching football to reading to cooking. The owners were an absolute pleasure to work with, and we are already talking about a return visit. Next time, we might pull ourselves away from the house long enough to explore Montecito and Santa Barbara. Anyone looking for a place to stay with a group would be happy with this home. The photos can't begin to do it justice. J.K. San Francisco

Incredible Christmas Family Vacation

We have rented many homes in Montecito for the past 5 years, over several times per year and this is by far our favorite. It truly exceeded our expectations. When I first spoke with Meredith about our plans to visit at Christmas time, she was truly interested in hearing about our family and making sure that we enjoyed our time in their home. She informed us that the house would be decorated for the holidays and told me the wonderful history behind the great lengths her father had gone through to build the home. She was really caring and a gem to work with. Upon our arrival we were happily greeted by Lisa, who gave us a wonderful tour of the home. She even left a note and basket of goodies and wine, wishing us a great stay. The home was amazing! The kitchen and all the woodwork is exquisite. There isn't anything that this kitchen does not have and it was so fun to make a few family meals as the the family room and kitchen are one big great room, I could cook and still feel like we were all together. Lisa had done an amazing job with the holiday decorating and the house could not have been more accommodating for our family of 4 to celebrate the holidays. The bedrooms upstairs were perfect for my husband and I in the master suite and each of our 2 children had their own room and bathroom close to ours. Downstairs, another 2 bedrooms were very private and perfect for additional guests. All had top of the line sheets and bedding and were all very cozy. We spent most of our time in front of the incredible fireplace. There was an abundance of fire wood right outside and it added to the wonderful feel of the house. We are trying to find time to go back in the summer and enjoy the beautiful pool and outdoor living spaces as it was pretty cold which is why our go to was the fireplace by the Christmas Tree. Aside from the beauty of this home, the views also take center stage. It is very hard to find a home with breathtaking views of the mountains and the ocean. We had an amazing, relaxing and peaceful holiday in this magnificent home. It is secluded and quiet and you definitely feel like you have escaped into a tranquil world. Thank you so much for this wonderful experience! Kim Newport Beach, CA

Don't miss out, truly amazing worth every penny!

Bar none, this is the best place I have ever stayed in. Yes, it can cost a bit but trust me, the place was immaculate. I love to cook, and this truly was the FIRST ever gourmet kitchen. It had everything from blenders, kitchen aid, and popcorn maker to the best wine refrigerator ever. I always stay in and cook so I look for rentals that have large gourmet kitchens. Rarely does a place have everything but this place does. The views were amazing from mountains to the oceans. The house is very large with plenty of room for a large group. Lots of patios to sit, drink wine, read and look at the many views. One family member was there when we arrive to show us how to use everything. This was a great help as their electronic systems are phenomenal from the pool to outdoor lights, fireplaces indoors and outdoors to indoor music etc. Seriously, the photos do not do it justice. Not sure how to do this but if you want to call me feel free. I am one of those people where we do friend weekends and we just lay around the pool, read, drink wine, and cook. This place had it all. If you want a truly remarkable place this is it. I know I sound like a broken record but this was perfect. It was also way up on a hill and super safe. We kept windows open for fresh air and I even slept on a lounge chair on the patio one night. The family is super attentive. If you want a great get away, this is it.!!! Maty Tustin.CA

Incredible Thanksgiving Vacation Home

This house is better than the pictures can describe. It is a very upscale, thoughtfully constructed home that was perfect for our family of nine. Each day under the beautifully blue California sun, we awoke to a sunrise overlooking the ocean in the first-class master suite. The kitchen was so welcoming and very well stocked for all our cooking and entertaining needs. The owner was very engaged and helpful . I highly recommend this house and look forward to going back for many more years to come! Lydia, Buffalo, N.Y.

An amazing week all-around!!!

Starting with the most important aspect of the rental.....the house. It is stunning, the craftsmanship and attention to detail in second to none. The family that own the property, built it a little over ten years ago and with every day you spend in the house you'll love it more and more, discovering little details that you missed at a first glance. The scenery is spectacular, waking up each day to the sunrise was beautiful and the house has perfect mountain to ocean view, which creates for such a peaceful stay. I can't say enough good things about the house itself. There is a courtyard right outside the living room with the most impeccable outside fireplace which is where we spent most of our evenings talking, drinking wine under the stars enjoying the company of loved ones. The family privately run the rental and were so dedicated to making sure that all our needs were met. They made for a very easy takeover of the property and left the house in perfect condition for our stay. The property is stocked with all you would need from kitchen essentials to towels and it made for a very comfortable vacation We had 13 people on property for part of our weeks stay and at no point did we feel crowded or on top of each other. There were so many places to take quiet private time and then come together as a family. I didn't hear one complaint from anyone all week....and trust me, my sibling can be HIGH maintenance. All in all it was the most amazing stay, the house was perfect, the family is the sweetest, the views are to die for and my family and I have made a pact to return in a couple years. Shaun L.A.

First Class home, better than a five star resort!

We have rented More than 15 homes, been to all 50 states + 82 countries and stayed at some of the world's greatest resorts...and this home in Montecito was simply amazing! Just celebrated my 51st birthday with a group of 12 adults at this home for a long weekend. There was plenty of room for everyone with multiple outdoor areas, great views surrounded by orchards and the home looks like it has barely been lived in. We cooked breakfasts and one dinner at the house and really enjoyed the outdoor fireplace area with multiple heaters and a lovely fountain--large enough for a dozen people to relax and drink wine after a fantastic meal together. All of the beds, linens and furniture were new and very high quality--clean and comfortable. The kitchen had everything you could ever need except a wine decanter which we brought with us, haha. Meredith was also very helpful and really easy to work with. Anytime we had a question, she responded within a few minutes. Be sure to have dinner on the outdoor patio (ground level) of San Ysidro Ranch in Montecito where they serve both the Stonehouse menu and the bar menu...and don't miss their blood Orange margarita! We also recommend lunch at the famous La Super Rica taco shack on Milpas. We love Santa Barbara and have spent a lot of time vacationing there...but this is our favorite property. We'll definitely be back to stay at this home again! My wife and I give this property our highest recommendation... Tracy D.

Idyllic

We stayed at this house with some extended family for a 50th birthday celebration weekend. The house is beautiful and well-appointed and the views were incredible. Top notch all around. Highly recommended. Holly G.

Beautiful Stay in Santa Barbara

We had a great stay at this house while on Business for a week in Santa Barbara. The perfect place after a stressful day to relax and prepare for the next day of work. Owner worked to ensure that we were comfortable at the house. Beautiful property with great 360 degree views. Thanks! B. Vancouver, Canada

Beyond Compare

We are a family of 6, and we've never been to Santa Barbara. We like to explore, but we value our downtime. We just had the most fantastic vacation, achieving both, and Villa Di Montagna was a vital part. It's difficult to put into words the setting, the ambiance, the comfort, the amenities, the homeowner and family that make this home so special. But I'll try to convey our experience. If you are seriously considering renting a home in Santa Babara, you should continue reading. I'll try to be as brief as I can. I re-reviewed the photos of the home after our stay and they are good, but what you will experience is better than photos can convey. The home is on the top of a hill. Very private with spectacular views of the mountains and ocean. I've been to Tuscany, and this compares. The home is wonderful with many indoor and outdoor spaces to relax, eat, enjoy views including sunrise and sunset. Hummingbirds will zip around the pool sampling the flowers, the orange blossoms smell terrific, hawks may circle overhead, there is a big owl hanging out in the high tree which can be viewed from one of the patios as you look towards the ocean. You can see the Channel Islands rise out of the Pacific in the distance. I didn't see them until day 2 because of the morning fog that covers the valley but eventually burns off. We enjoyed the outdoor fireplace and the pool and spa every day. Personally, the pool was a daily treat as its's long enough to swim laps (not 25 yards, but around 20 yards which works well). There are fruit and avacados trees on the sloping hill. This is not a little garden, it's and orchard. The kitchen, laundry room, bathrooms are all stocked with everything you would need. The owners took care of every detail. From the house, you are 3-15 minutes from any local beach, restaurant, harbor, etc. All said, the house is very private, exceptionally maintained and well located. Finally, the owners were a pleasure to meet, are obviously a fantastic family and handled every detail from start to finish very professionally. They took some time to hear our feedback personally on our departure day. There is little, if any, room for improvement. We have rented before and have stayed in some nice places: Telluride, Crested Butte, etc. This total experience tops the list. Go and make some memories! You will be glad you did. Benton M.
Rates
$2,300/night
3 nights minimum
Approximate Monthly rates, actual rate will depend on the days of the month you stay
Fees:
Refundable Damage Deposit $5,000
Cleaning fee $500
Tax Rate 10%
CONCIERGE SERVICES; We make arrangements for airport transfers, baby sitting, massages, mariachi bands, chauffered cars and flower delivery for that special occasion, etc.
Safe and Secure Payments with your choice of PayPal or credit card + 4% PayPal/credit card fee, checks and wire transfers also accepted.
Address: Fantastic Villas
1482 East Valley Road #325
Santa Barbara, CA 93108
Skype: fantastic.villas
E-mail: suzy@fantasticvillas.com