HOME ALL RENTALS FUN THINGS TO DO PROPERTY MANAGEMENT FAQs TRAVEL TIPS ABOUT US CONTACT
Villas del Corazon
Sayulita, Mexico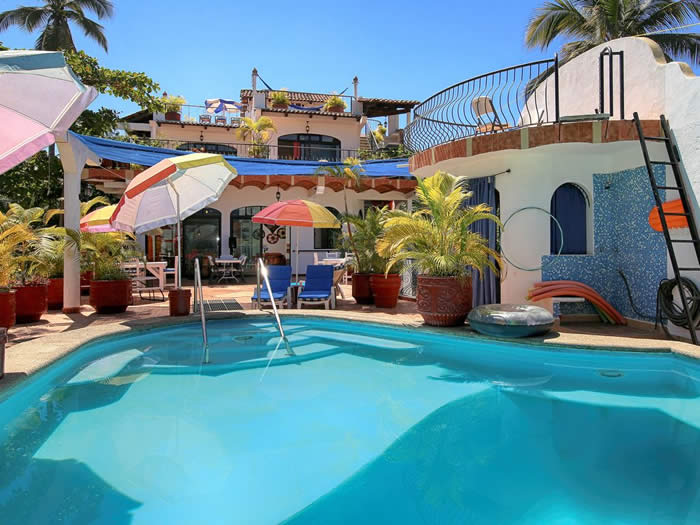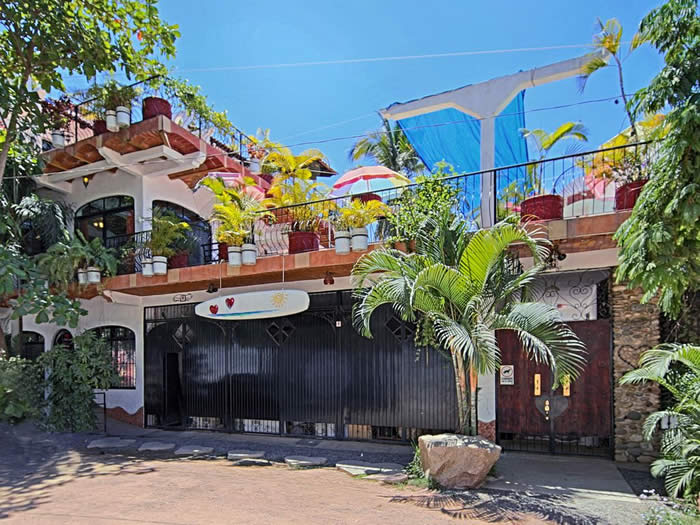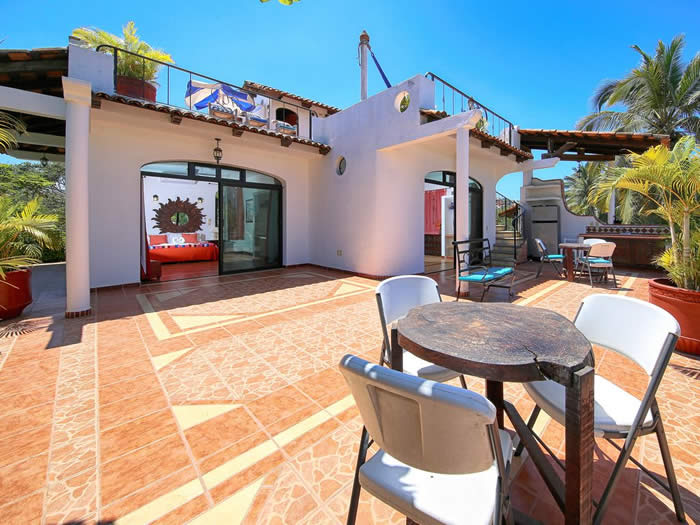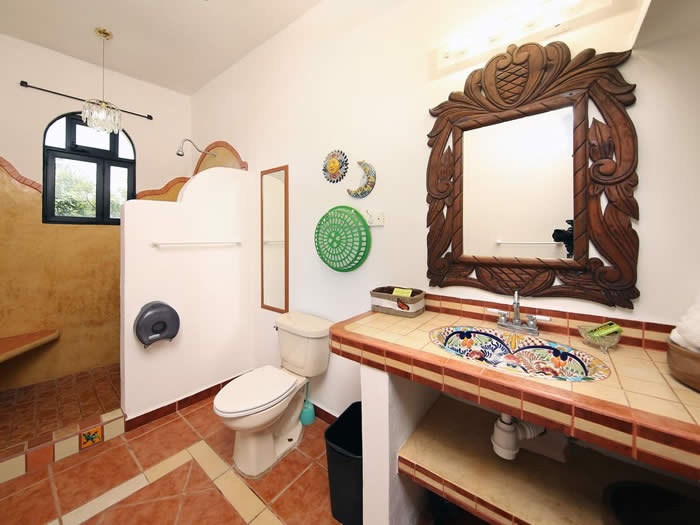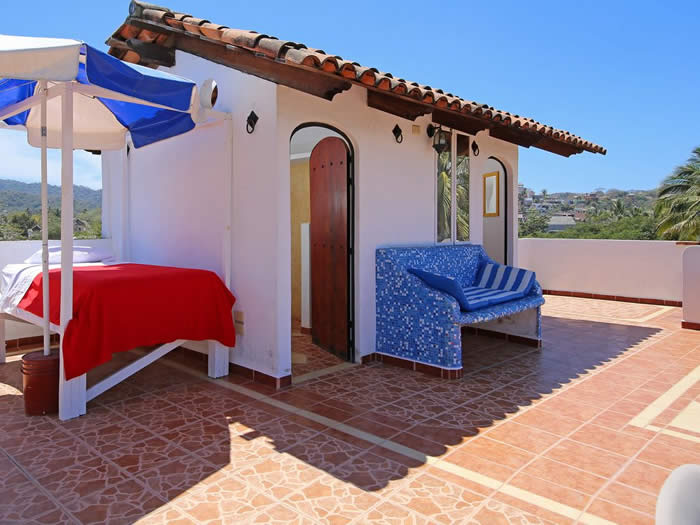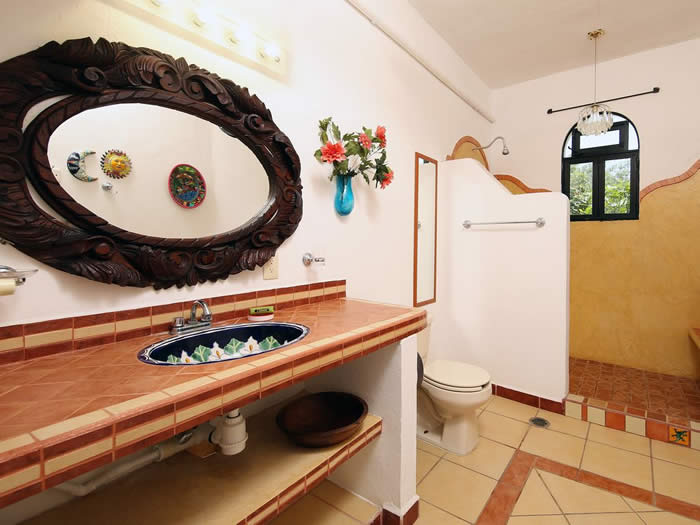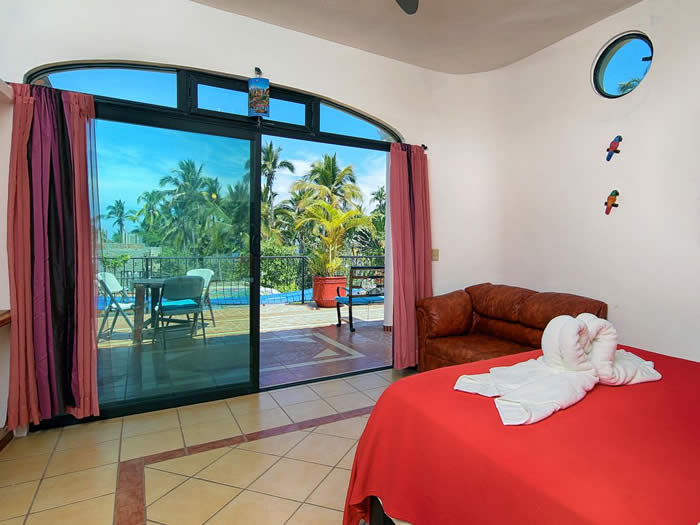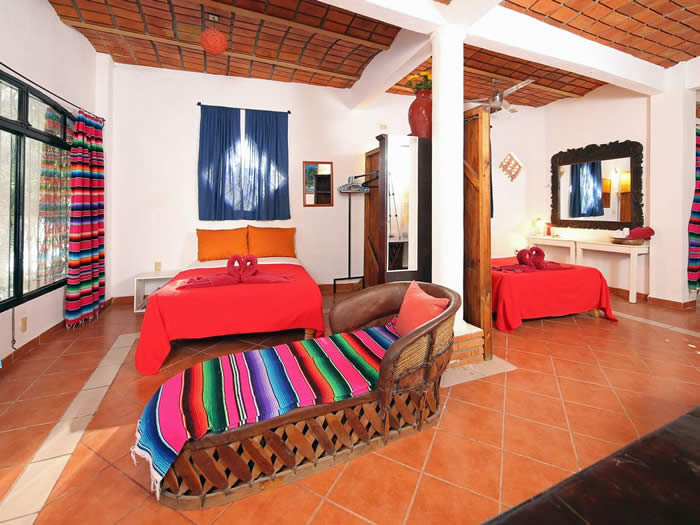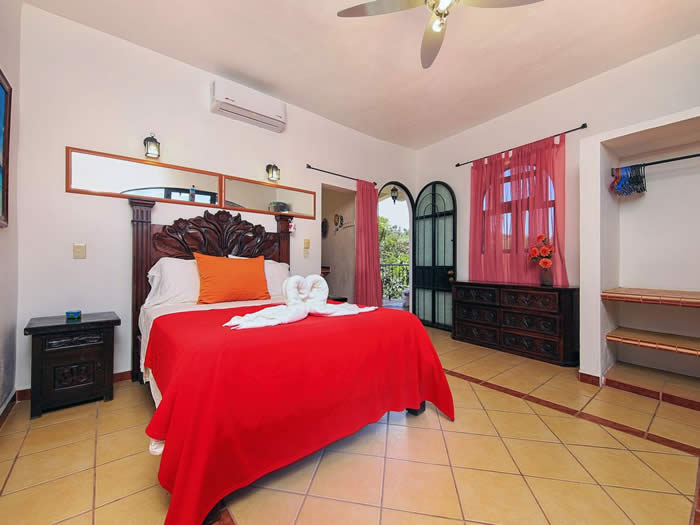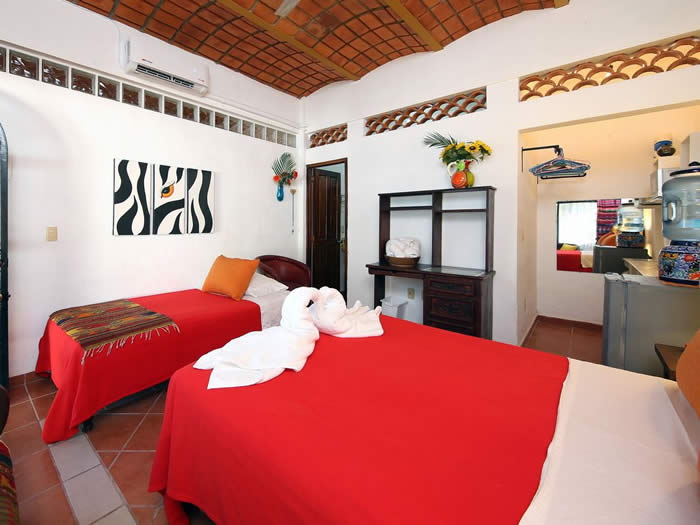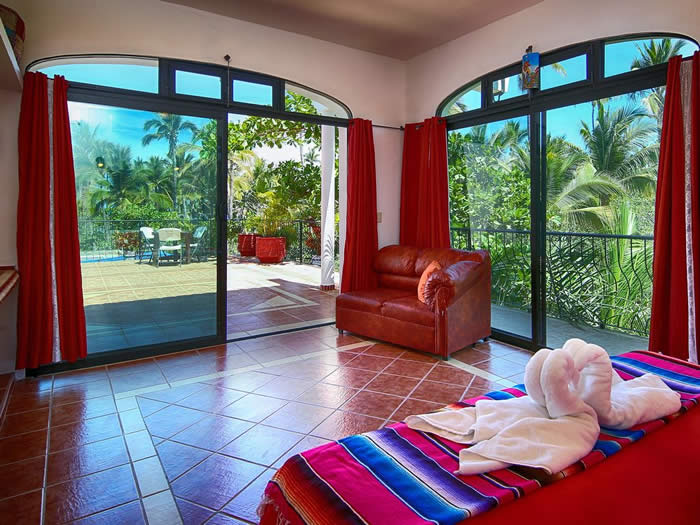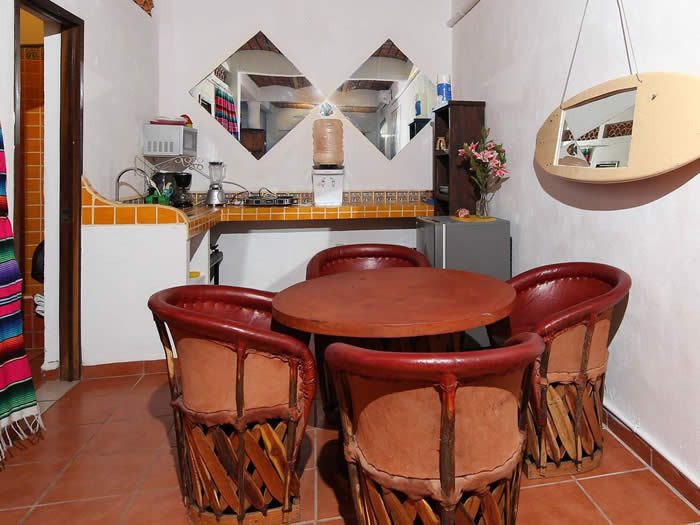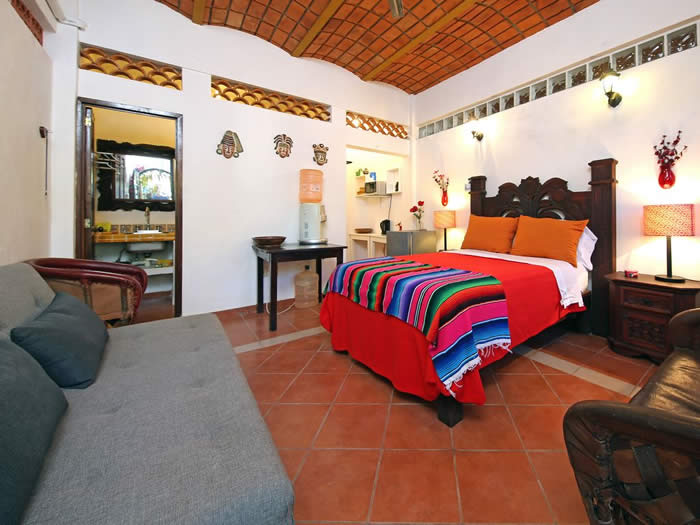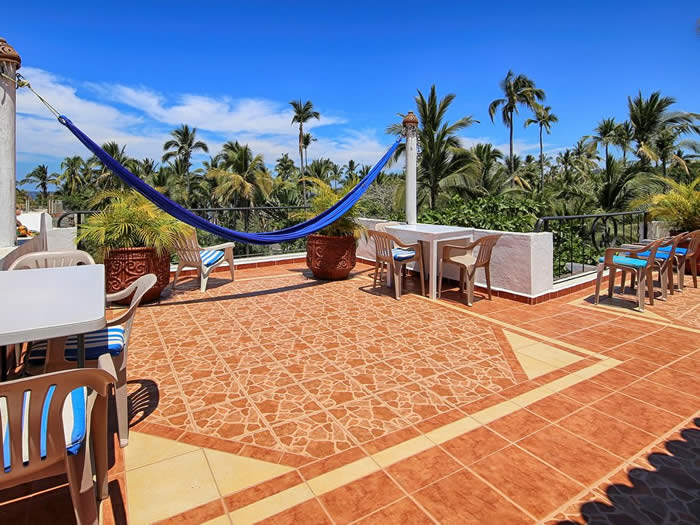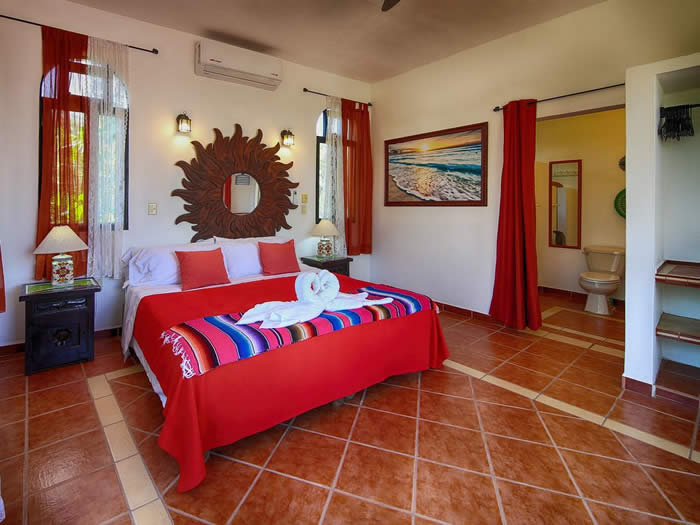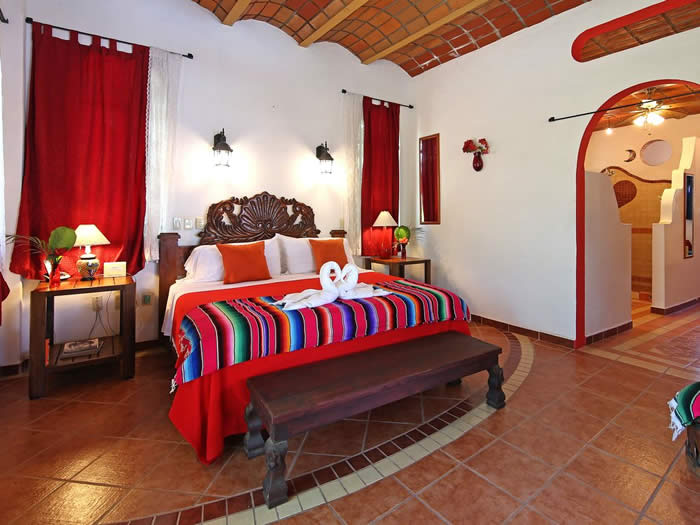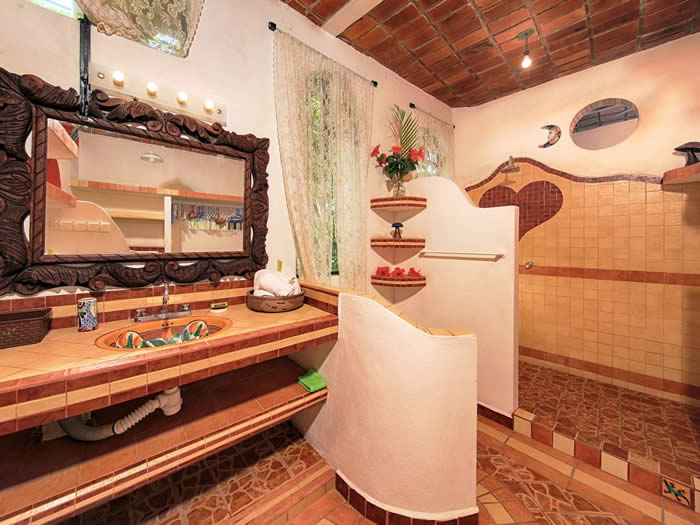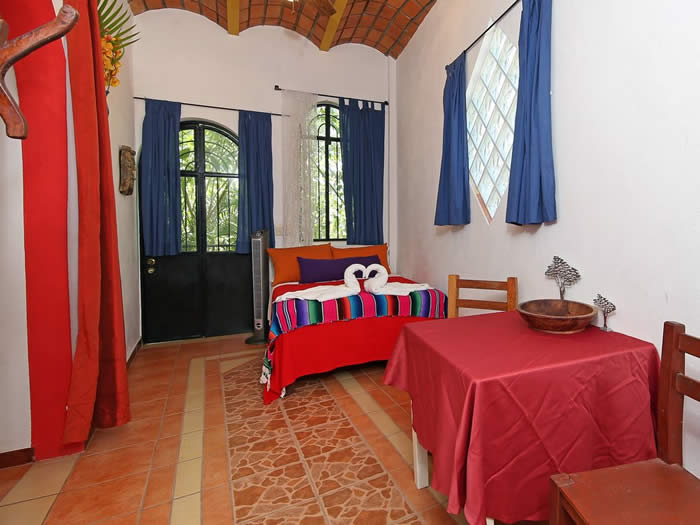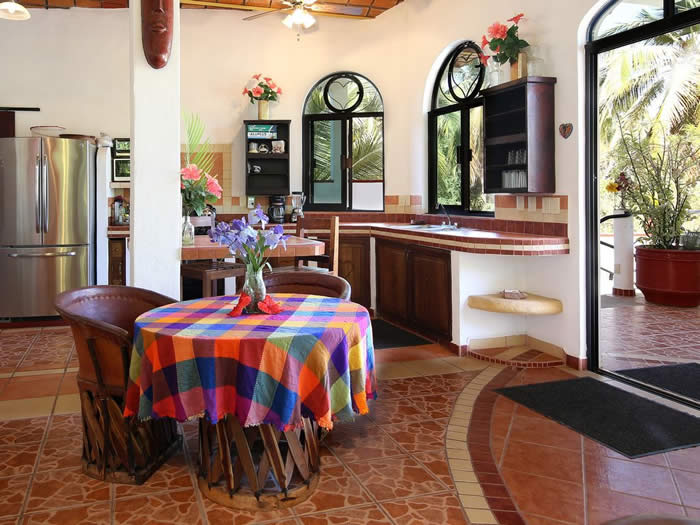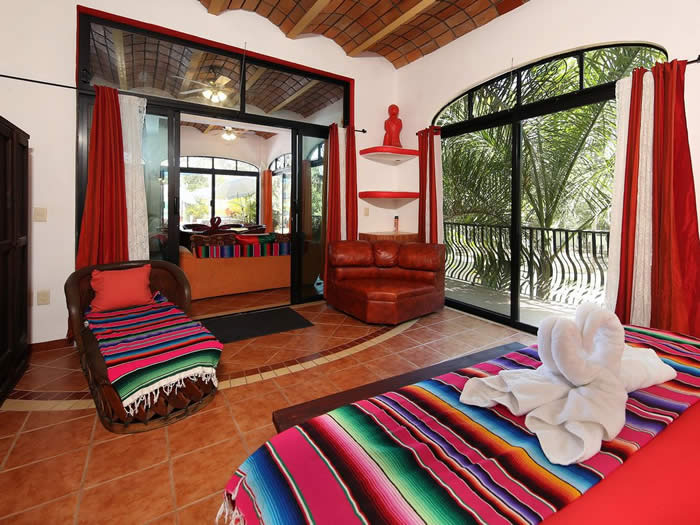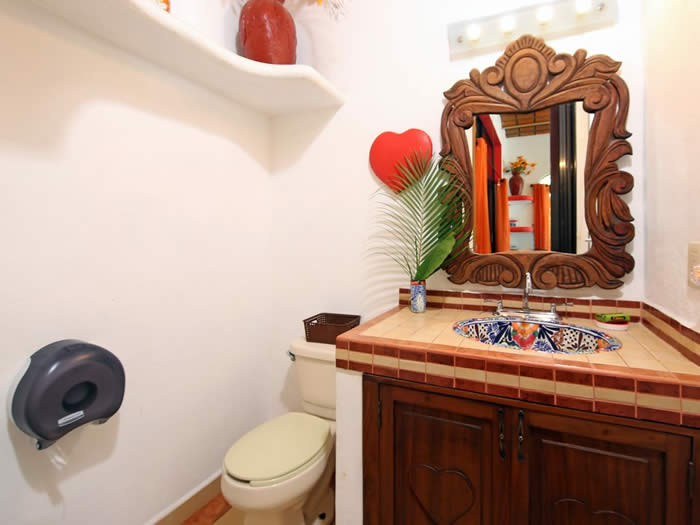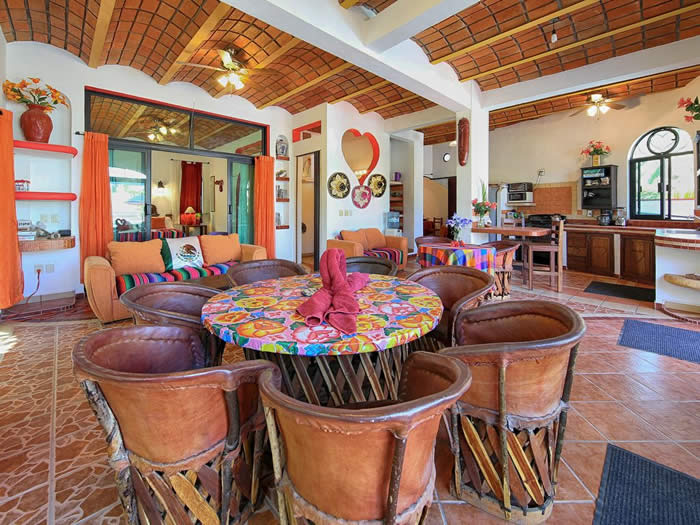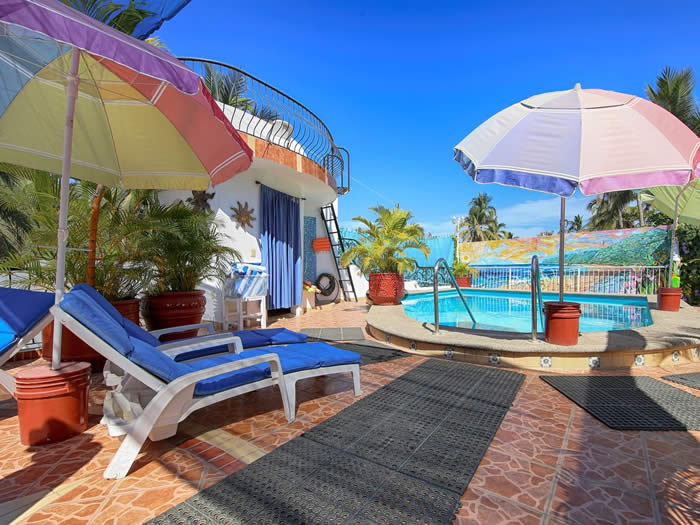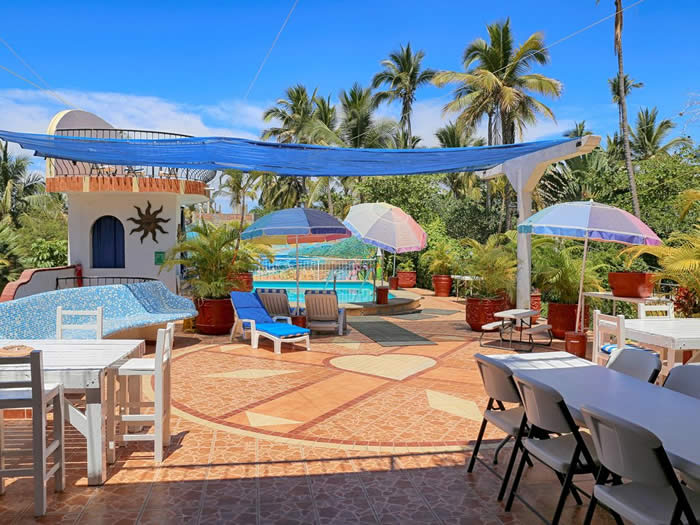 One to Seven Bedroom Options - 9 baths, sleeps 16 - 20
Villas del Corazon is a beautiful private home located on the quieter north side of town, just a one minute walk to the beach and an easy 5 minute stroll to the plaza and downtown. Come and enjoy our ocean & jungle views, spacious wrap-around terraces, lush plants, and our beautiful crystal clear swimming pool. Villas del Corazon is a great location for Weddings, Reunions, Families or Groups.
We have a large 4 bedroom villa which sleeps up to eight people, a large studio apartment with two beds, and two smaller studio apartments. These units can be rented separately or together to accommodate groups of all sizes. The studio apartments only include access to the pool and terraces when they are rented along with the 4 bedroom villa.
We can accommodate up to 160 people at the house for weddings, private parties, or whatever type of event you wish to host.
Event Fees vary by size/type.
Experience the magic of Sayulita from a whole new perspective. With 20,000 sq/ft of world-class craftsmanship Villas Del Corazon is one of the finest beachfront vacation rentals you will find anywhere. Villas del Corazon has the unique distinction of having some of the most incredible views in Sayulita while, at the same time, being only steps away from the most private and pristine north side of Sayulita's beautiful beach.
Wonderful place for a family gathering and destination wedding. Wonderful Staff, everything is as expected.
Enjoy your vacation in Sayulita at our centrally located luxury Villa.
Bedrooms
Master - king
Bedroom 3 - king
Bedroom 4 - queen
Studio #1 - queen
Double studio - 2 queens
Studio #2 - queen
Bedroom 2 - double
Amenities
Internet
Pets Welcome
Air Conditioning
Swimming pool
Children Welcome
Parking
Bathrooms
6 Full Baths in Main House outdoor shower
Location Type
Downtown Sayulita's plaza is an easy 3 minute walk from the house. Villas del Corazon is just Across the river on the quieter north side.
Resort There are no highrises in Sayulita. It is sweet and simple, family friendly, environmentally conscious, and just plain fun.
Village Sayulita is a beautiful classing fishing village and surf town. It is family friendly and full of exciting people from around the world. The culture of Mexico remains and is honored in Sayulita
Beach View; 300 Feet to the Beach Surrounded by Coco Palms. Views from the upper terraces and upper bedrooms.
Mountain View; Panoramic view of Sayulita from the 3rd floor patio.
Ocean View; Hear the Surf from your Bed. Views from the upper terraces
Meals
General
Telephone
Air Conditioning; All bedrooms and studio apartments have air conditioning.
Linens Provided
ParkingParking out in front on the street is never a problem.
Internet
Towels Provided
Iron & Board
Hair Dryer
Living Room
Kitchen
Refrigerator
Stove
Oven
Microwave
Coffee Maker
Toaster
Pantry Items
Dishes & Utensils
KitchenFull kitchen in 4 bedroom main villa. Kitchenette in the large studio villa. Microwave/fridge in the small studios villas .
Dining
Dining Room
Dining
comfy seating for 16 people
Entertainment
Outside
Balcony
Outdoor Grill
Deck / Patio
Water Sports Gear
Suitability
wheelchair inaccessible
Long-term Renters Welcome
smoking allowedNo smoking inside any part of the villa.
Pool / Spa
Onsite Services
Car Available
Massage
Chauffeur
Concierge
House Rules
Check-in: 2:00 PM
Check-out: 11:00 AM
Parties/events allowed
Smoking allowed
No smoking inside any part of the villa.
Pets allowed
Pets considered. Please contact owner/manager.
Children allowed
Max occupancy:20
Cancellation Policy
Canceled bookings will not receive a refund
Additional Guest Fee $50
We generally have a 6 night minimum for reservations which include both Friday and Saturday nights, exceptions are possible. We also have various options depending on season and whether you would like to rent one or more studios, the main villa, or a combination of both. Please write for a price quote.
6 Reviews
Excellent4.3/5

Great location

5/5 Stayed Nov 2017Heather U.Grand Junction, CO

We had such a great time in Sayulita! Villas Del Corazon was the perfect location and the right size for our group. Everybody had a comfortable bed to sleep on. The apartments were a bit dark, but still cozy. The kitchen was huge and we were able to prepare snacks and drinks at the house. The pool was a lot of fun, nice and big with a deck to jump off of. Bring your own Bluetooth speaker because the one there isn't the best quality for evening dance/pool parties. There were tons of bathrooms, which is good for delicate tummies. The locals were super nice. Eric was easy to keep in touch with via WhatsApp. This was definitely a 5-Star experience and just what's needed for a large group.

Submitted Nov 11, 2017
Paradise
5/5 Stayed Mar 2016Isabella Z.

Although the pictures of this villa are gorgeous, they do not even do the place justice! This villa is extremely spacious, beautiful, and close to everything. It is on a road that leads directly to the beach, which takes about a minute to walk to. It is also close to town for shopping, eating, and exploring the night life. Eric provided us with filtered water and a golf cart for a small fee per day, it was amazing. I went with 16 of my friends and we couldn't of had a more enjoyable stay!

Submitted Aug 30, 2016
A huge disappointment!!
1/5 Stayed Dec 2015Mindy B.

Our third year in our favorite, Sayulita, but a huge disappointment of a rental. We were late searching rentals this year, so our choices were limited for our group of 12. The 2 previous rentals were stunning, but on the hillside and difficult for our 87 and 89 year old parents to negotiate. Villas del Corazon was appealing because of its location and size.

The property was very run down. Light bulbs were missing from many fixtures, the kitchen was grimy, drawers stuffed with odds and ends and dirty. A cheap plastic shelf on the counter held old spices. The inside shelves of the fridge were broken off and the freezer smelled like rotten meat. The sheets on all the bed were dingy and stained (gross). Patio furniture was mostly cheap plastic chairs. The pictures for the listing showed an outdoor dining table and living room furniture, which were not there. Planters consisted of 5 gallon plastic buckets.

We are not a fussy group. Used to roughing it. But for the price, which was comparable to the other lovely properties we rented in the past, it was a rip off.

The description of "360 ocean and jungle views" only could be seen from the very top deck, which was a climb and not exactly inviting. The real views consisted of empty lots on either side, with garbage and a junked van. The front of the property, which occupies a corner, was unkempt, with a dying papaya tree and garbage piles.

It did not help that we chose New Years week, which is of course not the fault of the owner. We were right smack in the middle of major partying ( the beach campers), hot dog stands with loud music. But this went on EVERY night, not just Dec. 31. So, I'd be wary of the location no matter what time of year.

Maid service was essentially non-existent. They came the 3rd day to ask if we wanted our sheets changed. We said no, but they never came back, never swept or did a thing.

Again, such a totally different experience from what we had previously.

Submitted Jan 16, 2016
Heart of it all, private pool!
5/5 Stayed Nov 2015Luann M.

My fourth trip to Sayulita, first time renting this house. Awesome is all I can say. Beautiful well maintained property with great features and details. The private pool was immaculately clean and a great place to hang out. Plenty of appliances and kitchen gear. We rented the main house and larger studio, it's great you can add on studios if your party grows. With quick walks to town and the beach we really felt so close to it all. The property feels very safe and secure, we had no issues. I highly recommend this property.

Submitted Nov 10, 2015
been there
5/5 Stayed Apr 2015metaphysicianVinton

Very nice, both the people and the place. You can see the ocean and the village from here. It is only a short walk to the beach. It is near downtown also. Has pool and dive platform if beach is too far. Nice ramp for people like me that have trouble with stairs.

Submitted May 22, 2015
Sidney from Calgary Alberta
1/5 Stayed Feb 2015POPSCalgary, Alberta, Canada

We were surprised at the lack of maintenance, bathroom floor drain overflowing, elongated toilet seat on a round bowl toilet, lack of hot water for showers, light bulbs requiring replacement, and that awful slope up from street level which came a a big surprise, however my grandchildren enjoyed the pool immensely. many of the pool toys required replacing though. There are no doors to the bathrooms, just a curtain, which is about 12 inches from the floor, same in the bedrooms, all the curtains were too short, and not heavy enough to block out daylight. And then there are the motorcycles at 2.00 am that keep you awake, and the the dogs barking which never seemed to stop. But as I say, the kids loved the pool.

Submitted Apr 3, 2015

Safe and Secure Payments with your choice of PayPal or credit card + 4% PayPal/credit card fee

Address:Fantastic Villas

1482 E. Valley Rd. #325

Santa Barbara, CA 93108

Skype: fantastic.villas

E mail: suzy@fantasticvillas.com