HOME ALL RENTALS FUN THINGS TO DO PROPERTY MANAGEMENT FAQs TRAVEL TIPS ABOUT US CONTACT
BUDAPEST APARTMENT
Budapest, Hungary
The apartment features a mix of designs:

the living room is furnished with mostly

IKEA products, with the most comfortable

double bed. It's ideal for 2 or 3 people

with a double bed and a single bed.

Smoking allowed only on the balcony!

The apartment is fully

equipped with:

- 32" Flat-screen TV
- Satellite TV
- Free Wi-Fi
- Air-conditioning
- Linens
- Balcony with flowers

overlooking the garden
- Elevator

- Kitchen

(not kosher,but plastic tableware

available)
- Bathroom

(towels, shower gel provided)
- Espresso machine
- Toaster
- Fridge & Freezer










Balcony
Hall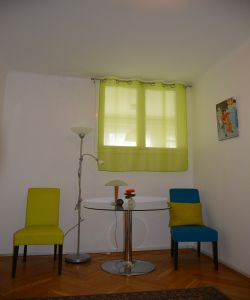 Hall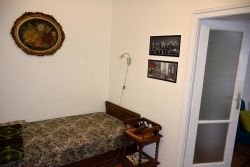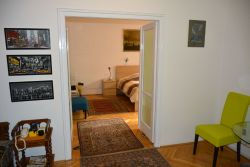 Kitchen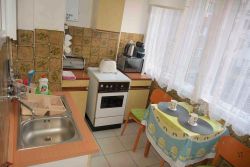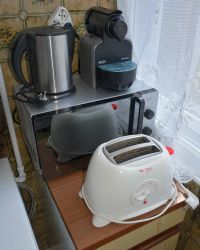 Transfer car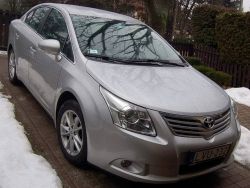 RATE
55 EUR/night 1 or 2 people
65 EUR/night 3 people

REVIEWS
Thank you so much, Janos! We had an amazing time!
We especially loved the little extras, that were so significant such as the pickup from the airport on our arrival, or your surprising visit to give us some tasty traditional pastries ;)
You were even kind enough to give us a self made cd with your choice of music as a souvenir!
Your location is absolutely the best! More than we could ever wish for, in the heart of all the beautiful areas of cafes, great food, shopping areas, and nightlife.
Your apartment is homey and spacious, in a safe and secured building, we really enjoyed our morning coffee in our balcony!
Thanks for everything Ran &Yea! July 11, 2018
"What a wonderful quiet apartment in the party central of budapest 7th district. the apartment was ideally located and decorated in the style of yesteryear which made a welcome change from the IKEA standard. janos and judit were excellent hosts and arranged airport transfers and a few local delicacies for us to enjoy during our stay. i would recommend this apartment for anybody looking for an authentic budapest "old world" experience - it was lovely.
Stayed July 2017
"This was probably the most seamless and smooth arrival and stay that I have experienced in 33 years of regular travel to Budapest. János was extremely helpful in all possible ways and we enjoyed our stay thoroughly. We know the area well so we knew what to expect - the location is perfect for easy access to the whole of BP and surroundings. The double glazing and AC keeps the noise levels of the surroundings out and we had everything we needed in the apartment. Transfer arrangements were smooth and effortless. We will be back if the accommodation is available next time!" Elsie, South Africa

Edward Domandy, Airbnb,2015. Január:
This nice apartment (which was as it appears in the photos and warm and cozy in winter) is situated in the most perfect central location in the Pest side of Budapest. Extremely close to tourist attractions, restaurants, bars and public transport options. Janos was an absolutely fantastic host who went out of his way to make sure our stay was so pleasant, including collecting us from the airport when we arrived late and supplying us with Hungarian new years treats from the bakery(!). Thoroughly recommended, especially at such a good price.
Marta Comini,
The house was great for our needs, and the location is just perfect. Very closed to most of the places we wanted to visit in daytime and for night-time entertainment too. Everything in the house worked properly. Janos was a great host, he welcomed us with city-infos, fruits and changed the first few euros we needed as when we arrived everything was closed. One morning he also passed by with a couple of croissants and gave us a music-cd as present before leaving Budapest. Really a great host! We will definetly come back in summer.
Everything great thank you!
Uri Sagi, Israel, Airbnb,2016.Január
Janos's place is exactly like the description. Located in the best part of this beautiful city. Janos was a great host and helped us a lot. Highly recommended!

Maciej Tomaszevszkij, Poland, 2015.Augusztus
Perfect location, clean apt. Very friendly and helpfull Owner.
Special offer: 10% discount if you
book seven (7) nights or more

Upon arrival, we assure you
FREE TRANSFER from the airport,
railway-station or bus station to
the apartment, located in the
heart of the city in the middle of historical
(old-jewish) quarter of Budapest at Madách-tér
3 minutes walking distance to: ATM, Internet-cafe, 24 hour
grocery, bus-tram-subway-junction, coffee-house


Safe and Secure Payments with your choice of PayPal or credit card + 4% PayPal/credit card fee
Address: Fantastic Villas
1482 East Valley Road #325
Santa Barbara, CA 93108
Skype: fantastic.villas
E-mail: suzy@fantasticvillas.com