HOME ALL RENTALS FUN THINGS TO DO PROPERTY MANAGEMENT FAQs TRAVEL TIPS ABOUT US CONTACT
MONTECITO POOLSIDE COTTAGE
Montecito, California, USA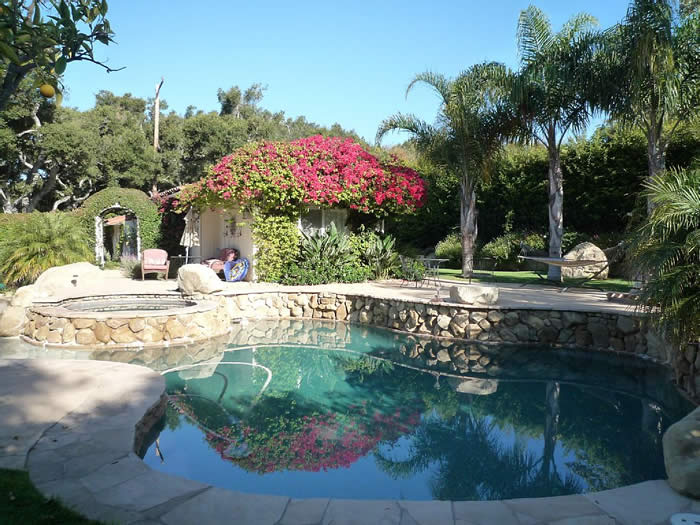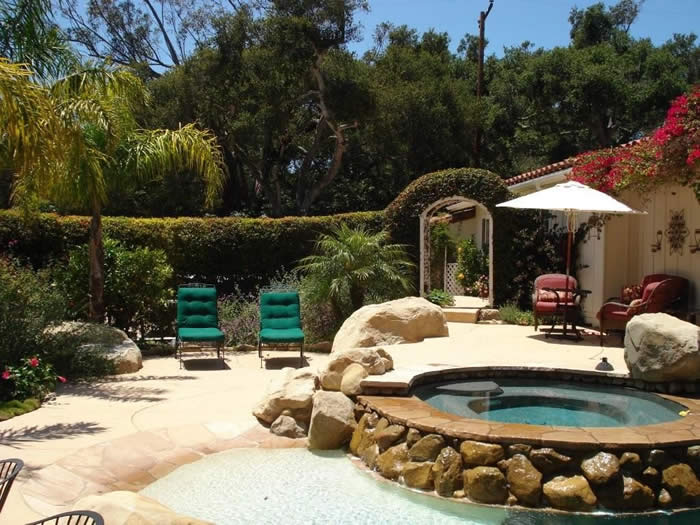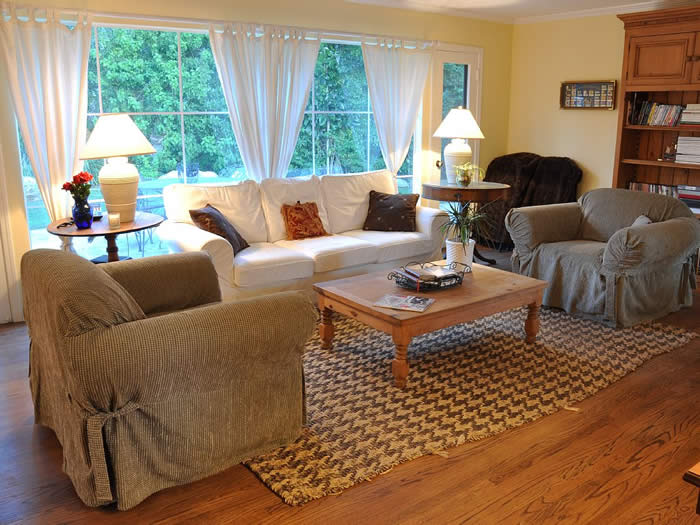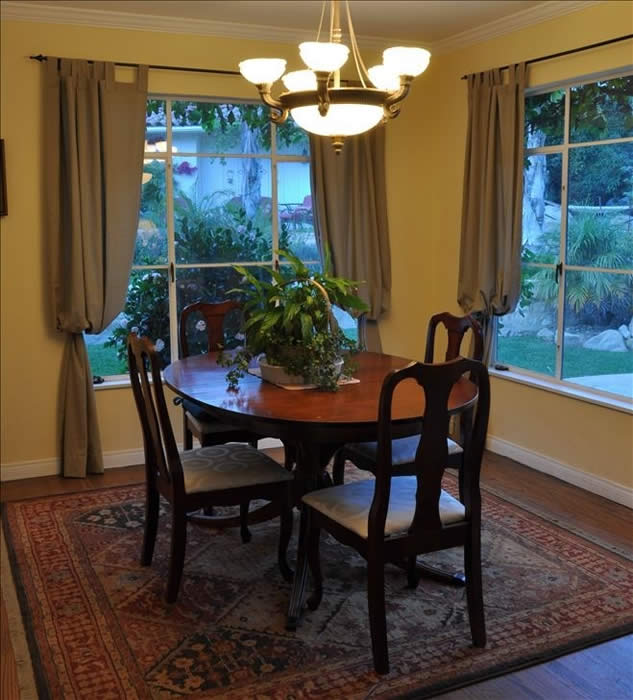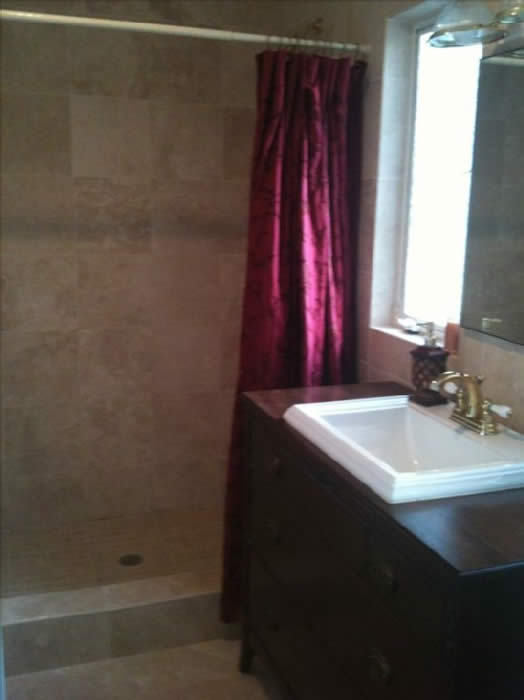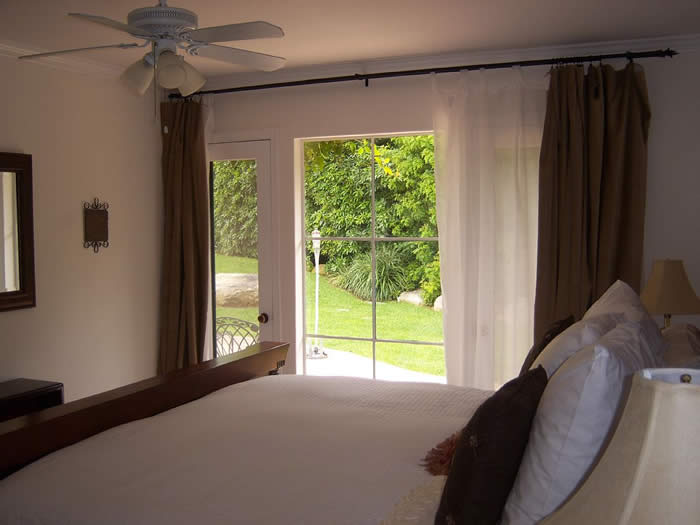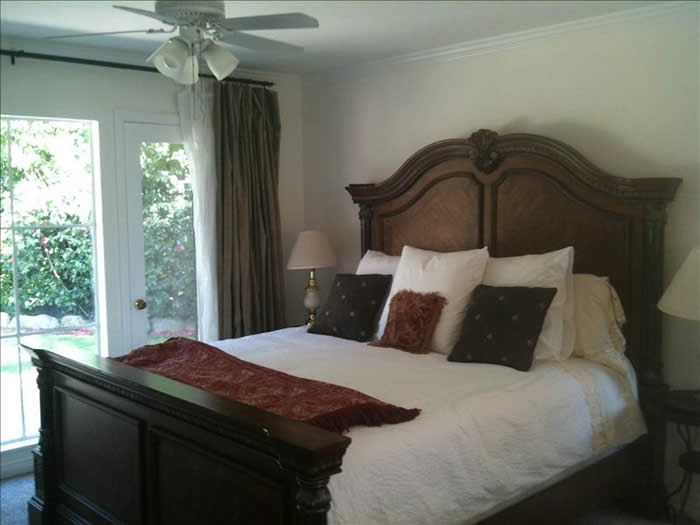 Escape to beautiful Montecito for the weekend or the entire summer. Sweet Poolside Garden cottage, with bedroom, bath, living room, and kitchen just steps to the pool and spa. Peaceful and tranquil, a true getaway! Minutes from the beach, fine dining, shopping Montecito's lovely upper and lower villages, Santa Barbara, and Summerland. Take in a Polo Match, go hiking, biking, sailing or simply nothing at all and get some R&R by the pool. No smoking property. Owner lives in main house on 1.3 acre property, but is not intrusive. High Season May 1st to Sept. 30th Holidays at high season rate.
Property Type:
Bathrooms:
2 Bathrooms
Bathroom 1 -
Bathroom 2 -

Bedrooms:
1 Bedroom, Sleeps 4
King size beds (1), Twin or Single Beds (1), Sleep Sofa or Futons (1)
Suitability:
non smoking only
pets considered with prior agreement
Attractions:
cinemas
health/beauty spa
live theater
Leisure Activities:
boating
horseback riding
shopping
sight seeing
wildlife viewing
Local Services & Businesses:
Sports & Adventure Activities:
cycling
fishing
golf
hiking
jet skiing
kayaking
mountain biking
sailing
surfing
swimming
tennis
wind-surfing
RATE
High Season; May 1 - September 30 415 USD
Low Season October 1 - April 30 305 USD
Cleaning fee 150 USD
Tax 10%
Refundable Security Deposit 500 USD
REVIEWS
Beautiful and quiet
Spacious, relaxing and protected, this is an ideal retreat. Richard M.
Great location, nice people
Located down a private lane off a main road in Montecito, this place is ideally located. Close to Santa Barbara in an amazing neighborhood up in the hills a bit. The cottage is quaint, well-appointed and taken care of. The yard and landscaping are nice and outdoor meals by the pool are fantastic in this weather. The owner, Carla, is very accommodating and super friendly. The only drawback was the number of people who seem to be renting places on this property. There are many other tenants who seem to be a mix of permanent and vacation renters. It's not the most private location and you'll be sharing the parking area and pool with others. This worked out well for us though, since there was a really nice family with similar aged kids staying on the property as well. I'd highly recommend the place, but only if you're feeling like socializing with others. More of a mini-resort feel than a private vacation rental home. Dave W.
Dog friendly Hidden jewel in Montecito!
We just experienced our 4th consecutive spring visit to Carla's Cottages! We always rent the poolside unit for the month of April since it's the largest (2br/2ba) and even though it's just myself, my husband and our dog, It's become our home away from home and lives so large! We cook dinner generally 5-6 nights a week and treat ourselves to dinner out once in a while...but with a full kitchen we eat three meals a day on the beautiful patio or at our dining room table that seats 4! The location is perfectly situated to access the best hiking and biking trails as well as dog friendly beaches from Summerland to Butterfly! We feel so lucky to have found this special place especially since it is dog friendly! A rare find in Montecito, especially at this price point! Roxy
great
We have rented from Carla for 5 years. Each time our stay was perfect. Quiet, clean and close enough to town. We have stayed in each cottage and loved every one of them.Price was very fair and you get the feeling that its your house. Eddie Q.
Excellent Week
My husband, dog and I enjoyed 7 nights in the Poolside Cottage. I have never seen my dog so comfortable in a new space as this cottage. The grounds are just beautiful and so relaxing. We never took the time to go into the pool or hot tub (actually it was only warm the last 2 days of our stay). We never heard any sounds at night. We felt very secure within the compound. The area is just lovey, with quiet roads to walk. I was so impressed with the laundry facilities--two LG steam washers and LG dryers. I was really excited to get clean clothes. My husband played golf at the Sandpiper in Goleta while the dog and I shopped on State Street (Saks and Nordstrom are dog friendly). We were highly disappointed with Pierre Lafond nearby to the point we sent our pizza back (probably the worst pizza we have ever eaten). But we did enjoy Carlitos on State Street (with a lovely outdoor dog friendly patio and easy parking) and Stellas in Santa Barbara. Last year, we stayed at the Four Seasons Biltmore and prefer the Poolside cottage--no train whistles and less money. Reading was difficult and the cottage needs brighter light bulbs (but that is our only minor complaint). We would definitely stay again. Judy Denver
Wonderful stay
We stayed in the pool side house and had a wonderful time. The weather was warm, but having the pool there was perfect.
I would recommend this property to my family and friends. Cmbw
Carla's Cozy Cottage
We were looking for a special place to celebrate my birthday while traveling to care for ill parents. We also needed this place to be pet-friendly. Our hostess Carla was absolutely wonderful and her cottages are beautiful and immaculate. The grounds are beautiful and private. The Cozy Cottage is part of a large estate with a beautiful pool and spa. It was raining while we were there so we didn't have the opportunity to utilize those particular facilities. The cottage had a full kitchen, living room, bath, and a large bedroom and a walk-in closet across from the bath. Both the livingroom and bedroom open out to a fairly private patio and lawn with lovely old growth landscaping. Carla made sure we had all we needed and gave us our privacy. The property is truly pet friendly and close to recreation areas, shopping, grocery stores, and restaurants. As well, it is only a few miles to the beach. We would love to return. Linda, Redding. CA
CONCIERGE SERVICES; We make arrangements for airport transfers, baby sitting, massages, mariachi bands, chauffered cars and flower delivery for that special occasion, etc.
Safe and Secure Payments with your choice of PayPal or credit card + 4% PayPal/credit card fee, wire transfers also accepted
Address:Fantastic Villas
1482 E. Valley Rd. #325
Santa Barbara, CA 93108
Skype: fantastic.villas
E mail: suzy@fantasticvillas.com