HOME ALL RENTALS FUN THINGS TO DO PROPERTY MANAGEMENT FAQs TRAVEL TIPS ABOUT US CONTACT
SECLUDED INTIMATE BEACHFRONT SUITES - DIRECTLY ON A 7 MILE BEACH
North Caicos, Caribbean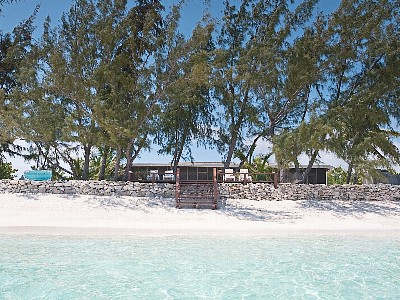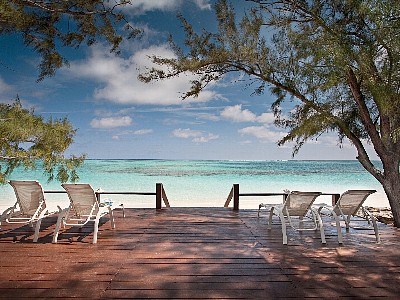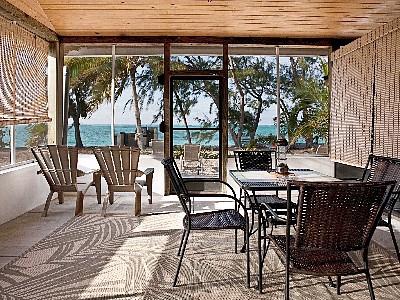 Ocea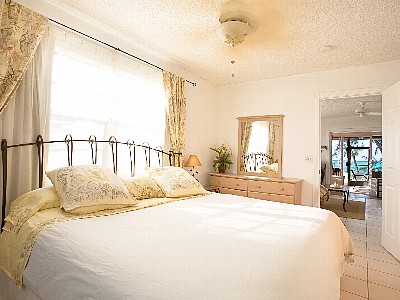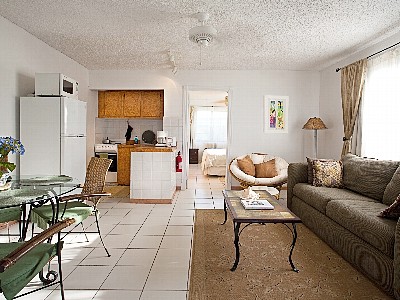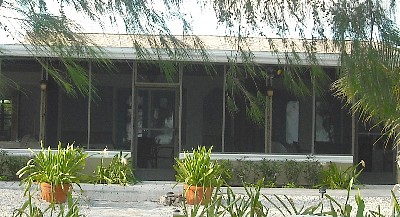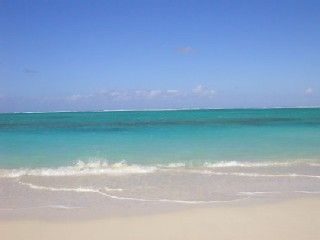 Hollywood Beach - in front of your suite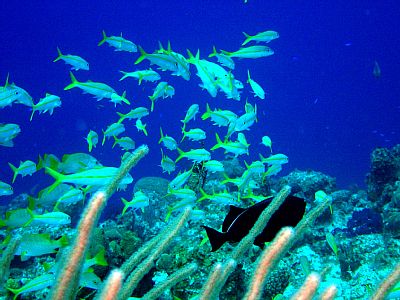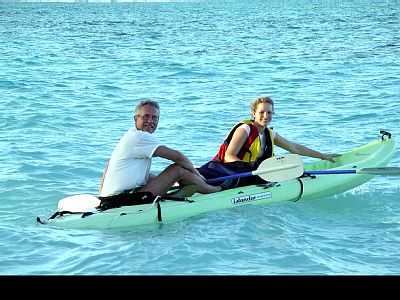 k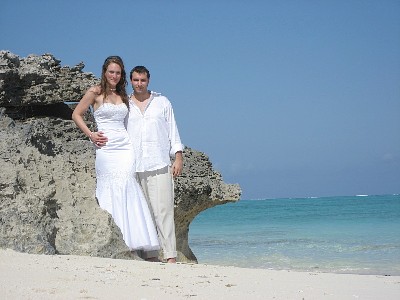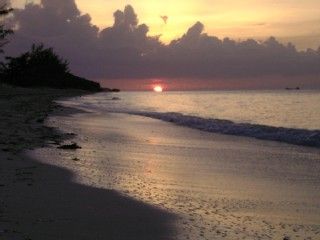 Romantic moments on Hollywood Beach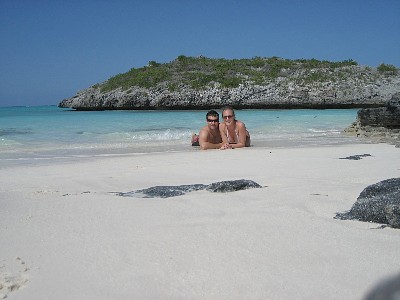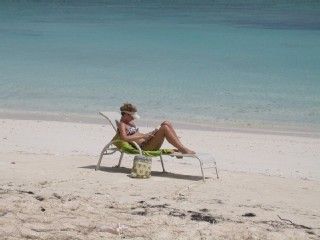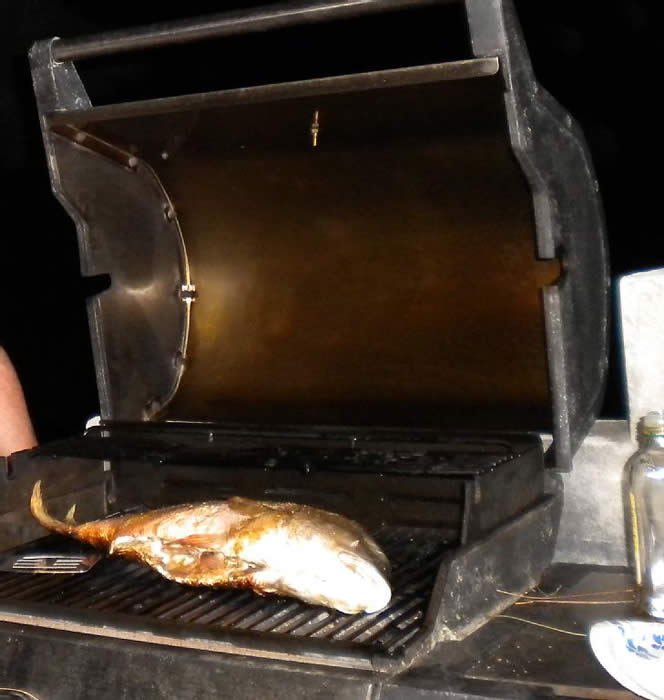 10 Pound Snapper on your Gas Grill - yes it tasted oh so good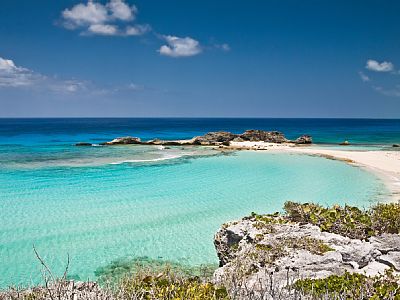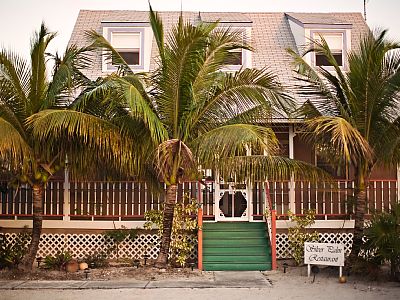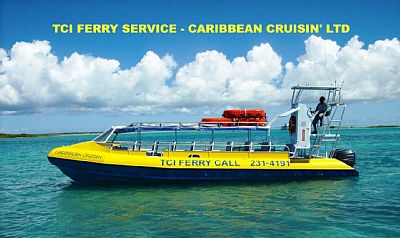 Reliable Water Ferry Service between Provo and North Caicos multiple runs
Beachfront Suite with three rooms - bedroom, living/kitch, large screened patio
Welcome to Hollywood Beach Suite, a secluded, private intimate and tranquil Caribbean paradise on the Island of North Caicos. Our comfortable beachfront suite sits directly on a stunning seven-mile stretch of sparkling white, powder-soft sand and look out on brilliant sweeping turquoise waters. The suite looks out over the dazzling beach front, which is directly at your front door.
The layout of the suite includes a master bedroom with a full bath & wrap-around mirrors, a living/dining/kitchen room combo & a large screened patio with table & chairs for dining or lounging. Decorated with top end Pier 1 Import furnishings, each suite features a premium Sealy Posturepedic king bed, a queen sleep sofa, a fully-equipped kitchen & various comfortable chairs, & is tiled throughout. For your comfort & convenience, we feature a multi-room AC, ceiling fans, a hair dryer, as well as in-room washer & dryer. Daily towel & light housekeeping service are provided. iPod doc station.
Choose your place to relax...: The beach in front of your suite is wonderful for swimming and snorkeling. There's a large deck by the beach when you wish to have the shade of native tree cover or just relax in the peacefulness of the sandy beach and varying turquoise colors of the ocean. Or relax on the spacious comfortable covered screen patio for each suite. So you can now, enjoy peaceful relaxation on a chaise lounge chair on the 7 mile beach, or on the shaded beachside wooden deck, or on beach stone terrace in front of your suite or the spacious covered screen patio or from inside your suite - all with dramatic direct ocean views.
You can also have fresh tasty native cooked dinners brought to your Suite. Enjoy the native restaurants on the island, some within walking distance on the beach. For a change, there's a pro gas BBQ by the beach with a grocery and liquor store within walking distance.
Activities: Things to do … or not to do : - Swim, snorkel, or simply splash.
- Visit the unspoiled underwater world of tropical fish and coral formations.
- Take a bike or a kayak out on an adventure.
- Go bird and butterfly watching, Flamingo Pond is just 1 mile away.
- Explore your tropical surroundings and meet the people who are lucky enough to live here.
- Take a walk or run on the very quiet 7-mile sandy beach.
- Mix up an umbrella drink and watch the sun set over the ocean – or rise for that matter.
- Curl up with a good book in the hammocks by the beach.
- Enjoy tasty ribs from the barbeque by the beach.
- Walk in the moonlight under a canopy of stars.
Absolutely nothing…
Activities: unforgettable adventures: We would be happy to assist you with the following unforgettable adventures.
- Snorkel and Iguana Trip. All kinds of fishing– bonefishing, reef, bottom or deep sea (half and full day)
- Scuba diving (off of North Caicos, off of Providenciales, or West Caicos and French Cay)
- Visit fascinating pre-Colombian caves on Middle Caicos. You can just take the causeway bridge!
- Guided kayak eco-adventures to nearby uninhabited cays.
- The islands are perfect for whale watching (winter season) - unique breeding grounds.
- Guided tours of our tropical Island of North Caicos or rent an auto and go around at your own pace
Meals:
Guests provide their own meals
Location Type:
Theme:
General:
Activities Guide
Air Conditioning
Alarm Clock
Basic Soaps
Broadband Access
Ceiling Fans
Clothes Dryer
Hair Dryer
Internet
Iron & Board
Laundry Soap
Linens Provided
Living Area
Local Activities Guide
Local Maps
Local Restaurant Guide
Mobile Phone
Paper Towels
Parking
Parking Off Street
Safe
Shampoo
Sofa Bed
Telephone
Toilet Paper
Towels Provided
Washing Machine
Wireless Internet
Kitchen:
4 Ring Stove
Blender
Coffee Maker
Cooking Utensils
Dishes & Utensils
Ice Maker
Kitchen
Microwave
Oven
Refrigerator
Stove
Toaster
Dining:
Bathrooms:
1 Bathroom
Bathroom - toilet , shower

Hair Dryer, Hand Soaps, Shampoo and Conditioner provided, window with nature view
Bedrooms:
1 Bedroom, Sleeps 2
Bedroom - 1 king , Sealy Posturpedic

Washer and Dryer in suite
Entertainment:
CD Player
DVD Player
Games
Outside:
Barbecue
Beach Chairs
Beach Towels
Bicycles
Boat with Paddles
Deck / Patio
Kayak / Canoe
Lawn / Garden
Outdoor Grill
Outdoor Grill Gas
Patio
Screen Porch / Veranda
Small Cooler
Terrace
Walkway to Water
Wood Deck
8 garden chairs
8 beach chairs
Suitability:
Long-term Renters Welcome
Onsite Services:
Attractions:
bay/sound
botanical garden
caves
churches
marina
pond
reefs
restaurants
ruins
Leisure Activities:
beachcombing
bird watching
eco tourism
photography
scenic drives
sight seeing
walking
whale watching
Local Services & Businesses:
Sports & Adventure Activities:
cycling
deepsea fishing
fishing
fly fishing
golf privileges optional
hiking
pier fishing
scuba diving or snorkeling
snorkeling
sound/bay fishing
surf fishing
swimming
Notes: 1 king bed in bedroom and 1 queen sleep sofa in living/dining/ kitchen room combo. Kayaks, bicycles, snorkeling equipment. Snorkeling/Scuba. iPod radio clock docking station in the living room.
REVIEWS
most beautiful place we have visited.
It is a truely lovely place. Well equipped, clean and well maintained . Loved everything about North Caicos. Did a lot of biking, walking on the beach and sitting looking at the water and beach. Peaceful and serene. The neighbourhood is great, everyone goes out of there way to be friendly and helpful. Ment a great little dog named Scooby that made us smile everytime we saw him. Walked the road and people would stop and ask if we needed a lift or just to see how we were doing. Ate at the beach bar and it was wonderful. Felt pure happiness at Hollywood and would return in a heartbeat. Everything you need is there and if not Alveda will make it happen. Bring food with you as they do not have much in the way of fruit and vegetables. There are stores nearby where you can pick items up. Be sure and have dinner at the Silver Palm it is worth a bike ride. They are wonderful people. We spent a fun evening there and planned to return but we lost power for the evening. Hollywood is exactly as described, but words really cannot give the full idea. I would recommend these accomodations and the area to anyone who likes solitutde and beauty.
Submitted: Dec 1, 2012
Stayed: Nov 2012
Well Equipped, Exactly as Advertised, Like being on your own personal island
We visited during the "off season" and didn't realize just how "off" it is! There was nobody else staying at Hollywood Beach Suites. We hardly ever saw anyone else on the beach - at any time day or night. And the beach is GORGEOUS. It's maybe 10 footsteps from your porch door to the sand. There's so many great places to choose from to sit - on the screened porch, in the shade or sun in the little yard area, in chairs, chaise loungers or hammocks. Or sit on the steps leading down to the beach, or on the beach. The little suite is perhaps a bit threadbare but it was very clean and very well equipped. Includes a washer and dryer and even laundry detergent. Kitchen had dish soap, salt and pepper, cooking spray, papertowels, etc etc - much better equipped than your typical beach house. The beach is all soft sand, you don't need shoes. And it's so close to your suite that you don't need a towel or a bottle of water even, you'll just pop back inside if you need anything. Free wifi was very reliable but too slow for us to stream music or video. A movie download took about 10 hours. The selection of provided DVD movies was remarkably good and well rounded. We watched two or three.
The beach faces nearly due north, so sunrise and sunset watching was a bit incumbered by the island landscape. It also gets surf and wind from any storm happening out on the Atlantic. The big waves break out on the reef though. Another cool thing about this beach is that it is partially shaded all day by the tree line. So you can walk or sit in sun or shade.
If you already know you want to go to North or Middle Caicos you can read no further - stay here, it is really just the perfect place. If you are still researching the destination I suggest you give it some reading and careful consideration. The dining out options are extremely limited, especially in the off season. Food is very expensive. Water is not potable. We packed in all our own meals and brought a water filtration system. You can rent a car (cheap!) and enjoy some sight seeing on the two islands but beware that all of the sights are a bit "overadvertised". You will see lots of abandoned cars, signs of infrastructure failure, abandoned houses and abandoned partially completed hotels. There are many skinny dogs. This is a vacation for primarily beach walking, ocean swimming, sunbathing, perhaps snorkeling, diving and fishing. It is NOT a vacation for eating out, being pampered or sight-seeing.
Submitted: Nov 15, 2012
Stayed: Oct 2012
Relaxation station :)
My husband and I spent a week at HBS and it was great. We were there during low-season so it was especially quite which we very much enjoyed. If you are the type of person who wants to relax when you get away, this is the place. Whether we were sitting on the beach, going for a walk to reading, it was exactly the kind of escape we were hoping for. The folks at HBS were incredibly helpful in arranging the ferry and answering all of our questions ahead of time -- a huge plus!
One thing I would suggest though, is be sure to get your food shopping done on the main island before you head over to North Caicos. The grocery store near HBS is quite small and expensive so if you have the time stop at the large grocery store before the ferry to pick up your food, booze, etc. We ended up having to go back to Provo the second day to get more stuff since we only picked up a few items before heading over. Not a huge drama, but a good idea for future visitors.
All, in all the place was fantastic and we are so glad we picked HBS!
Submitted: May 28, 2010
Stayed: May 2010
The real tropical vacation starts here
Hollywood Beach Suites, was incredible! From the prearranged Water Taxi Ferry on Caribbean Cruisin (that took approx. 20mins along the most beautiful shoreline) from Provo to North Caicos. Once you arrive in North Caicos you are greeted by a representative from Hollywood Beach where she will bring you back to your accommodations located right on the beach! A native home cooked meal awaits you were you can enjoy it in your screened in porch listening to the thunder of the waves breaking against the natural reef that surrounds North Caicos. Hollywood Beach Suites has everything cozy king sized beds, great pillows, ensuite, laundry in your unit, complete kitchen, dining and living room. All you need is a couple bathing suits and you will have the best vacation going. The local people are kind, gentle and very friendly get to know them - you'll make friends forever.
When you walk out of your suite you will take no less than 50 steps and you feet will be in the ocean and your toes will have white powder sand between them. Your biggest decision of the moment is to walk left or right on the 7 mile beach. The beach is amazing the water is calm clear and warm, the stars at night are something else.
I highly recommend the Hollywood Beach Suites for couples, solo, or girls trip away.
They provide you with a cell phone for calling, the grounds and suites are cleaned daily, it's a great location, safe and friendly.
I can't say enough good things about this property it is amazing!
Submitted: Nov 29, 2009
Stayed: Nov 2009
Never have we had such a relaxing time on vacation
Our stay at Hollywood Beach Suites was more than we could have asked for.. it was beyond anything we thought it would be!! We made new found friends, we hope to keep in touch with each of them for years to come. Never have we had such a relaxing time on vacation- I did nothing but read three books and look at the water.. Awesome. We plan to be back next year, probably close to the same time but maybe stay a few days longer!! Thanks soooo much for sharing your part of paradise with us.
Jeff and Cherri
Submitted: Oct 25, 2009
Stayed: Sep 2006
perfect setting
We came back kicking and screaming, not wanting to return to "real life". Hollywood Beach Suites offered us the perfect setting for us to be able to reach a level of relaxation we have not received any where else. Once we step off the ferry Alveda approached us immediately and at that point we knew we were in good hands. We could instantly relax, she gave great advice, good direction and served us amazing food. Upon arriving at our suite it was absolutely perfect for us (the bed was so comfortable, and the pillows were the best I've ever laid on. ) we had the perfect amount of space with the perfect amount of necessary tools we needed to relax.
We will most definitely be back (very soon) and recommend everyone to Hollywood Beach Suites (although we must admit we would like to keep our special place a secret).
Thank you very much for you top notch service in such a beautiful place.
Submitted: Jul 4, 2009
Stayed: Jun 2009
just what we dreamed about
We returned Monday night renewed, recharge, and reenergized! What a BEAUTIFUL place you have at Turks & Caicos! Our stay was just what we dreamed about.......stunning turquoise water, snorkeling, sight seeing, trying new food, and building new friendships. The seclusion is just what we needed! My list could go on and on.
Our stay was as close to heaven as it gets here on Earth. How is this possible? Great service from Alveda! gosh! Can Alveda cook! This caring person helped our vacation surpass all expectations!
I recommended Hollywood Beach Suites to two people at Provo airport before we even departed; they wrote down your web address. One of my friends from Azle wants to go with her husband, too. She can't wait to see my comment.
Submitted: Jul 1, 2009
Stayed: Jun 2009
14 glorious nights
14 glorious nights. The beach and water was magnificent, we went on long beach walks and enjoyed snorkeling from the kayaks. The suite was very comfortable and well equipped! King size bed, kitchen well set up, games, DVDs, screened porch, beautiful deck, glorious beach, kayaks, bikes, BBQ, everything was exactly as we expected how often can one say that? We will definitely come back!
Submitted: Jun 27, 2009
Stayed: May 2009
Disapointed in the digs
My husband and I stayed here for a week in May of 2009. We do not know who does the advertising for this place but we know lots of people who would like to hire them for their ability to make something so disapointing look so good. Now that is for the accomidations. As for the beauty of the land and the sea there it was absolutely incredible!!! Alveda the property manager and the water were this rentals only saving grace!!! I must say though that North Caicos was just where we wanted to be with almost no one else on the beach and lots of beautiful snorkeling and alone time with no tv and no night life, it was very queit and peaceful.
Submitted: May 19, 2009
Stayed: May 2009
Hollywood Beach Suites is GREAT!
My husband and I stayed at Hollywood Beach Suites in early November, 2008. It was as nice or better than the description & pictures on the web.
Alveda, the property manager, MAKES THIS PLACE SO GREAT. She and her staff of 2 were there every morning, sweeping the walkways & deck, raking the pine needles off the beach (!), taking care of any needs. Any problems were taken care of very promptly (bicycle tires needed pumping - done within 15 min - water pump broke so no water at all... fixed in 1/2 hour). No extra charge for air conditioning, bicycles, kyacks, rides to & from the ferry or airport, light cleaning.
The location is on pristine, deserted beach. Beds are comfortable, kitchenette is well stocked with all equipment needed for cooking. Alveda will cook & deliver dinner to your room if you like - we had the broiled lobster (served with peas & rice plus mixed veggies) at a cost of $65 total for two. It was worth every cent, and we had enough peas, rice & veggies for another meal. The lobster was way to delicious to leave any for later!!
Nearby (20 min drive) is beautiful 3 Marys Cays, where there is easy snorkeling in 5' of water. 40 min drive across the causeway to Middle Caicos.. more wonderful snorkeling behind the cay (and great shells on shore) at Bambarra Beach. Also on Middle Caicos - Crossing Place Trail is well marked, and can be accessed from many places on the highway - provides breathtaking ocean vistas, ponds, flowers, and Indian Caves.
We would highly recommend this location.
Hollywood Beach suites has
Submitted: Nov 11, 2008
Stayed: Oct 2008
RATES
Jan 3rd - April 17th $386.31/night or $2,704.17/week
April 18th-Dec 18th $300.20/night or $2,101.40/week
Plus 12% Government tax
This includes free use of kayaks, bicycles and snorkeling equipment; daily towel and light housekeeping is included.

On your first night of arrival, we will also welcome you with a fine bottle of wine.

You can also have fresh tasty native cooked dinners brought to your Suite - such as Conch, Snapper, Spiny Lobster (in season), Chicken, Ribs or Vegetarian, ranging from $55 to $65 dollars for two.

Enjoy the native restaurants on the island, some within walking distance on the beach. For a change, there's a pro gas BBQ by the beach with a grocery and liquor store within walking distance. Each Hollywood Beach Suite has a fully equipped kitchen. You can also have fresh native fish delivered to your suite, great taste hot off the BBQ.

You will fly into Providenciales and then take a Water Ferry Service (30 minute beach cruise) over to North Caicos. We will make all arrangements for interisland transport. Pick-up and drop-off in North Caicos is provided by us free of charge.
Safe and Secure Payments with your choice of PayPal or credit card + 4% PayPal/credit card fee
Address: Fantastic Villas
1482 East Valley Road #325
Santa Barbara, CA 93108
Skype: fantastic.villas
E-mail: suzy@fantasticvillas.com